Remote Learning - Week beginning 25th May

Remote Learning - Week beginning 18th May

Remote Learning - Week beginning 11th May

Week 5 of Remote Learning

Week 4 of Remote Learning

Week 3 of Remote Learning

Week 2 of Remote Learning

Week 1 of Remote Learning

Pancake Day!
Our class had a great day learning all about Lent, the traditions around Pancake Day and how to make pancakes. It was topped off by enjoying some delicious pancakes!

A.B.L.
We love activity based learning! Look at the happy faces!

Multiplication
This week we are learning how to multiply by 5. We worked in groups to complete a range of fun tasks to help us learn. We worked with the teacher to count in 5s and complete some problems. At the other stations we enjoyed playing games together to consolidate our new multiplication facts.

Adding Money
Over the next few weeks we will be learning about money. Today we learned how to add small amounts of money together by visiting the cafe!

Dictionary Work
Today we played 'Dictionary Look Up' to help develop our dictionary skills. We looked for the correct spelling of words and found the meaning too.

What is love?
During Literacy we learned about similes and wrote about what love means to us.

Online Safety
Today is Safer Internet Day.
Mrs Handforth's class used News Desk to learn more about Safer Internet Day. We watched a video about some children who were playing games online but were not being very sensible and safe. At the end of the video we talked about what we learned and how we could stay safe online. The pupils made a 'Top Tips' poster with super advice on how to stay safe online.

Big Schools' Bird Watch
This week we took part in the Big Schools' Bird Watch. We went outside to the playground and spotted lots of different birds using our binoculars! We had to be really quiet to hear and see the birds.

Dance
This term we have been learning about dance during PE lessons. Today, we learned a modern dance called 'The Cha Cha Slide'! Everyone is looking forward to the next disco to show off their moves!

Shared Education
On Monday 3rd February, Year 4 visited St. Joseph's Primary School for the second day of their Shared Education Project. The children had great fun learning a range of new sports together and building relationship by working in a team.

A.B.L.
We are all loving the activities during A.B.L. this term!

Problem Solving
We used dominoes to to make a 4 x 4 grid where each column and row had to add up to 8. Sounds easy....but it is much trickier than you think!

Instructional Writing
This term we have been learning about how to write good instructions. On Thursday 30th January, we each made a fruit kebab and then wrote instructions on how to do it! We all agreed that the fruit kebab was delicious and our instructions were fantastic!

Health and Fitness Week
Our class have really enjoyed taking part in Health and Fitness Week. We completed the 5 minute workouts by Joe Wicks each day, which really got our hearts pumping! Now we have some great exercise moves to use every day to help us stay fit and healthy!

Shine a Light - A.B.L.
Take a look at us as our creativity shines during A.B.L.

Scottish Dancing
We are all loving our weekly Scottish Dance lesson! Look at our new dance moves!

Chinese New Year Celebrations!
Chinese New Year celebrations started on Saturday 25th January. As part of our topic, Year 4 celebrated today by having a little feast together. However, there was a bit of a challenge involved...everyone had to eat using chopsticks! It really is much harder than you might think!
Why don't you eat dinner tonight using them?

Instructional Writing
This week we started a new genre of writing, instructional writing. We made toast and then wrote about the equipment, ingredients and steps needed to make it. We all had lots of fun, especially when we got to eat our yummy toast at the end!
Check out the video of all the action!

A.B.L. - Shine a Light
Our first week of A.B.L. for our new topic, Shine a Light. We had lots of fun experimenting, creating Chinese Money Envelopes, making paper dragons , problem solving with tangrams and painting abstract firework

Scottish Dancing - Lesson 1
We are so lucky to have Elizabeth coming into school over the next few weeks to teach us some Scottish Dance! Look at us move!

Year 4 Shared Education
Year 4 had a fantastic first day of Shared Education. Everyone was buzzing after the fun activities led by Be Unique Drama Group and it was great to see so many new friendships! We are all looking forward to meeting up again soon!

Healthy Body, Healthy Mind
We love using fun songs and dances to get our heart rate up! It is great to stay active in and out of the classroom!

Shine a Light Topic - Term 2
This term, our new topic is called SHINE A LIGHT!
We had a great time making up questions to explore during the next few months.

Multiplication
In term 2, Year 4 start to learn about multiplying and dividing. This week we started on multiplying by 2. We played lots of fun games and worked with the teacher to develop these new skills!

Road Safety Week
Our class learned about how and where to cross the road safely during Road Safety Week. Everyone had a blast dressing up in bright clothes for Ditch the Dark Day at the end of the week.

Friendship Week
We loved celebrating Friendship Week. Our class discussed the qualities that we look for in a good friend and made a poster about our friends and the qualities they have.

Music
Year 4 are really enjoying their music lessons, learning to play the recorder!

Persuasive Writing
This term we are studying persuasive writing. To begin, we looked at a range of slogans for well known businesses. We noticed that alliteration and rhyme were really important. In groups, we worked to make a slogan and short advert for our given product. Look at the amazing results!

Odd and Even Numbers
This week we have been revising odd and even numbers. We ordered numbers and played a really fun game to develop this skill. If you want to play the game, click on the link below.
https://www.topmarks.co.uk/learning-to-count/coconut-odd-or-even

PE
We have been working on our balancing skills over the last few weeks and have progressed to balancing on a beam!

Soft g
We have been learning about hard and soft letter sounds. This week we learned about soft g, which makes a j sound. We built words with the soft g sound and sorted words with hard and soft g.

Problem Solving with Izak9
Our class have been learning about a range of problem solving strategies over the last few months. This week we used the Izak9 resource to develop teamwork and systematic thinking. The task was the make a Magic Square, where all columns, rows and diagonals should add up to 15. It was pretty tricky!

Outdoor Learning
Mrs Handforth's class love getting outside to learn. It was so much fun working in our groups to complete a range of activities. The town built in the sand pit was amazing, natural art houses were so creative and the 3D shelter was nothing short of impressive!

PE
Our class has been learning about the importance of warming up before physical activity. Take a look at some of our warm up moves!

Materials Investigation
Through our topic, Home Sweet Home, we have been discussing materials used in construction. We worked in groups to explore the different properties of a range of materials and tested them to see how suitable they would be for building a house. Our results showed that bricks and wood were good materials to use for this purpose.

P.E.
This term we are studying gymnastics in PE lessons. To begin we had to balance on different numbers of body parts.

Telling Time
Over the last few weeks our class has been learning a lot about telling the time. Today, we used our time telling skills to complete a range of activities. We tested our knowledge by completing a quiz on the iPad, worked with the teacher to develop telling time on the cloc and even furthered our skills in reading a calendar!

Maths Week Visitor
As part of Maths Week our class had a special visit from Mr. Nevin, a farmer. He told us all about how he uses maths in his job. We used our maths skills to help him solve some problems too!

Autumn Bop!
Everyone had a great time at the Autumn Bop! Check out those dance moves!

Surveying the Town
This term our class topic is 'Home Sweet Home'. We decided to complete a survey of the houses in our local area. The pupils worked in pairs and used a tally to keep track of the number of houses on our route. Back at school, we studied our data and turned it into a graph.

Revision of Telling the Time
This week we started revising what we already knew about telling the time. We recapped on key times on the clock using individual clocks and by playing some fun games on our touch screen board!

Visitors from the Baptist College
Our class had such a great time with our visitors from the Baptist College. The children loved hearing stories, singing songs and playing a super exciting strawberry lace game at the end!

Maths Revision
This week was revision week. We enjoyed revising mathematical concepts through games, ICT, whiteboard tasks and team work activities.

Dressed up for Maths Week
Our class had some amazing costumes and unique ideas for Maths Week! Don't they look good?!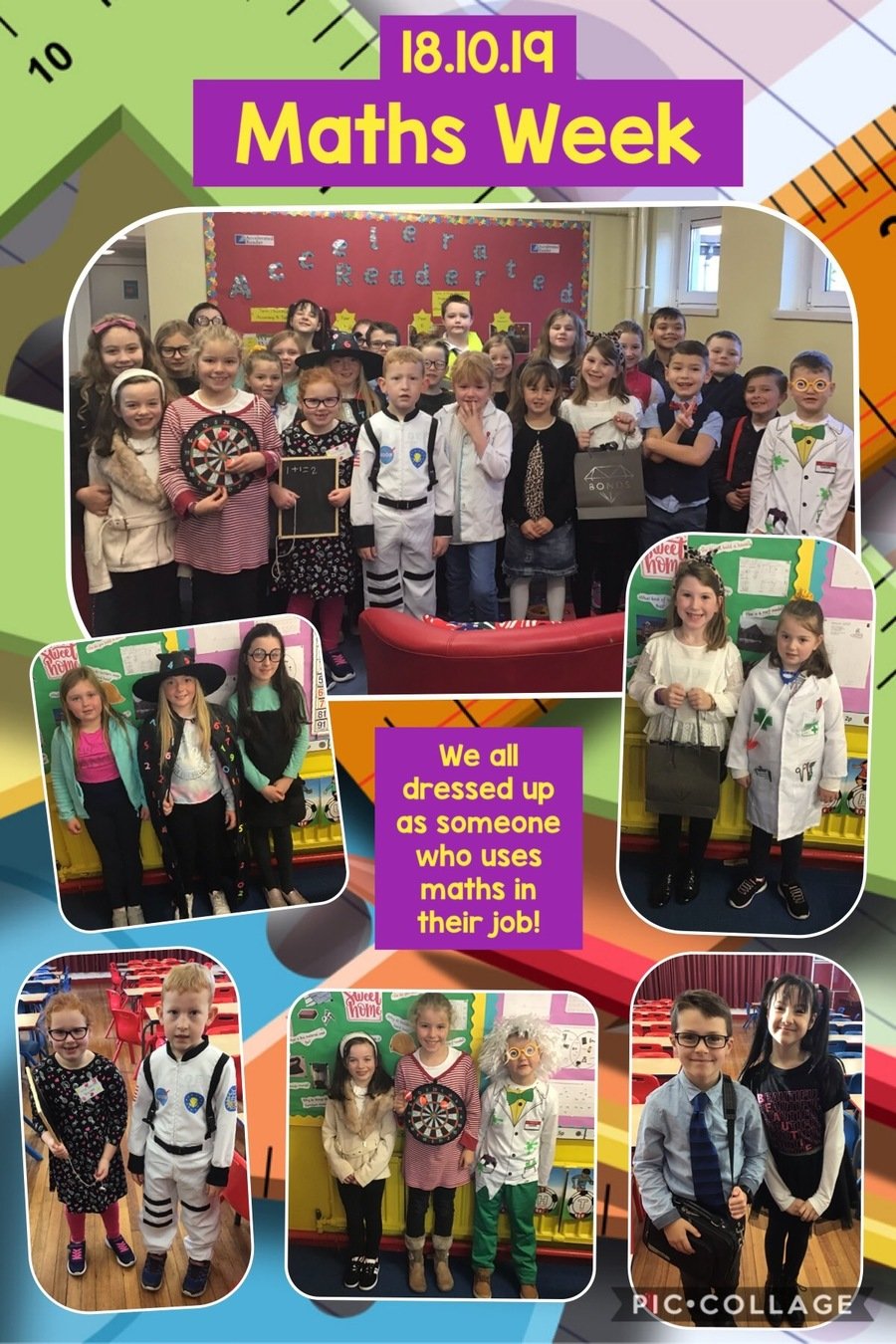 The answer is 5
The whole school worked on 'The answer is 5' problem. We all had to write mathematical questions where the answer was 5. We came up with some amazing questions in Year 4!

Number Words
We developed our knowledge of place value further by converting numbers in figures into words and vise versa. We are getting really good at it too!

A.B.L. - Home Sweet Home
Our last session of A.B.L. before half term! :-(

Practical Maths
This week we revised place value during a task time. We worked with the teacher on the hundred square to develop our skills in addition and subtraction. The other tasks developed our quick recall of number bonds to 20 and we even had to play 'teacher', checking the sums were correct!

Library Visit
On Monday 14th October, our class visited Ballymoney Library. We enjoyed listening to the librarian and getting to look at all the books!

A Letter from Mr. Wolf
Our class was so excited on Thursday when we received a letter from Mr. Wolf! We were so excited that we wrote a letter back to him!

Making Music
Over the last few weeks we have been learning about different composers with Mrs Carson in music lessons. This week, we were composers!

Months of the Year
This week our class has been learning the months of the year. We played a really cool game to help us learn them! Why not play it at home? Follow this link!
Take a look at all the fun games we played to help us learn the months of the year!

P.E. - Ball Skills
We have been working really hard on our ball skills this term. This week we were trying to shoot into the net.

One Minute Challenges
We were learning how to appreciate the passing of time. We tried counting to estimate when one minute had passed and then completed a range one minute challenges. Look at us go!

Nouns
During Literacy, we were learning about nouns. We learned that nouns are people, places or things. Can you think of some more?

Movement Maths
We love learning with through movement! Our mental maths warm up videos help us get ready for learning!

Mystery Book
Our class read a mystery book together during Literacy. We were not able to see the title or the cover. Then, we designed the cover and gave the book a title.

Activity Based Learning
Our topic this term is 'Home Sweet Home' and it really is sweet! We are all loving the activities during A.B.L each week.

Christmas Shoe Box Appeal
This month our school value is KINDNESS. Year 1 - 4 are going to show kindness to other children who are less fortunate by making a Christmas Shoe Box per class.

P.E.
We love our weekly P.E. lessons! This term we are learning how to improve our ball skills.

Revision Week
This week we were revising our spellings using a range of fun techniques. Maybe you can try some of them at home too?

Place Value
We have been learning all about place value. We used Base 10 to make numbers and to complete sums.
Try out the Shark Numbers game to recap on your learning at home!

Class Charter
Our class discussed what our rights and responsibilities are at school. After this, we created rules together and agreed to follow these every day at school. Everyone in the class signed their picture to agree to the rules.