Welcome to our class web page!
We are so excited for the new school year and can't wait to share all the exciting things that we are learning with you.
(Remember to check this page and our school app for regular updates).
Home Learning 8th-12th June
It was another very exciting week last week in Year 7 as we have all been busy making videos for our Leavers' Production.

If we had been together in school at the moment we would have been busy working on our Year 7 Leavers' Show but even though schools are closed we wanted to do something special for our Year 7 classes to celebrate the end of their time at Ballymoney Model.

Throughout the week we have been working on different activities which will be put together into our final Leavers' production.

We have really enjoyed filming ourselves sharing our individual talents from animal training to baking and biking to basketball, it's clear to see that 7RK are a talented bunch.

We have also been busy learning a dance to the song, "This is Me" from The Greatest Showman. This has been a really fun activity and it's been a great way to complete some of our daily exercise too!

We have also taken some time to reflect on our achievements both in school and extra curricular over the last 7 years and have added these to our own Records of Achievement.

Finally, we have spent some time thinking about our favourite memories from our time at the model and have loved sharing these with our class.
It has been so great to see everyone getting involved to create a special memory for our Class of 2020 and we can't wait to see the final production!

Well done everyone!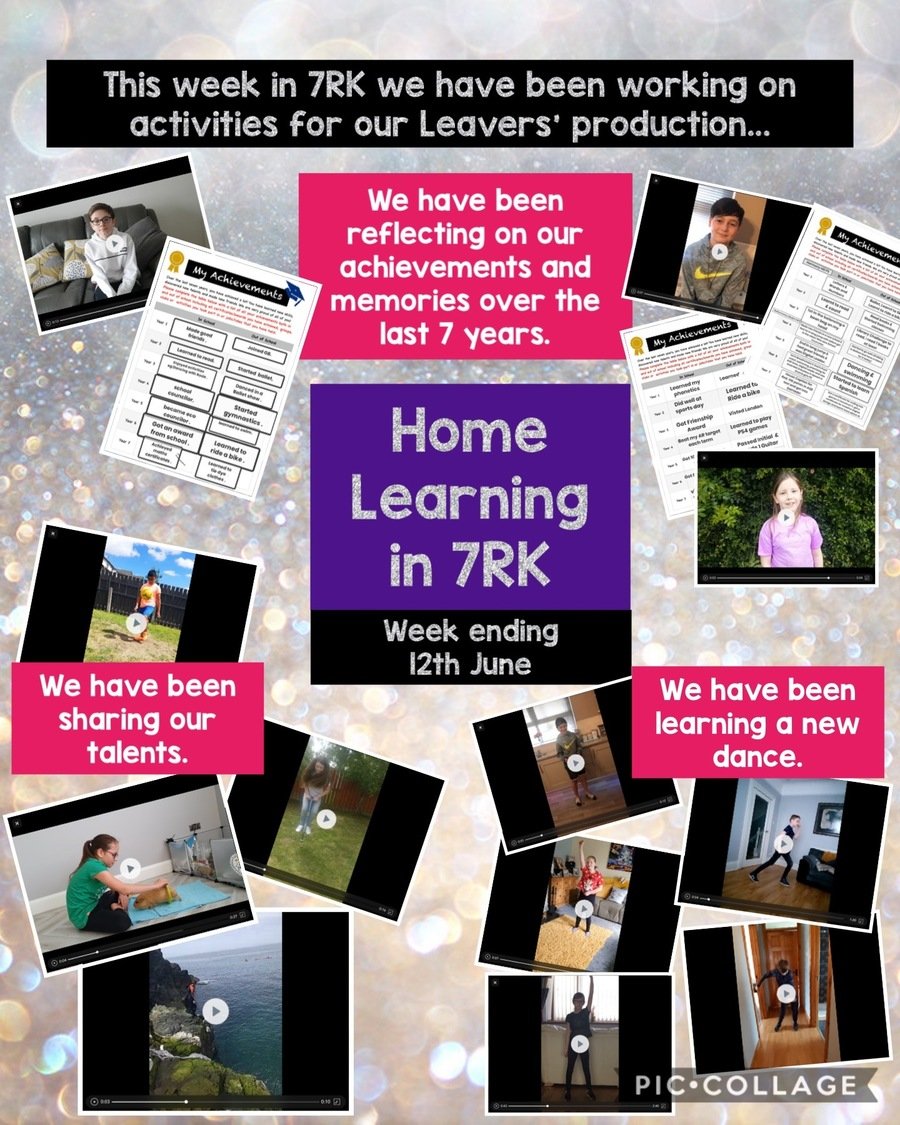 Home Learning 1st-5th June
We've had another great week of Home Learning in 7RK!

In Numeracy this week we have been exploring capacity and volume. We completed capacity conversions and even experimented with capacity by creating our own Lava Lamps using oil, water, food colouring and Alka-seltzer tablets. We also have been busy calculating the volume of cuboids and solving problems. We even completed a challenge to find the volume of different cuboid items around our homes.

In Literacy, we have been continuing with our spellings and Accelerated Reader tests. The spelling pattern this week was ie and ei words while in grammar we have been furthering our knowledge on Active and Passive Verbs.

We delved deeper into our topic this week by carrying out a Health Check which reviewed our food and lifestyle diaries from last week and then encouraged us to think about choices we can make for a more healthy lifestyle. We came up with some excellent suggestions such as helping our families to make the weekly shopping list to include more fruits and vegetables and using a fitness tracker app to monitor our exercise.

Finally, we have been continuing to develop our other skills through extra activities such as coding, baking and gardening!

It is great to see everyone working so hard and we love sharing our weekly updates with you!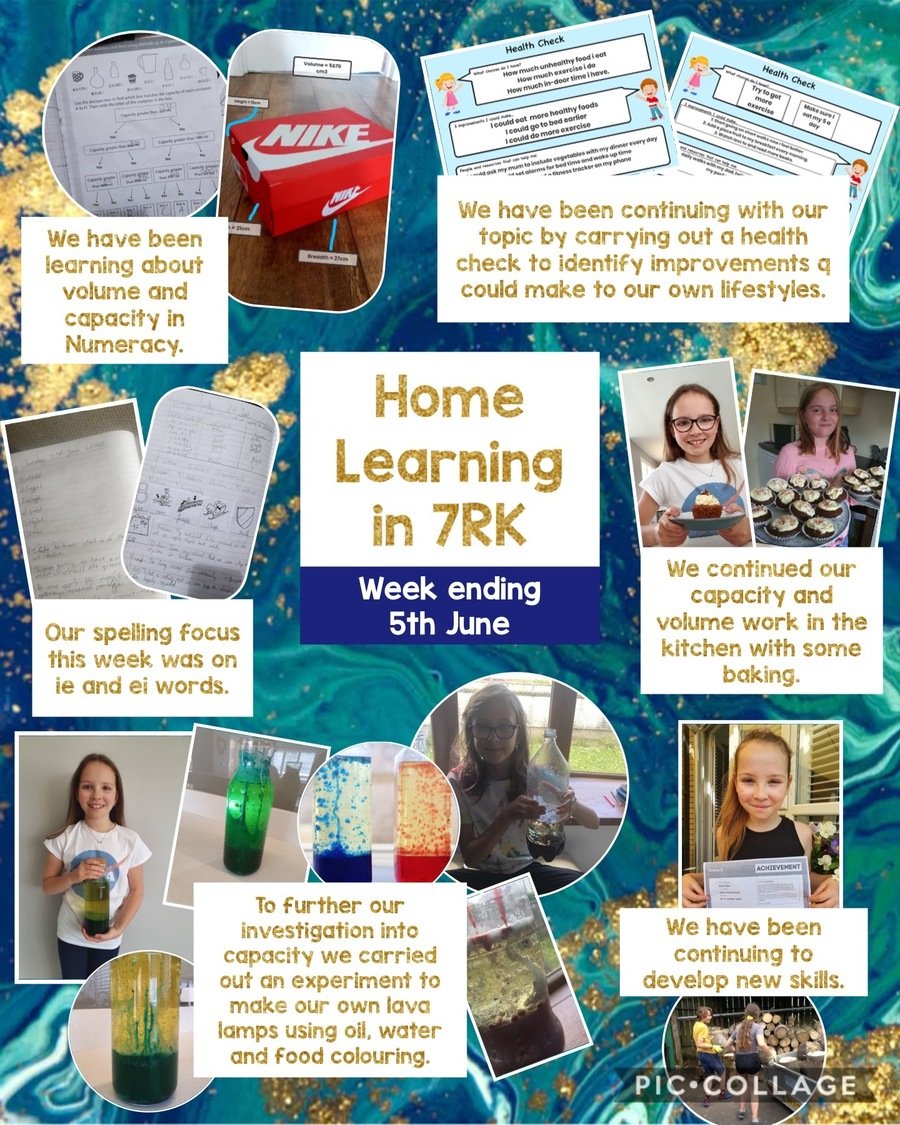 Home Learning 25th - 29th May
It was another busy week of Home Learning for Miss Kane's class last week!

In Literacy we were looking at how paragraphs can be used in discursive writing to present points for and against and then we had a go at writing our own balanced argument. In Numeracy, we moved on to look at multiplying decimals and applied our knowledge in some money problem solving questions.

We have also been working really hard to earn lots of points for our House Teams through AR Tests and Mathletics Certificates!

In addition to all of this we have been moving forward with our topic, "Are You Wise?". Over the week we recorded our food and lifestyle choices in a lifestyle diary and we got our daily exercise by taking part in some of the activities for Virtual Sports Day. In RE, we revisited the Creation Story and discussed how it is our responsibility to care and protect the earth for future generations. We thought about the different choices we can make at home and in our community and then created posters to encourage others to care for our world as well.

Finally, in Art we continued with our study on Banksy and created our own silhouette pictures inspired by some of his most famous works and discussed the meanings behind our choices.
It is great to see everyone continuing to work so hard at their Home Learning each week and we love seeing all the photographs!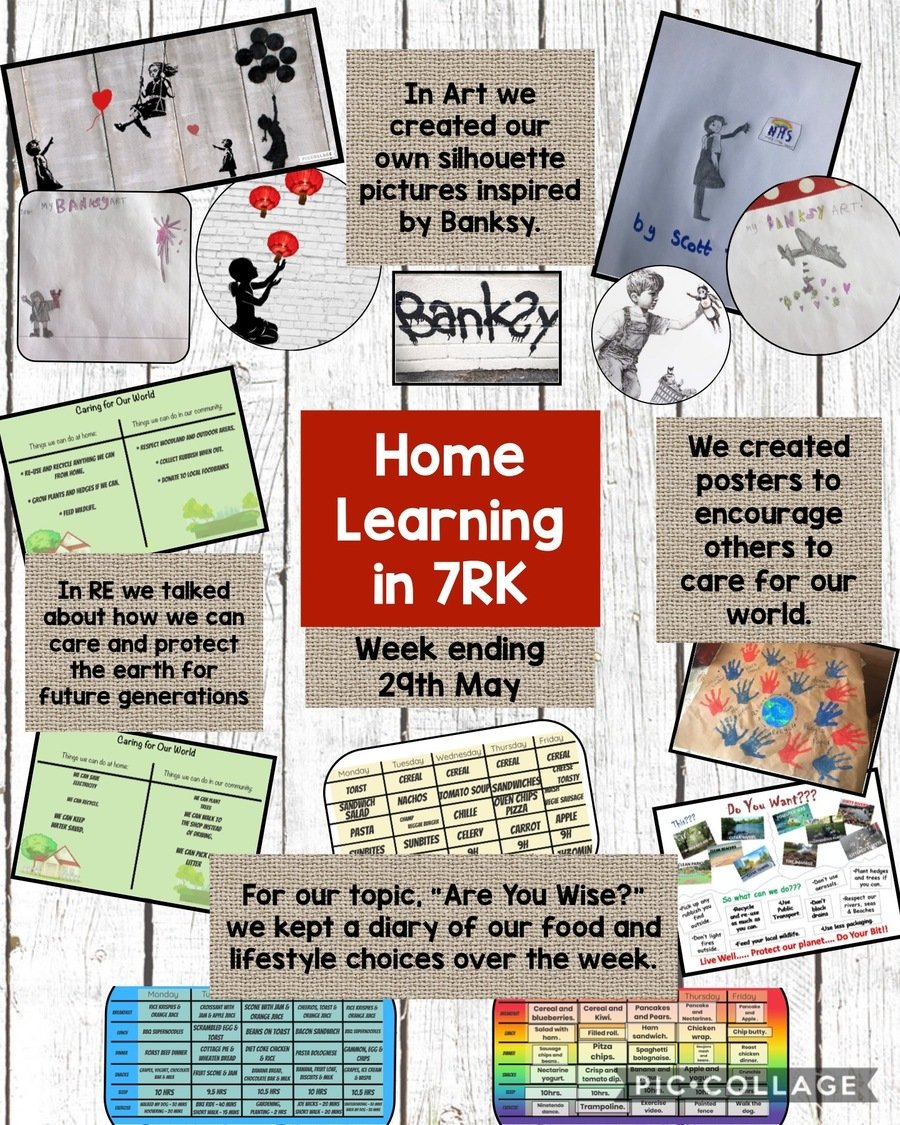 Home Learning 18th - 22nd May
It has been another fun and productive week of Home Learning in Miss Kane's class!

It was revision week in Literacy and so we have been busy completing activities to review our spellings and grammar from the last 3 weeks. In Numeracy we moved on to look at the Parts of a Circle and have been investigating the relationship between radius and diameter. We also created some beautiful circle patterns.

We have especially enjoyed continuing activities as part of our new topic, "Are You Wise?" While we can't be together in school we carried out a Virtual Carousel Activity and created questions to guide our learning within the topic. We also began recording our daily choices in a Food and Lifestyle diary. In Art, we researched Banksy and looked at some of his most famous pieces and the meanings behind them including his recent creation to recognise the NHS at this time.

We also really enjoyed taking part in Outdoor Classroom Day on Thursday by taking our learning outside! Luckily the weather stayed nice and we were able to enjoy a variety of activities including planting, feeding the birds, creating outdoor art and even painting fences.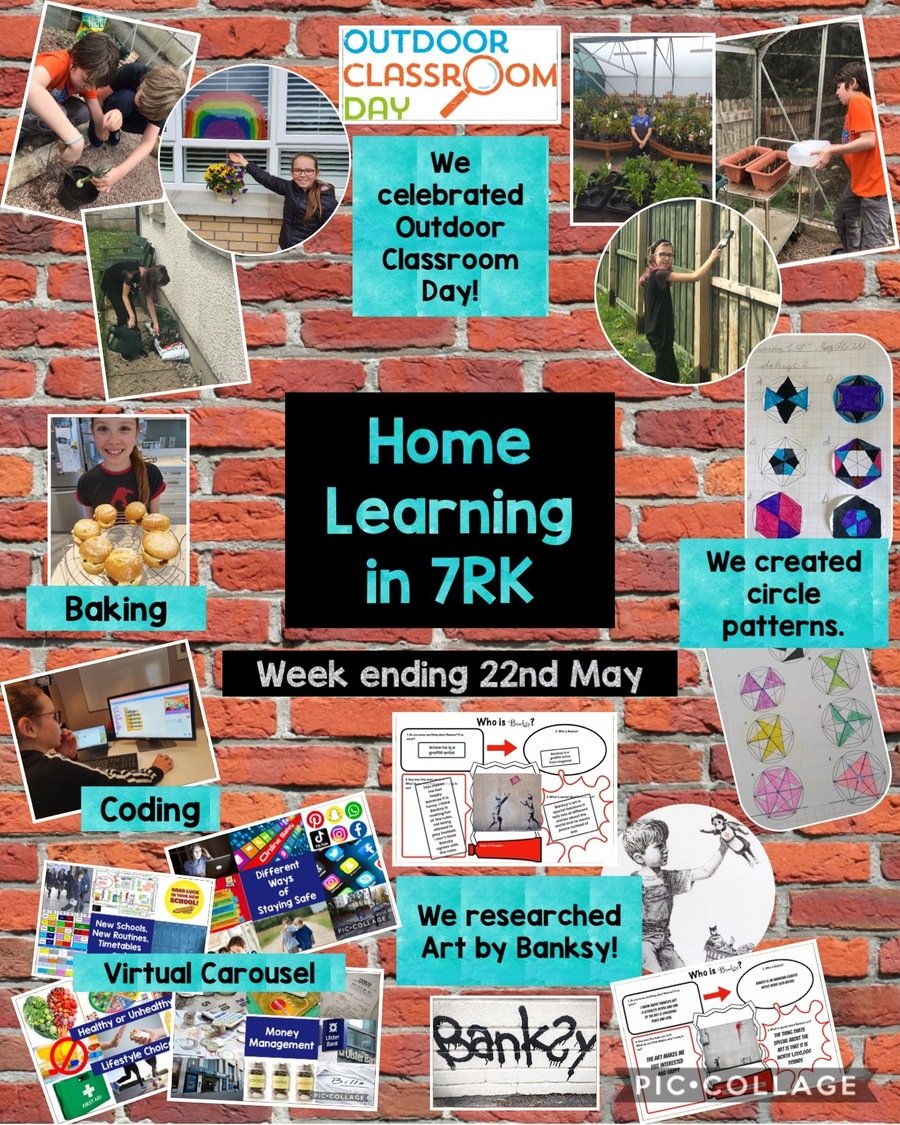 Home Learning 11 - 15th May
It has been another busy week in Miss Kane's class!

In Numeracy we have been busy learning about algebra, exploring simple formulae and using it to solve problems. In Literacy, we were exploring the differences between British and American English and we learned how to use colons and semicolons more confidently in our writing.
It was an exciting week in World Around Us as we began our new topic, "Are you Wise?" and we used Seesaw to submit our own response to the question as we thought about our choices each day.

We have also been enjoying lots of other activities including planting in the garden, painting and tie dye in art and some of us even made some lovely buns to celebrate VE Day!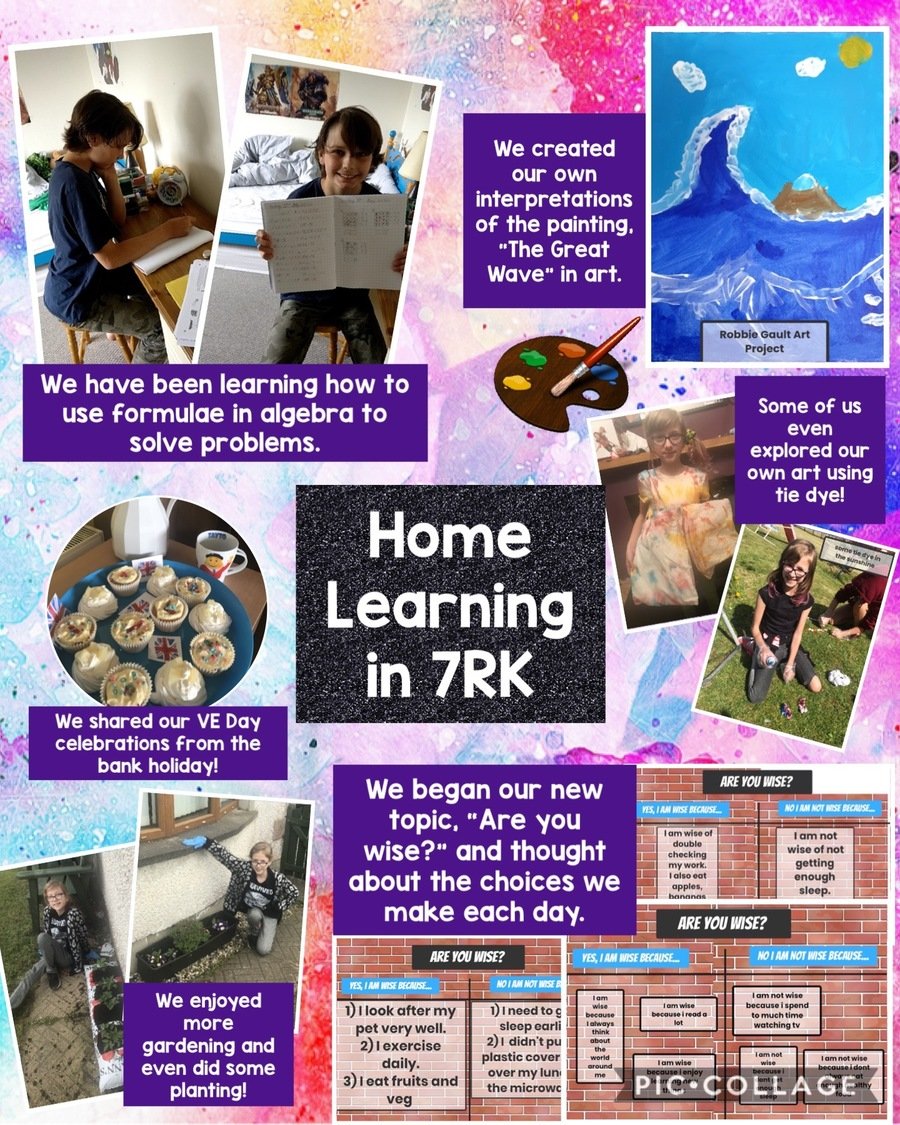 Since school closed we've been keeping busy with all our home learning activities and we're excited to share these with you!
Each day we work through our spellings, literacy and numeracy activities. We've been really enjoying Mathletics and have been earning lots of certificates for all our hard work. Lots of us have been busy reading and discovering new books too.
As well as this we have been using the time at home to develop new skills through online courses; get outside and explore the World Around Us; design menus and head into the kitchen to make our own creations. We've also been keeping active through our daily walks, cycles and through online workouts too!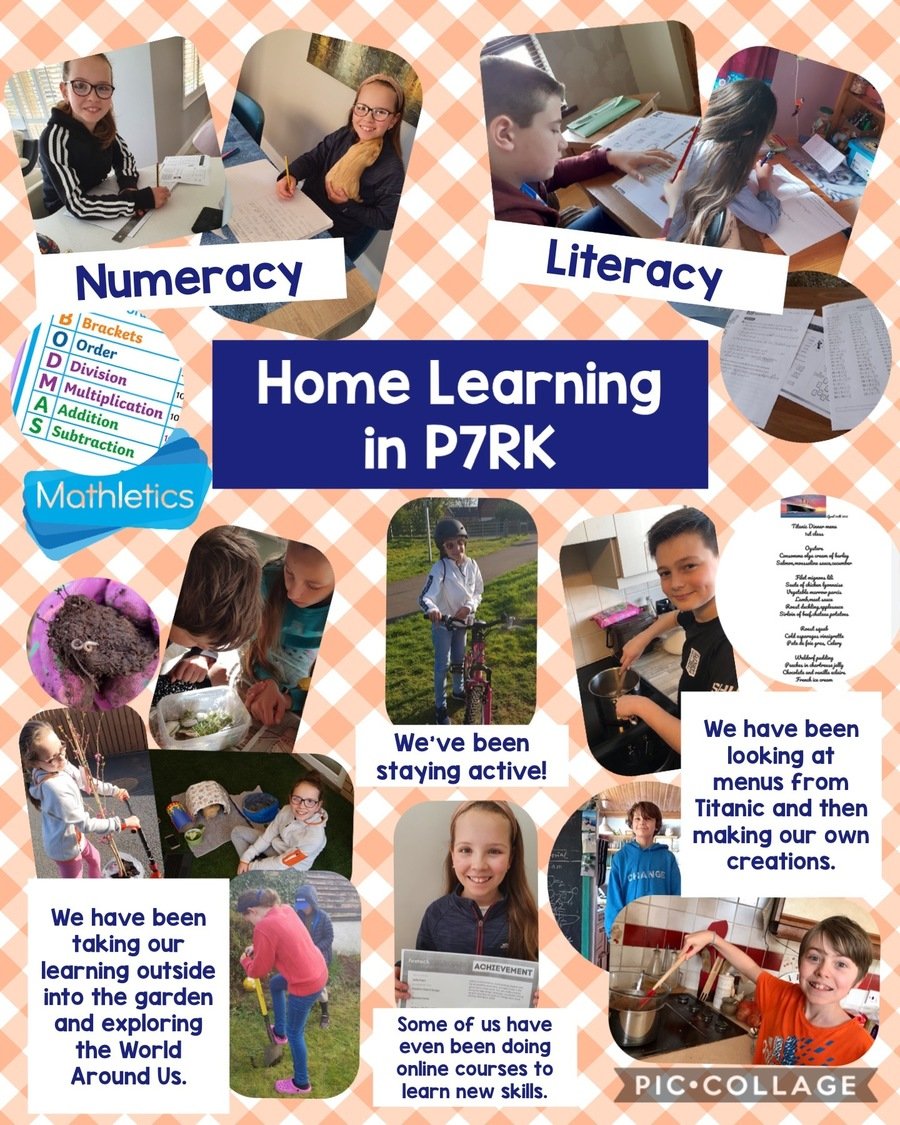 We loved the opportunity to celebrate Valentine's Day in their writing this week. We looked at the use of the figurative including similes, metaphors, personification and hyperboles and used this to create a poem about the things and people that we love!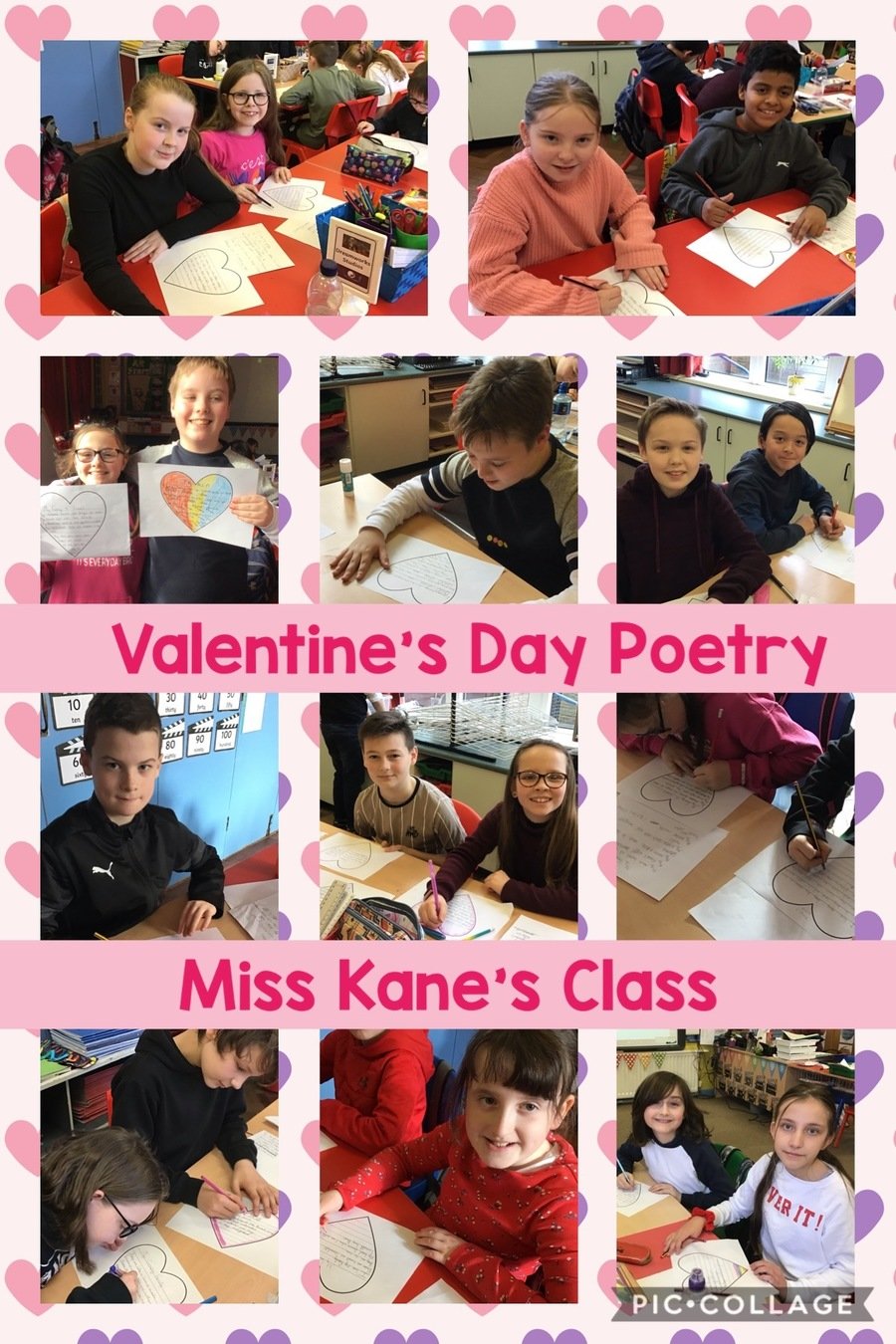 To celebrate Safer Internet Day, Miss Kane's class discussed our online reputations. We talked about how the things we say and do online can affect how other people see us and can cause people to make decisions about us based on what they see.
We even learned that some companies and employers search people before offering them a job and got to complete an activity where we got to be "The Boss". We were given 6 applicants to choose from and had to decide who we would give the job to based on their social media accounts. We looked at things like usernames, behaviour and respect.
We then created our own emojis inspired by what we learned in the lesson.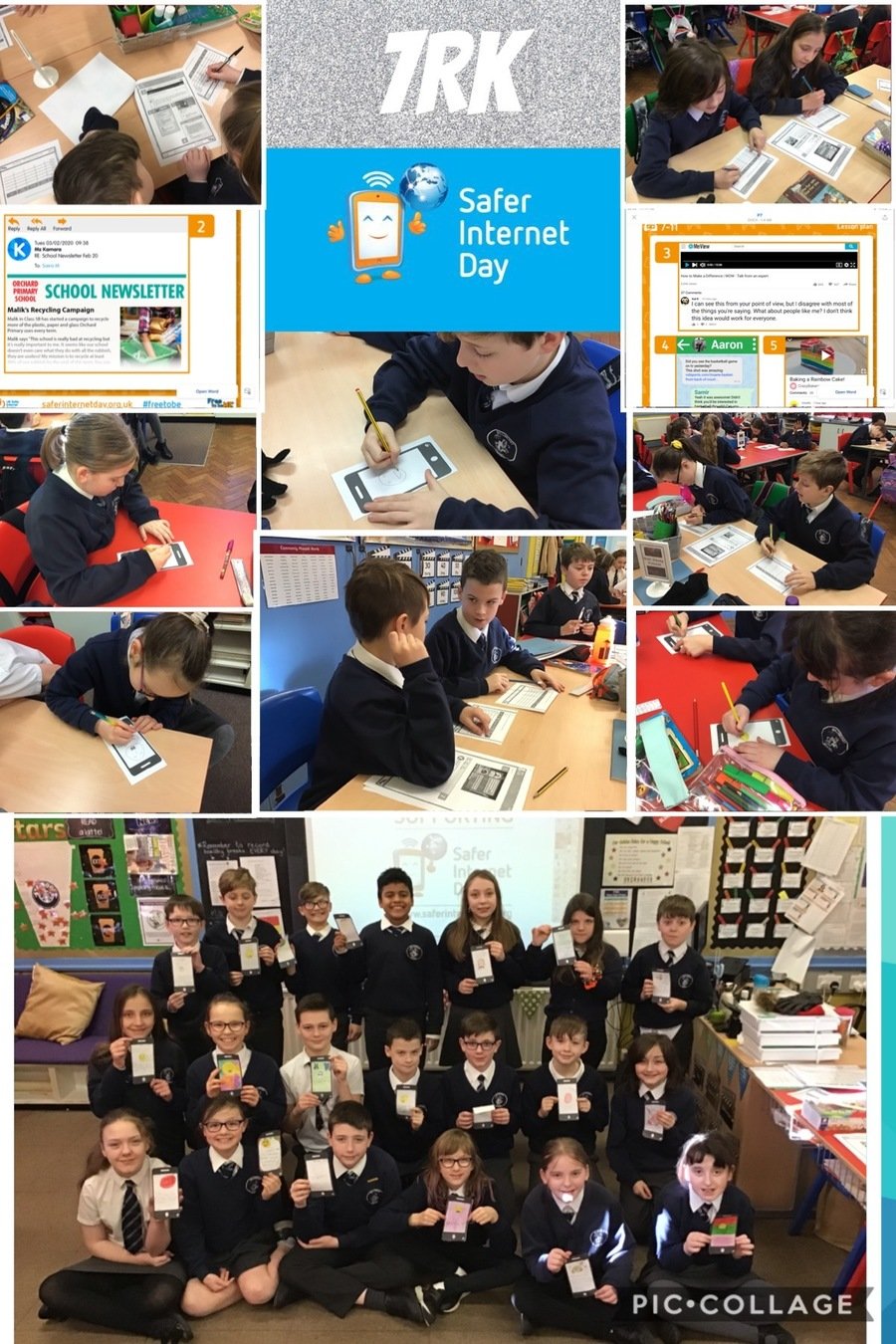 Children's Mental Healthy and Well-Being Week
Miss Kane's class explored how we are all connected this week in PDMU for Children's Mental Health and Well-Being Week. We talked about different aspects that make us unique as well as our likes, dislikes and aspirations. We also talked about our right to have an enjoyable place to learn within school and our responsibility to look after each other and make sensible choices. We really enjoyed seeing our connections visually and realised that within our class we are all connected in many different ways!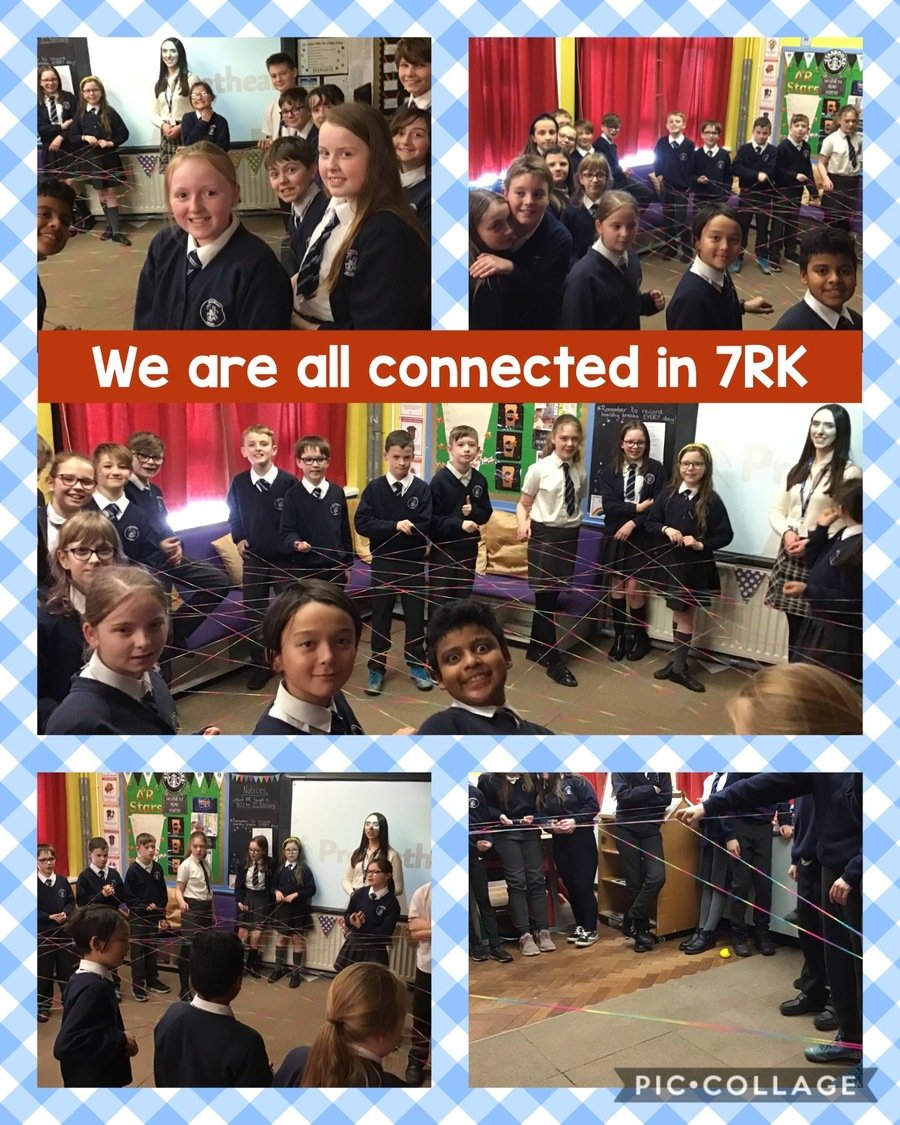 RSPB Big Schools' Bird Watch
This week our school is taking part in the Nationwide Big Schools' Bird Watch by RSPB. Miss Kane's class loved getting outside into our school grounds to identify and record the birds in our local area using binoculars. We talked about the importance of tracking birds in our local environment for scientists.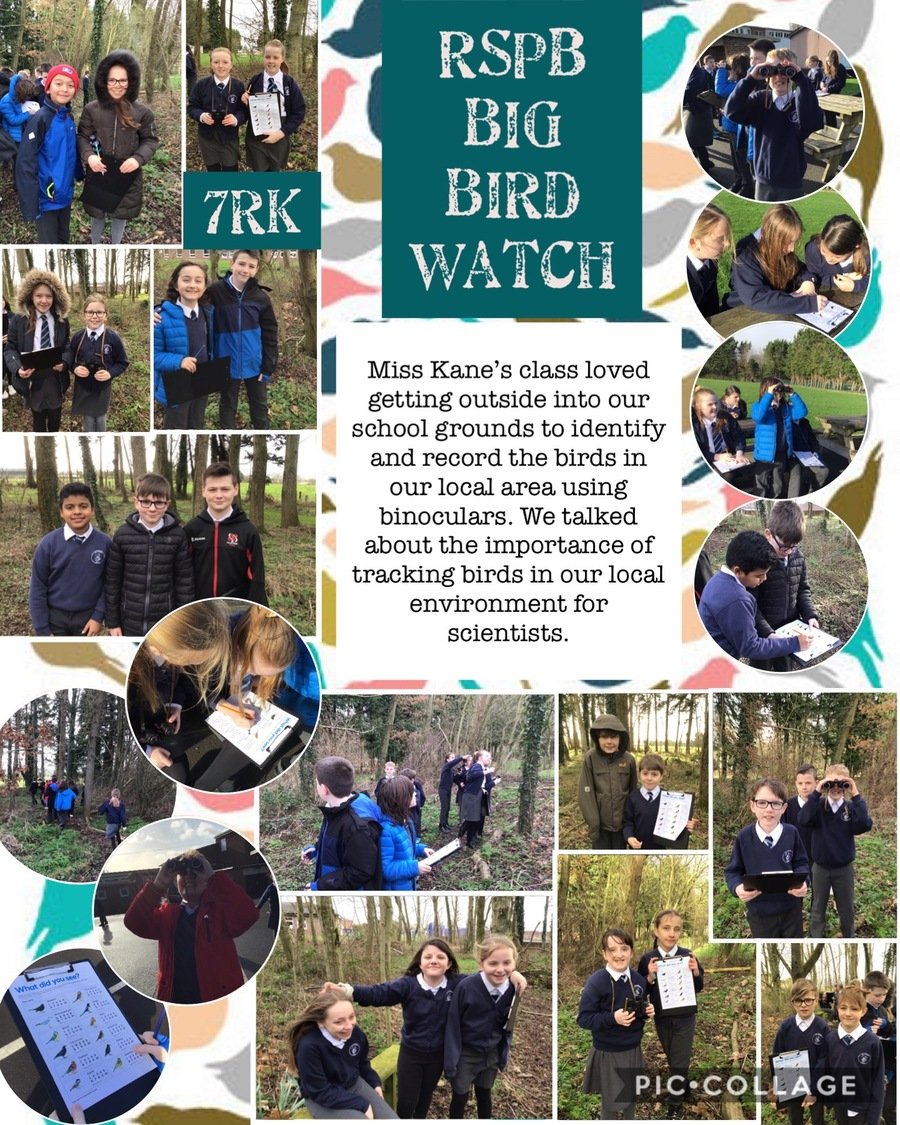 To celebrate Health & Fitness week in our school 7RK have been taking part in the 5 Minute Move Challenge using Joe Wicks' workout videos. We are really enjoying taking part in the activities every day and have already learned some new exercises that we'll be able to continue using to keep ourselves fit and healthy.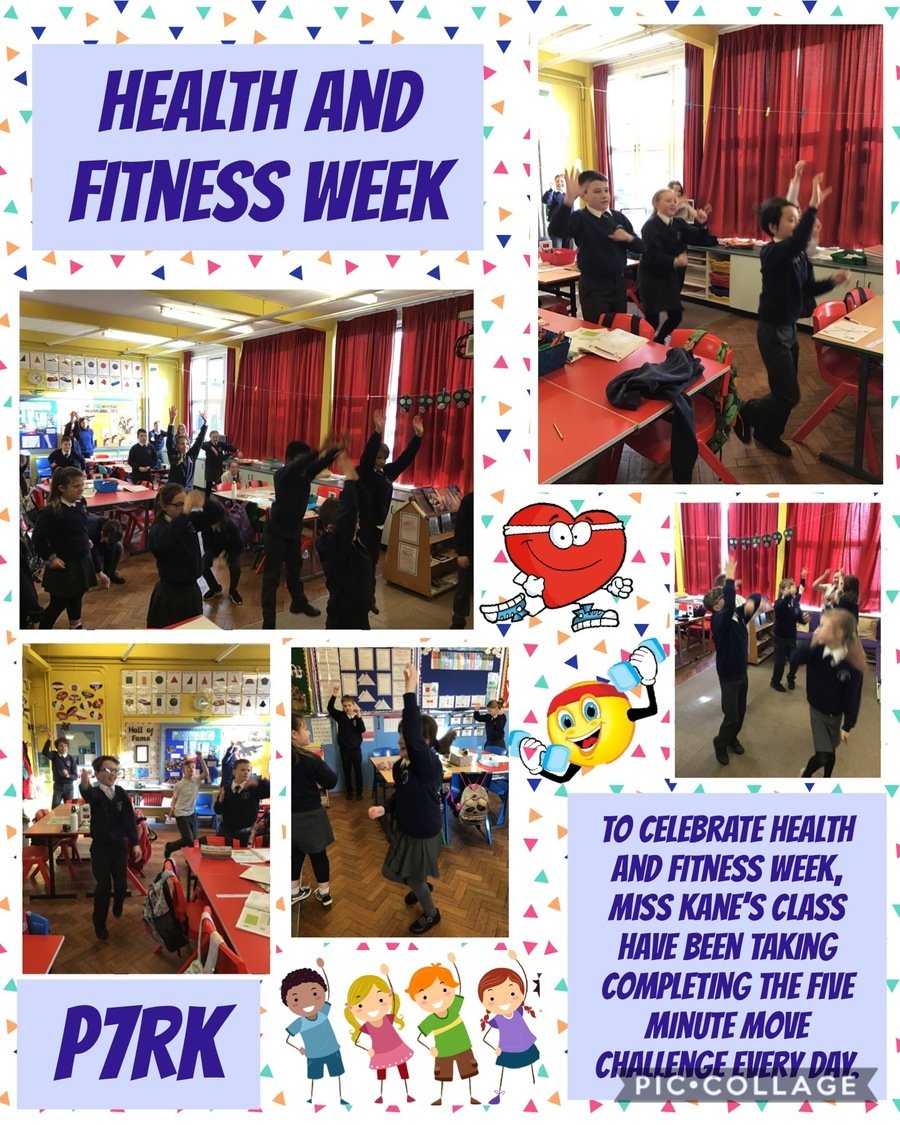 Introducing our new topic...UNSINKABLE!
7RK really enjoyed taking part in their carousel activity for their new topic, "Unsinkable". We loved exploring the different stations and creating our own questions to guide our learning this term.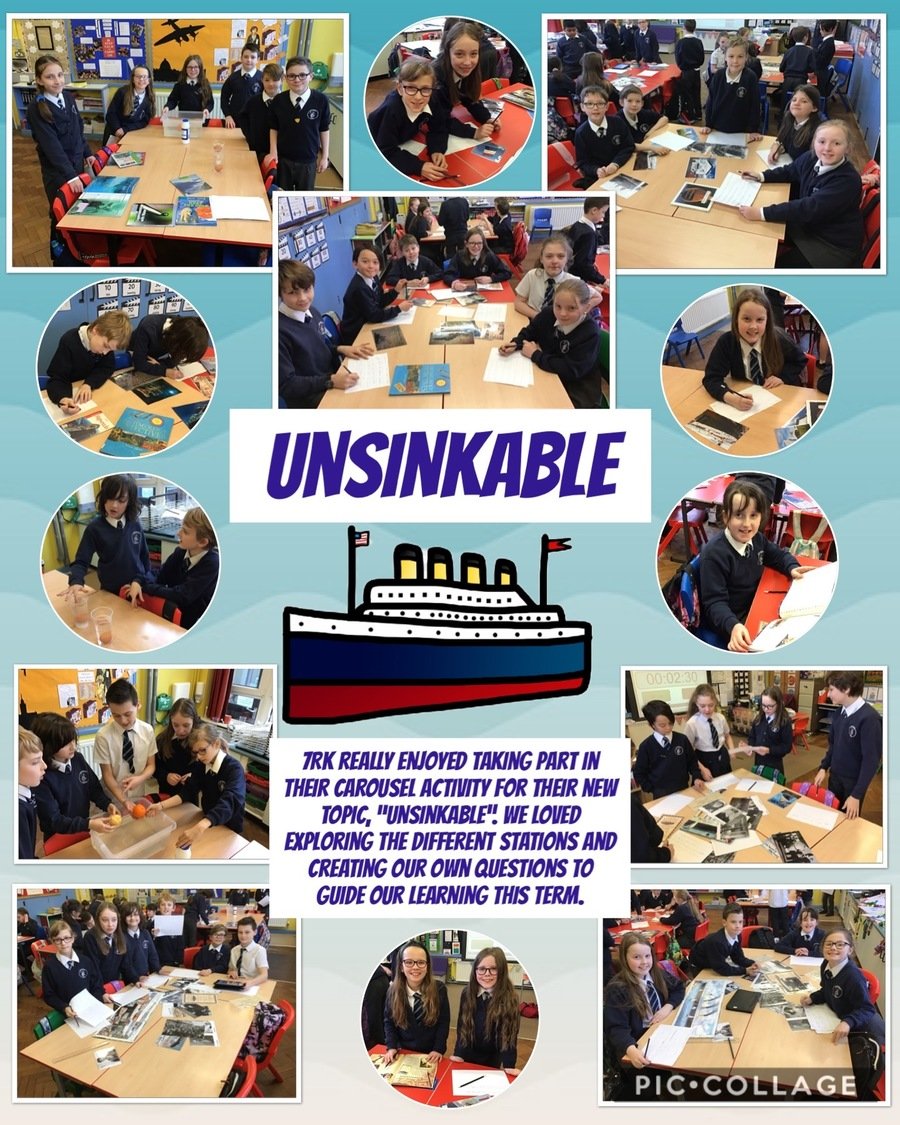 On Tuesday afternoon, 7RK had the opportunity to take part in a Scottish Dancing Taster Session. We all had so much fun getting involved and learning this new style of dancing which ties in with our current topic, "Unsinkable" exploring life aboard the Titanic.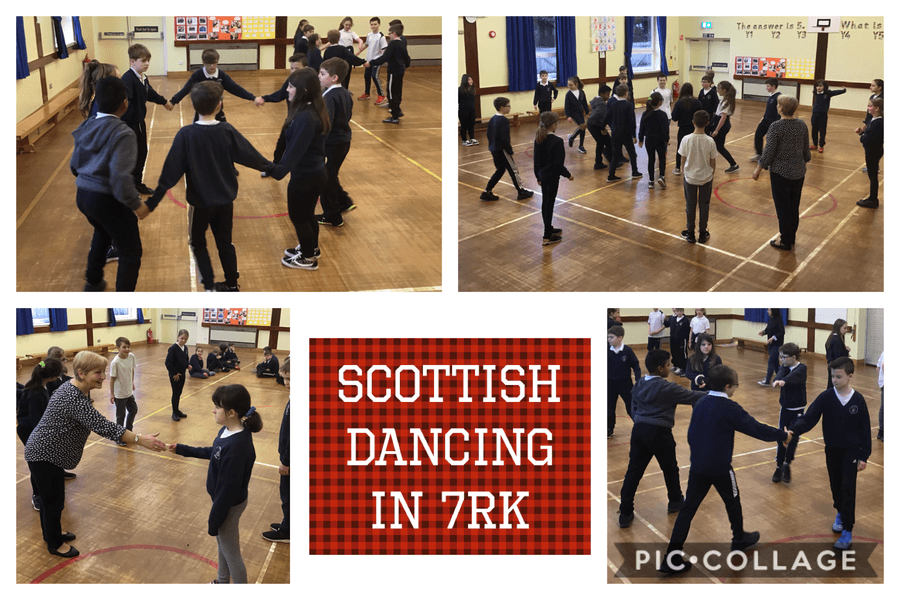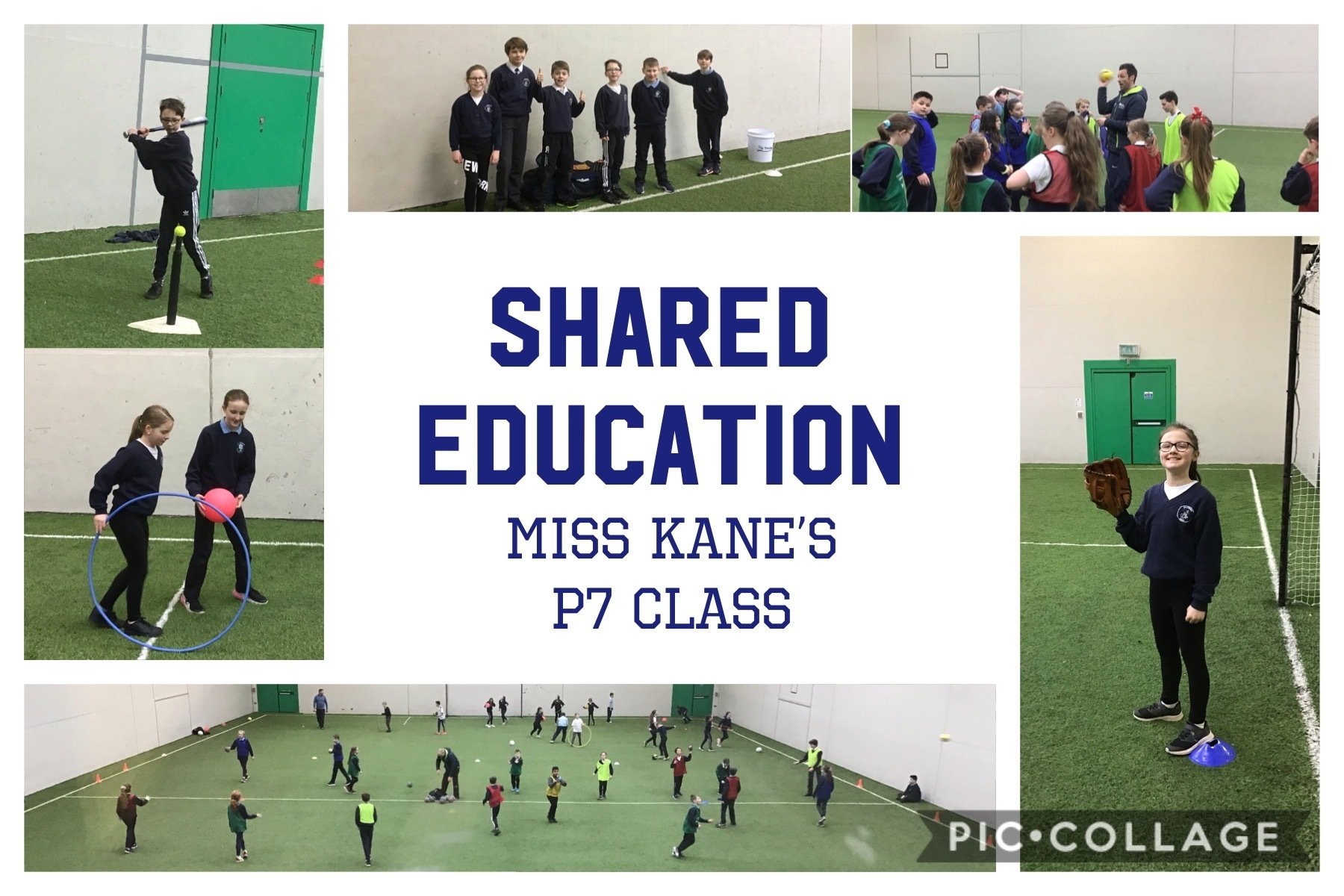 Shared Education Trip to St. Joseph's PS, Dunloy
7RK had a fantastic first day of Shared Education along with Primary 7 students at St. Joseph's PS, Dunloy on Tuesday 14th January. We had the opportunity to take part in a variety of fun sports activities and games and loved learning about different sports including handball, volleyball and baseball. We had such a great day and made lots of new friendships. We are looking forward to continuing the rest of the project later this week.
Ballymoney High School Taster Day
On Friday 6th December, Primary 7 had the opportunity to attend a Taster Day at Ballymoney High School. We had a fantastic day getting to see around the school, meet the teachers and sample all the new subjects. We had the opportunity to try out lots of different subjects that we'll get to enjoy when we move to secondary school next year including Home Economics, French, English and Technology. We also got to take part in lots of fun activities including decorating our own gingerbread man, making Christmas cards, writing a poem and making our own key ring!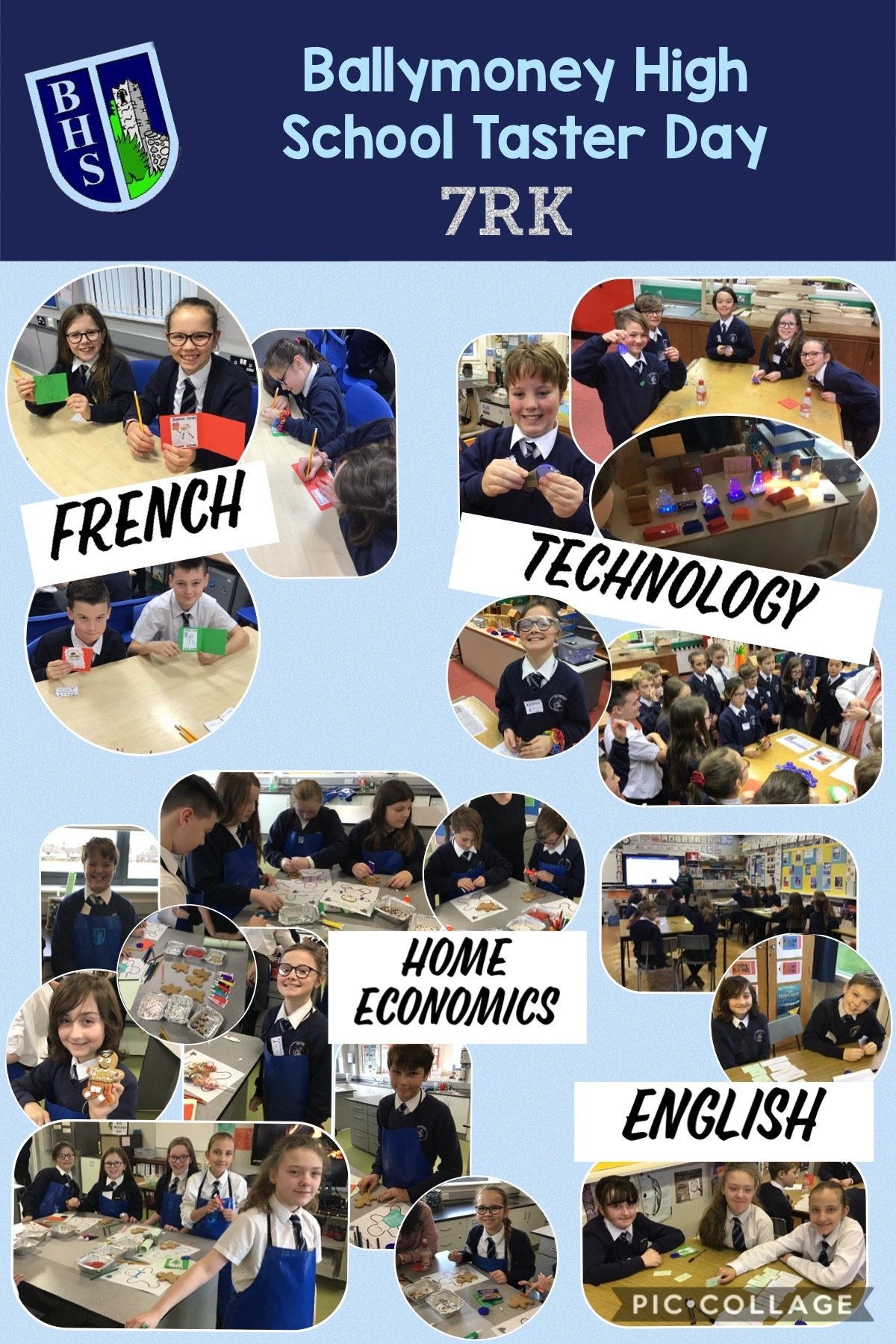 As part of Road Safety week in school, we carried out a Light and Dark enquiry to investigate the best ways that we can be safe especially when travelling actively during the darker days. We discussed different types of clothing and high visibility items such as jackets, reflectors and lights.
We talked about the importance of making safe decisions and played an online game to test our decision making skills.
Today we celebrated "Ditch the Dark Day" as part of the "Be Safe, Be Seen" campaign by wearing our brightest clothing to school.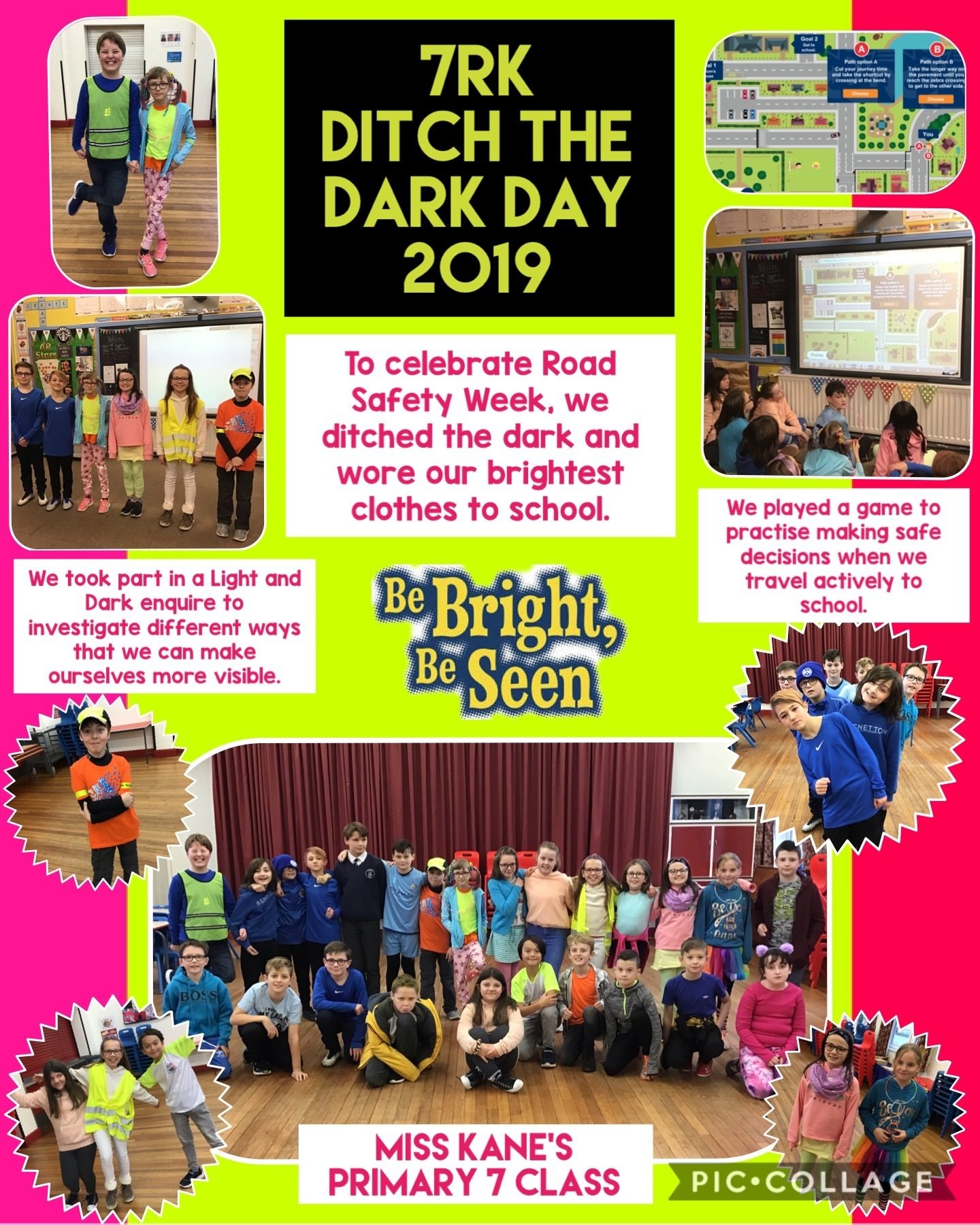 Friendship Week Celebrations
To celebrate Friendship Week in school. We discussed friendship and how we can be a good friend to one another. We talked about the power behind our words and actions and how we can use this power to be good friends to each other by showing about kindness and respect. We designed our own leaves of kindness to show all of the different ways that we can show friendship and created our own "Branches of Kindness" Tree.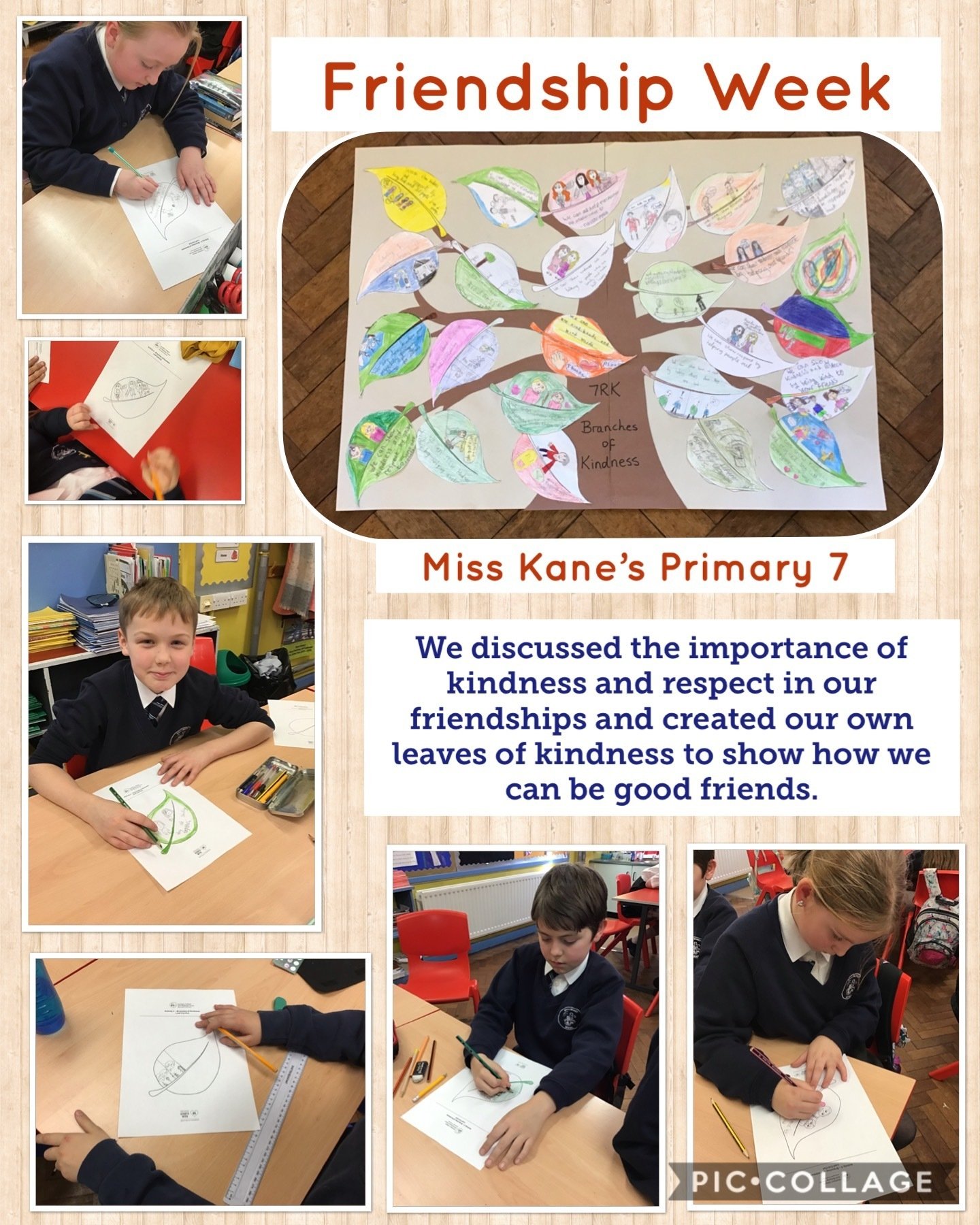 On 10th October, Primary 7 had the opportunity to learn safety and life skills at RADAR NI, Belfast. RADAR, which stands for Risk Avoidance and Danger Awareness Resource is features a life-size street scene, police station, bus, train, house and fire station. We had a fantastic day taking part in a range of fun, interactive workshops while learning about personal safety, e-safety, fire safety, home safety and road safety.
Take a look at some of the highlights of our day in our video!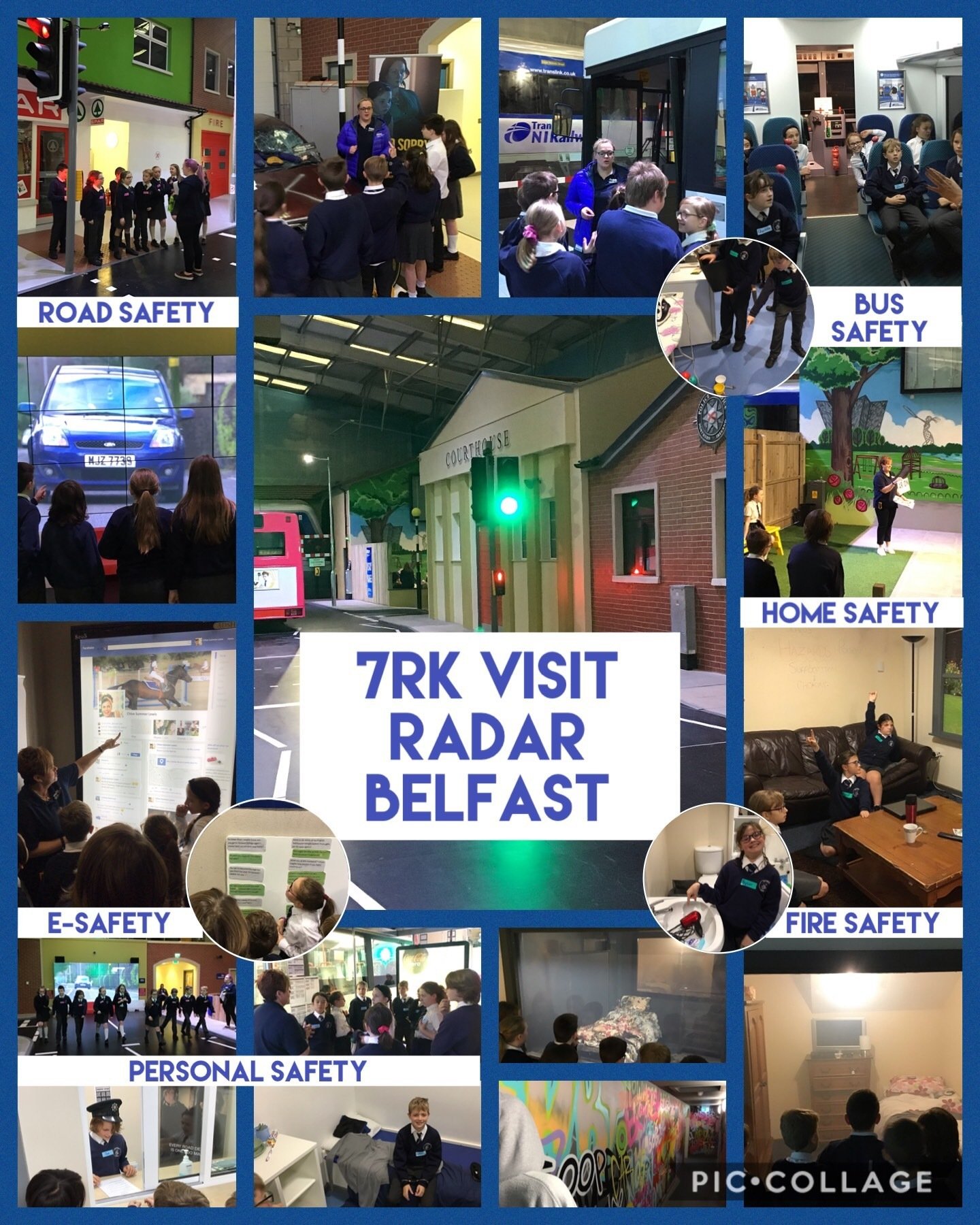 We have started holding Investigative Maths sessions on Fridays each week. Following on from our learning this month, we will be taking part in a range of practical problem solving challenges where we must apply our knowledge on place value, fractions and nets of 3D shapes. We had so much fun and can't wait to do it again next week!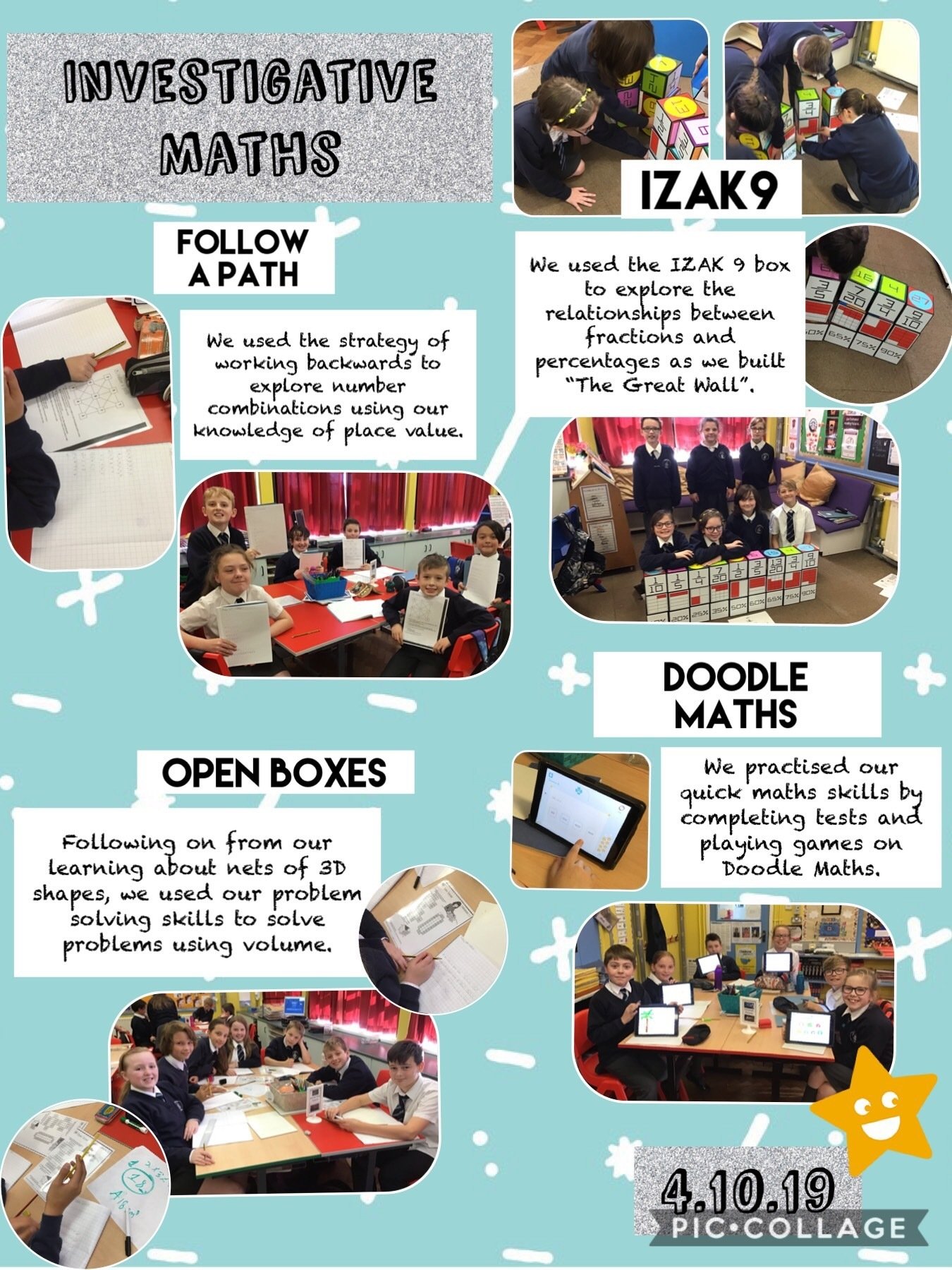 Over the last couple of weeks, Year 7 have been exploring properties and nets of 3D shapes. We have investigated their properties and identified many different possible nets for each shape. We really enjoyed creating and decorating our own nets for cubes and cuboids and are very proud of our work which is now on display in the school foyer.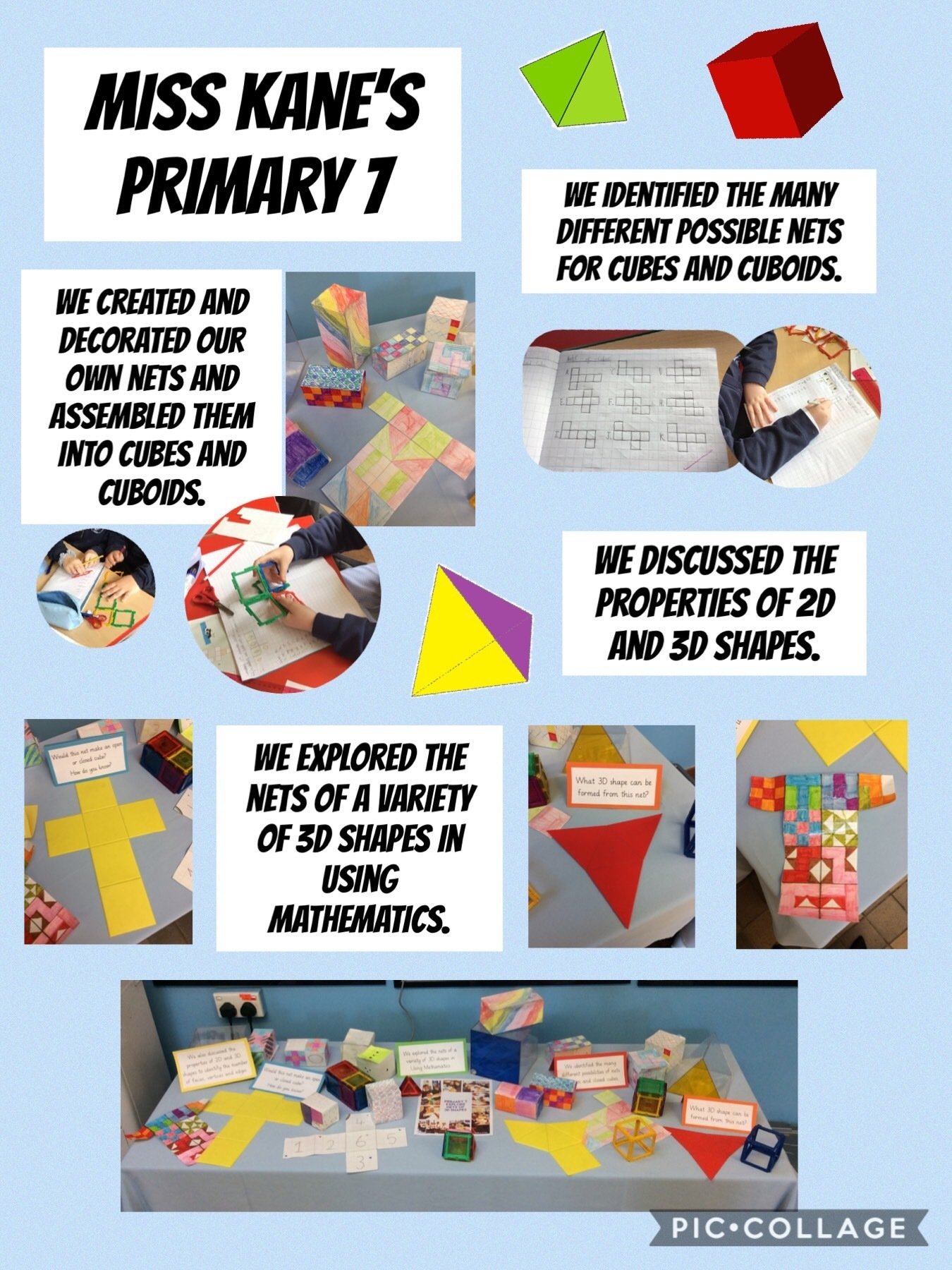 Enter text...
Our Topic this Term is....Keep Calm & Carry On
To introduce our new topic we used a Carousel Activity to create questions around key themes. We came up with some very interesting questions and then spent time discussing them as a class. We are looking forward to answering these questions throughout the term.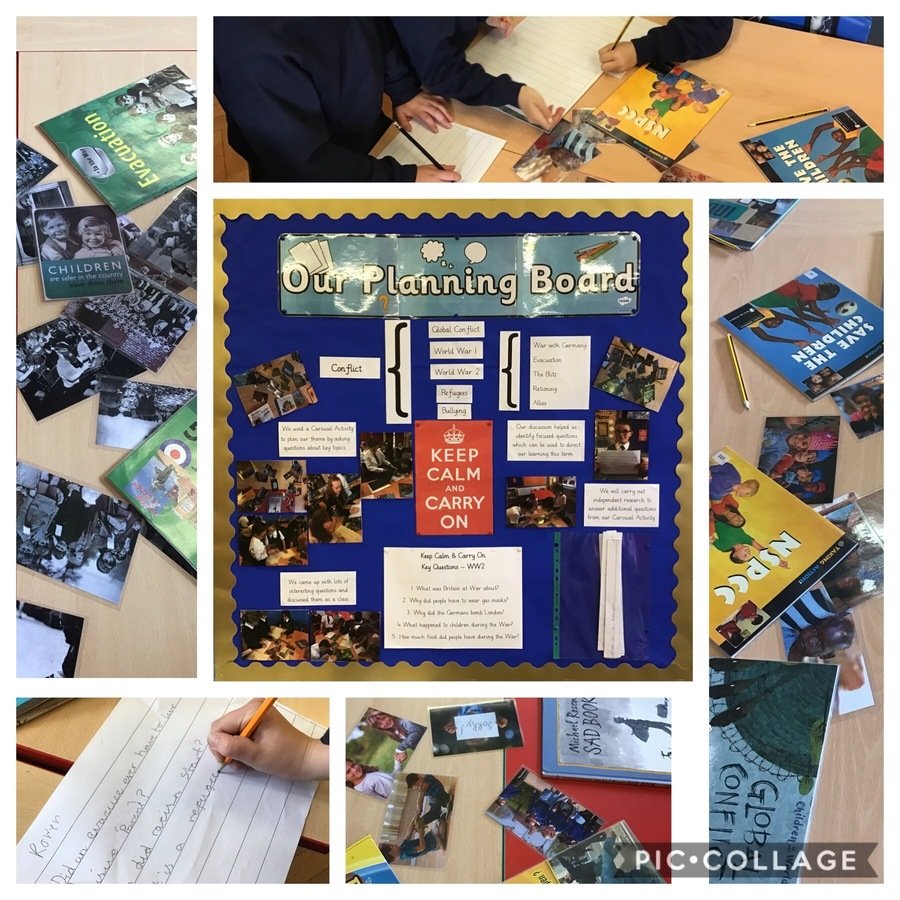 To start off the year, we spent some time as a class discussing the importance of the UN Convention on the Rights of the Child. We discussed our rights as well as our responsibilities and worked together to pick out our top 5 to form our Class Charter. Then, keeping in line with our Hollywood classroom theme, we all signed our autograph to show that we commit to keeping our charter rules this year.