6TS Road Safety Week
After having a discussion about the benefits of cycling, the pupils of 6TS watched an informative Sustrans video that focused on the travel culture of children and adults in the UK and other European countries.
The pupils had to listen very carefully to the video as the content they watched assisted them with the completion of their 'question and answer' written task. Countries analysed included: England, Holland, Belgium and France.
Upon completion of this task, the pupils worked in groups to discuss and list the practical barriers that they may encounter with cycling, and offer some solutions to overcome them.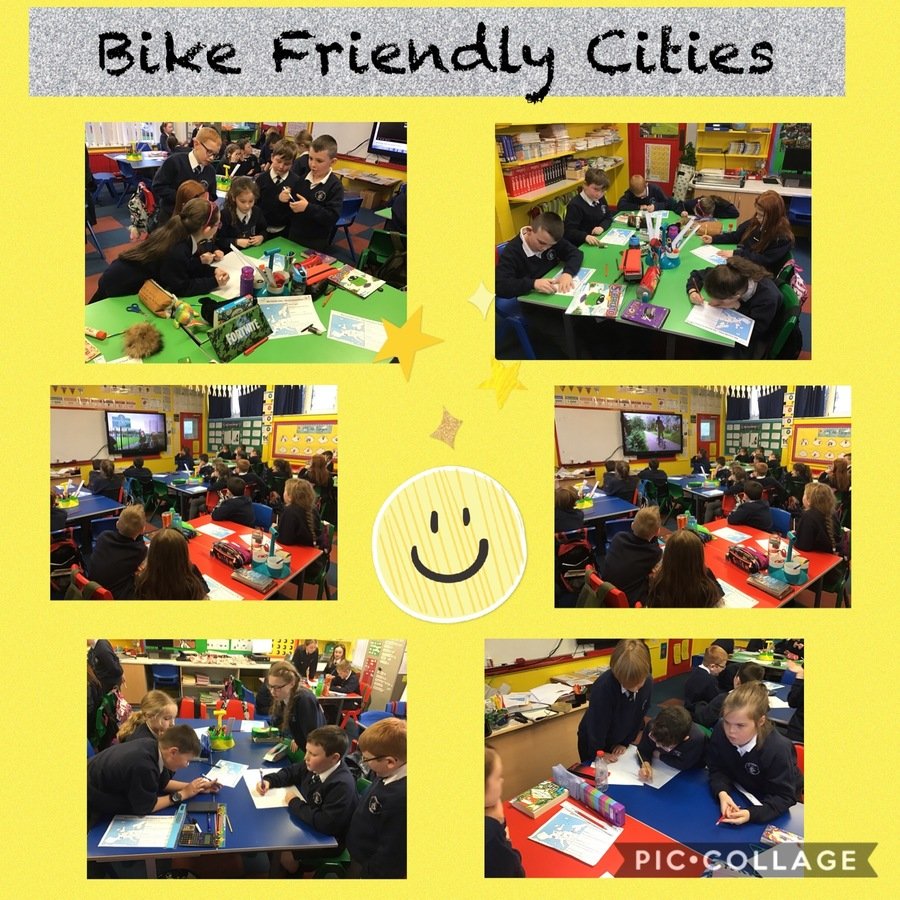 6TS Friendship week
This week, the pupils of 6TS took part in some activities to celebrate Friendship week. One of the activities, 'Branches of Kindness', encouraged the pupils to recognise what it meant to be kind to one another and treat each other in an appropriate way. After sharing their opinions and ideas about friendship, the pupils drew pictures of other pupils in their class or people they knew being friendly and kind, and then presented their drawings to the rest of the class.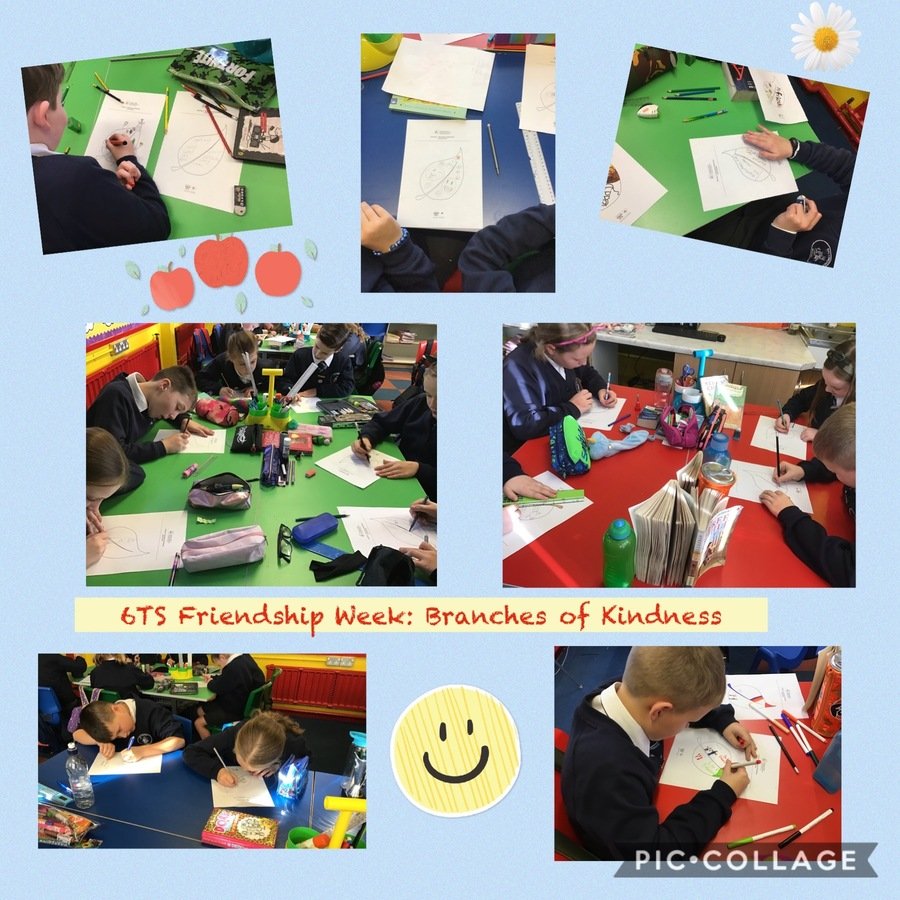 6TS Problem solving with decimals
6TS have been working with decimal numbers throughout the week and today they put all of their newly acquired knowledge to the test.
Working with a partner, the pupils were given a selection of digits and a decimal point. They were tasked with making as many decimals as possible to one decimal place, followed by decimals to two decimal places. Needless to say, the pupils were able to come up with a huge amount of decimals! They also had the opportunity to order their newly created decimals from smallest to largest and largest to smallest.
How I use Maths in my Job...
In a follow up to our Maths Week celebrations from last week, 6TS had the privilege of welcoming one of our Year 6 parents, Mr Billy Clarke, into our class to discuss how he uses Maths in his job in S&T Moore, Coleraine. The pupils of 6TS discovered that he carries out calculations in his job that are very similar to what they have been recently learning in Numeracy! The pupils also enjoyed learning how to write a cheque and completing some mathematical challenges. A big thanks to Mr Clarke for his visit.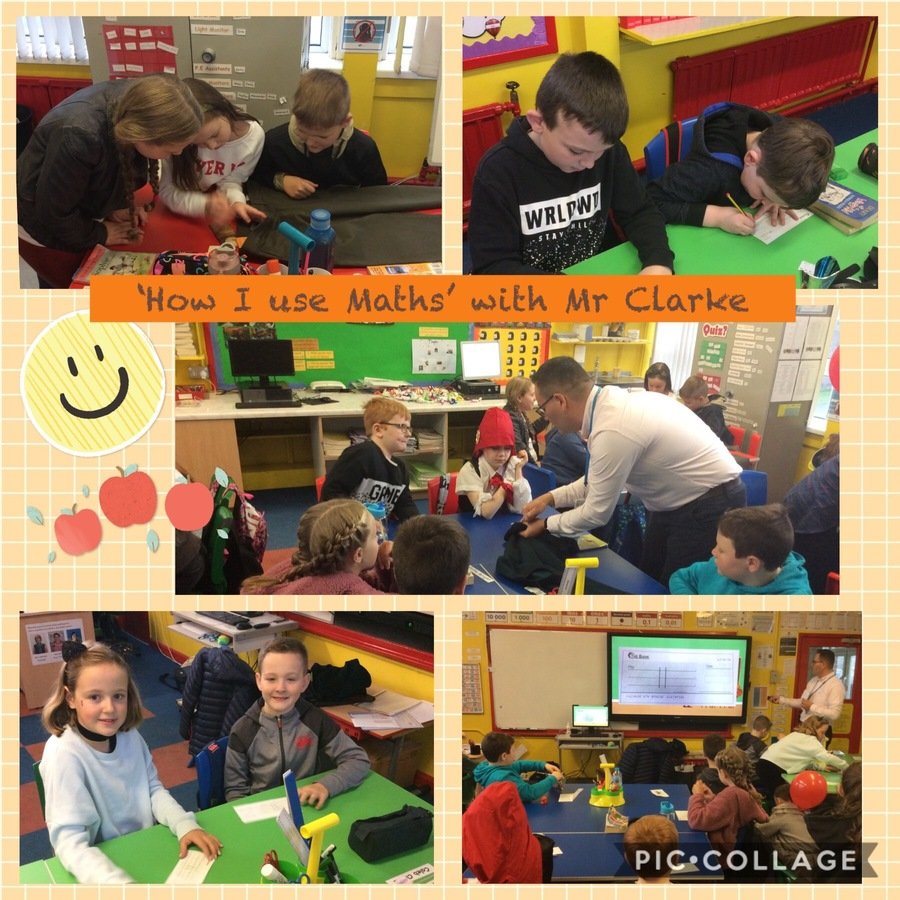 6TS Trip to Ballymoney Library
6TS recently visited Ballymoney Library. The boys and girls enjoyed learning all about the exciting resources the library has to offer. Many of the children also used this learning experience to borrow some books! 6TS had a fantastic time and look forward to returning to the library in the future.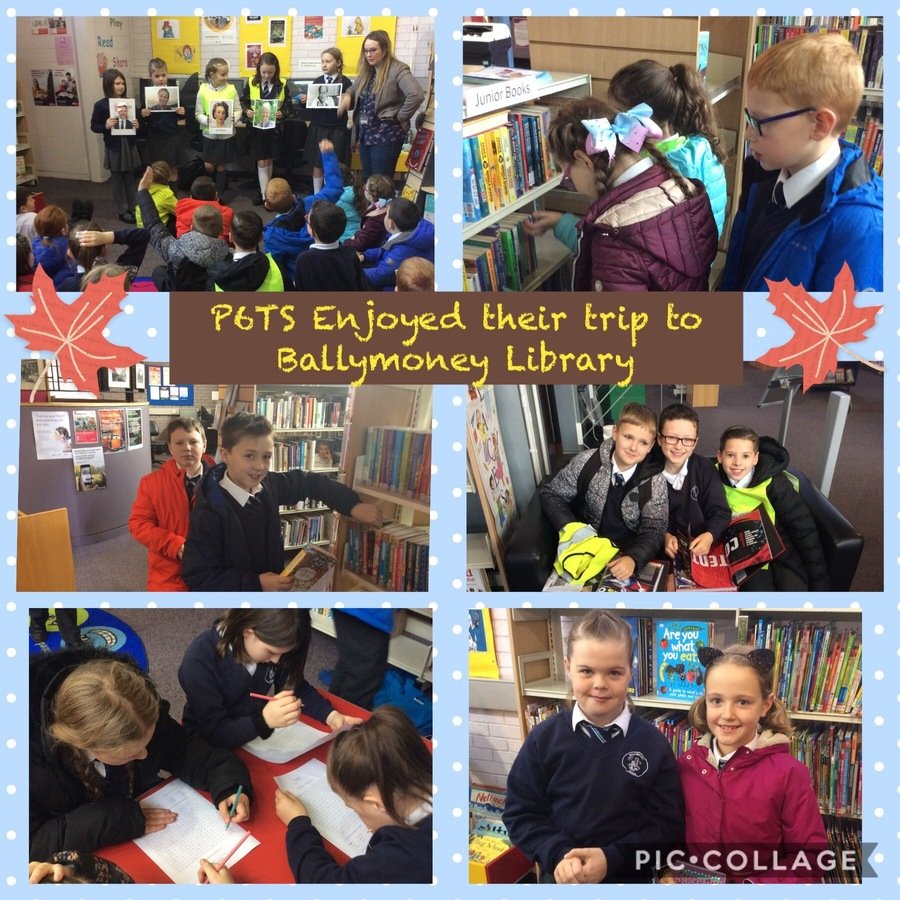 Creative Writing - Writing a descriptive passage
The pupils of 6TS are currently reading Under the Hawthorn Tree as part of their 'Hunger' topic in the World Around Us, the story of a family living in Ireland during the Irish Famine. Having learned about the plight of the main characters of the story, the pupils of 6TS planned, wrote and edited a descriptive passage from the viewpoint of 'Mother', who was desperate to feed her family.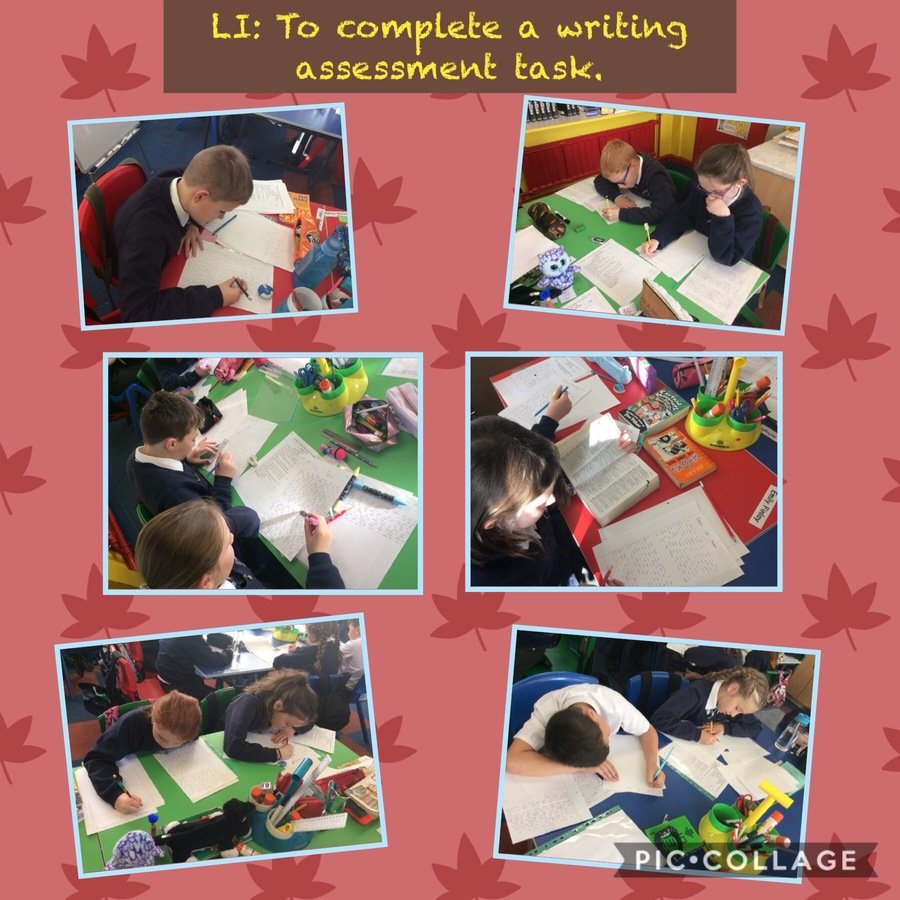 Maths Week - 6TS
Maths Week was recently celebrated throughout Ireland. To celebrate Maths Week in 6TS, we dressed up as people who use Maths in their jobs on a daily basis. We had vets, quantity surveyors, and even a second Mr. Strickland in the classroom! We took part in a carousel of fun and engaging activities that allowed us to develop and apply our Maths skills and knowledge.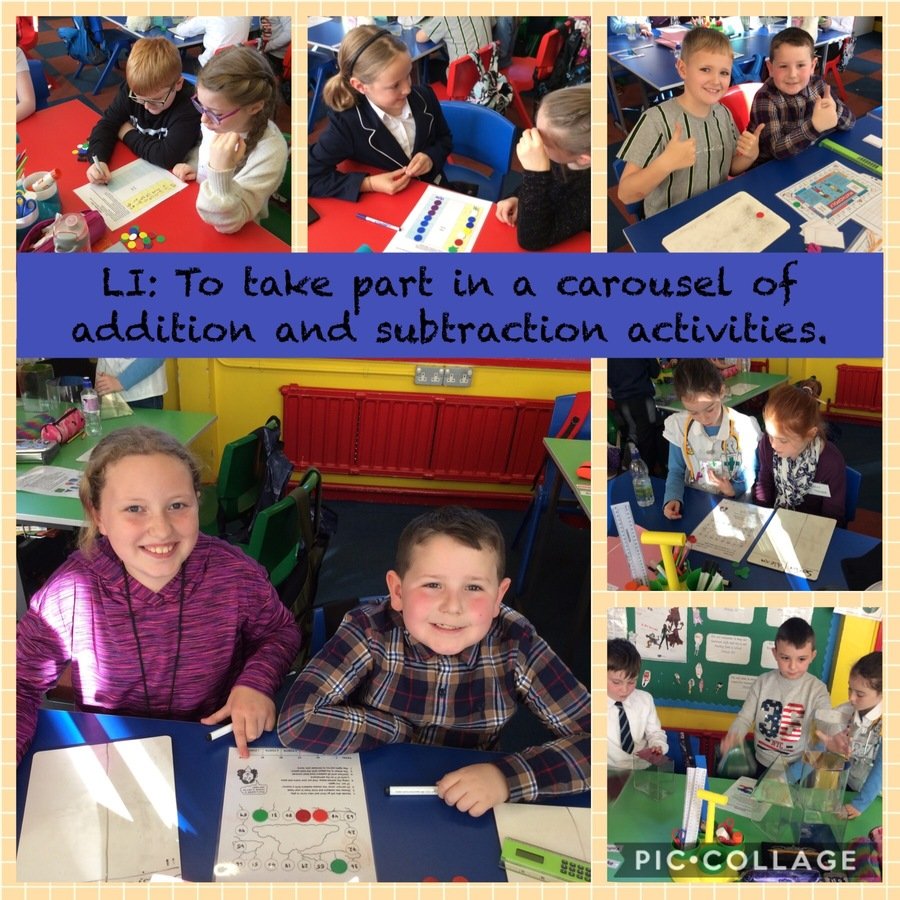 6TS Inventions Timeline
In a recent World Around Us lesson, 6TS sought to answer the following investigative question: What was invented during the Victoria era?
After identifying some of the most important inventions (including the light bulb, the telephone and the radio) that happened during the Victorian era, and having a discussion about how they changed people's lives, the pupils of 6TS worked in pairs to create an inventions timeline! Additionally the pupils were shown an example of a timeline and learned how to put events in chronological order. Some fabulous timelines were created during this fun learning experience!
6TS Building towers... using unique materials!
After learning about some of the tallest buildings in the world, 6TS developed their problem-solving and team-working skills by designing and creating the tallest building possible... out of spaghetti and marshmallows!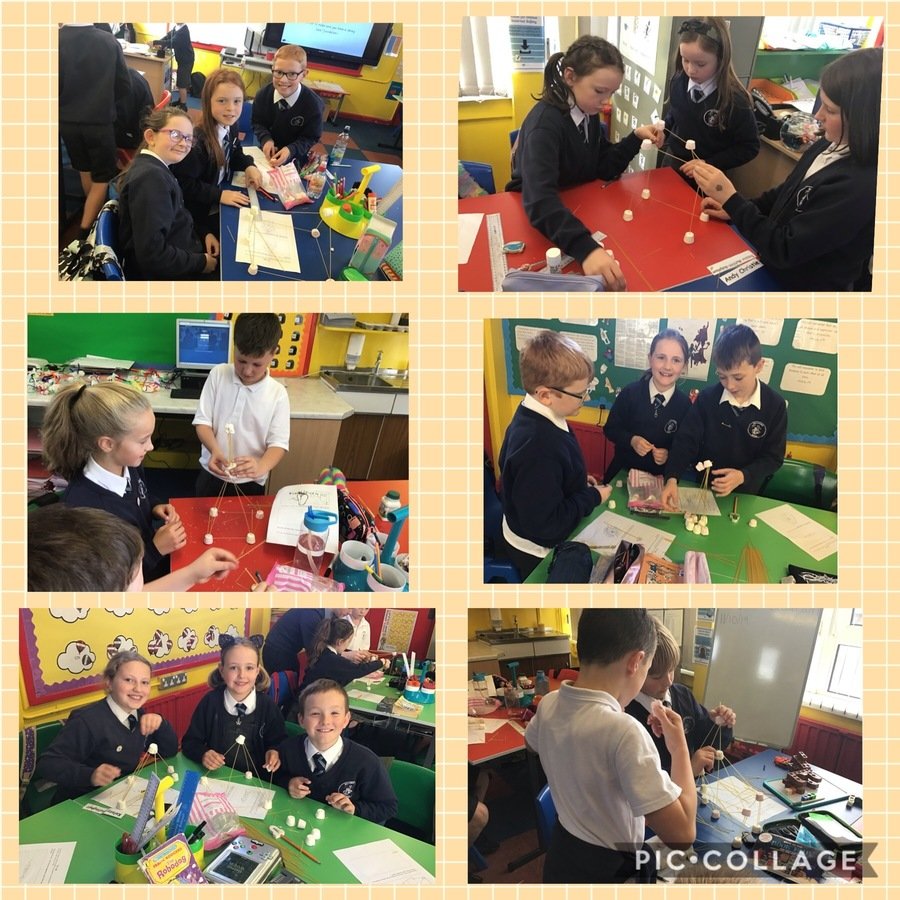 Year 6TS
Welcome to the 6TS Class Page!
We have just started back to school today and are looking forward to the 2019-20 school year!
Have a look on the school app to see a copy of the Year 6 Starting School Parent Information PowerPoint.