Year 6TS
Welcome to the 6TS Class Page!
Home Learning Update: 26th May 2020
6TS have had another busy week of Home Learning.

The boys and girls completed a variety of Numeracy and Literacy activities, including AR and Mathletics. In their topic, 'On Our Doorstep', the pupils of 6TS started to explore beyond the town of Ballymoney and were given the opportunity to carry out their own research about the country of Northern Ireland in the creation of a blog. In PDMU, the pupils learned about personal hygiene and designed a poster to show people how they can demonstrate good personal hygiene.

Pupils and parents, it has been wonderful to see the progress the pupils are making with the help of the Seesaw app. Feel free to share pictures of the work you are completing with me on Seesaw. Please also remember to check the Seesaw app for updates to the Year 6 Weekly Work Overview and videos to support Home Learning.

Many thanks for your continued effort with Home Learning each week.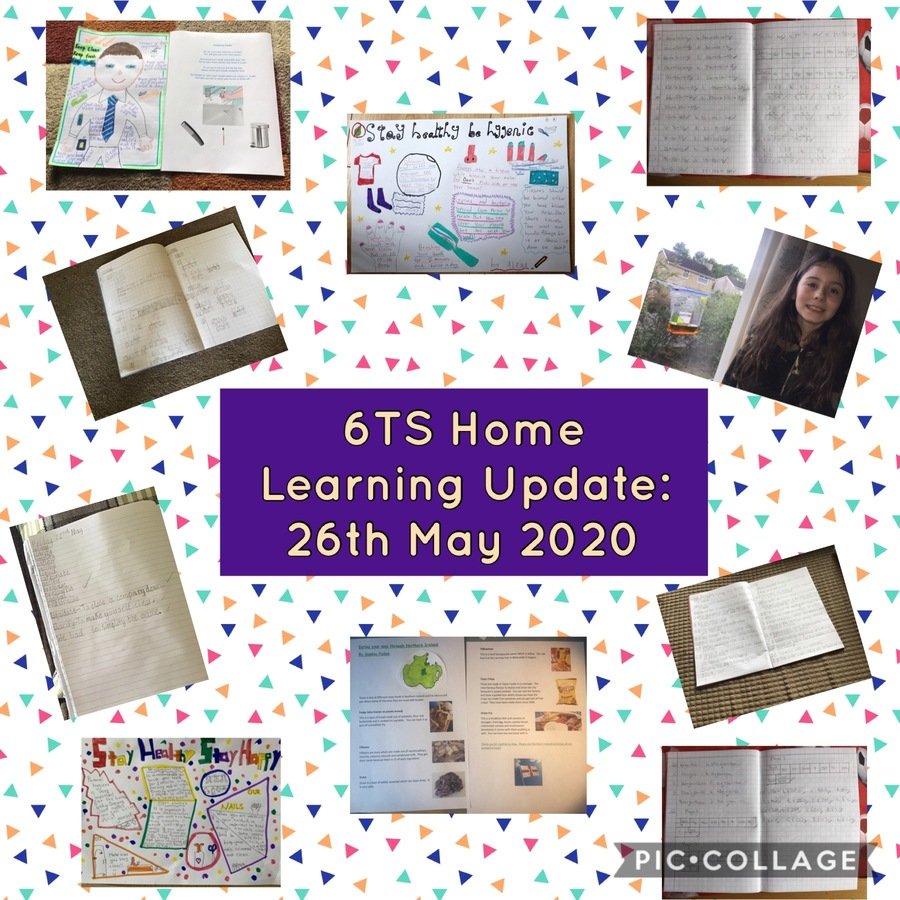 Home Learning Update: 18th May 2020
The boys and girls completed a variety of Literacy tasks, including the completion of a monthly spelling test! In Numeracy, 6TS completed some place value tasks, and developed their knowledge of compass points. As luck would have it, the compass work completed in Numeracy assisted the pupils with their World Around Us task: Writing a set of directions from one place to another within the town of Ballymoney! Such great effort was put into all of these activities. Keep up the hard work! Remember to connect to Seesaw for updates that may be made to the 'Year 6 Work Overview' document that was included in your child's Home Learning pack, and to share photos of the Home Learning your child is completing.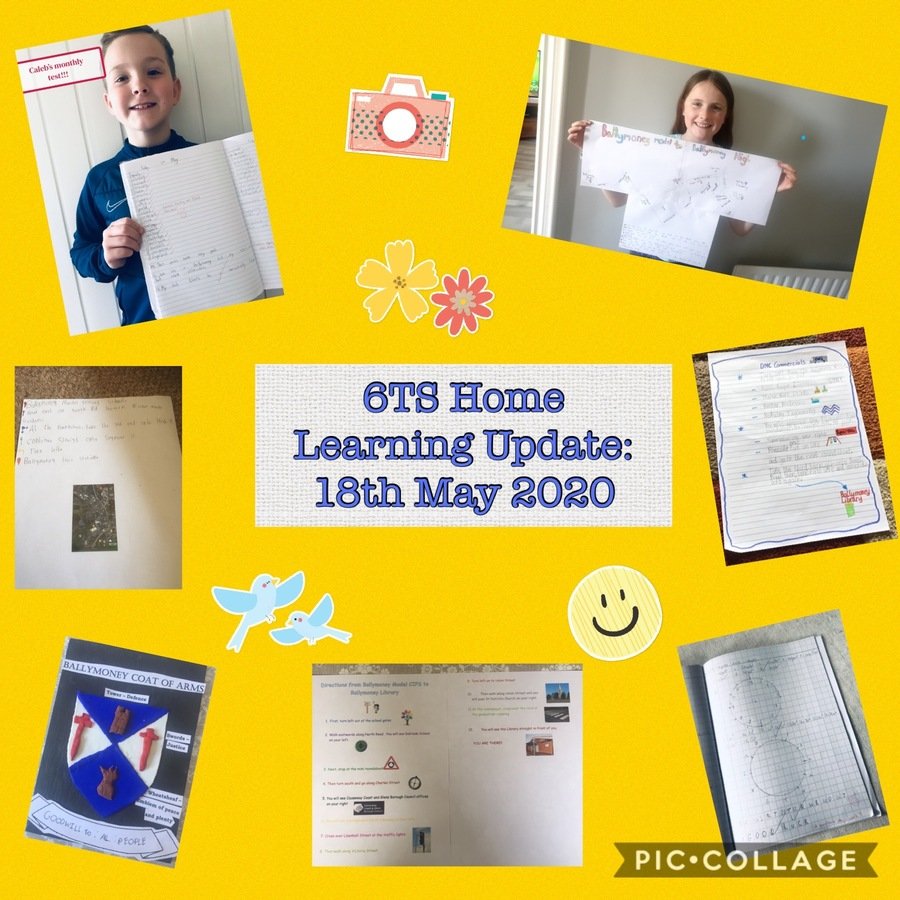 Home Learning Update: 11th May 2020
The pupils of 6TS have been making the most out of being at home throughout this unique situation we have all found ourselves in.
The boys and girls have been completing a range of Home Learning tasks in Literacy and Numeracy. The pupils have also been completing Mathletics, AR, WAU and other extra-curricular tasks. Recently, 6TS started to investigate their new topic, 'On Our Doorstep', and have produced some magnificent work in relation to this topic. Many of the boys and girls have shared their Home Learning with me on Seesaw.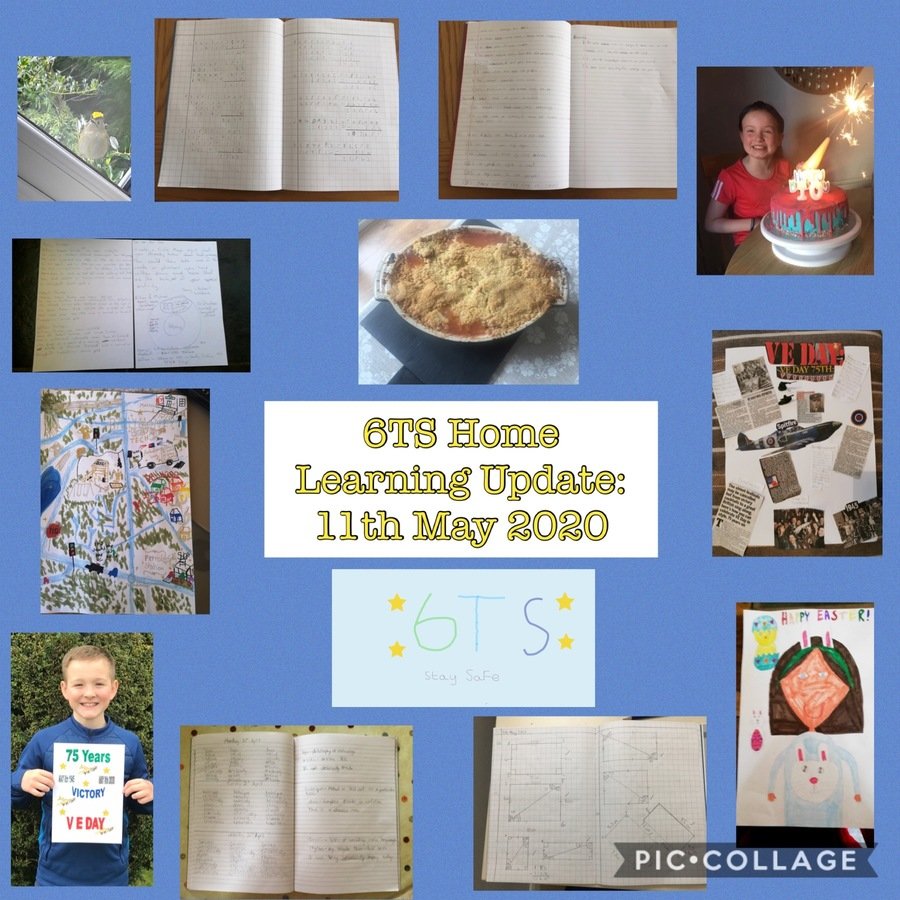 World Book Day 2020
The pupils of 6TS showed great enthusiasm for World Book Day 2020 by dressing up as characters from their favourite books! After discussing the importance of reading and sharing examples of times when you are required to read, the pupils summarised their favourite story to their partner and then had the opportunity to complete a Book Review about their favourite book.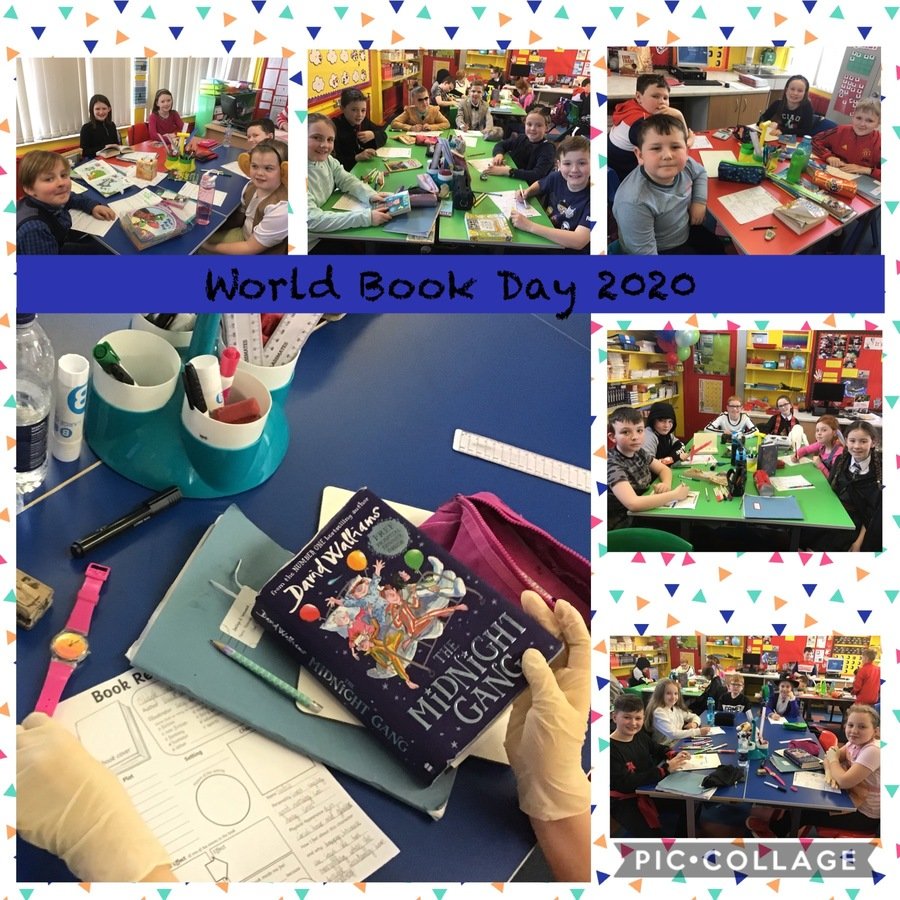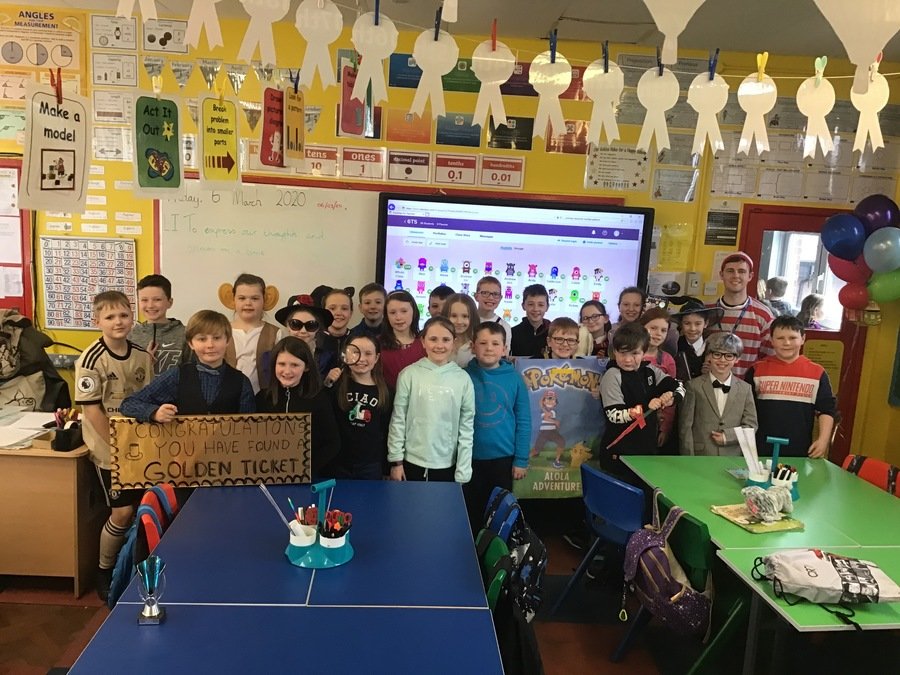 Shared Education Lesson 3
Year 6 had another very successful Shared Education lesson with the pupils of St. Joseph's P.S Dunloy. Peter Waugh from Sentinus used his expert knowledge of engineering to facilitate three practical, fun and challenging projects that required the children to construct a turbine, helicopter and a rocket! We would like to thank Sentinus for facilitating another exciting day of Shared Education!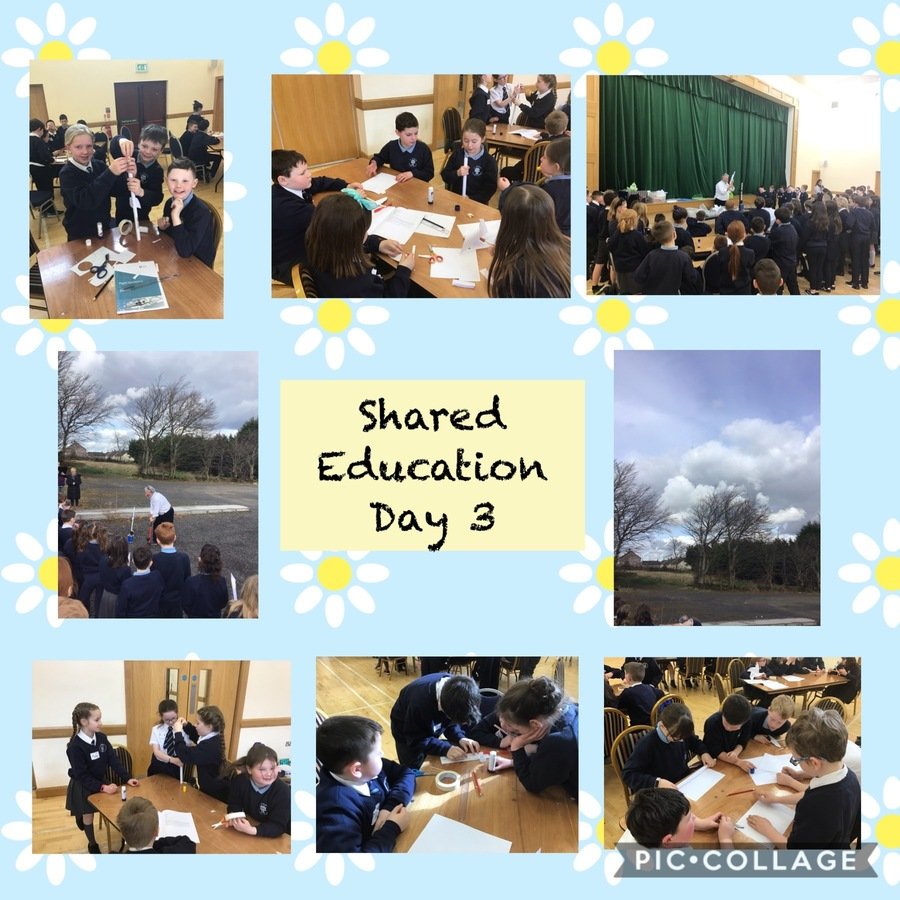 Year 6 Stormont Trip
Year 6 had a wonderful trip to Stormont today. They learned about the roles of their local councillors, MLAs and MPs, and had the opportunity to 'create' new laws in the chamber! DUP MLA Mervyn Storey took some time out of his busy schedule to discuss what the role of an MLA is like and answered any questions the pupils had. The pupils were also fortunate to meet the current Education Minister, Peter Weir, at the conclusion of their trip.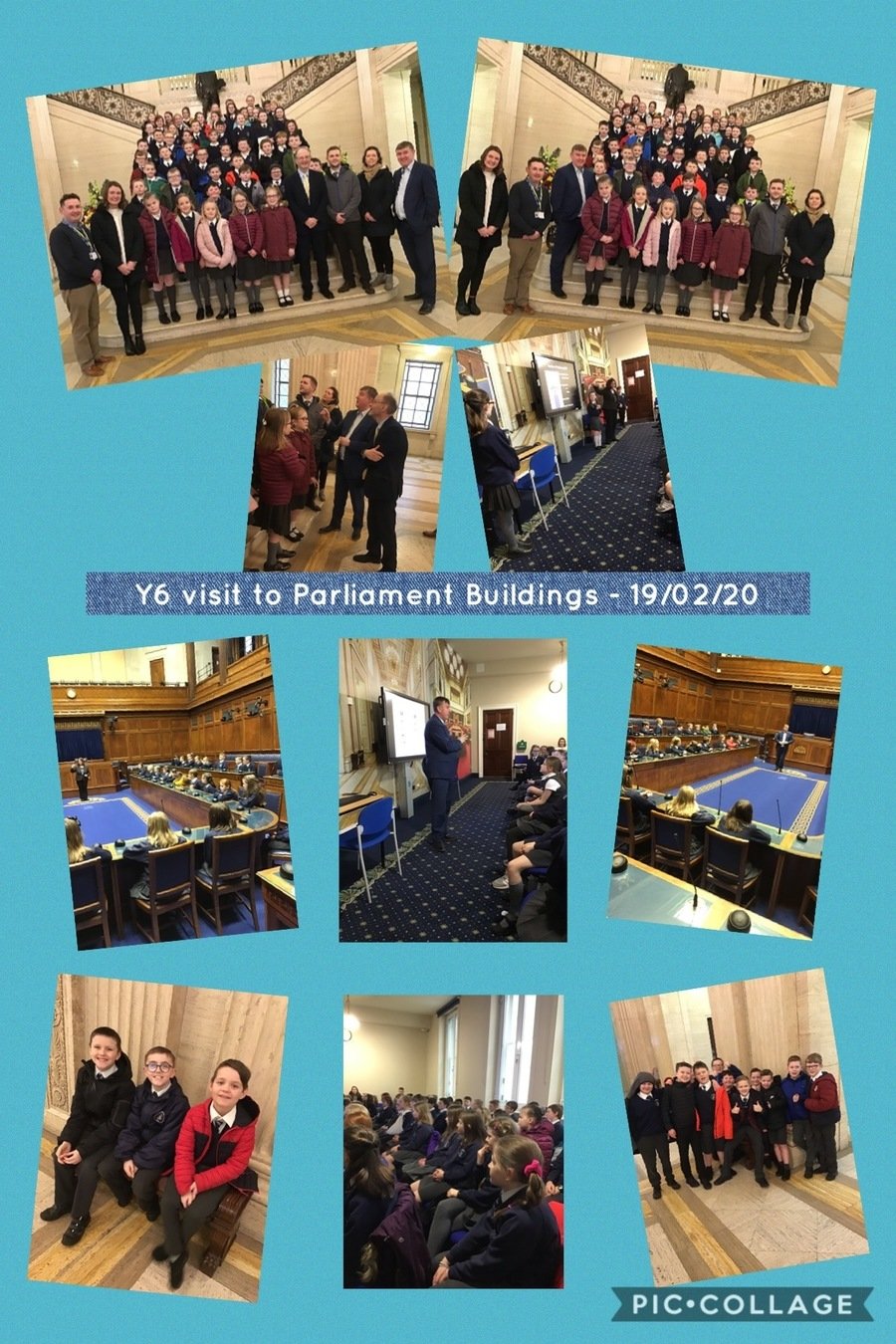 Online Safety Day 2020
To celebrate Online Safety Day 2020, the pupils of 6TS shared their thoughts and ideas about how to be safe online, with a particular emphasis on how to 'be free to be me'. The pupils agreed that while it's important to be themselves online, it's of equal importance to ensure what they post online does not have a negative impact on others around them.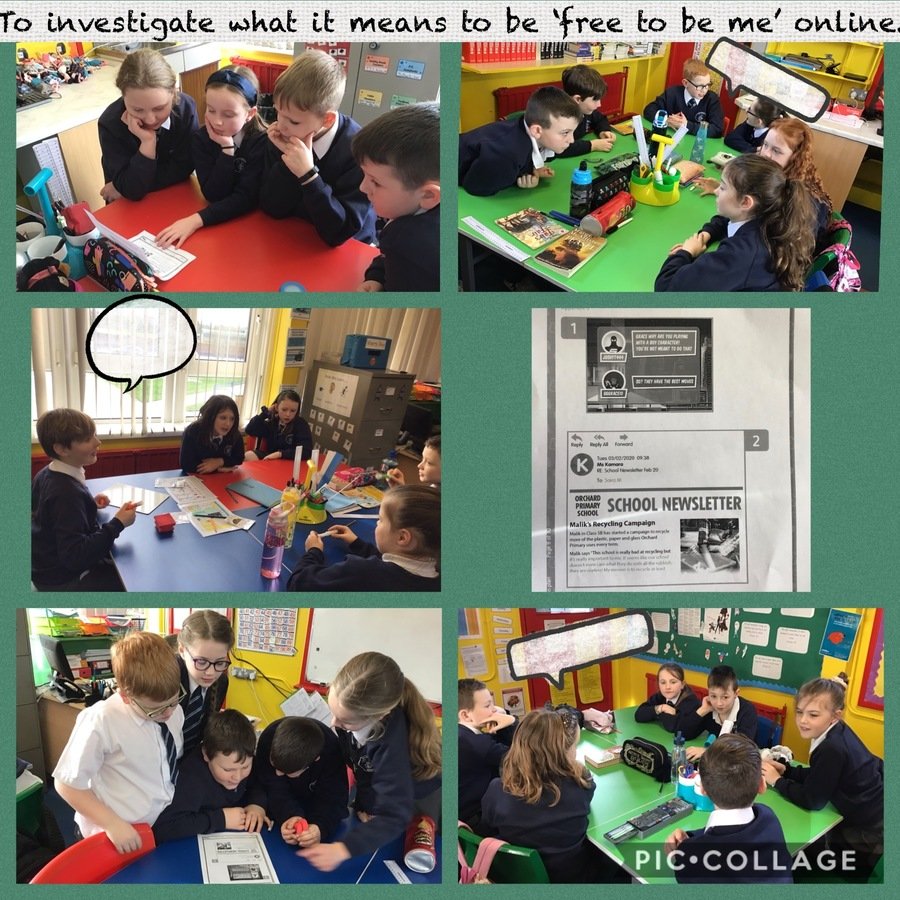 Shared Education Lesson 2
Year 6 had another superb Shared Education lesson today with the Year 6 pupils of St. Joseph's P.S Dunloy. Working together, the children completed two enjoyable, stimulating and challenging STEM projects, that developed their communication, team-working and problem-solving skills! On behalf of Ballymoney Model CIPS and St. Joseph's Primary School, Dunloy, we would like to thank the members of staff from Sentinus who presented the two wonderful projects.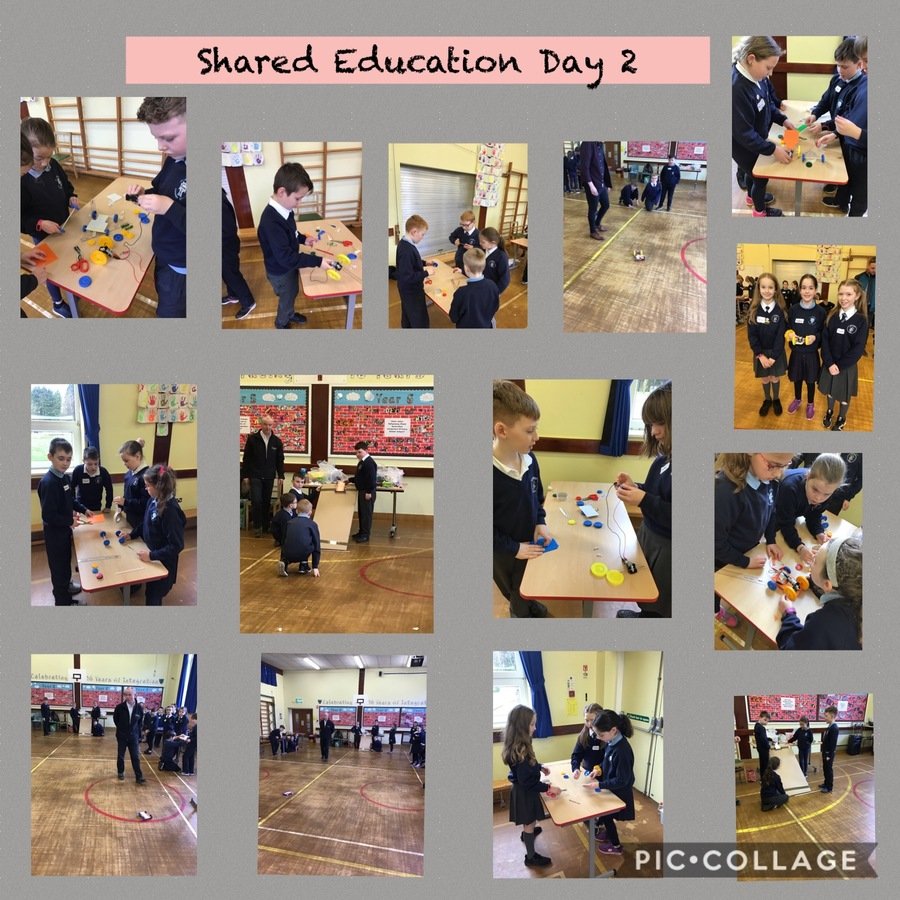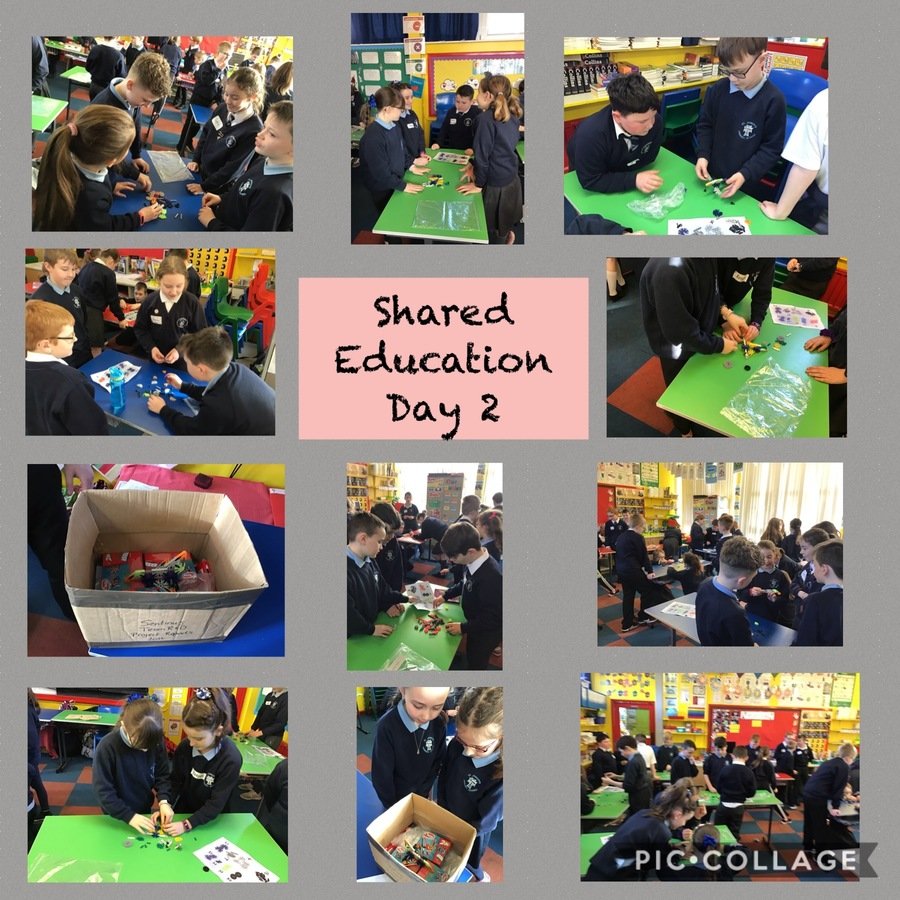 6TS Shared Education Lesson 1
Today was a very exciting day for Year 6, as they had their first Shared Education lesson with the Year 6 pupils of St. Joseph's P.S, Dunloy! Many new friendships were made, and, for some of the children who have had the pleasure of previously being a part of Shared Education, it was a lovely opportunity to catch -up with some old friends while learning new skills.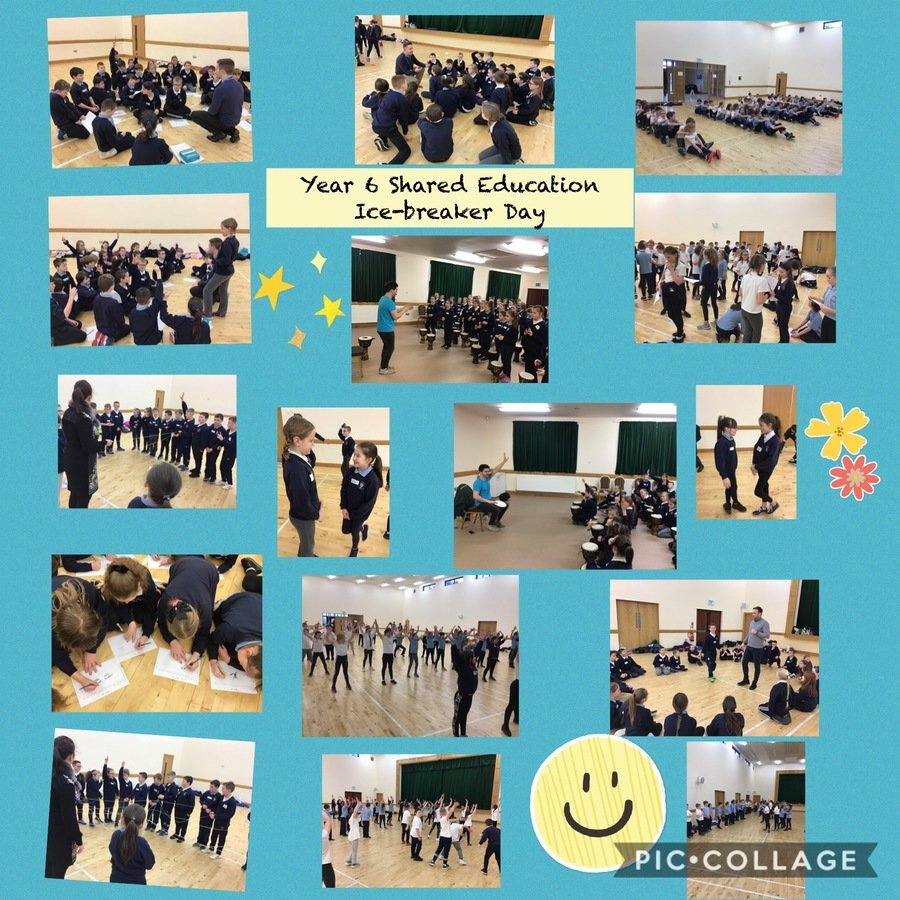 6TS Scottish Country Dancing
Year 6TS had the opportunity today to learn some Scottish country dancing! Much fun was had by all of the children, who showed great enthusiasm throughout the session. Mr. Strickland also got involved and learnt some new dancing skills!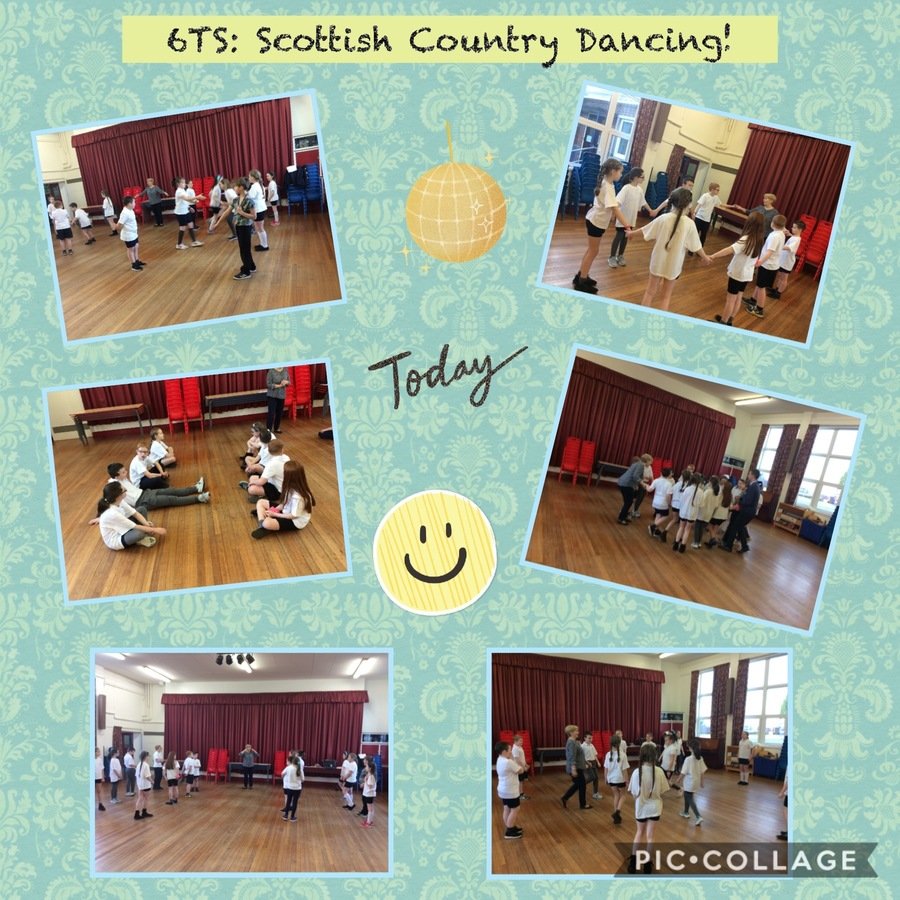 Investigating our new topic: It's a Disaster
6TS were introduced to their new topic today: 'It's a Disaster! This new topic will focus on four main areas:
Earthquakes and volcanoes, Extreme weather disasters, deforestation and Fair trade.
Working in groups, the pupils read and observed various books, articles, images and statistics about each sub-topic. They then discussed what they had found out and wrote key questions they would like to further investigate as the topic progresses. This was a highly stimulating learning experience for all, with many of the pupils discovering interesting new facts they weren't aware of!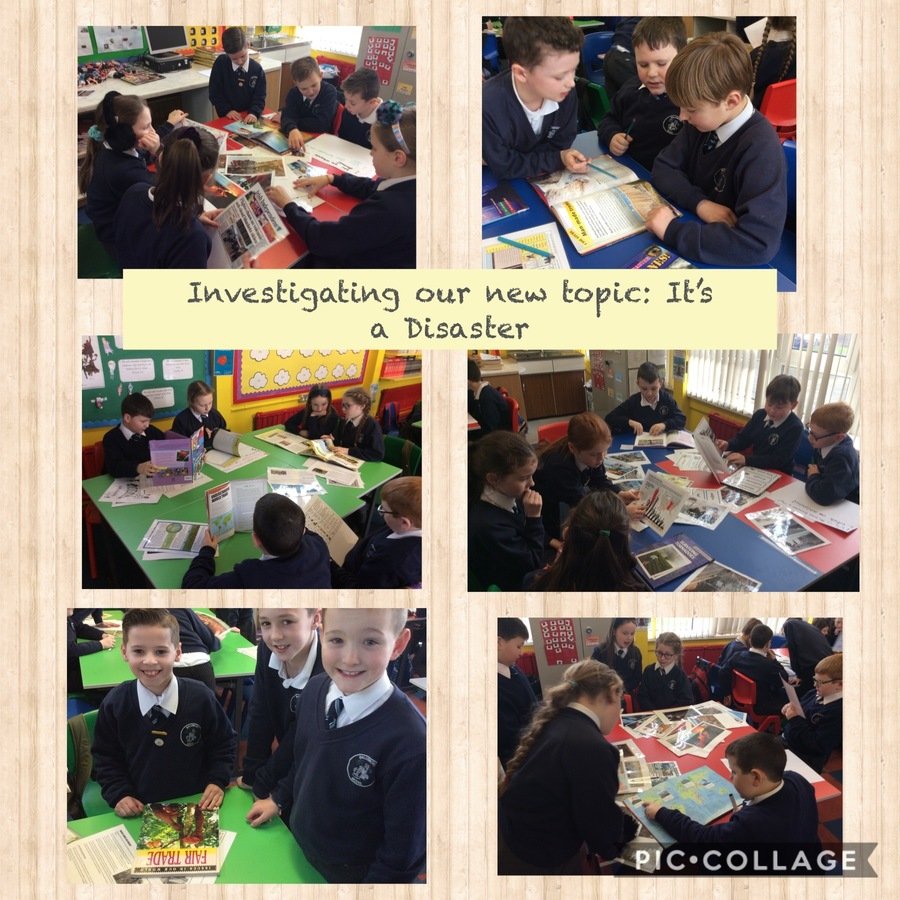 6TS Road Safety Week
After having a discussion about the benefits of cycling, the pupils of 6TS watched an informative Sustrans video that focused on the travel culture of children and adults in the UK and other European countries.
The pupils had to listen very carefully to the video as the content they watched assisted them with the completion of their 'question and answer' written task. Countries analysed included: England, Holland, Belgium and France.
Upon completion of this task, the pupils worked in groups to discuss and list the practical barriers that they may encounter with cycling, and offer some solutions to overcome them.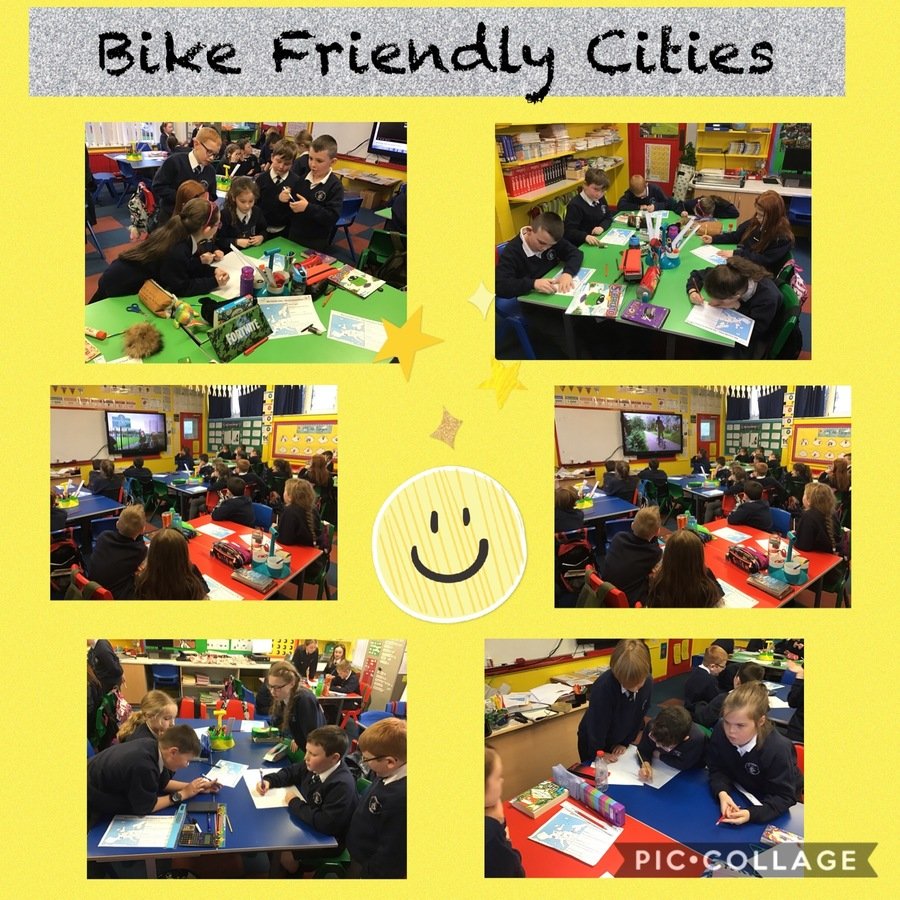 6TS Friendship week
This week, the pupils of 6TS took part in some activities to celebrate Friendship week. One of the activities, 'Branches of Kindness', encouraged the pupils to recognise what it meant to be kind to one another and treat each other in an appropriate way. After sharing their opinions and ideas about friendship, the pupils drew pictures of other pupils in their class or people they knew being friendly and kind, and then presented their drawings to the rest of the class.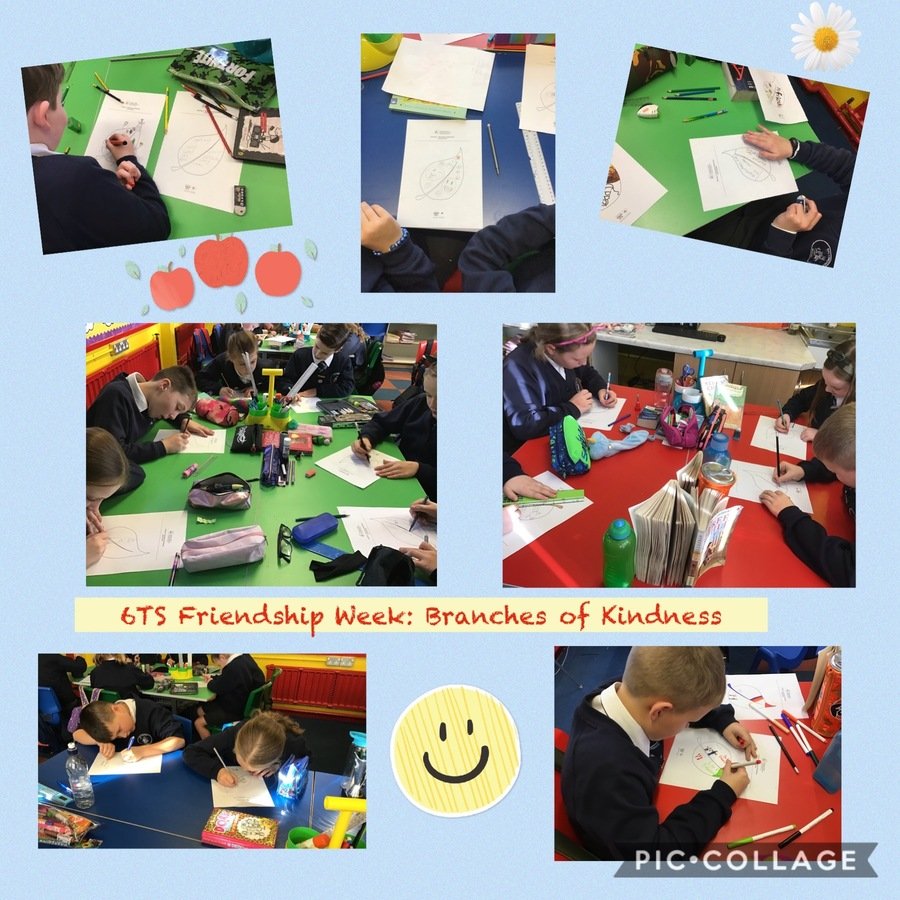 6TS Problem solving with decimals
6TS have been working with decimal numbers throughout the week and today they put all of their newly acquired knowledge to the test.
Working with a partner, the pupils were given a selection of digits and a decimal point. They were tasked with making as many decimals as possible to one decimal place, followed by decimals to two decimal places. Needless to say, the pupils were able to come up with a huge amount of decimals! They also had the opportunity to order their newly created decimals from smallest to largest and largest to smallest.
How I use Maths in my Job...
In a follow up to our Maths Week celebrations from last week, 6TS had the privilege of welcoming one of our Year 6 parents, Mr Billy Clarke, into our class to discuss how he uses Maths in his job in S&T Moore, Coleraine. The pupils of 6TS discovered that he carries out calculations in his job that are very similar to what they have been recently learning in Numeracy! The pupils also enjoyed learning how to write a cheque and completing some mathematical challenges. A big thanks to Mr Clarke for his visit.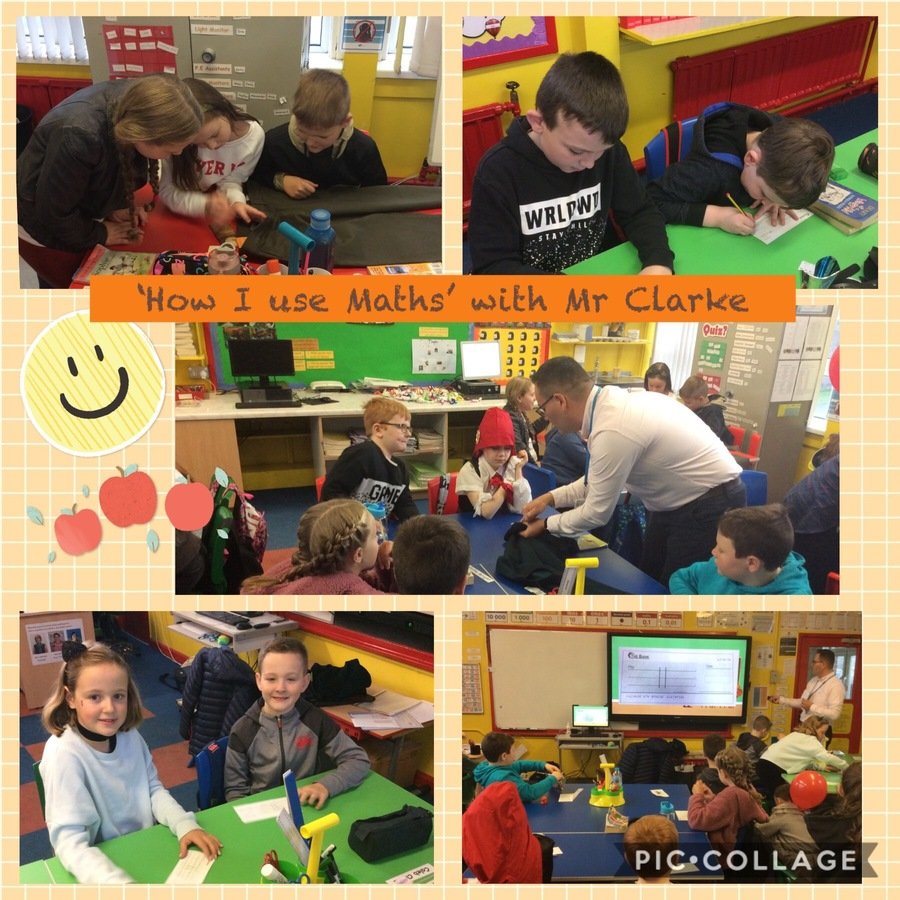 6TS Trip to Ballymoney Library
6TS recently visited Ballymoney Library. The boys and girls enjoyed learning all about the exciting resources the library has to offer. Many of the children also used this learning experience to borrow some books! 6TS had a fantastic time and look forward to returning to the library in the future.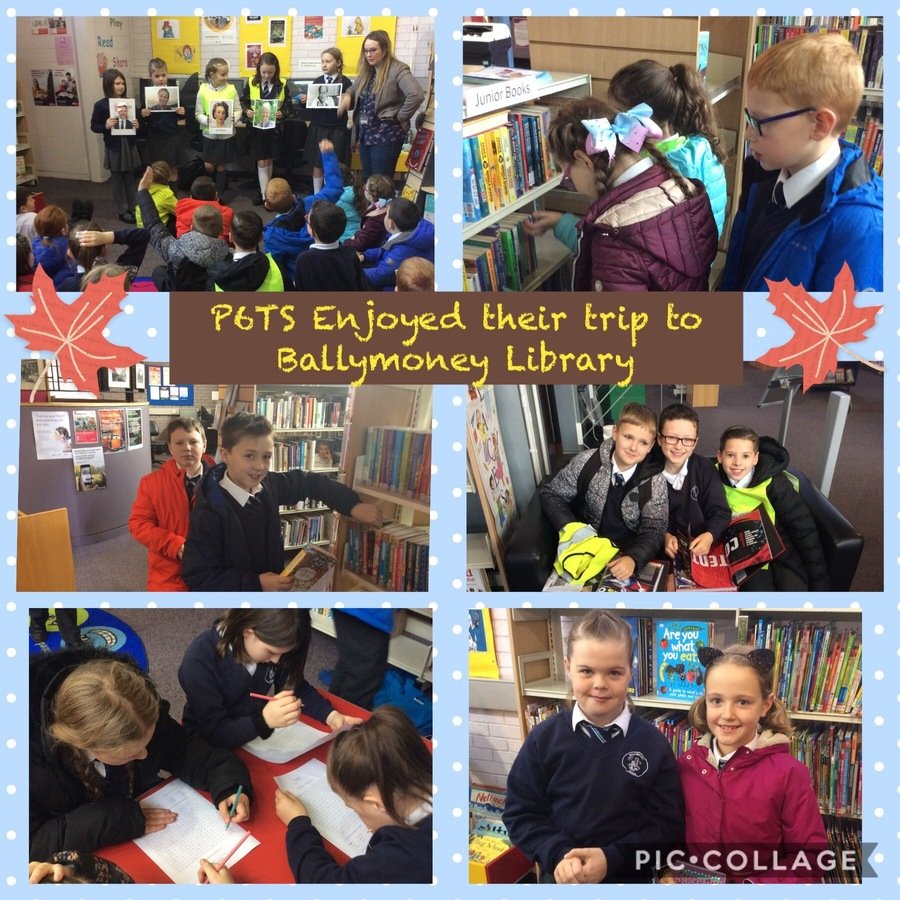 Creative Writing - Writing a descriptive passage
The pupils of 6TS are currently reading Under the Hawthorn Tree as part of their 'Hunger' topic in the World Around Us, the story of a family living in Ireland during the Irish Famine. Having learned about the plight of the main characters of the story, the pupils of 6TS planned, wrote and edited a descriptive passage from the viewpoint of 'Mother', who was desperate to feed her family.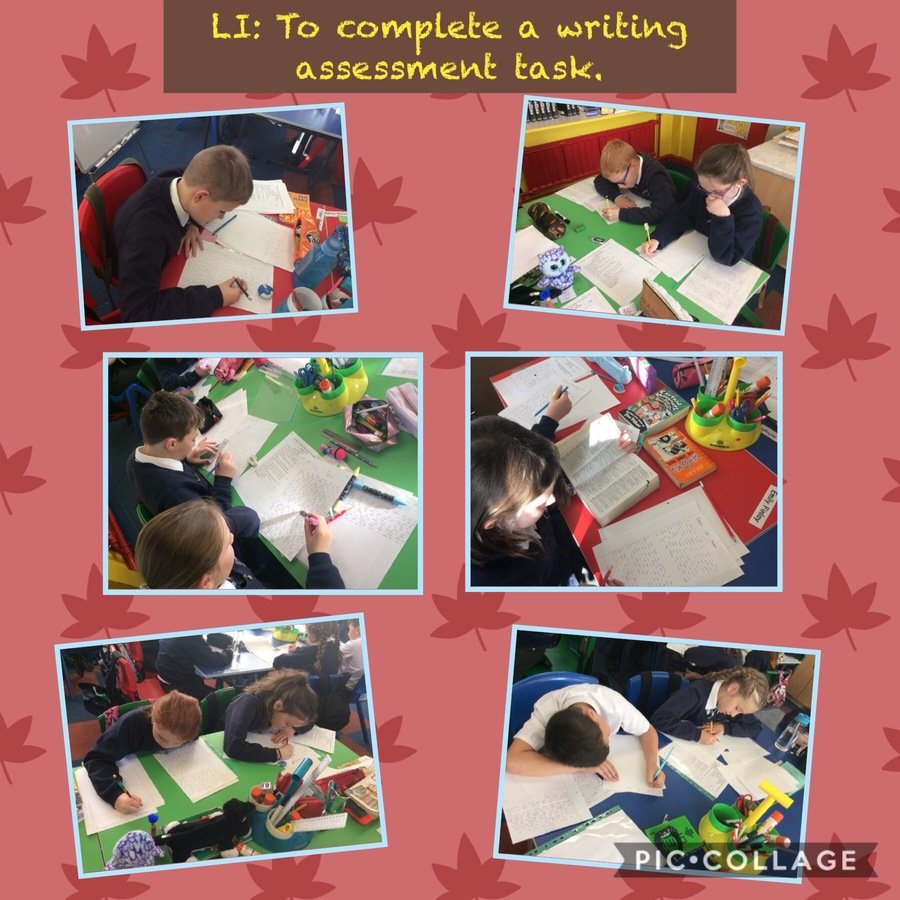 Maths Week - 6TS
Maths Week was recently celebrated throughout Ireland. To celebrate Maths Week in 6TS, we dressed up as people who use Maths in their jobs on a daily basis. We had vets, quantity surveyors, and even a second Mr. Strickland in the classroom! We took part in a carousel of fun and engaging activities that allowed us to develop and apply our Maths skills and knowledge.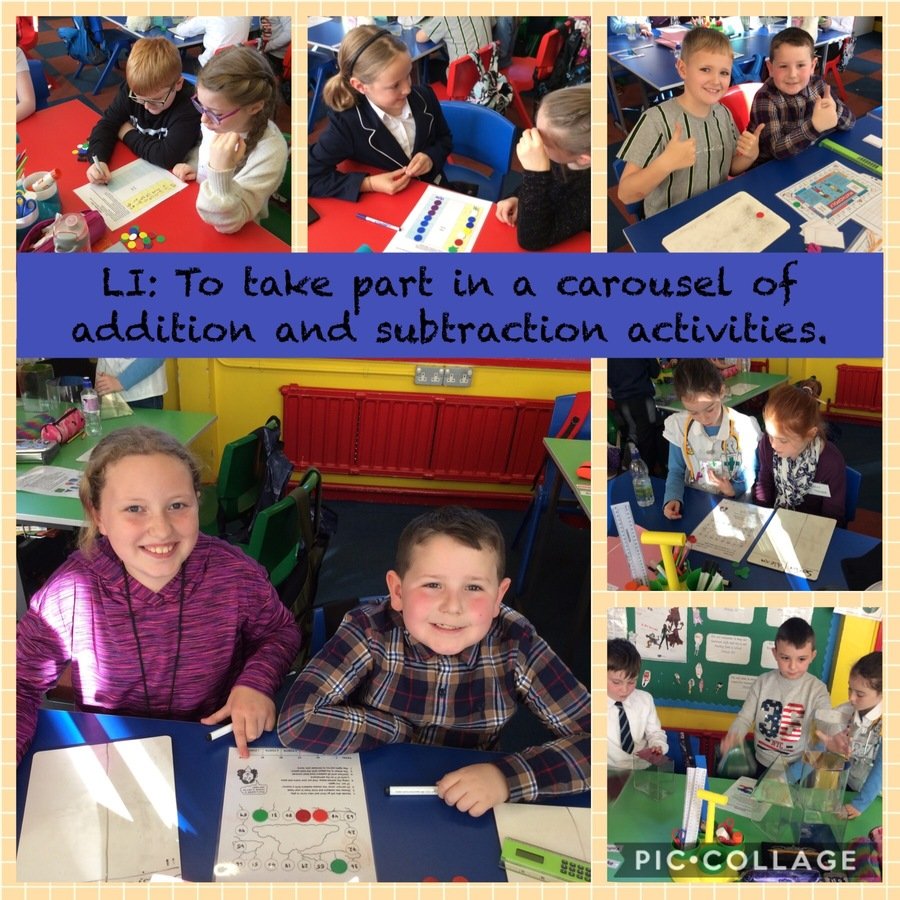 6TS Inventions Timeline
In a recent World Around Us lesson, 6TS sought to answer the following investigative question: What was invented during the Victoria era?
After identifying some of the most important inventions (including the light bulb, the telephone and the radio) that happened during the Victorian era, and having a discussion about how they changed people's lives, the pupils of 6TS worked in pairs to create an inventions timeline! Additionally the pupils were shown an example of a timeline and learned how to put events in chronological order. Some fabulous timelines were created during this fun learning experience!
6TS Building towers... using unique materials!
After learning about some of the tallest buildings in the world, 6TS developed their problem-solving and team-working skills by designing and creating the tallest building possible... out of spaghetti and marshmallows!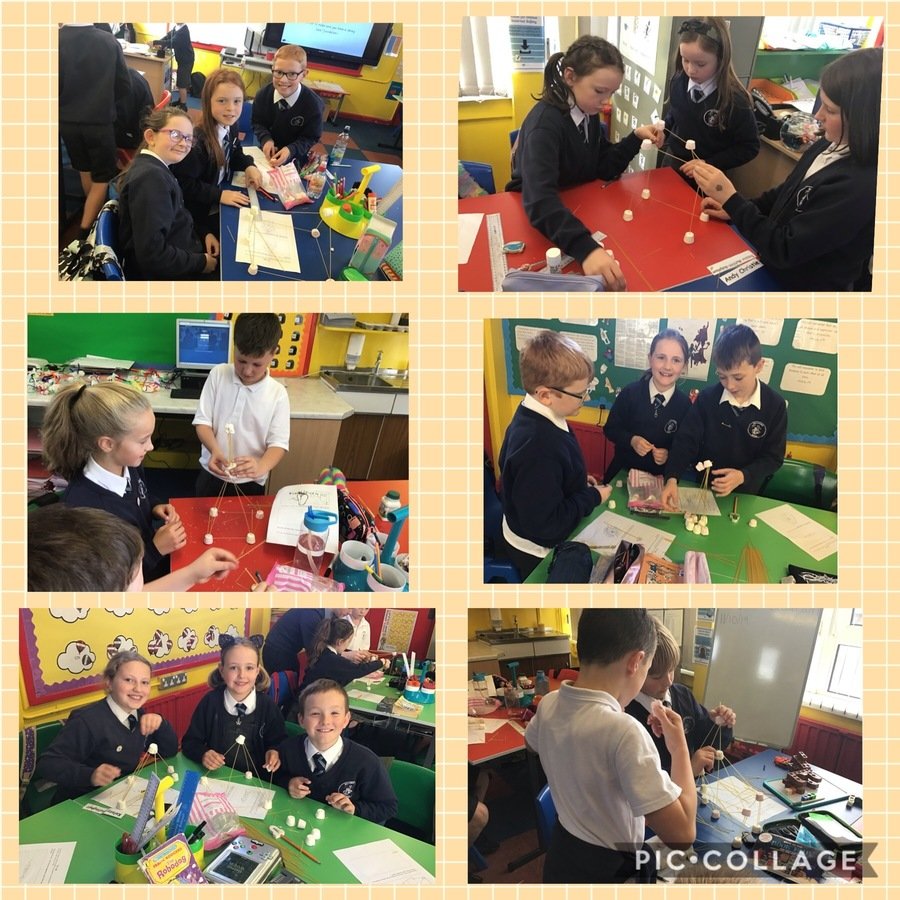 Have a look on the school app to see a copy of the Year 6 Starting School Parent Information PowerPoint.