Making a Rocket!
Year 4 had a blast building rockets and then using air as a force to make them move.

Outdoor Learning
Mrs Handforth's class love to get outdoors! We decided to take our Mathematics lesson outside whilst learning about directional language. We drew mazes on the ground and then gave directions to our partner to help them get to the end. Some groups even gave directions to Mrs Handforth! We all had great fun learning in our amazing school grounds.

Right Angles
Year 4 have been learning about right angles. We made a right angle finder and went outside to look for right angles around the school grounds! We were amazed by how many we found!

Shared Education Celebration Trip to The Jet Centre
Year 4 enjoyed their last Shared Education trip for this school year! All the pupils had great fun meeting up with their friends from St. Joseph's and had a great time bowling and watching a movie together!

Directions and Turns
Year 4 have been learning all about directions and turning movements in Mathematics this week. We have been putting out knowledge and skills to the test in practical lessons. We worked in pairs on Monday 3rd June to give directions to help the snail get through the garden safely. On Tuesday 4th June we completed lots of different activities in a task time to help us develop our skills further.

Problem Solving with Izak9
Year 4 have been learning all about multiplication and division over the last few weeks. We recently learned our 3 times tables and dividing by 3 maths facts so we decided to put our knowledge to the test. We used Izak9 to problem solve with multiples of 3. Look at us in action!

Year 4 Shared Education - 21.5.19
Year 4 spent another day with the pupils from St. Joseph's PS. We all had great fun planning, creating and presenting our e-books as well as playing outside together!
Take a look at what we did!

Year 4 Shared Education Trip
Year 4 had a great day out on their shared trip with pupils from St. Joseph's PS on Friday 17th May.
We visited World of Owls, learning some interesting new facts as well as seeing a selection of endangered and unusual looking owls! At Fun Factory, everyone enjoyed some play time with new friends.
Watch the video to see what a great day we had!

Outdoor Learning
During Eco Week and as part of our topic, we explored the grounds of our school to investigate the age of different trees in the forest. We worked together and used a measuring tape to measure the circumference of each tree. Tomorrow in class we will use a special mathematical formula to work out the age of the trees we measured! Isn't that cool?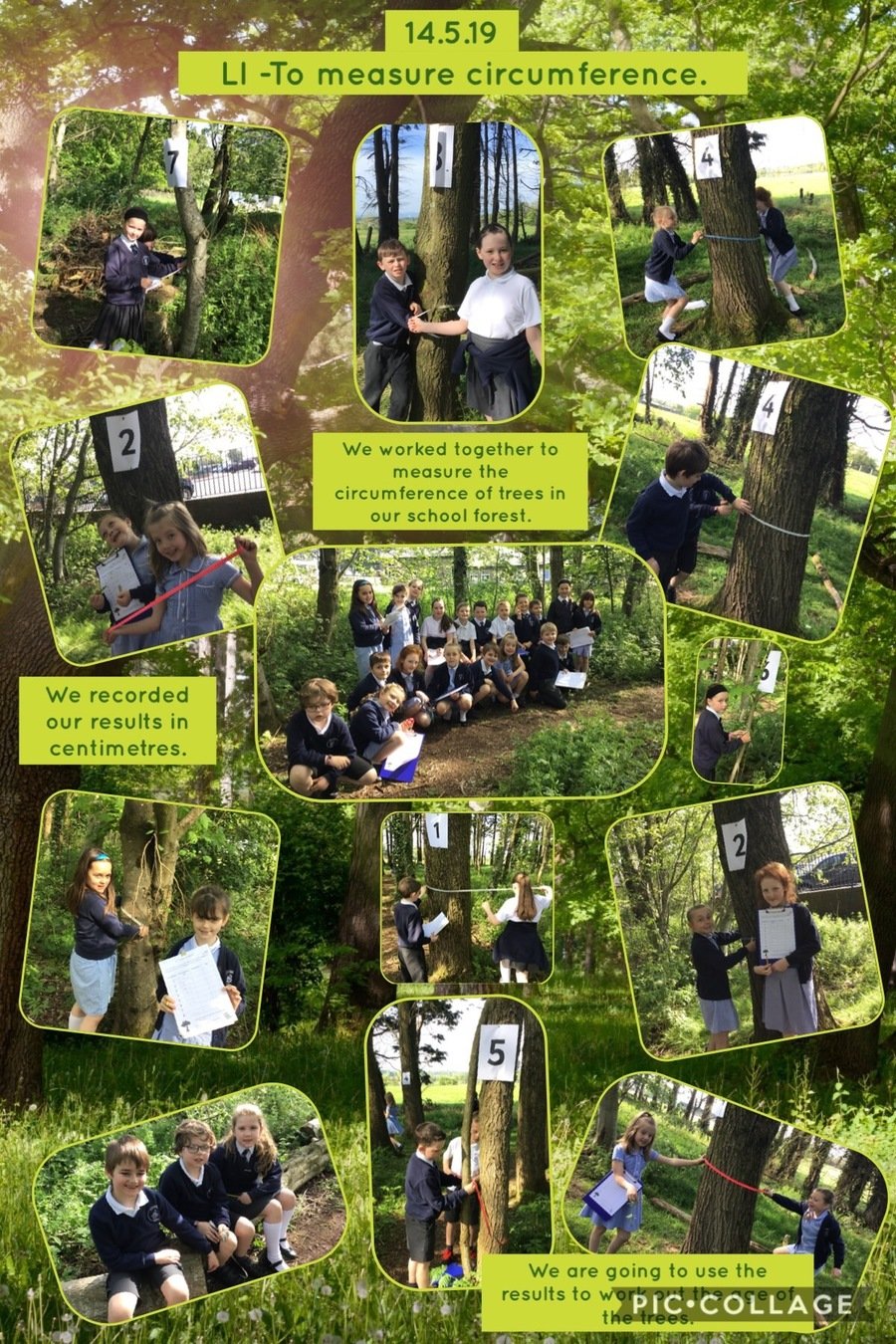 Eco Week
Our class loved taking part in Eco Week. It was great to get outside and make the most of our fantastic school grounds! We all loved building minibeast hotels using natural materials, searching for minibeasts and completing a 'Tiny Treasure Hunt'.
Take a look at all the photos and the video of us in action!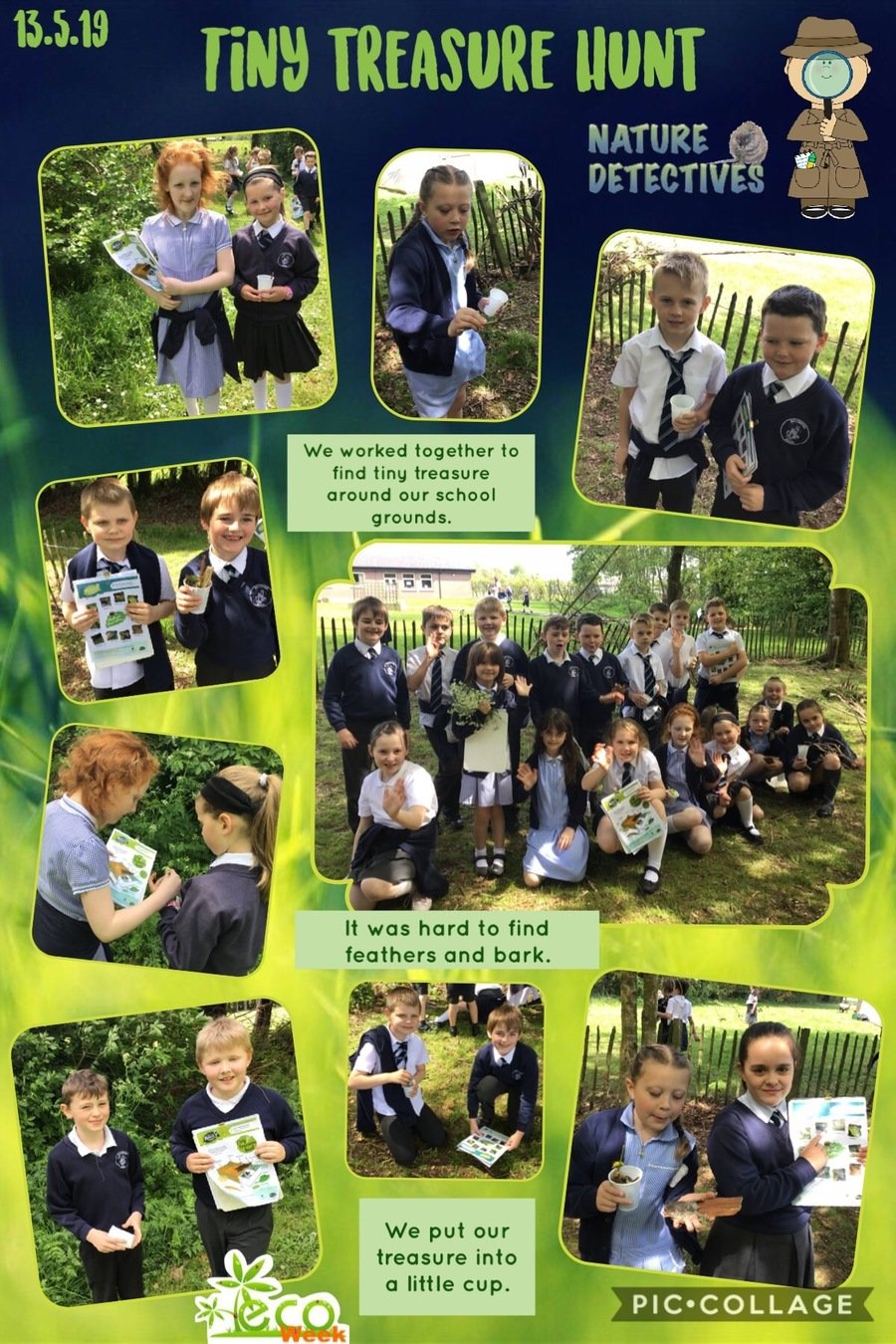 Revision Week!
Revision can be lots of fun!
We had a great time learning by playing games and working together. We revised telling time, multiplying by 3 and dividing by 3 using games, working with the teacher and on the computer.
We enjoyed revising spellings too using some fun activities!
Look at what we did!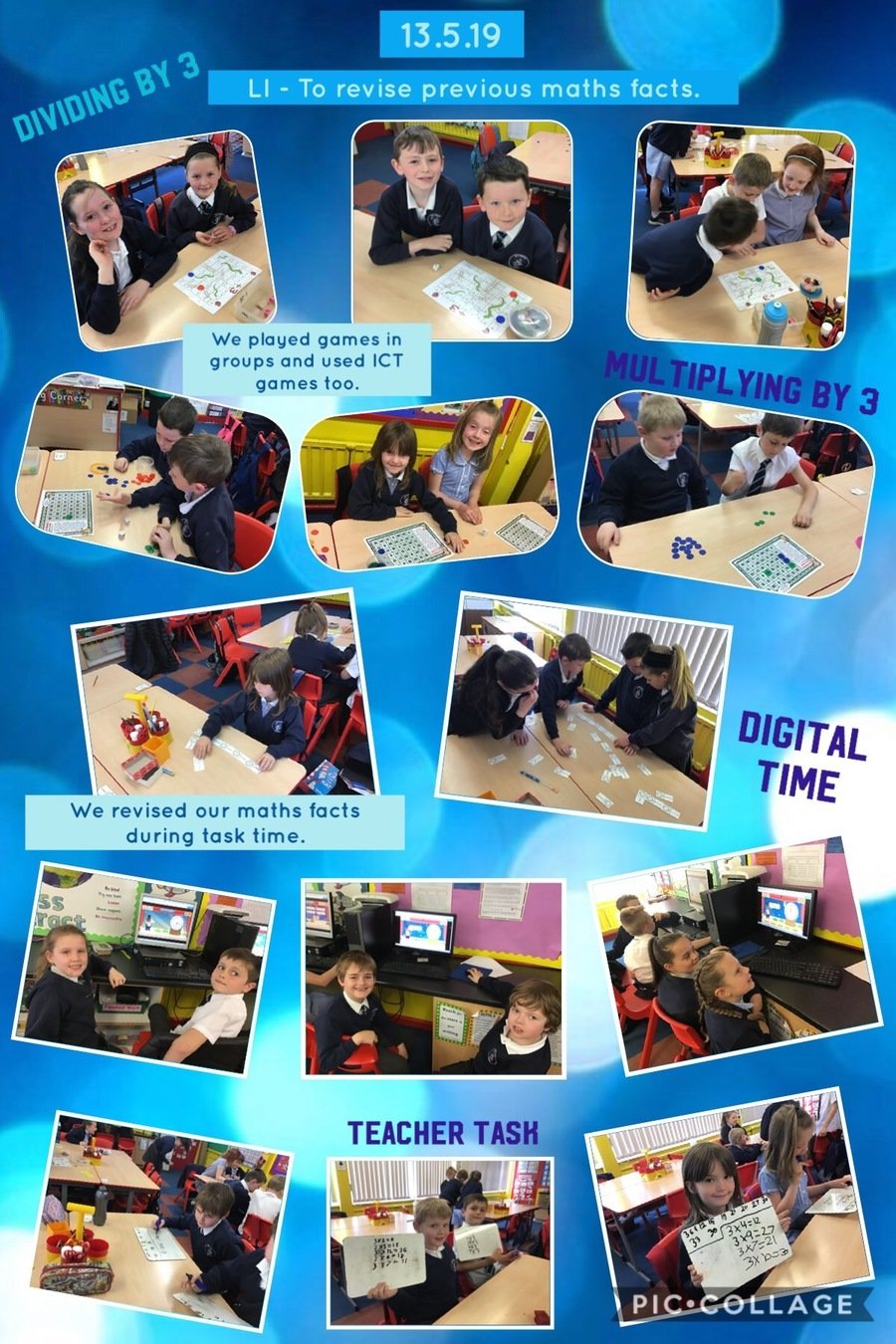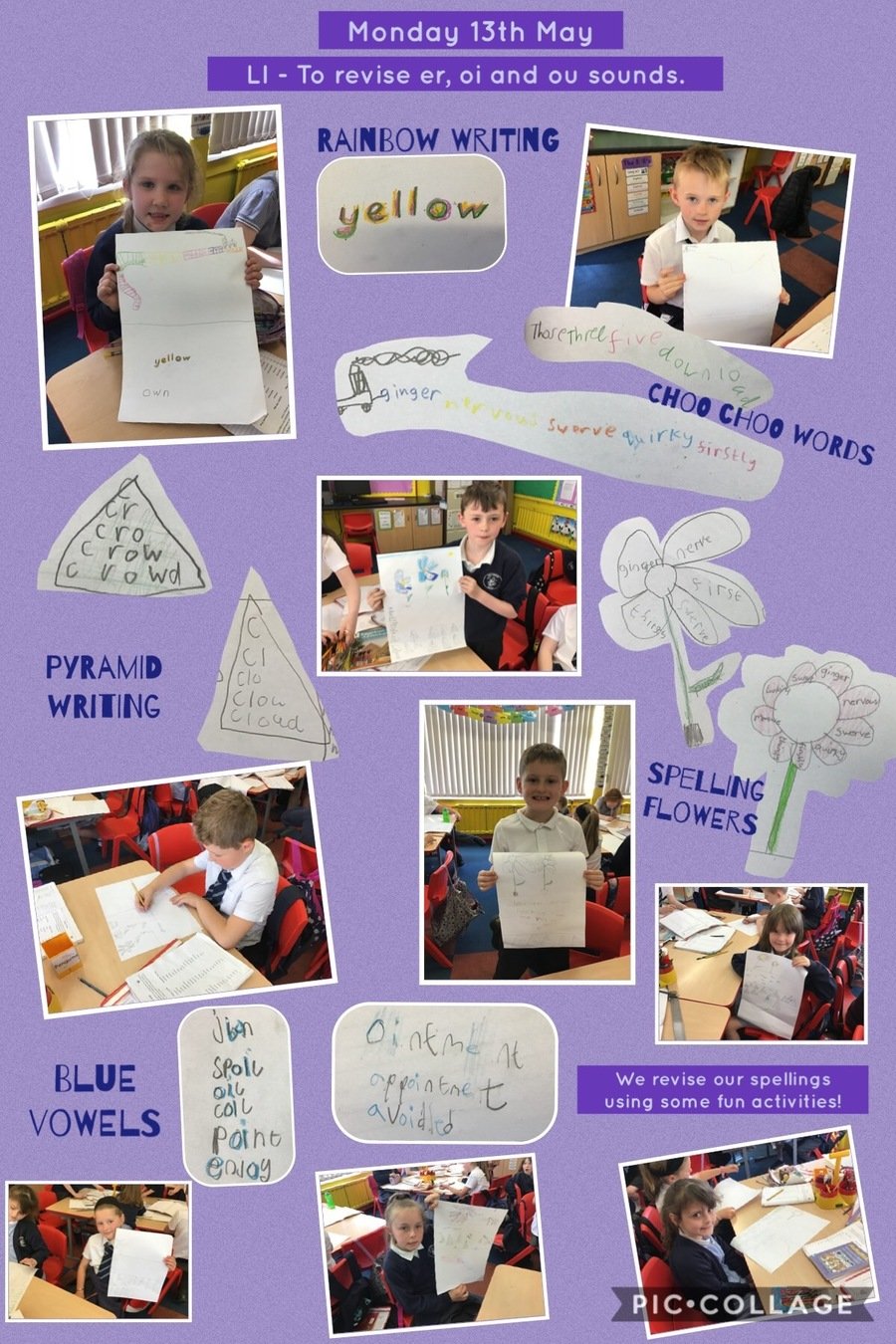 Symmetrical Butterflies
Our topic this term is 'It's a Bug's Life'!
We noticed that butterflies have beautiful symmetrical patterns on their wings so we decided to create some of our own symmetrical butterflies! Don't they look lovely?


Shadow Puppets
During our topic 'Shine a Light', we learned about light and shadows. We learned that shadows are formed when objects block the source of light. We decided to retell the story of Easter using shadow puppets. Take a look at how we did it!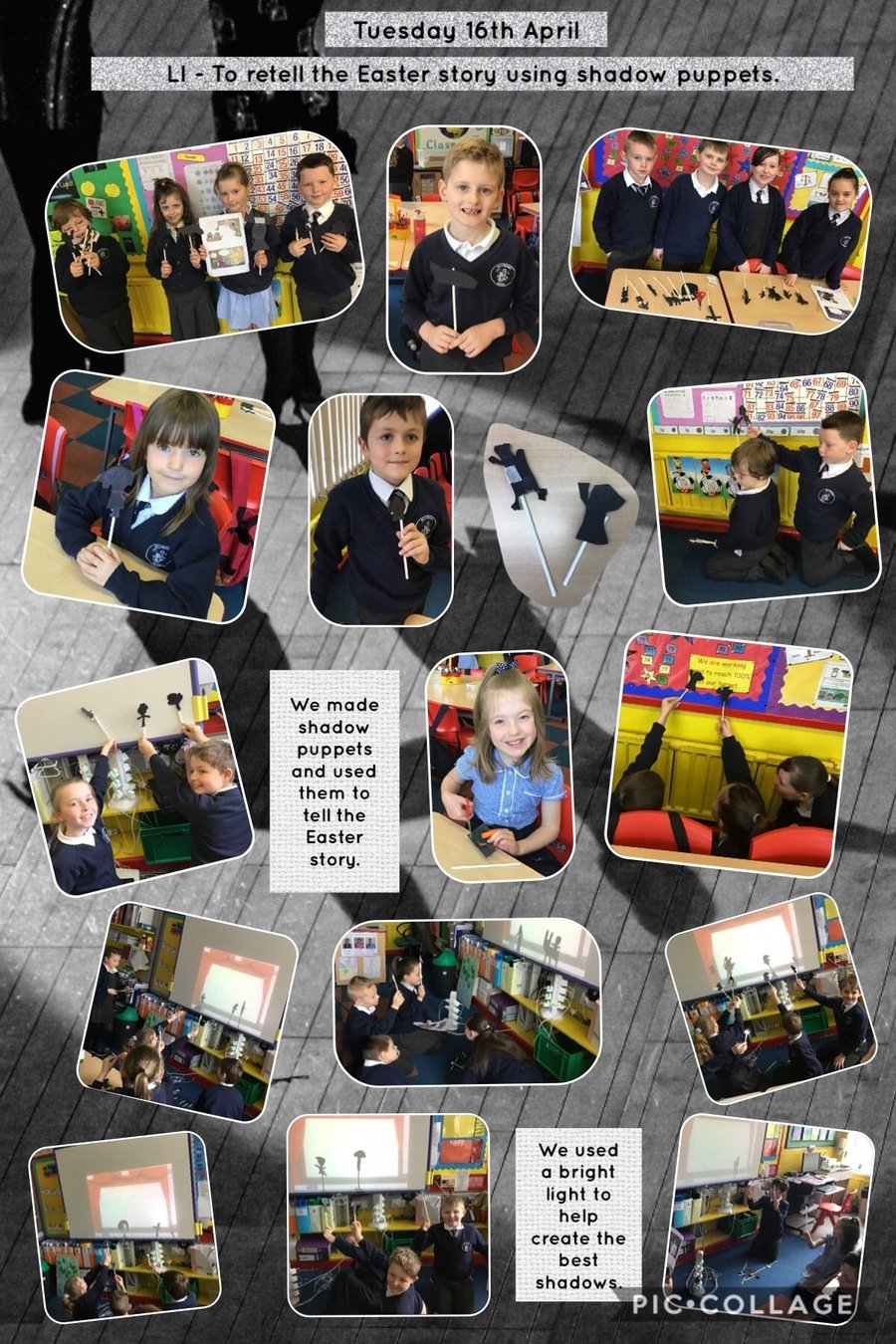 We worked in groups using pictures and speech bubbles to help summarise the Easter story.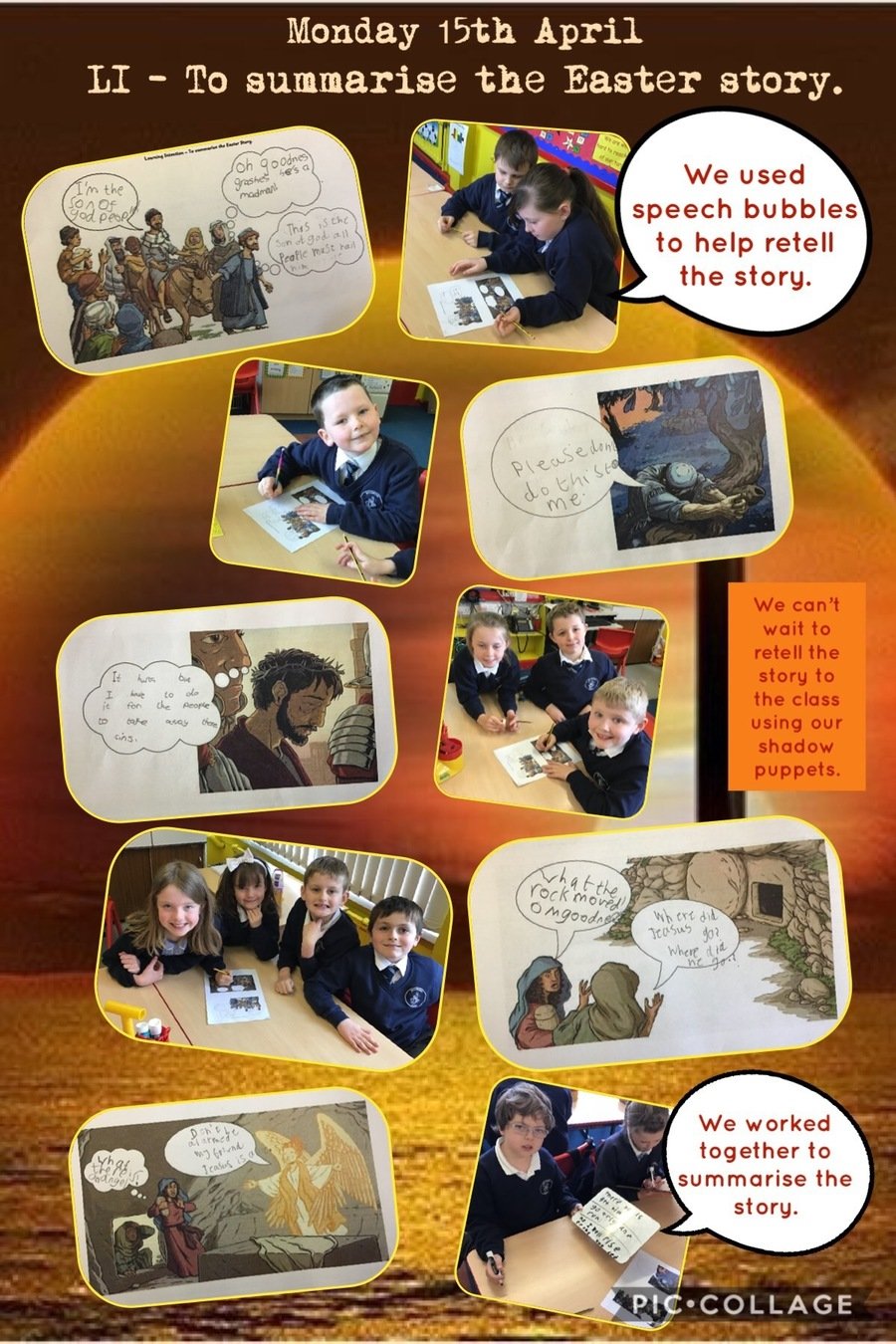 Reflective Symmetry
We have been learning about reflective symmetry in mathematics. We know that symmetrical shapes are the same on both sides of the mirror lines. We made patterns and reflected them in the mirror line so they would be symmetrical. What do you think of our designs?

Diva Lamps
After making our special 'Diva' lamps using clay, we got to paint them! There are lots of bright and colourful designs. Can you spot yours in the video?

Coding Week
On the 1st April, our class celebrated 'Coding Week'. We learned that coding is really important in all computer games as it tells the computer what to do. We worked together to code the Blue Bots so they could reach the given destination. We even used a few apps and other games to develop our coding skills. Coding helps develop lots of skills like problem solving and thinking skills!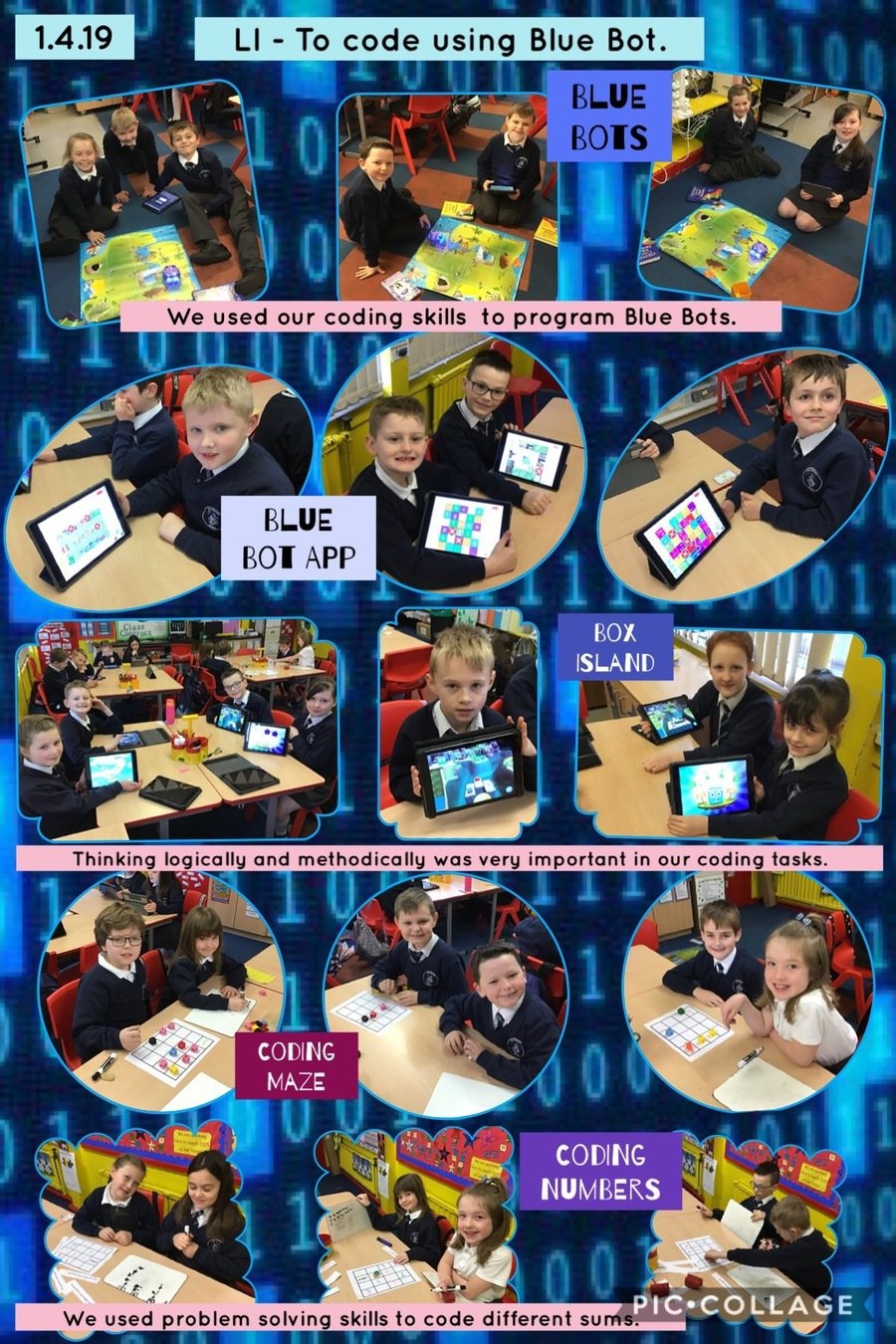 Check out the video to see us in action!

Diwali
We have been learning about lots of different celebrations from around the world. This week we learned about Diwali. Did you know that Diwali is also known as the 'Festival of Lights'. We made special diva lamps using clay, which are used as part of the celebration.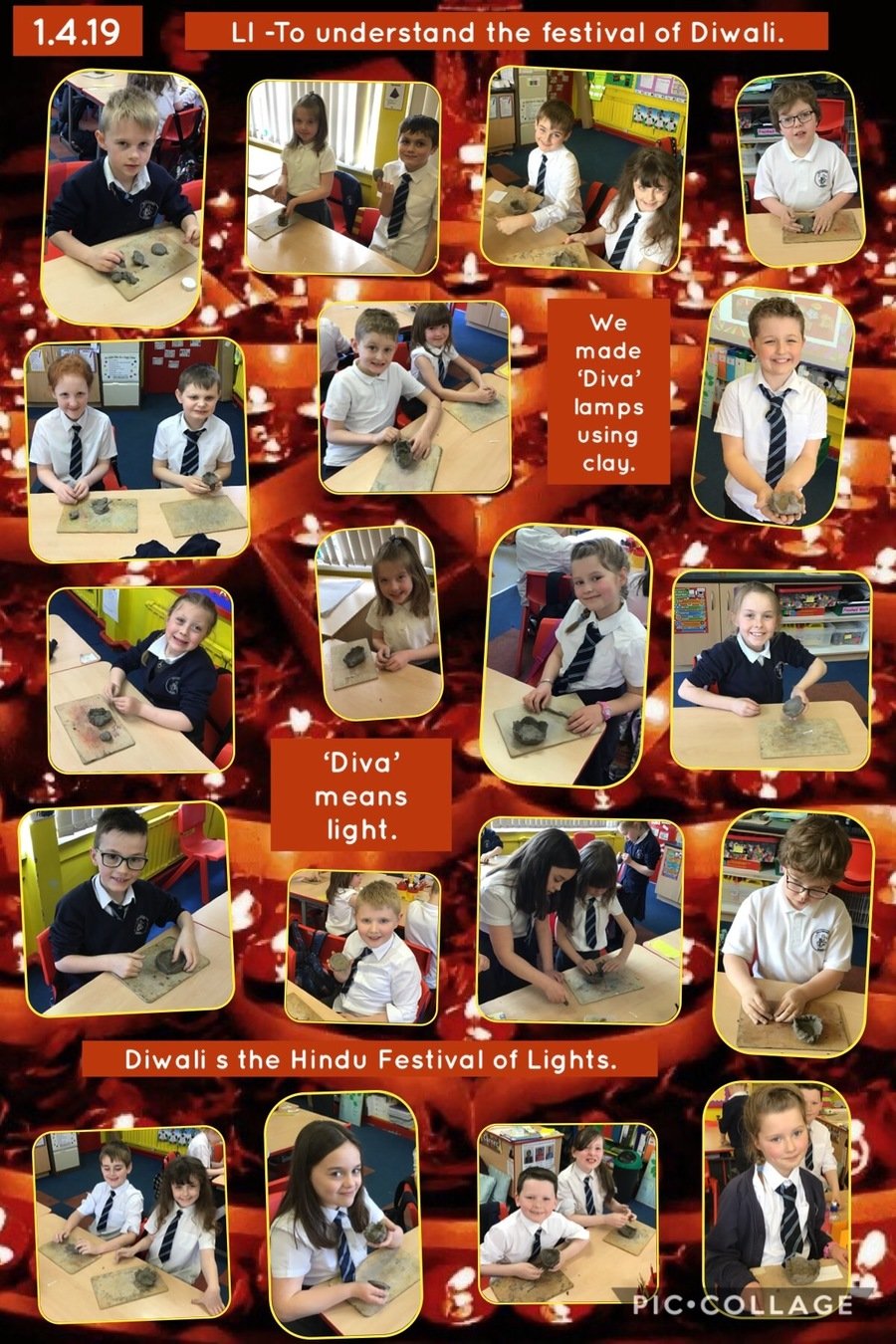 Watch us making our diva lamps in the video below!

We revised for our March Monthly Test by using a range of spelling activities.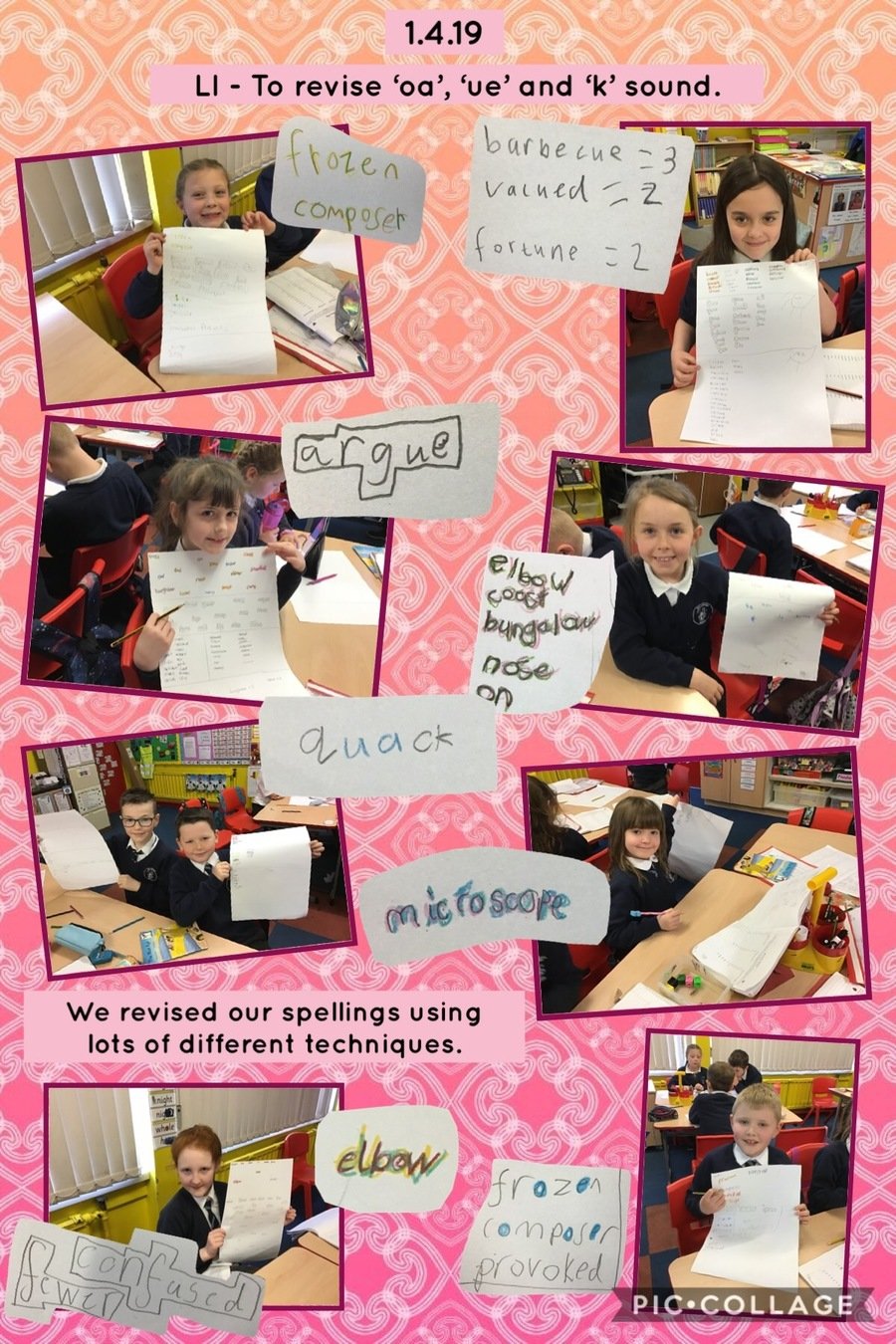 Teamwork
Year 4 have been learning about working together as a team. We have been doing lots of team building games during P.E. lessons.

Year 4 Shared Education - Day 1
On Friday 22nd March, Year 4 met for the first time with the children in Year 4 from St. Joseph's of Dunloy. The children worked in mixed groups with Be Unique Drama Group to help build confidence and make new friends. After lunch, all the children were really excited to visit Megaw Park and had lots of fun playing together.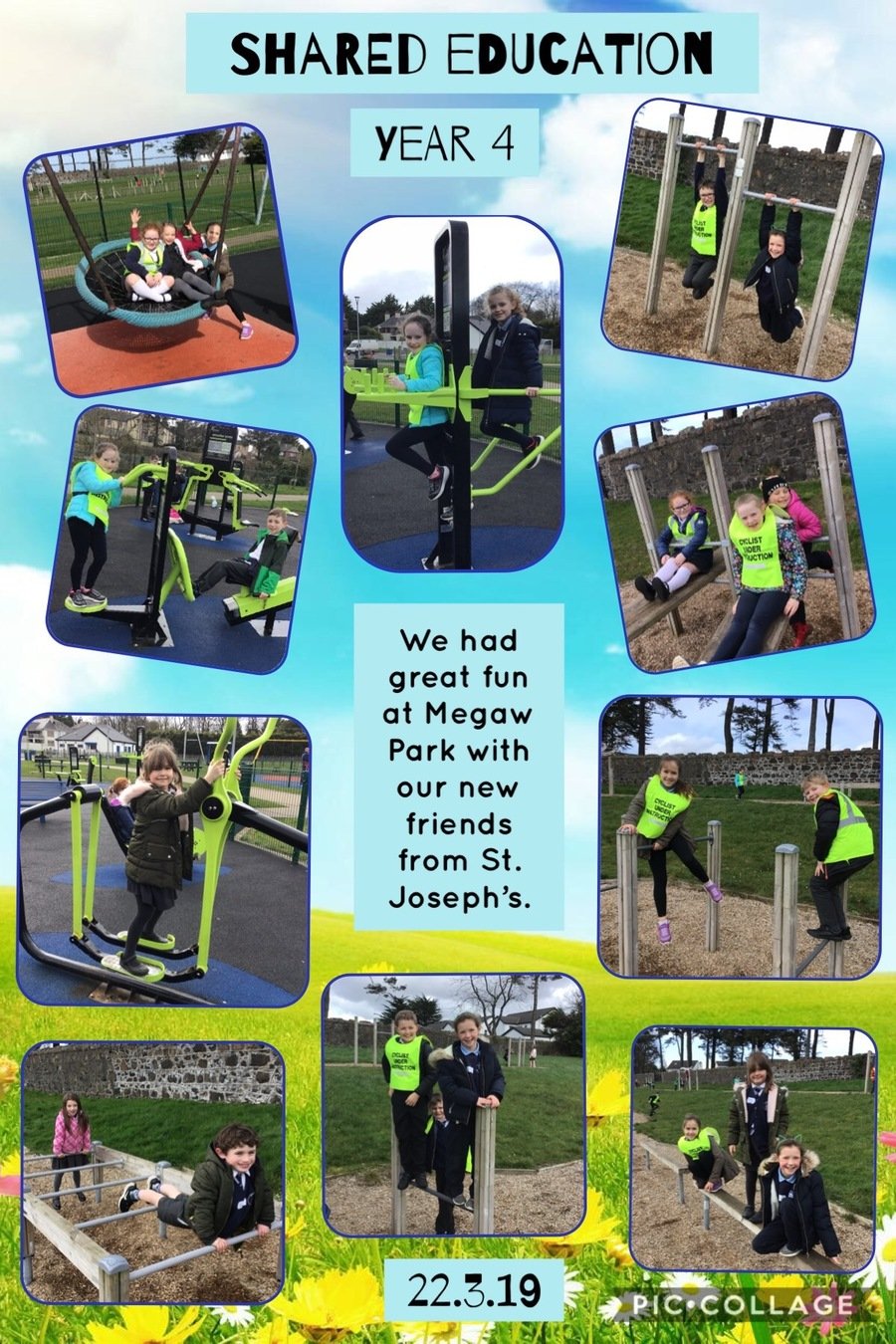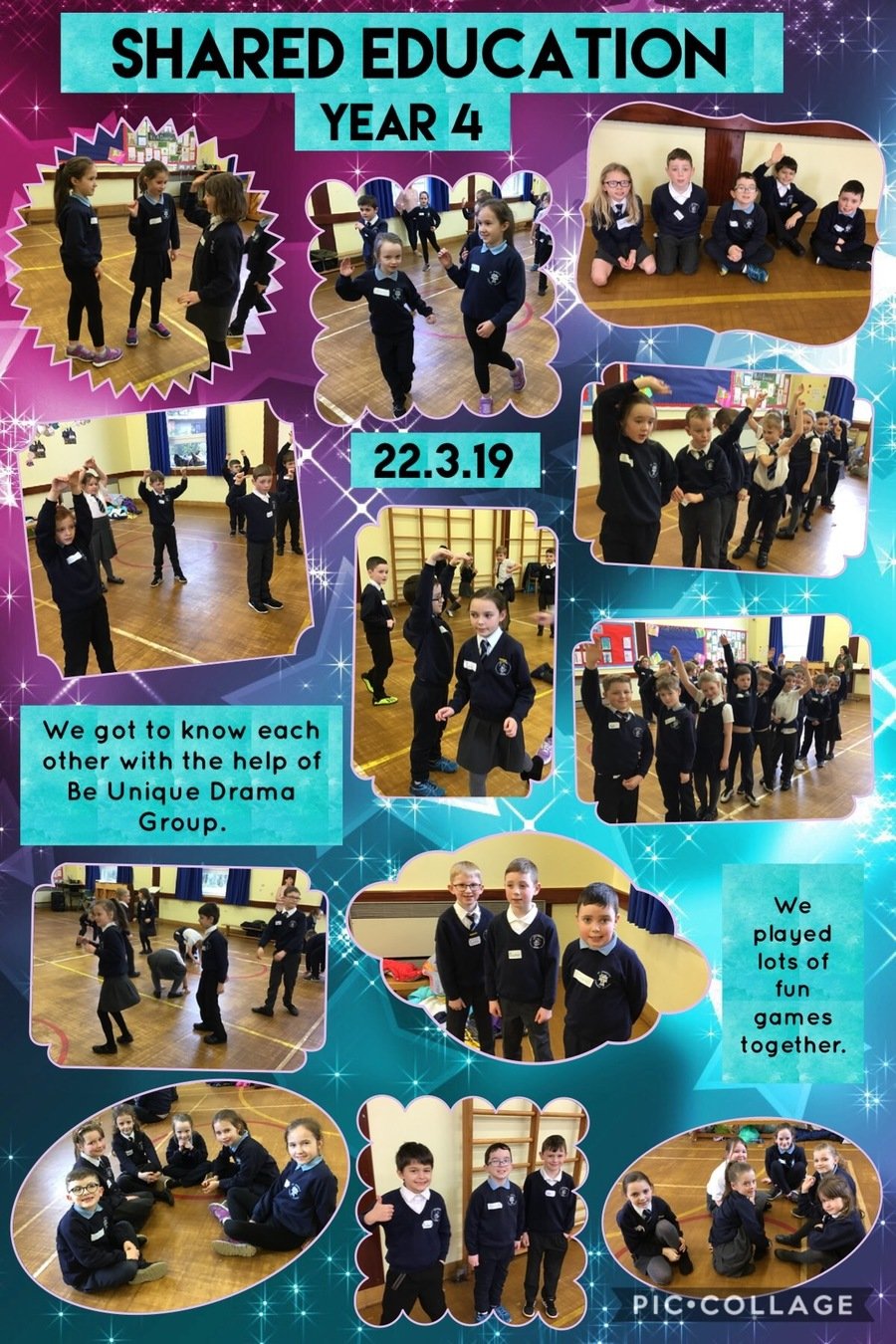 Beep Beep Day
Wednesday 20th March was 'Beep Beep Day'. Our class combined the school value of harmony along with a road safety song and sang it in a round! We sound pretty good, don't you agree?

Science Week
As part of Science Week 2019, our class took part in the 'What's Under Your Feet' survey. We went outside and dug up a 30cm x 30cm sod. Then, we looked through the soil for earth worms and other creatures. We identified the creatures using a chart and then recorded our results. Needless to say, we had a lot of fun...and made a bit of a mess too! Take a look at us in action!

World Book Day
Our class had a blast celebrating World Book Day! We had lots of fun sharing our favourite stories, characters and making up characters of our own!
Can you spot some familiar characters?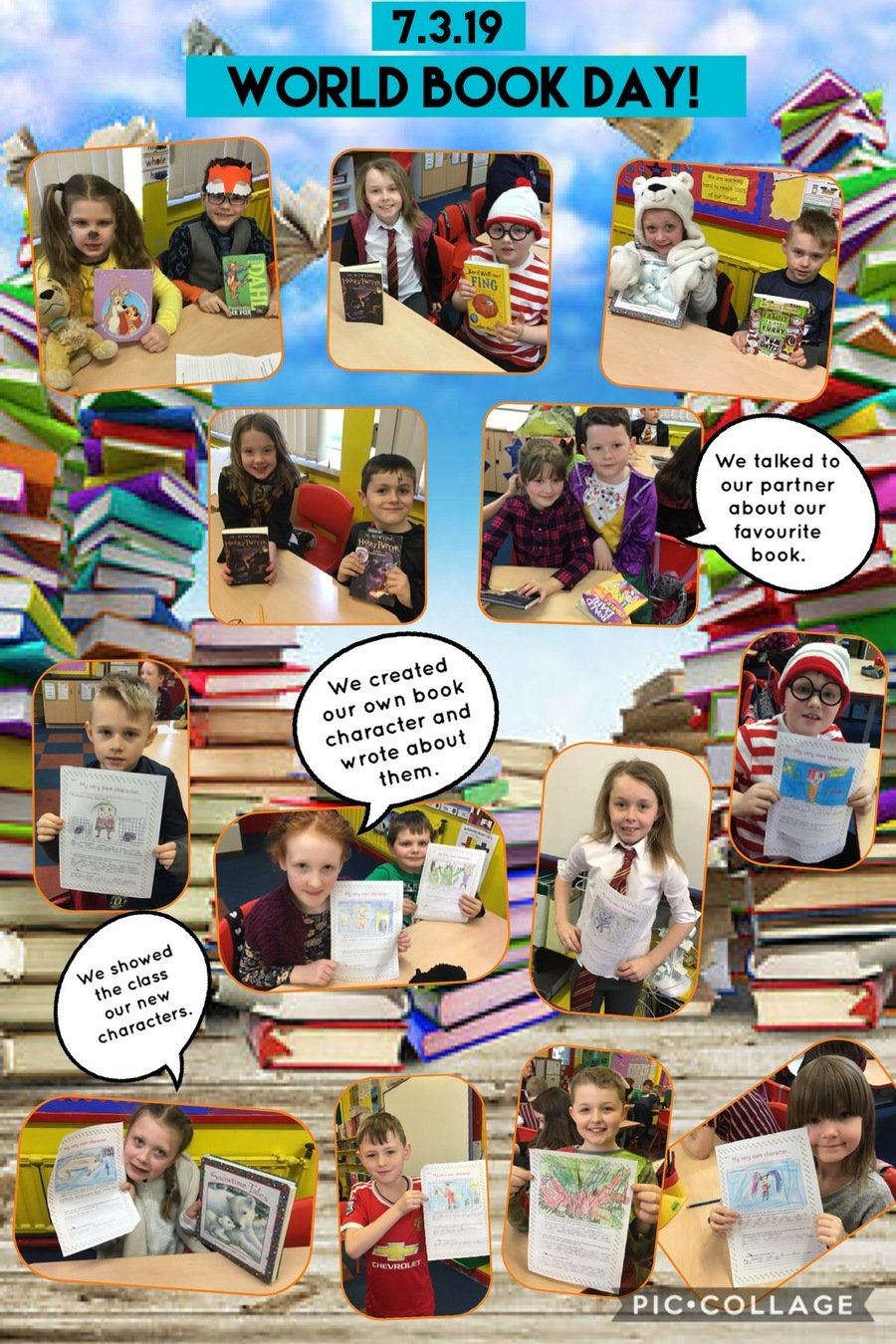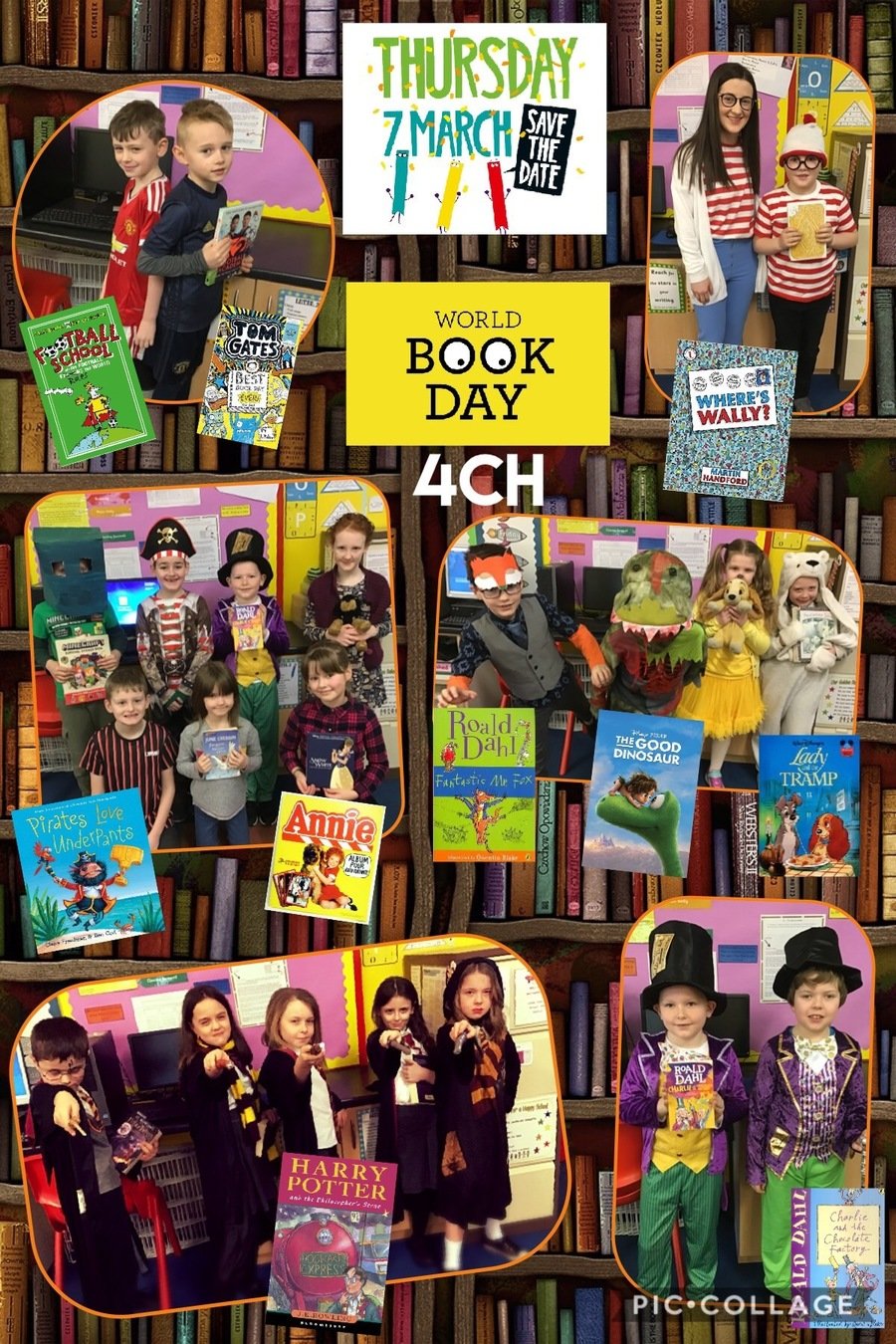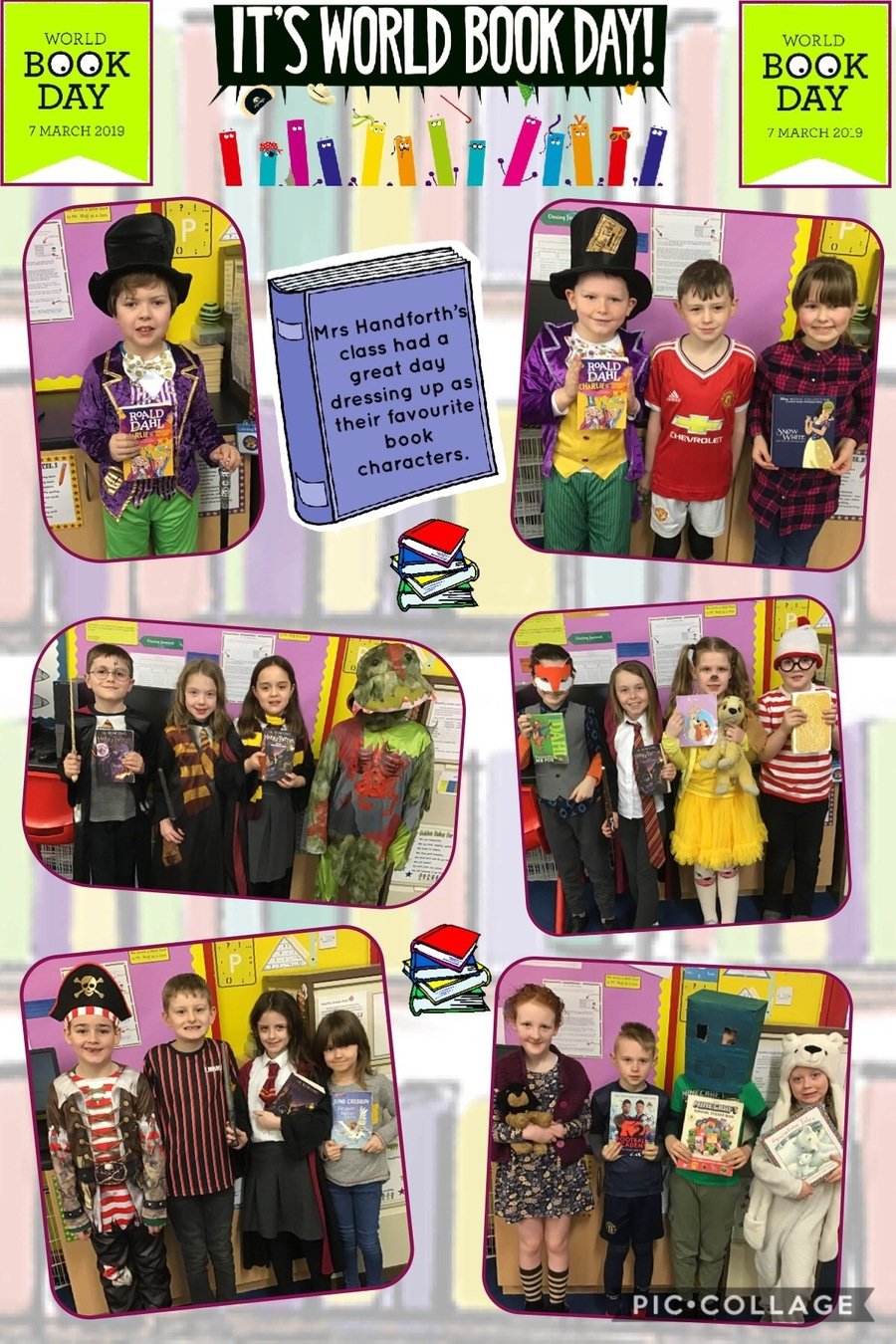 Year 4 proudly wore odd socks in support of Integrated Education.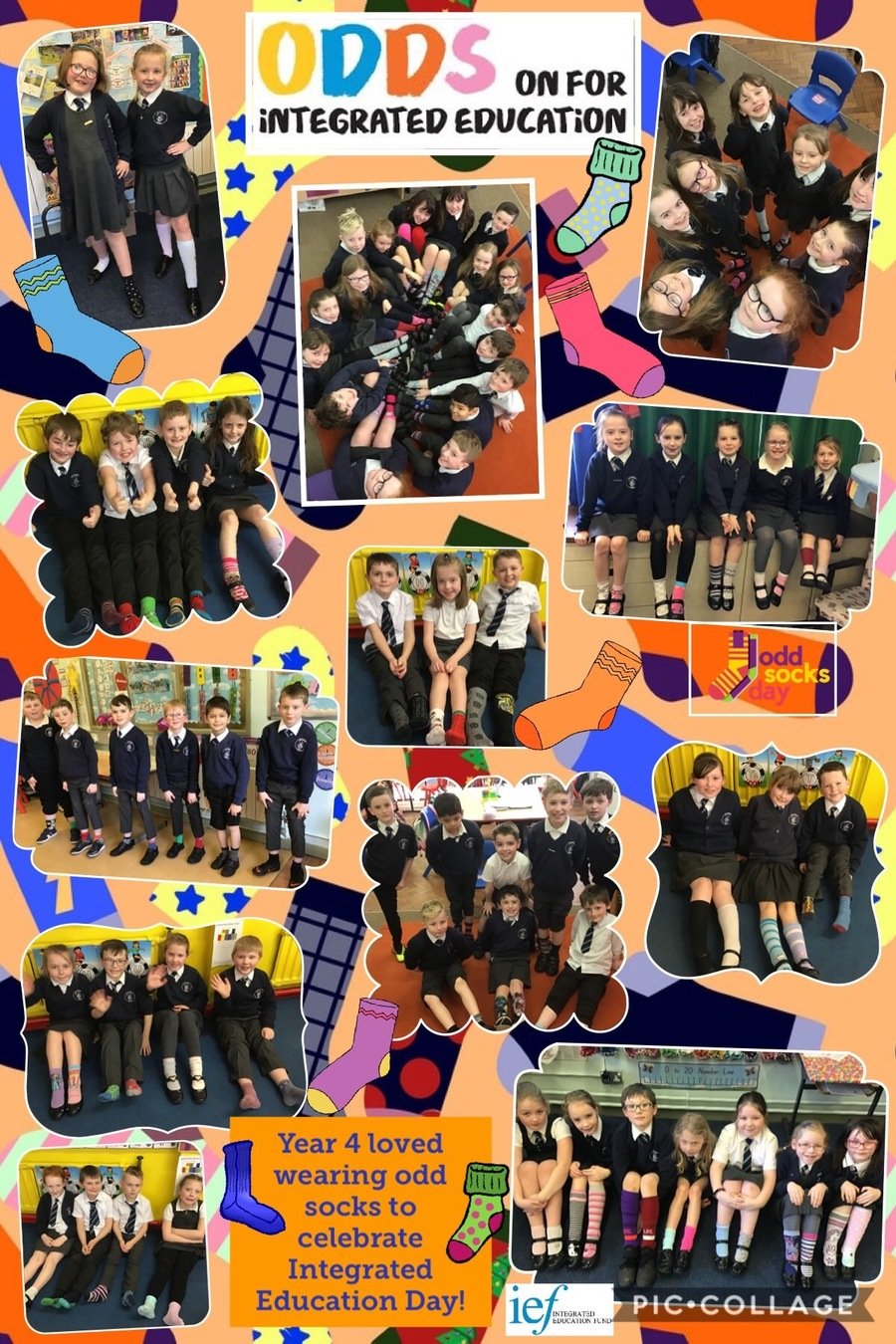 We have been learning about lots of different celebrations from around the world during out topic, 'Shine a Light'. We decided to celebrate Pancake Day by eating yummy pancakes!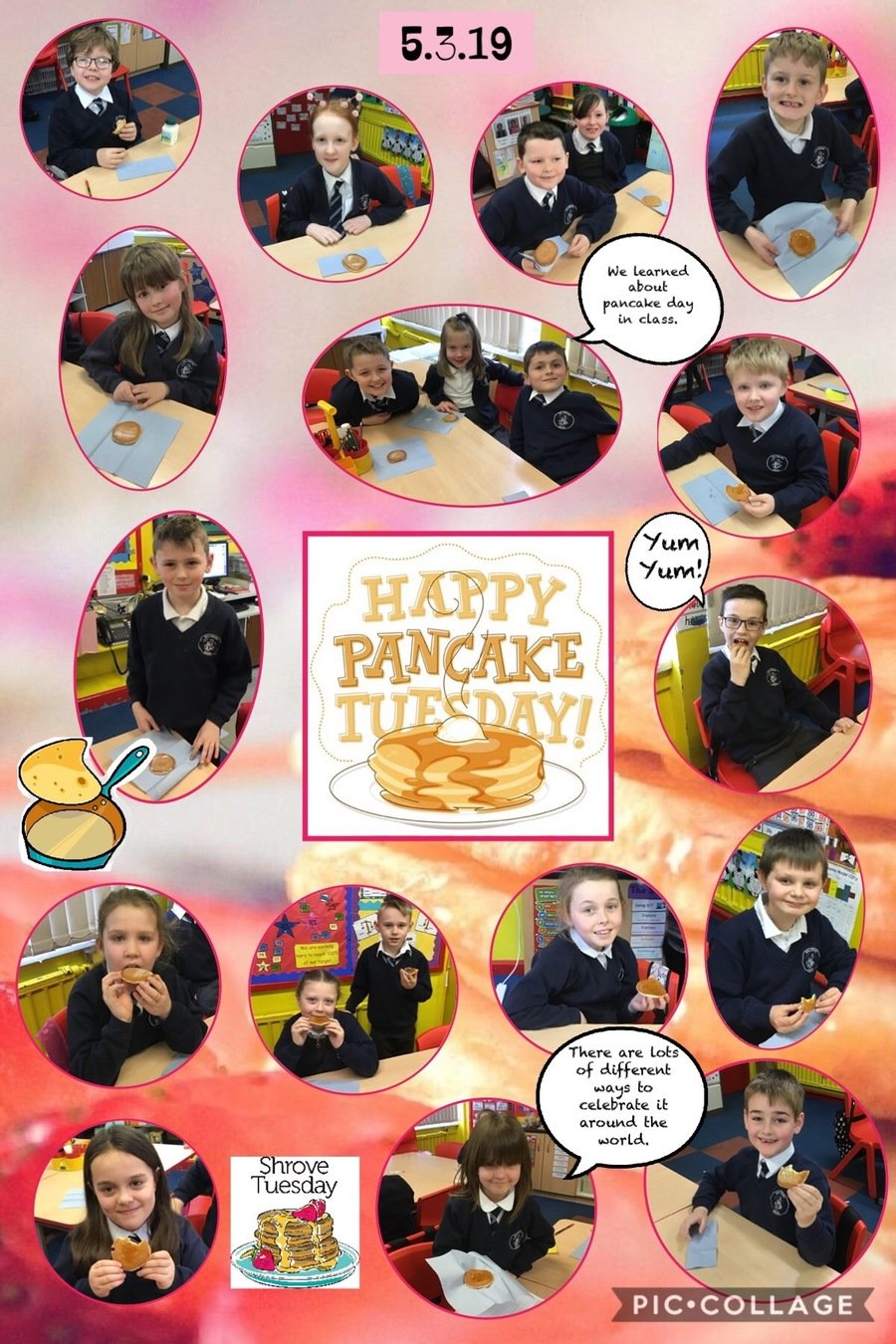 We have been learning about weight. We learned about estimating weight, ordering according to weight and even learned how to use scales to accurately record weight.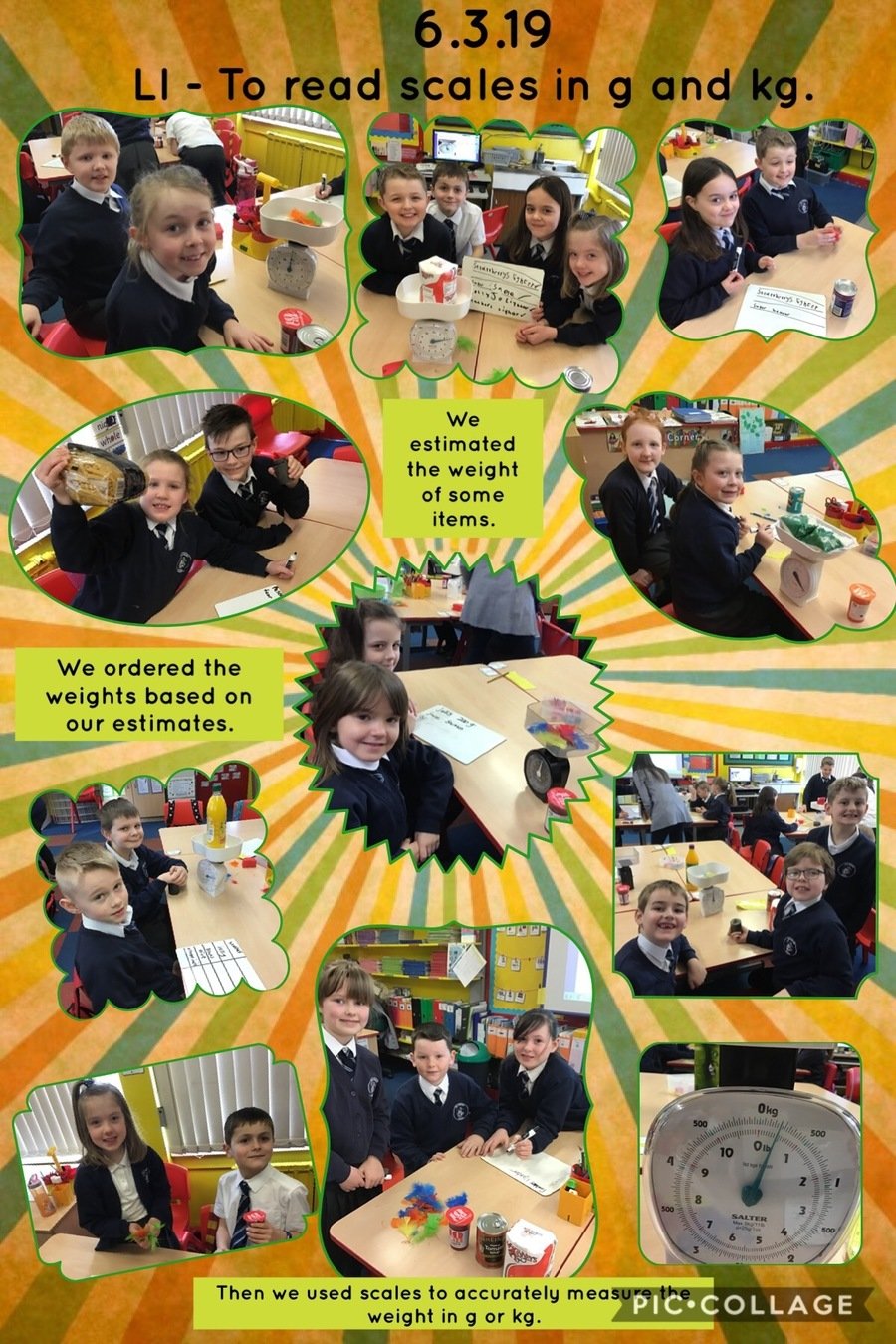 Take a few minutes to enjoy watching a little preview of our class this term!

Finding better words to use in our writing is a really important skill. We have been learning to use a thesaurus to help us with this.

We have been learning lots about money over the last few weeks. We have learned how to count and add amounts of money.
During our Friday lessons, our class were solving money problems by working systematically.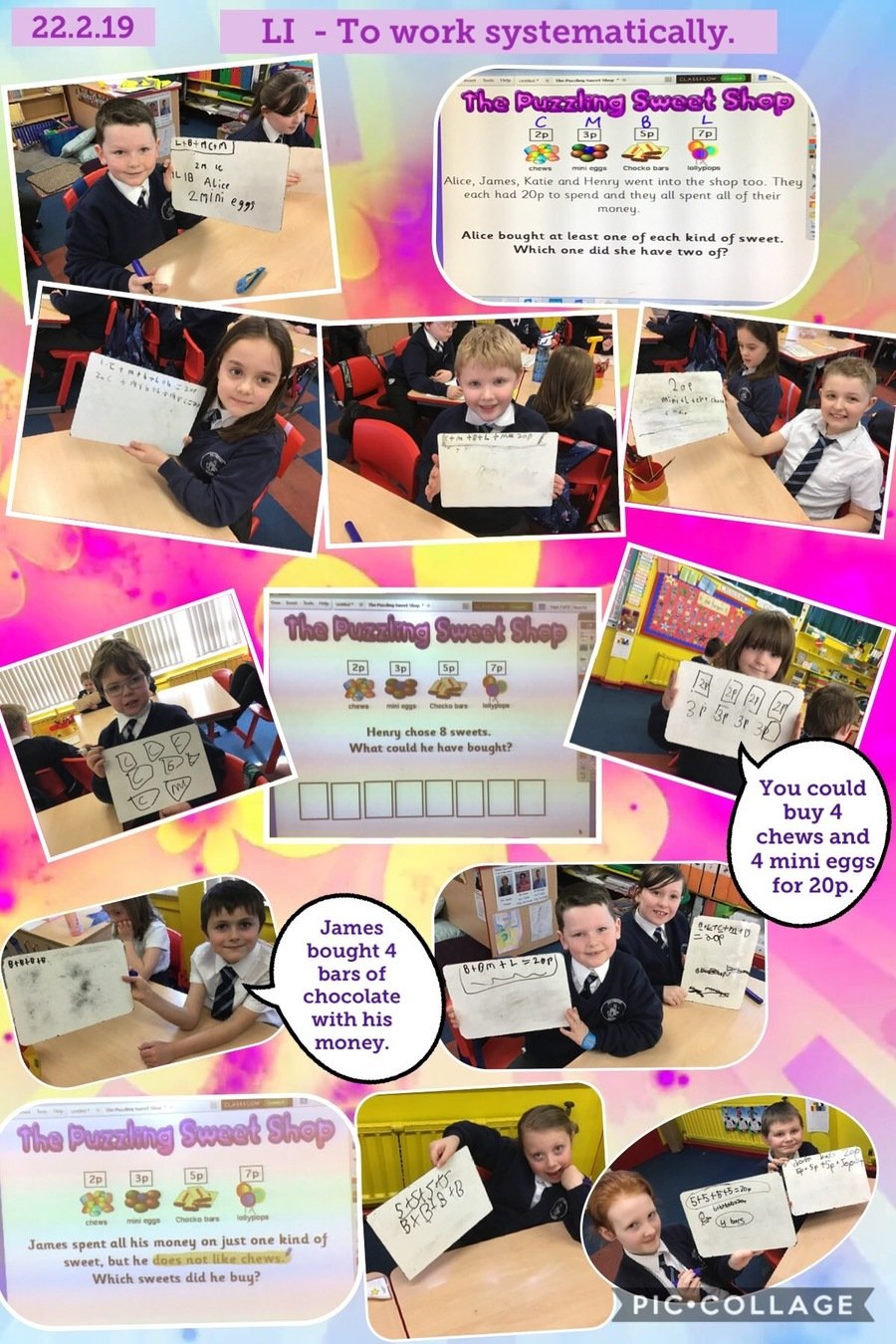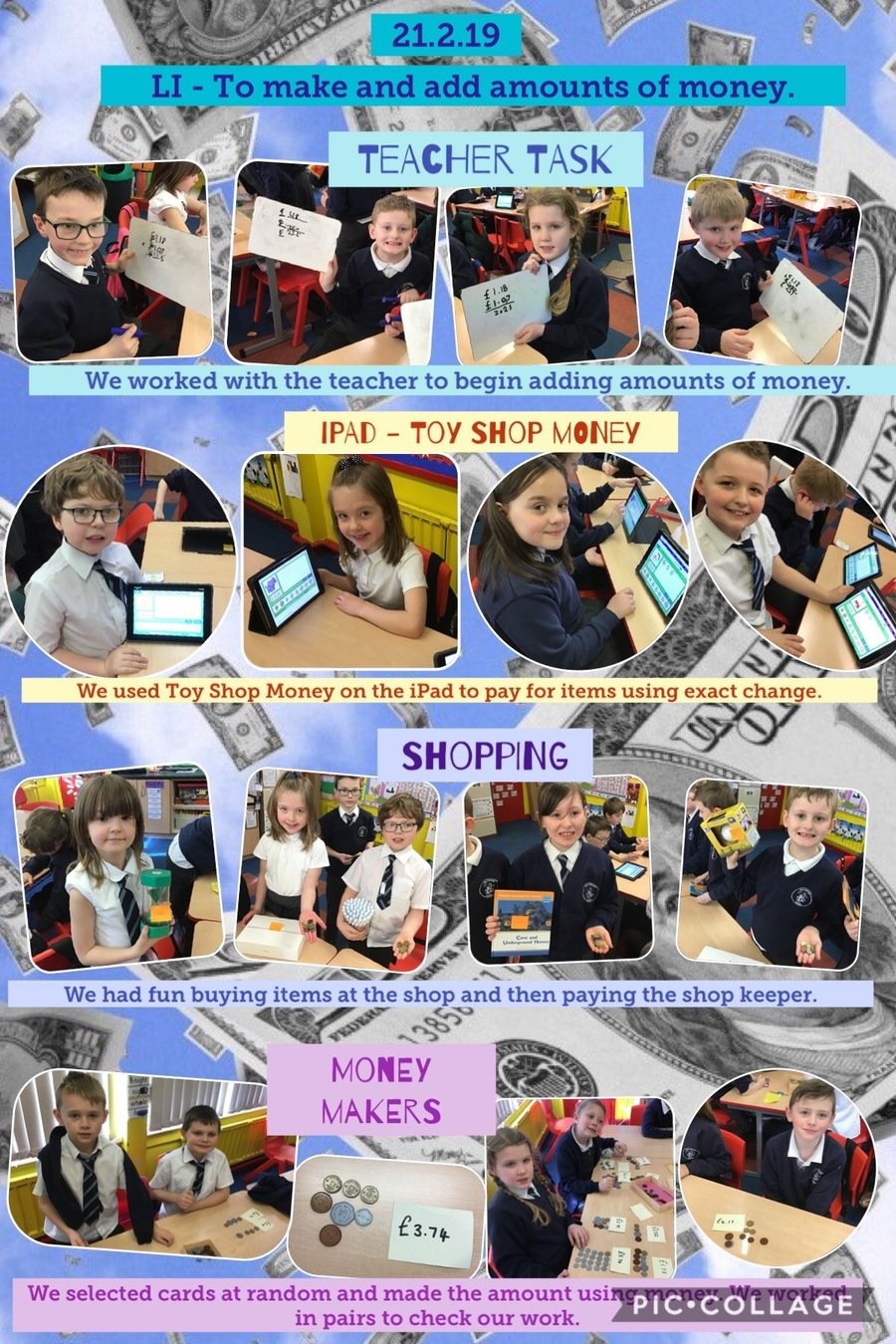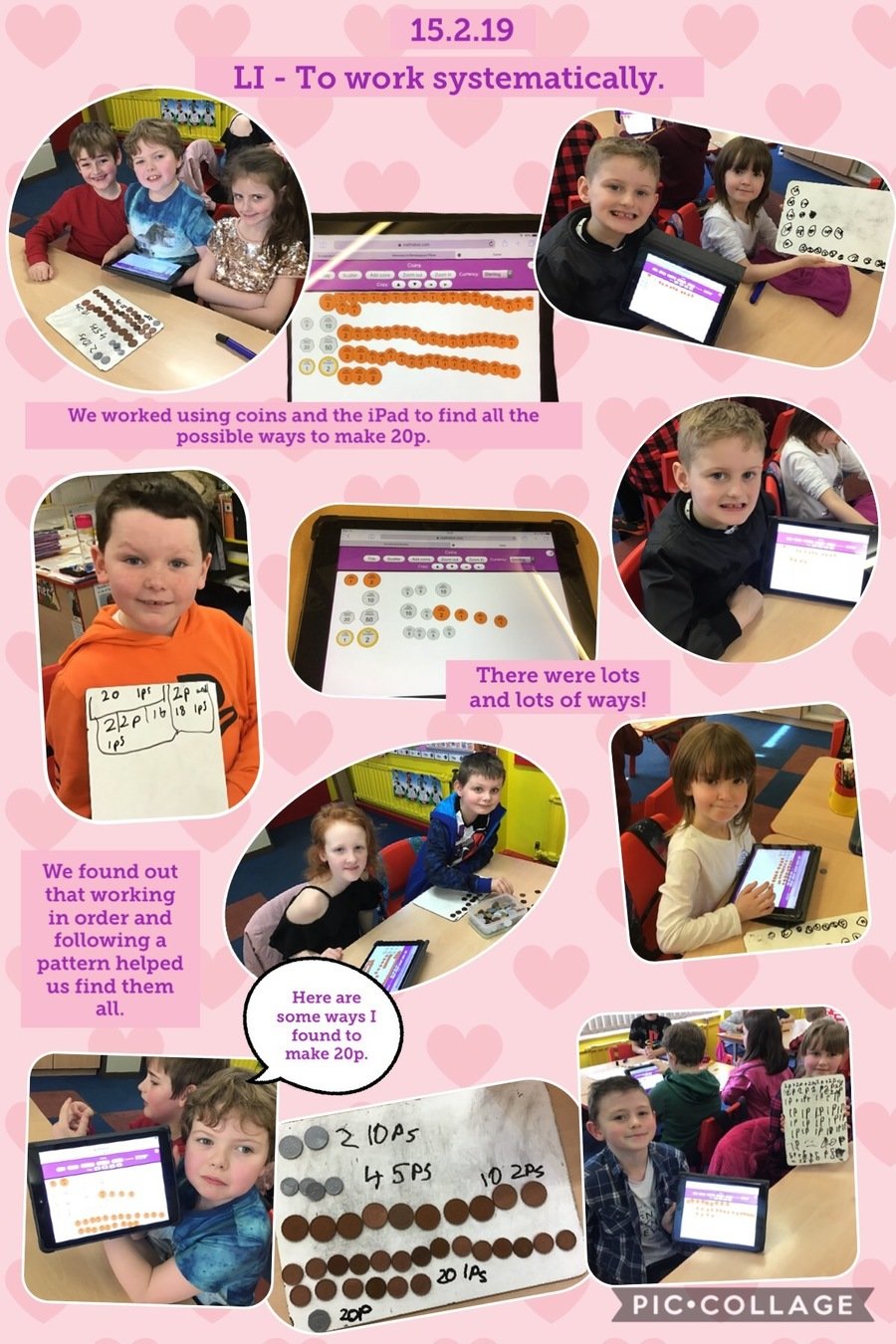 We celebrated Safer Internet Day on Tuesday 5th February. Our class thought about a range of online situations and discussed how they might make us feel. We used emojis to express our feelings. We discovered that different people felt differently about the situations. It was a great way for us to learn that not everyone feels the same way about things as we do. We are all different and react in different ways. We need to show respect to others and value their ideas and opinions.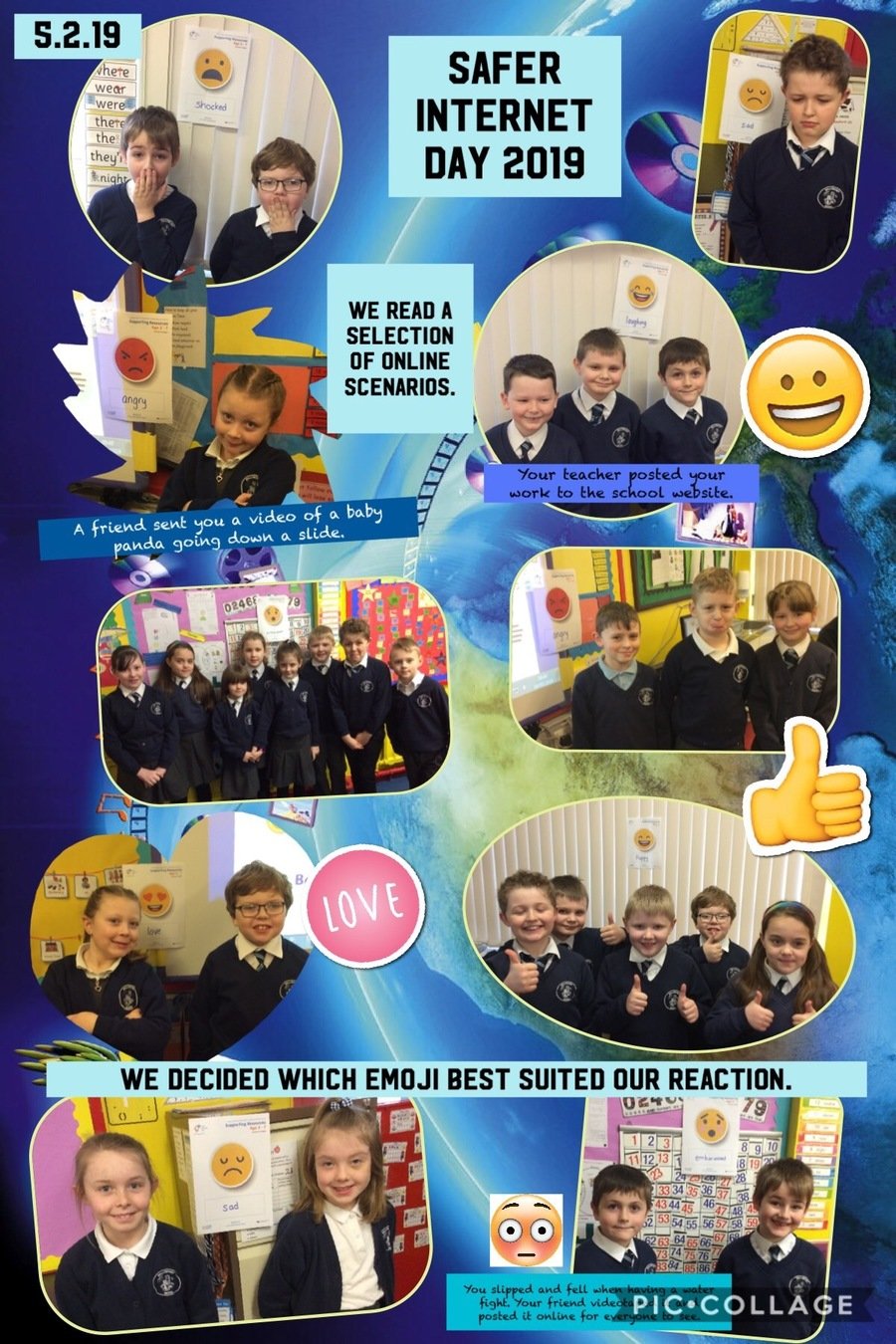 We love our weekly Problem Solving lessons!
We have been learning the skill of working systematically and organising our ideas clearly to help find the answers.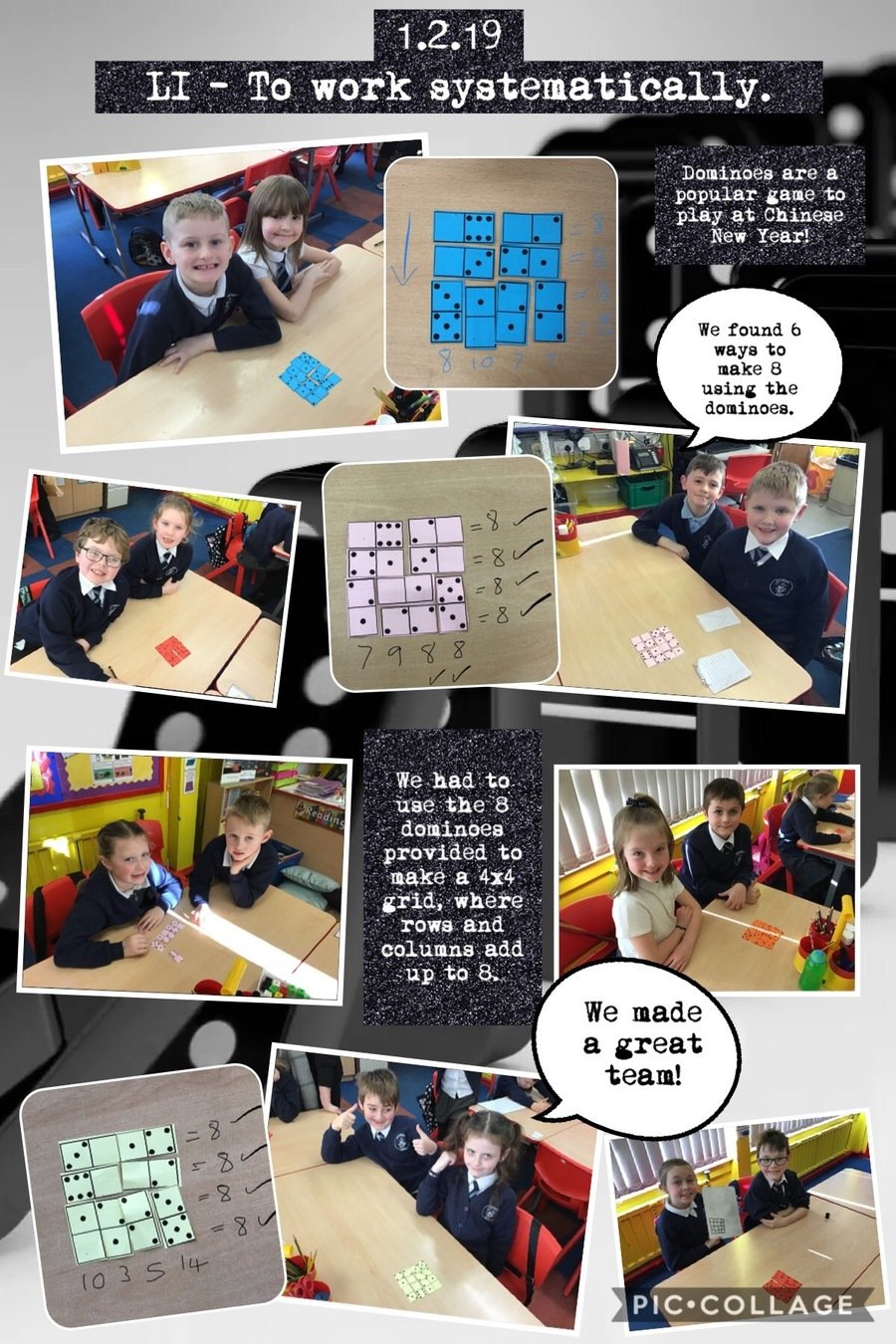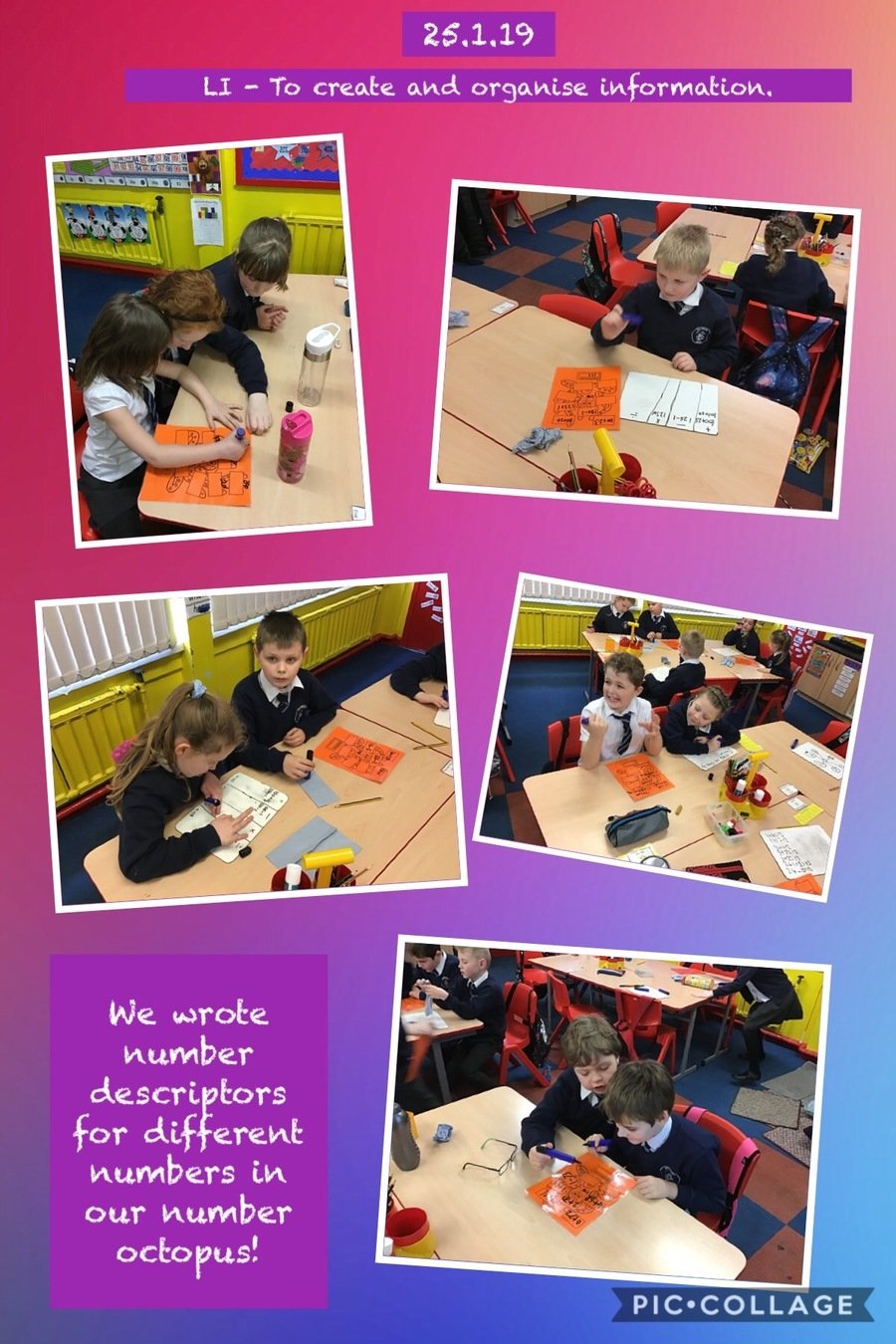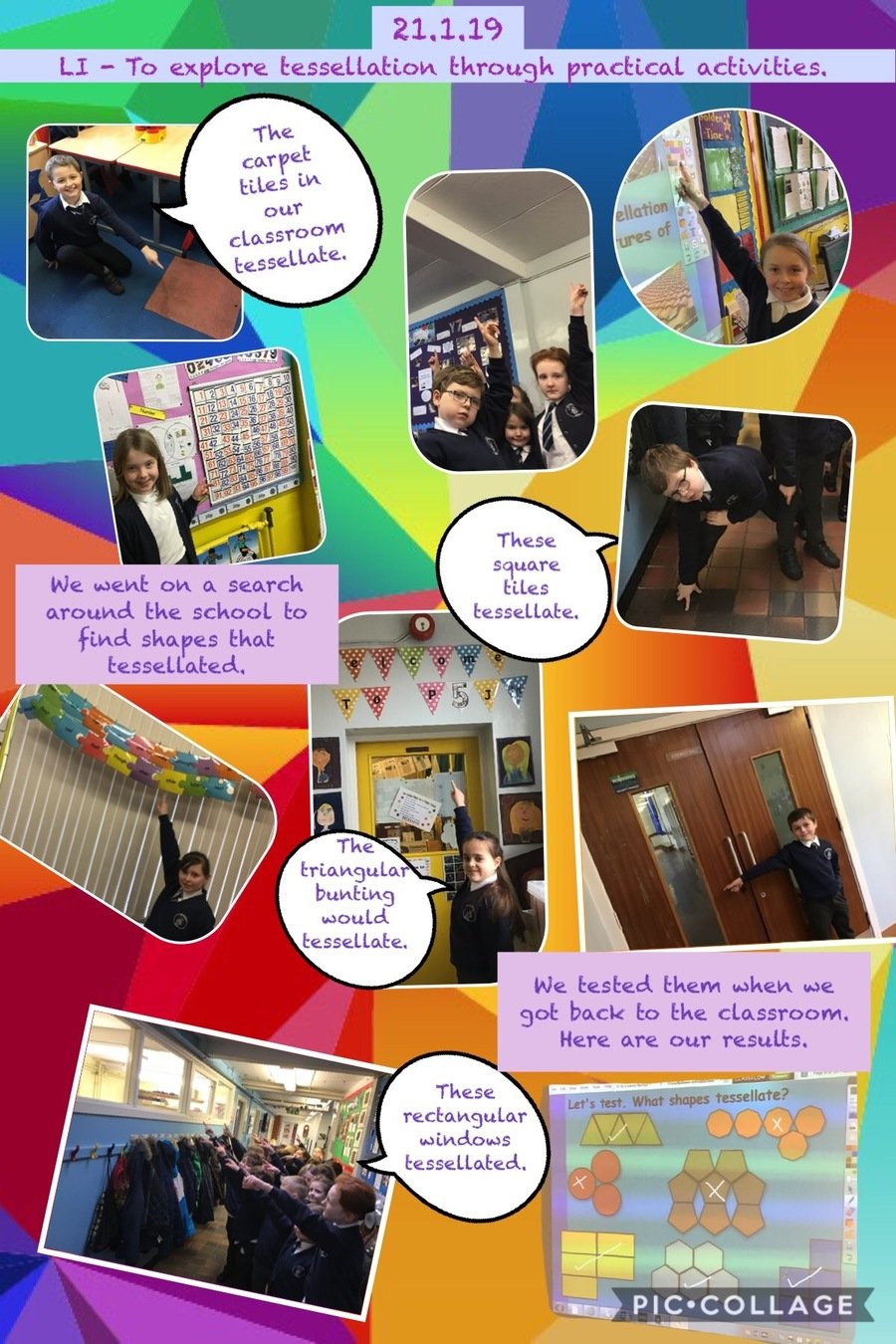 During ABL, we explored our topic further. We experimented with oil, water and food colouring to make fireworks in a glass, painted in the style of Jackson Pollock, created moving paper dragons, used problem solving skills to make tangram pictures and developed out ICT skills by creating Chinese Money Envelopes on ArtSet. Take a look at all the fun we had doing it!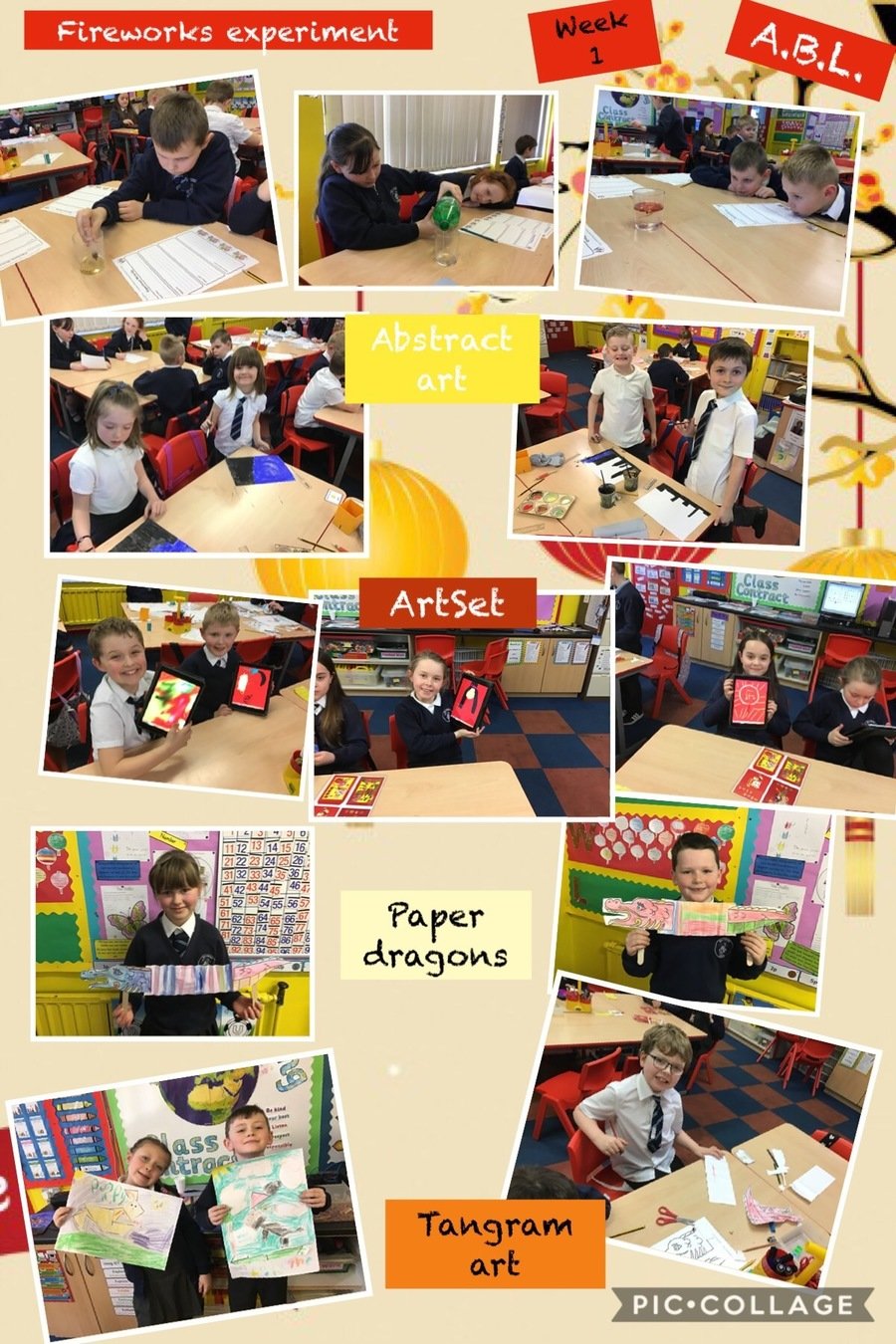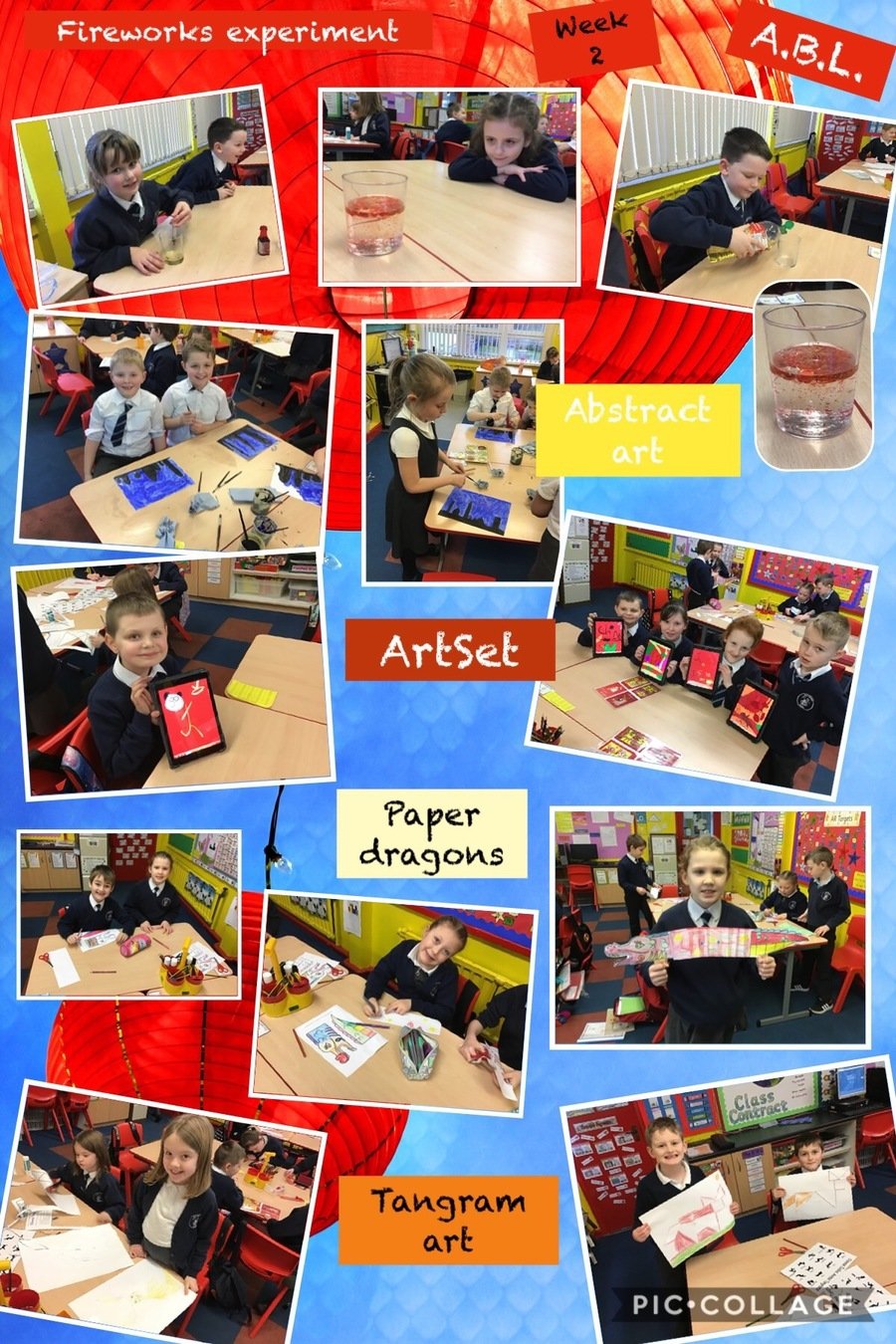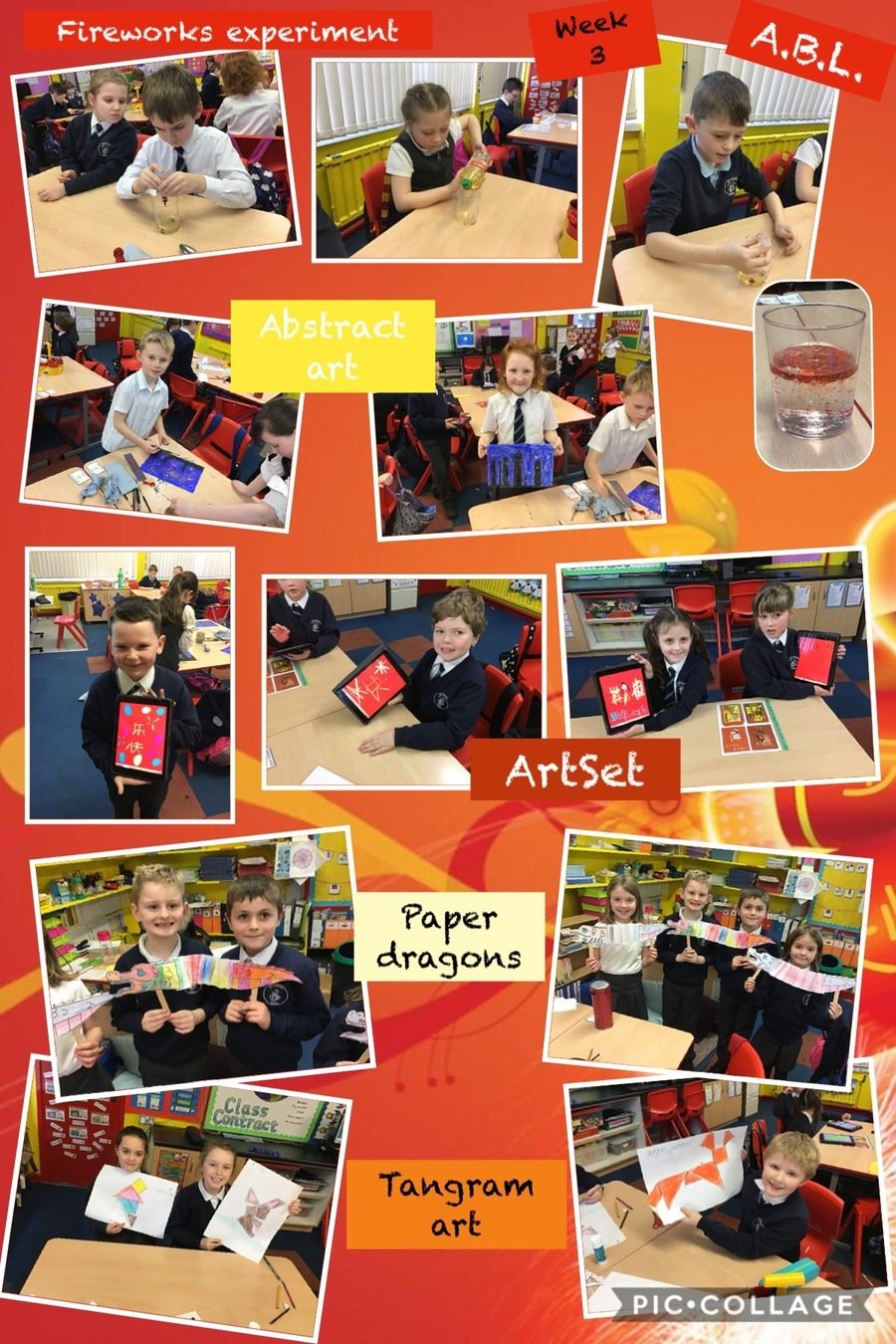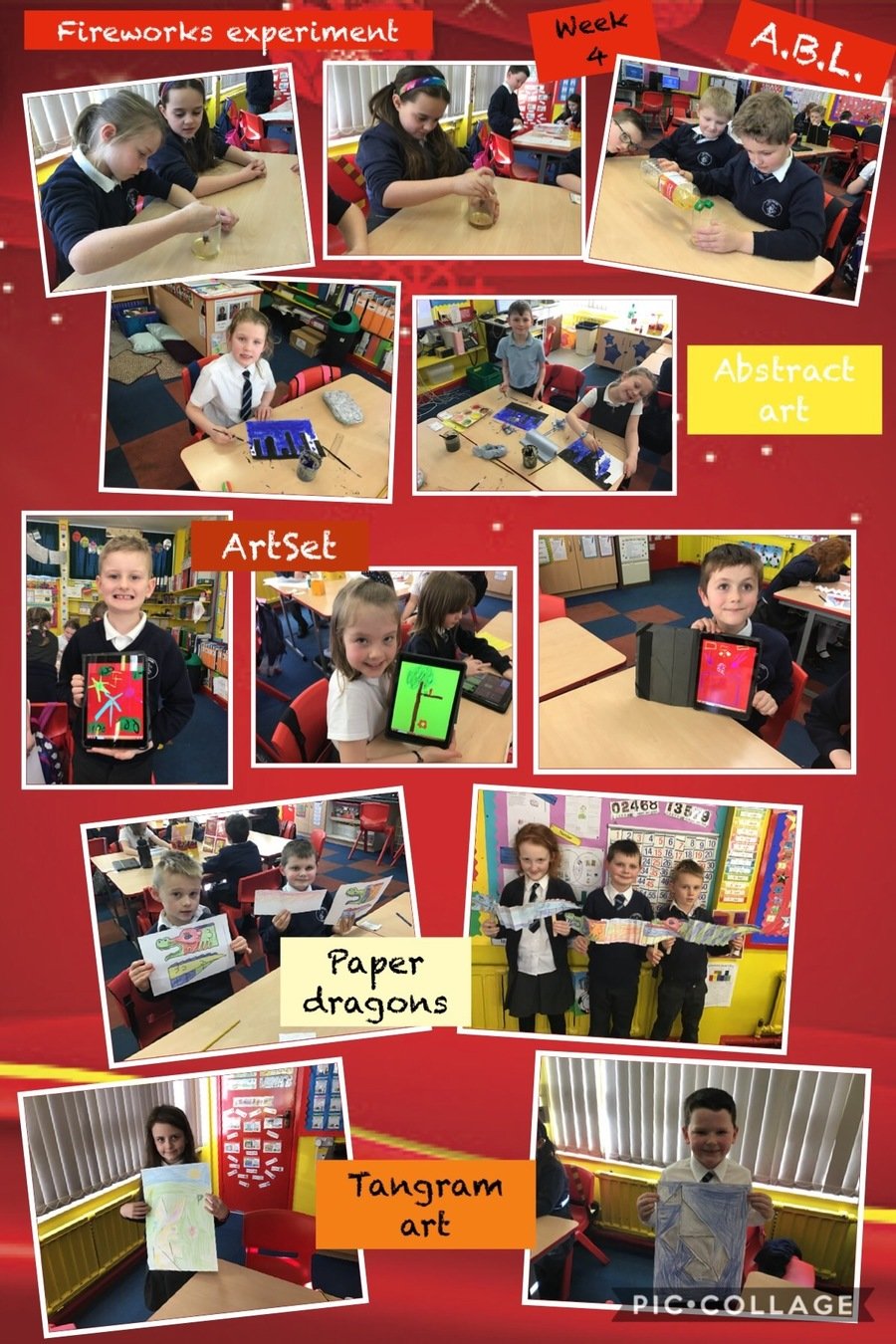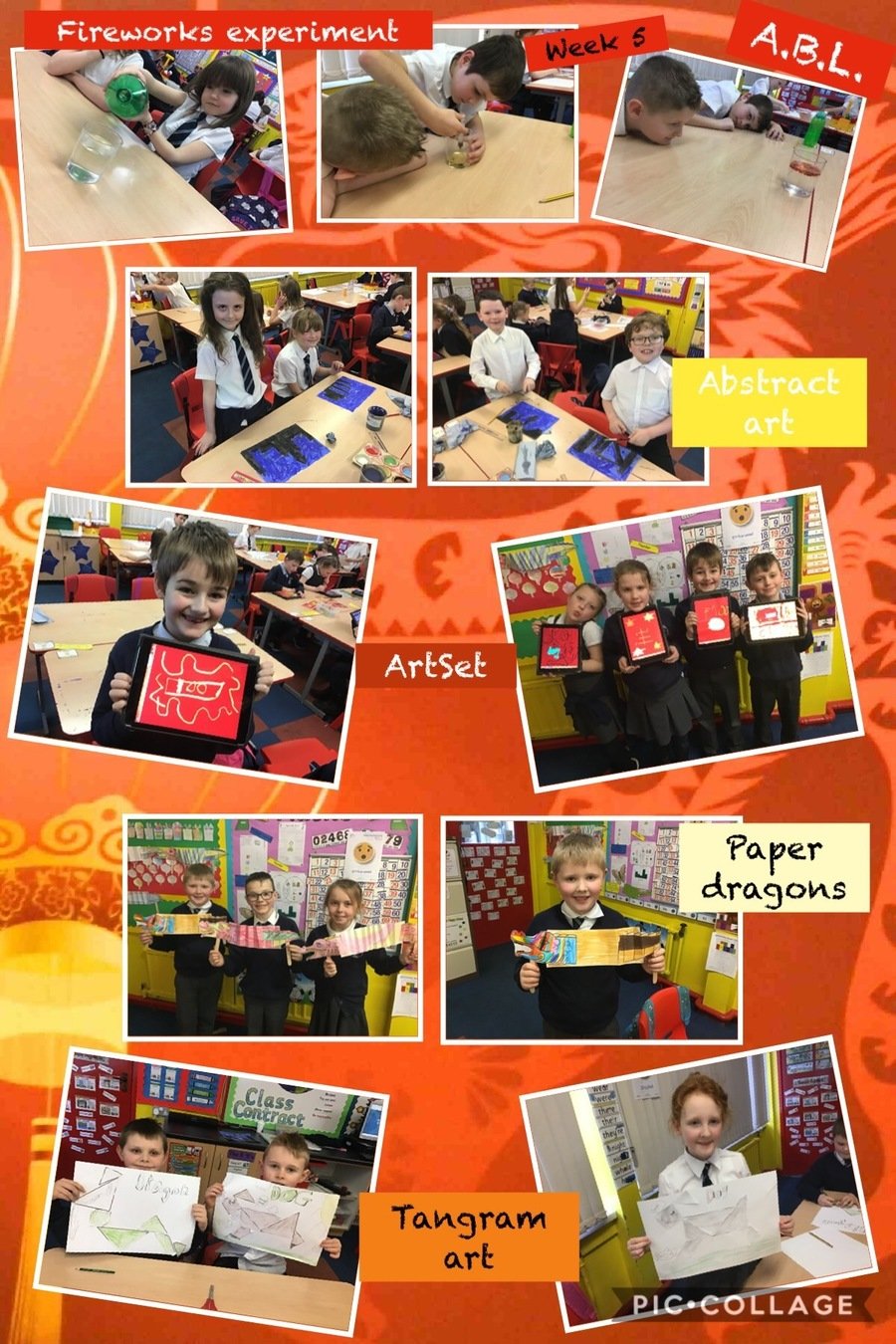 This term, Year 4 have been learning about Instructional Writing. After we made some delicious treats, we wrote about how to make them.
We learned how to use bossy verbs, adverbs and time connectives in our writing.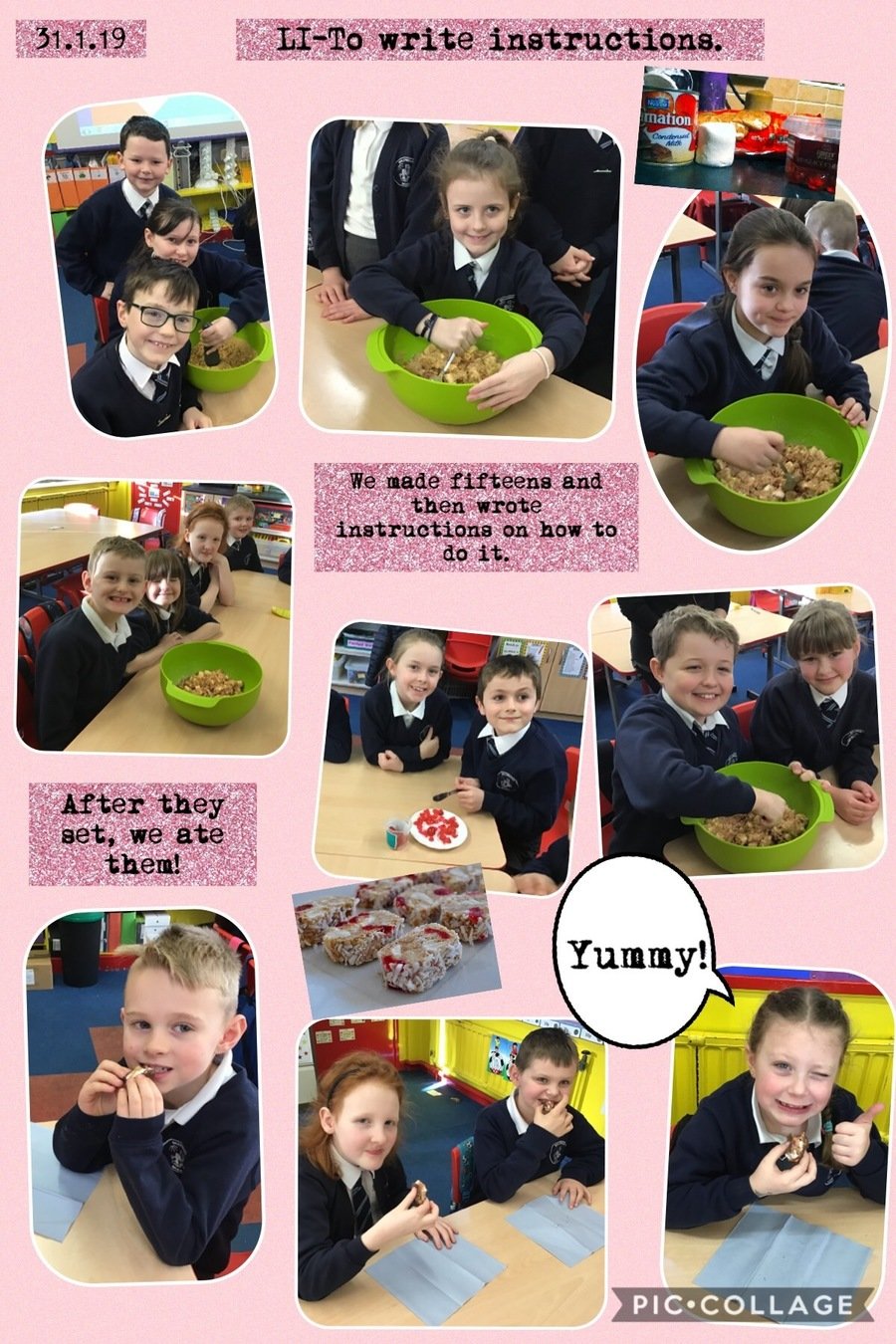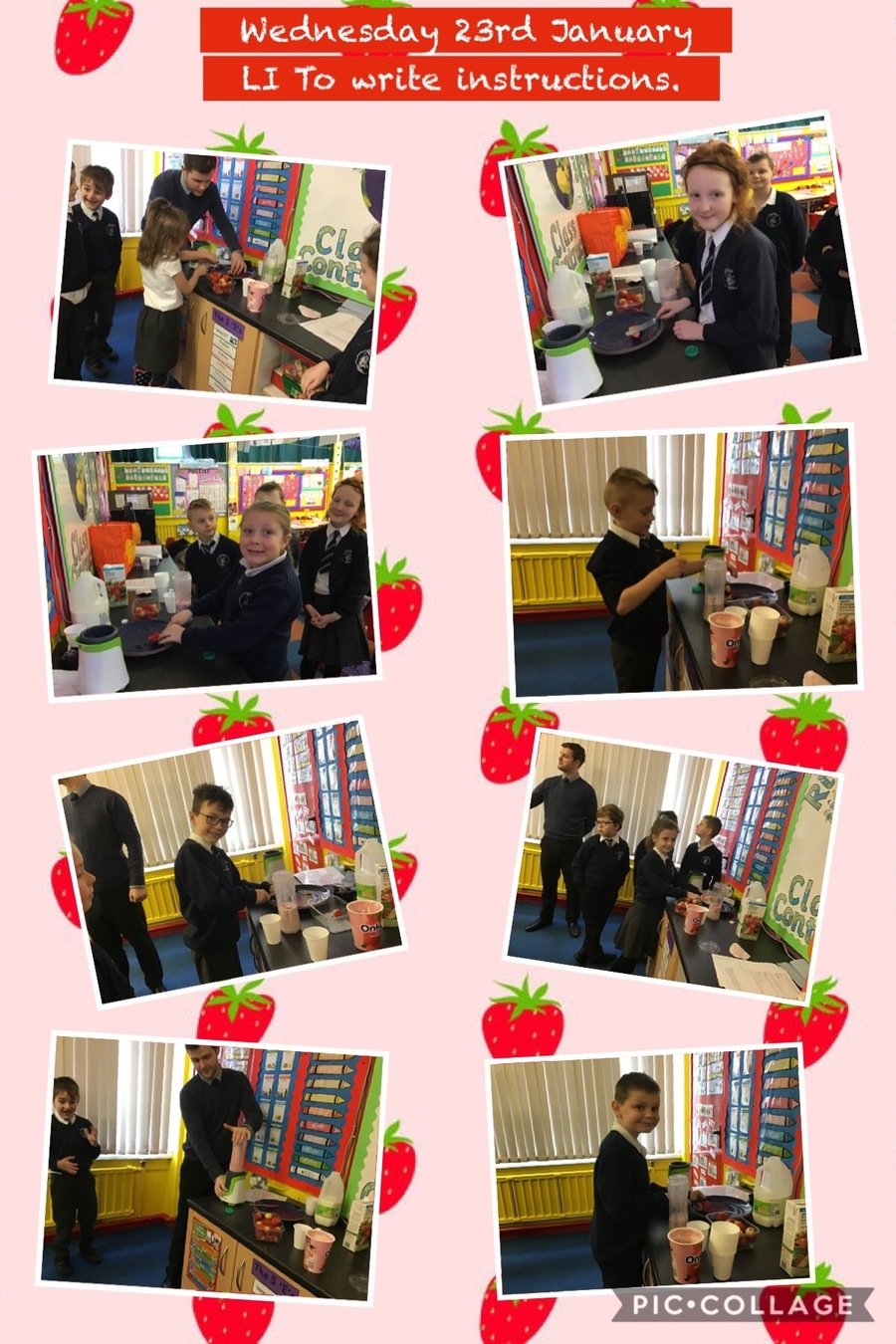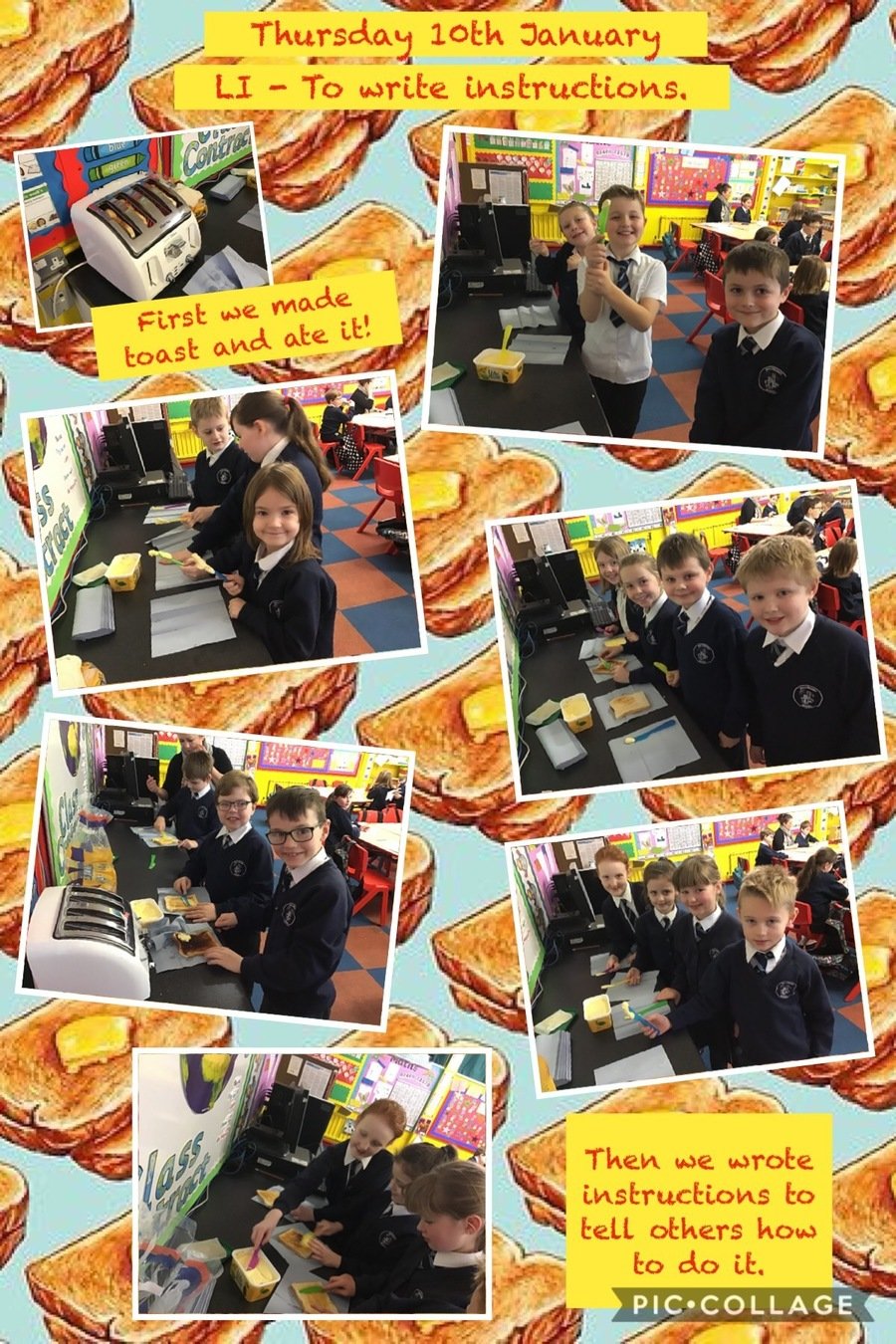 We love problem solving lessons in 4CH. We used Izak9 to make a magic square. It all had to add up to 15....and it was much harder than it looked! Do you think you could find the solution?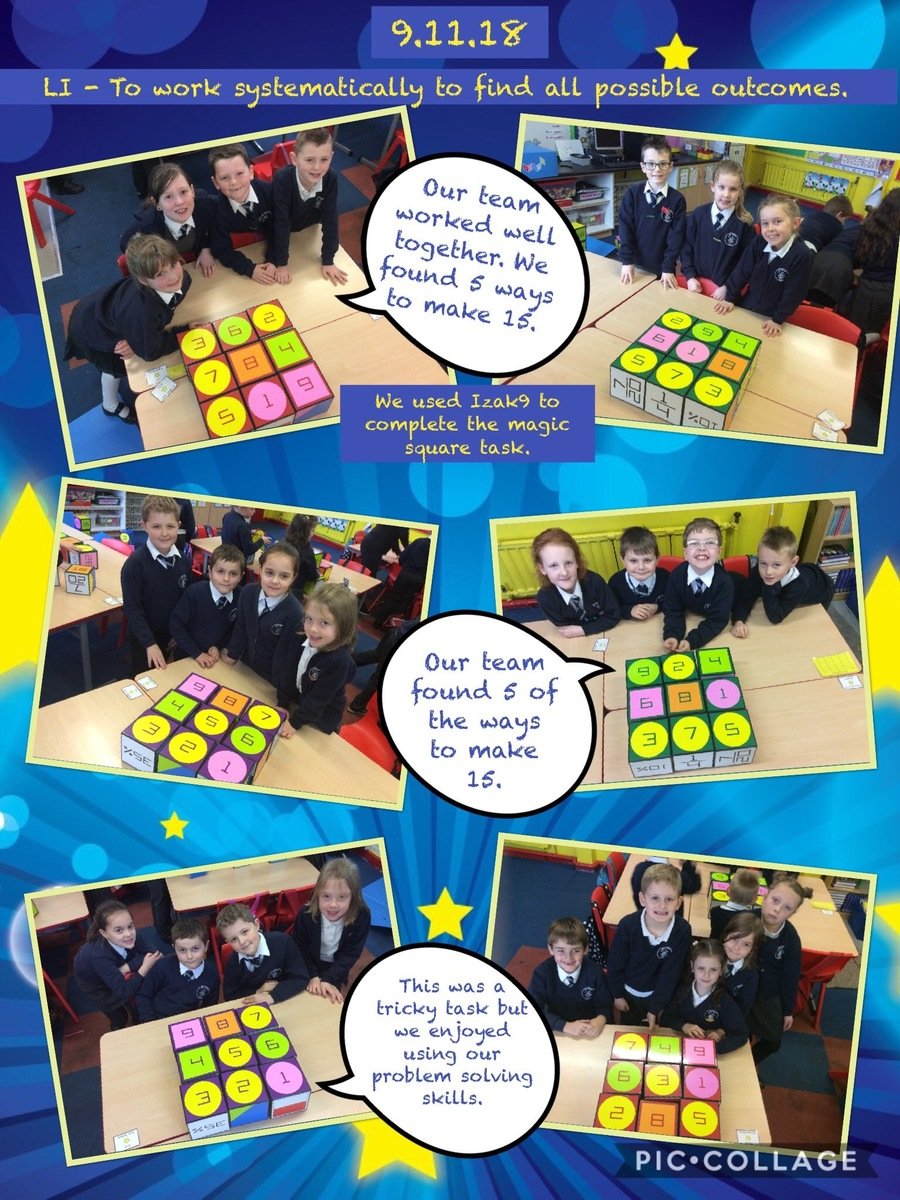 This term our writing genre is persuasive writing. We studied adverts and made some of our own. We wrote catchy slogans, designed logos and presented our products to the class!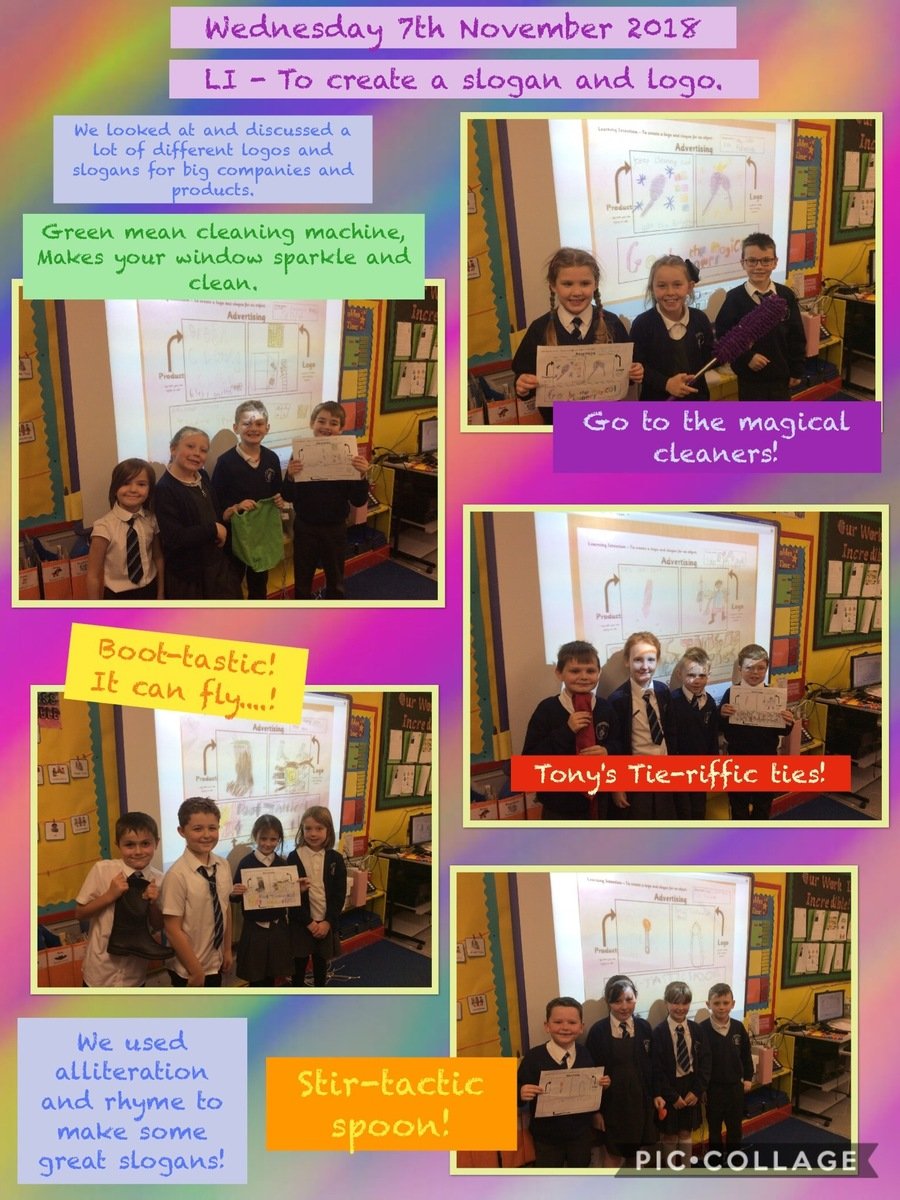 We have been revising how to tell time to o'clock, half past, quarter past and quarter to. This week, we started to learn how to convert analogue time to digital! We are getting really good at it!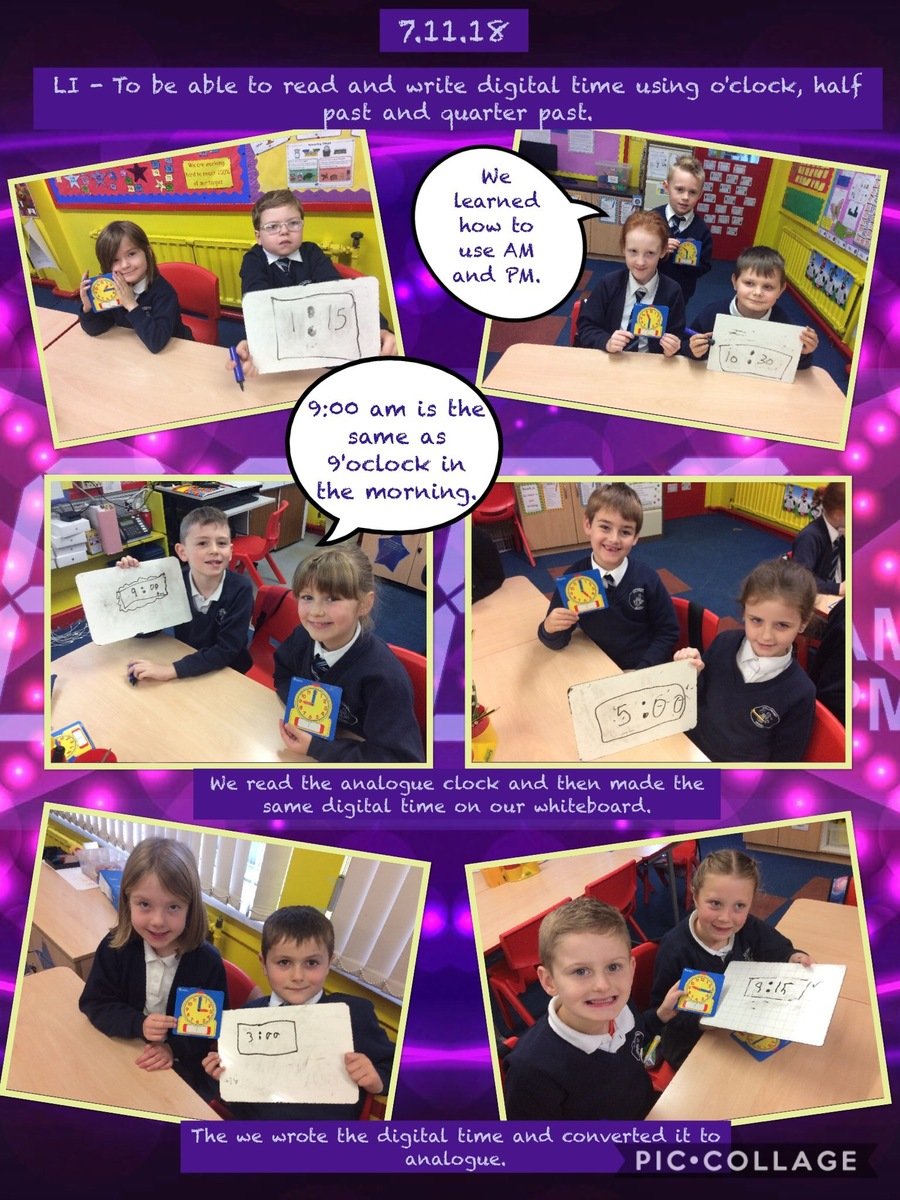 After our half term holiday, we started back at school by doing some revision of concepts taught in the last few weeks before the holiday. We are such smart cookies that we remembered nearly everything!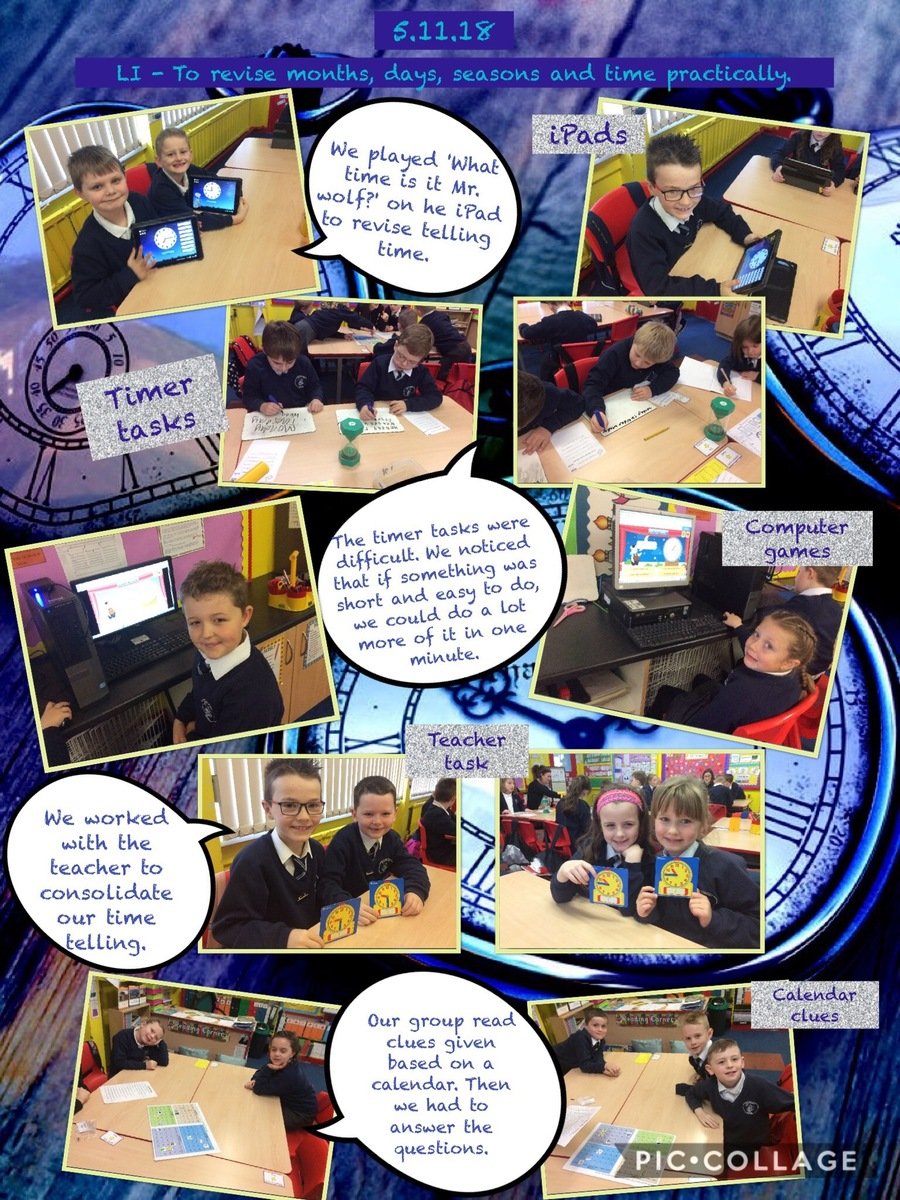 As the final lesson in our topic of 'Houses and Homes' we had a visit from a local Estate Agent. She kindly spoke to us about her job and told us what she has to do and how it all works! We were extra prepared and wrote questions to ask her in our Literacy lesson earlier in the week. We all loved finding out more about the job and looking at the brochures she gave us!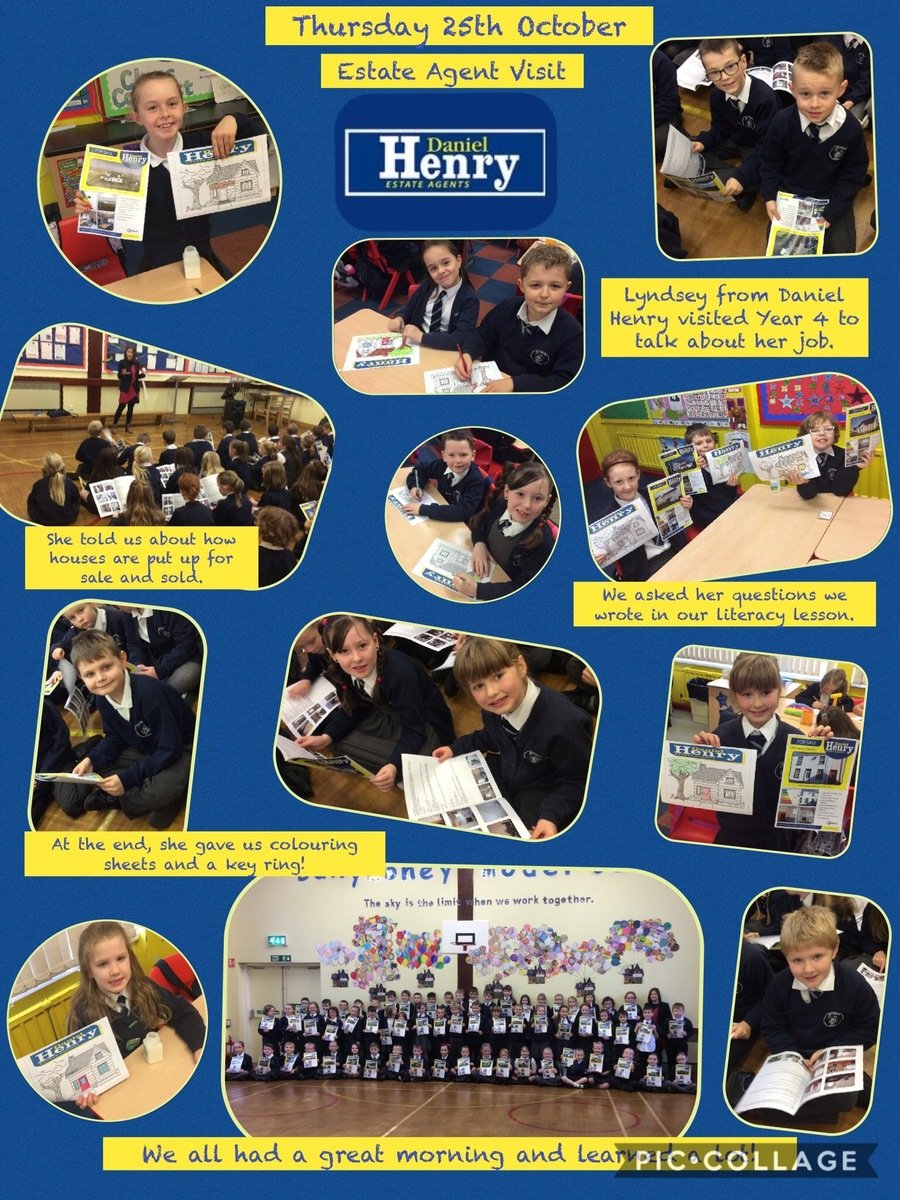 Monthly tests are tricky but P4 love using a range of fun and practical techniques to help revise all the spellings!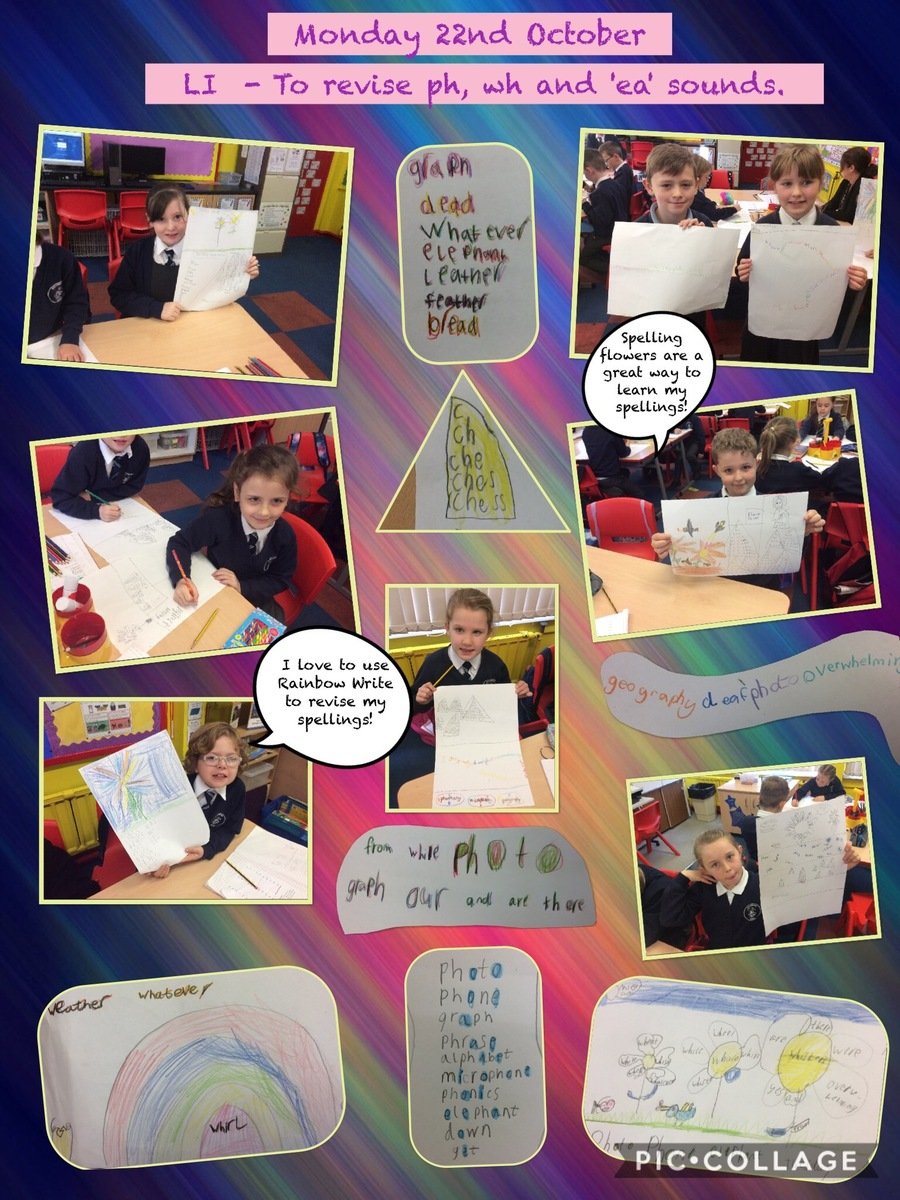 More problem solving in P4 as part of Maths Week! This time, we used our guessing and checking skills to work out which house matched the rule on the hidden card! It was good fun but a lot trickier than it sounds! Just look at the concentration on some of those faces!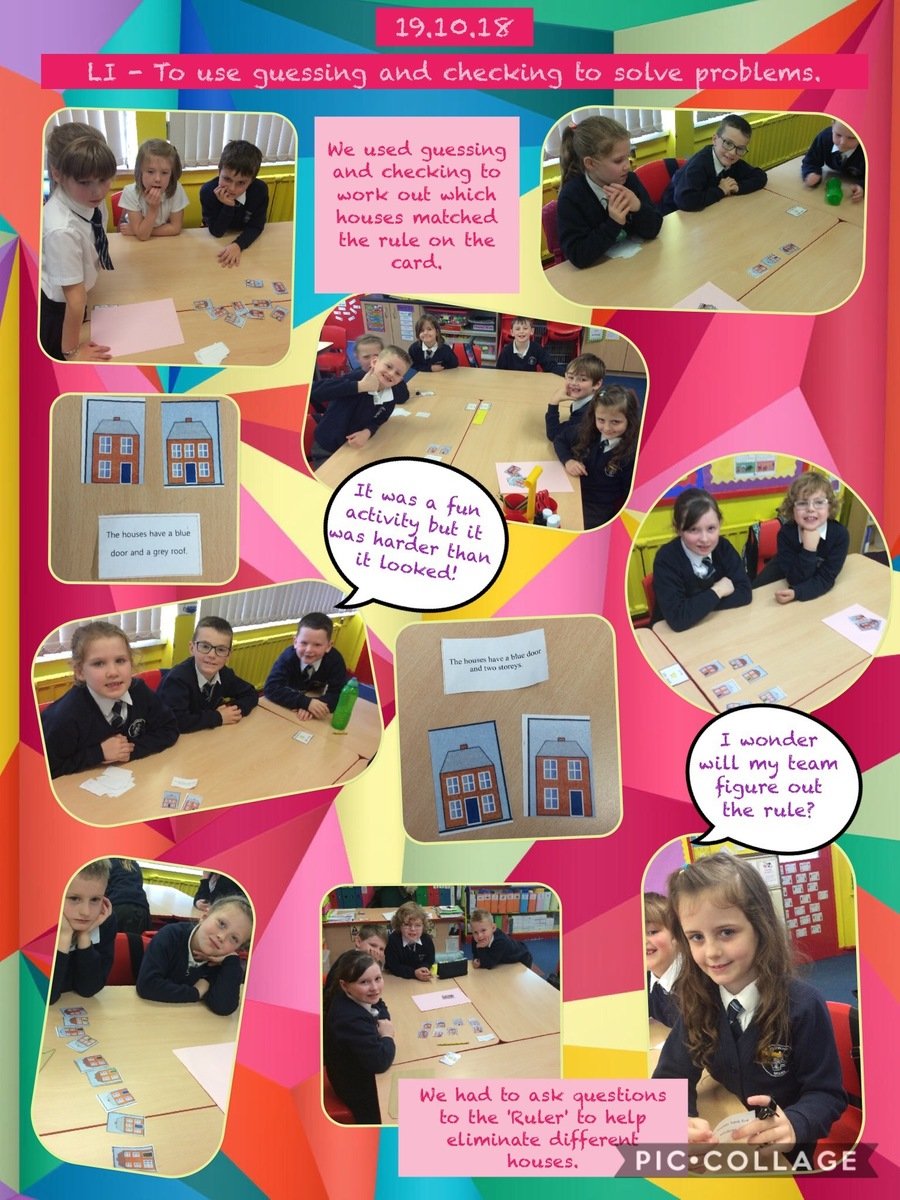 As part of Maths Week, Year 4 took part in the 'Race into Space' project! We had to build human sculptures to work out the key numbers. Back in class, we used the key numbers to solve problems and decide which candidate would be best to send into space!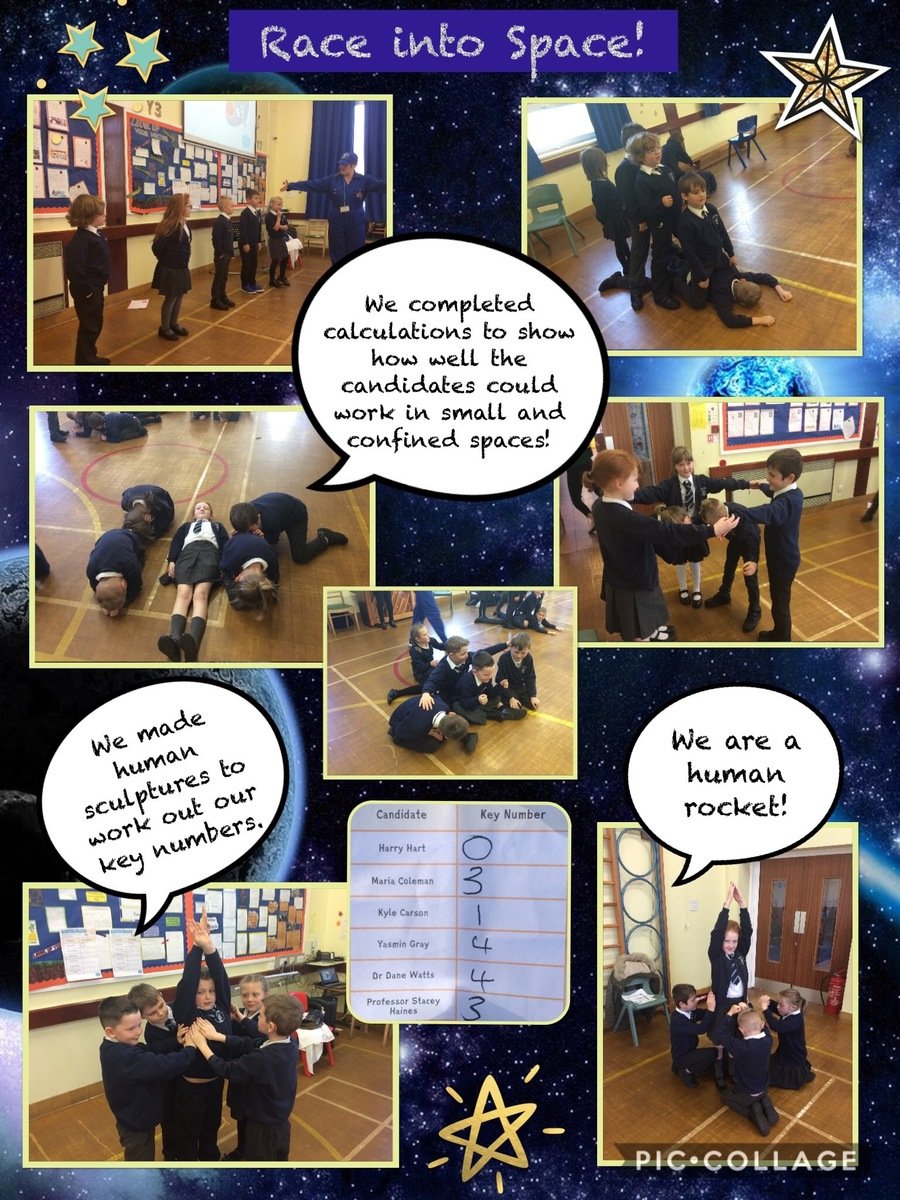 As part of our 'Houses and Homes' topic, we completed project using clay. We modelled different types of houses from around the world using the clay and when it had dried, we decorated them with paint. We think they look pretty fantastic, don't you?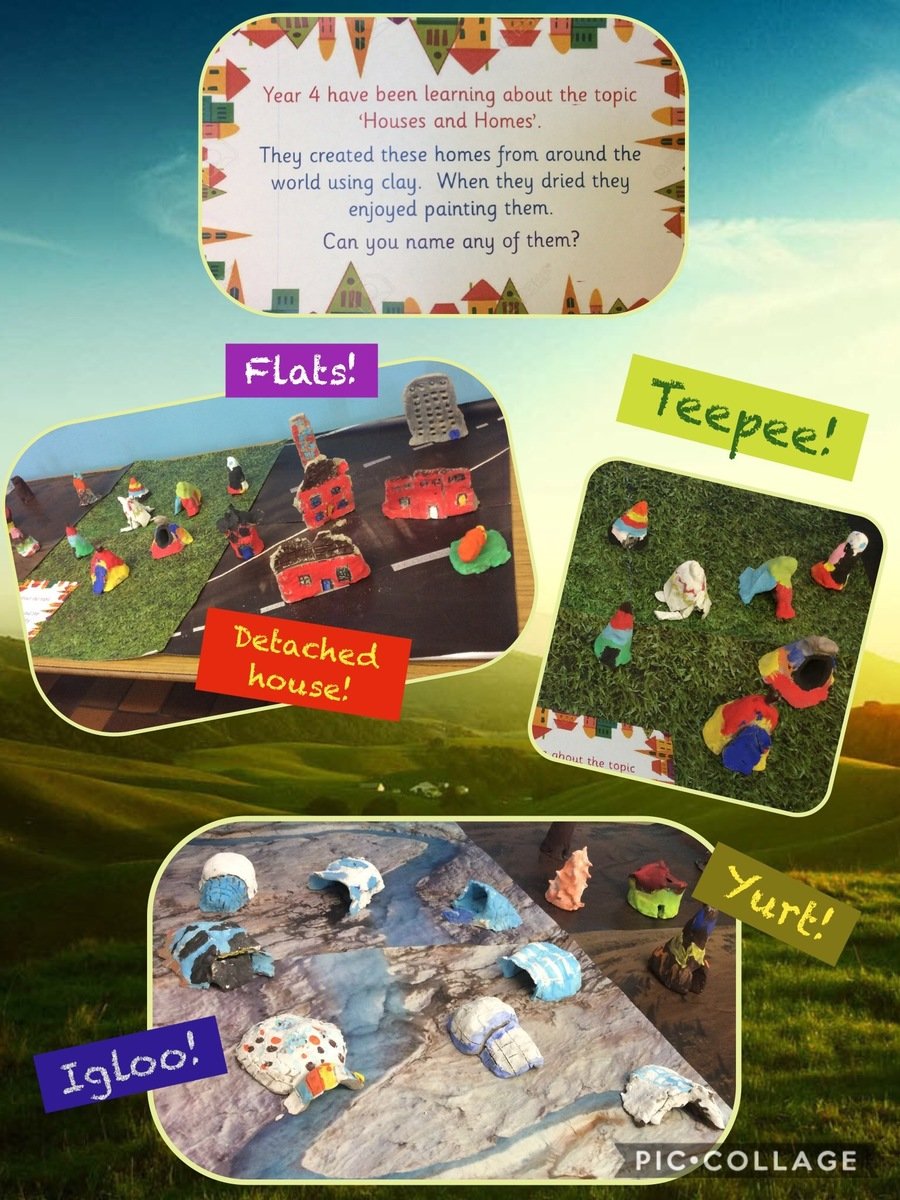 We have been learning about lots of different ways to solve problems this year. This week we learned how to use real materials to help make the problem easier to solve. Take a look at us in action!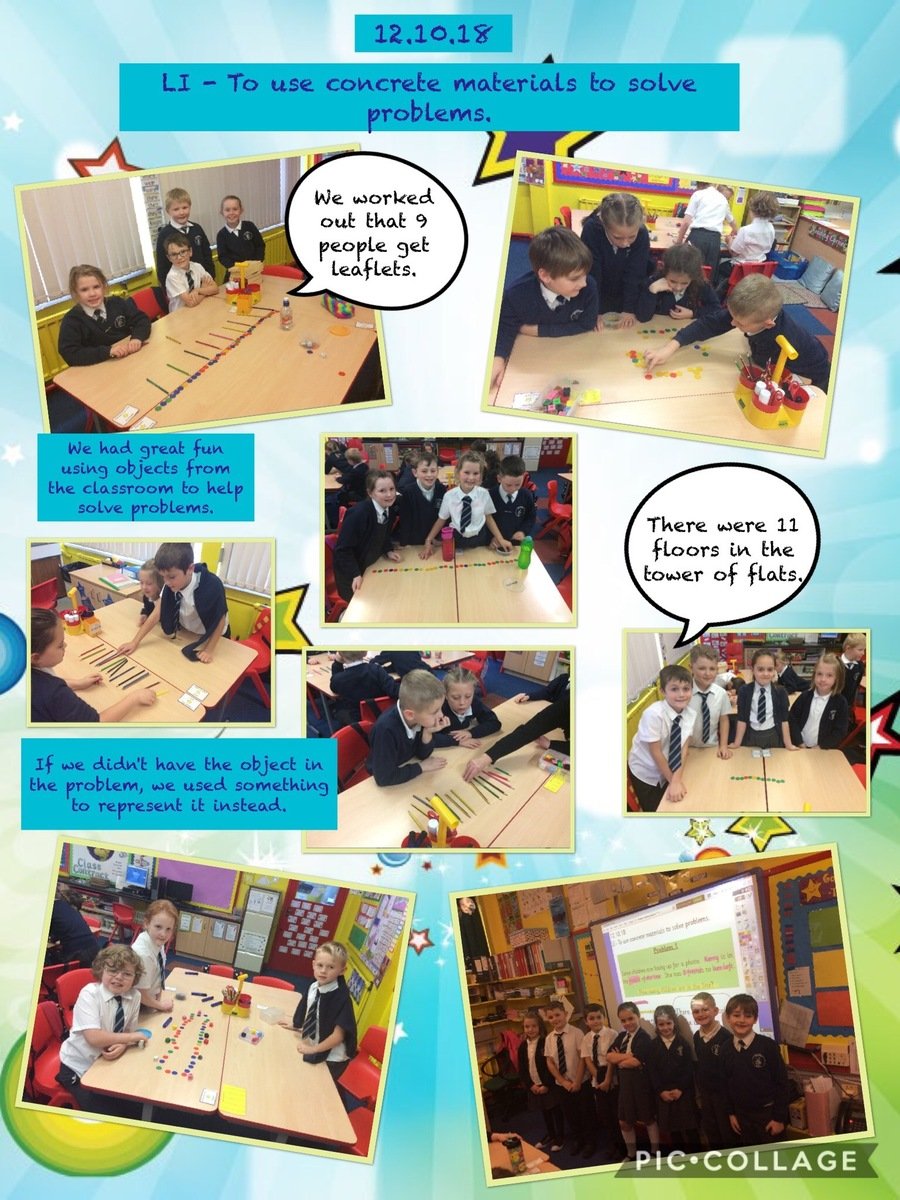 It was an exciting day on Monday 8th October when our class visited the local library. We learned all about how to sign up to the library, what fun things happen at the library and got to go on the computers and read some books too!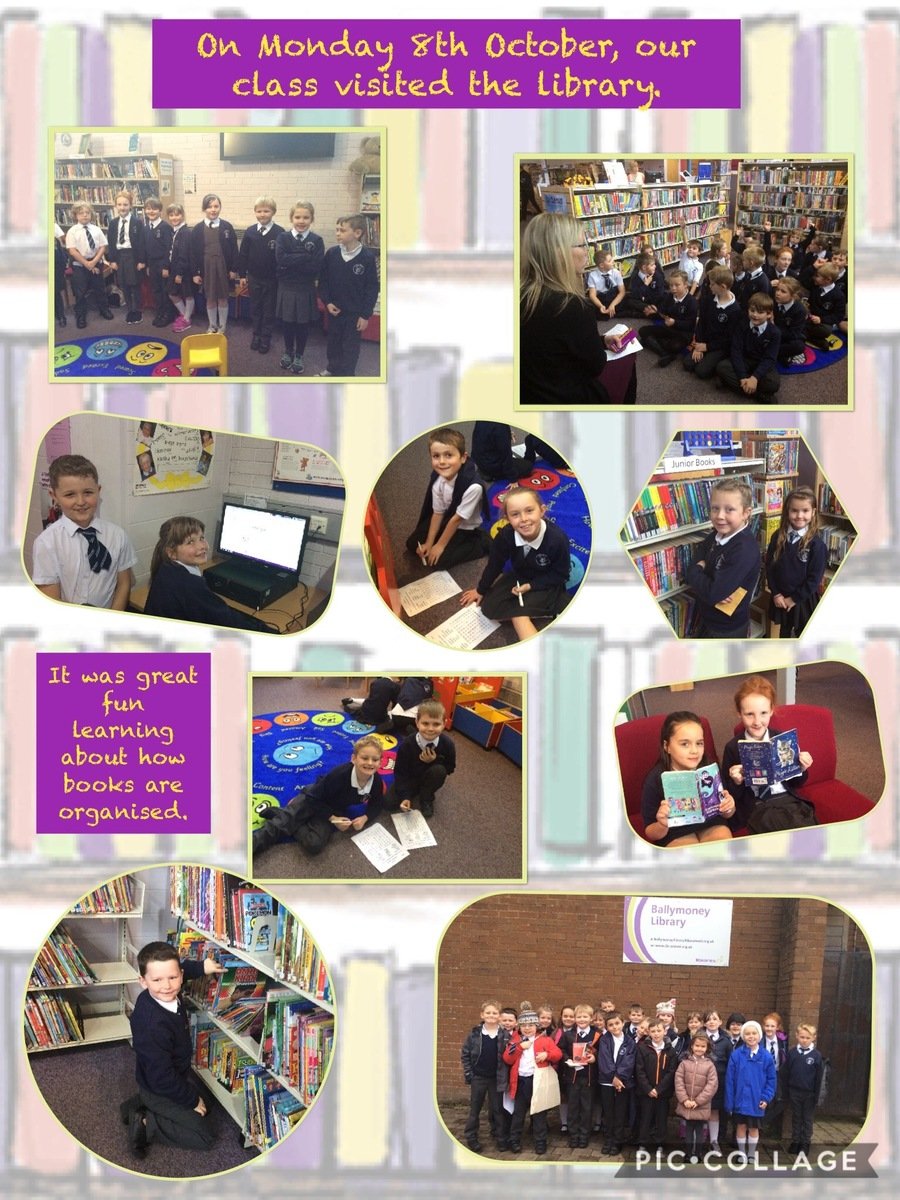 So far this term, we have been learning lots of new mathematical concepts. We revised our maths facts for our monthly test by playing cool games and working on our whiteboards.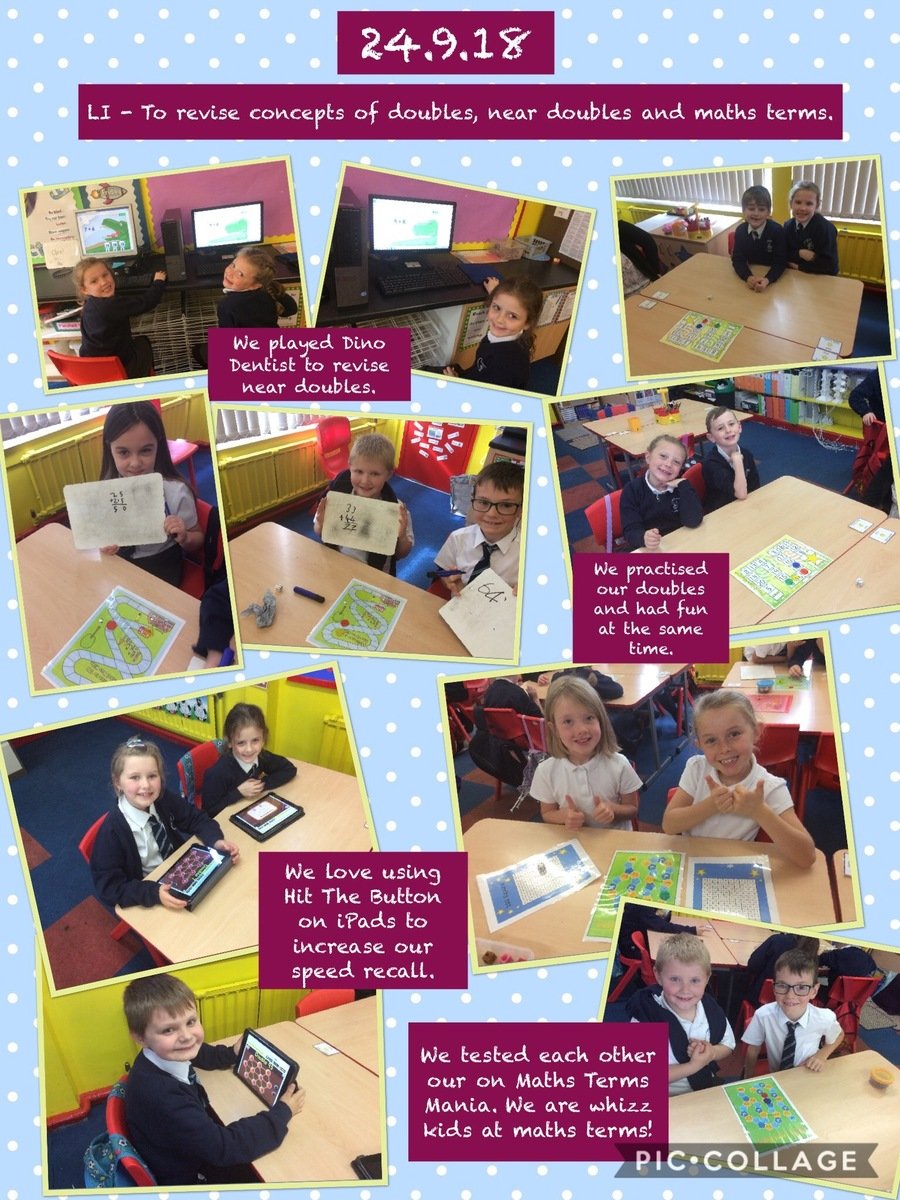 To help us consolidate our learning of subtraction, we got out Base 10 to help us! We really enjoyed making numbers and then doing taking away sums. It is a great way to clearly see how exchanging happens in these sums!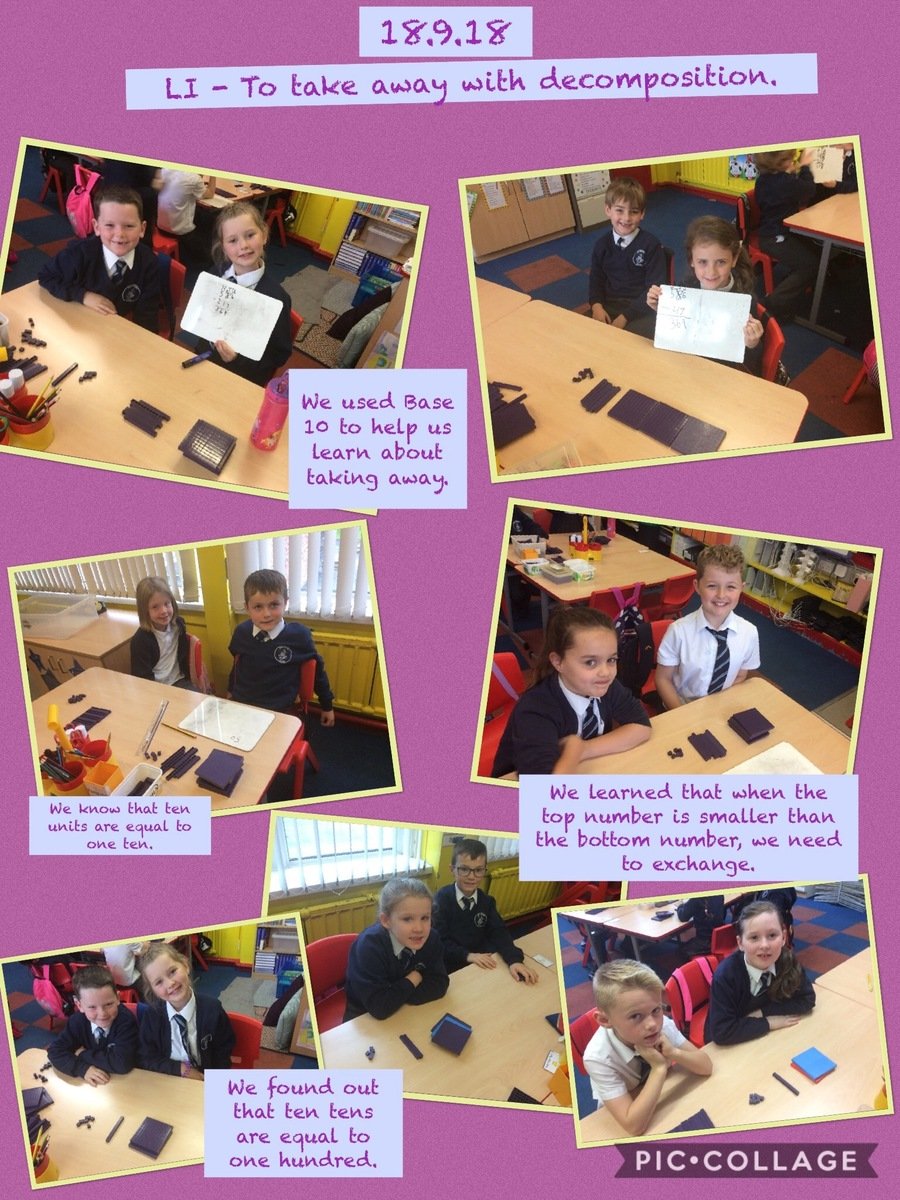 We love getting practical materials out to work with in Using Mathematics lessons! Base 10 really helped us understand how adding and carrying works.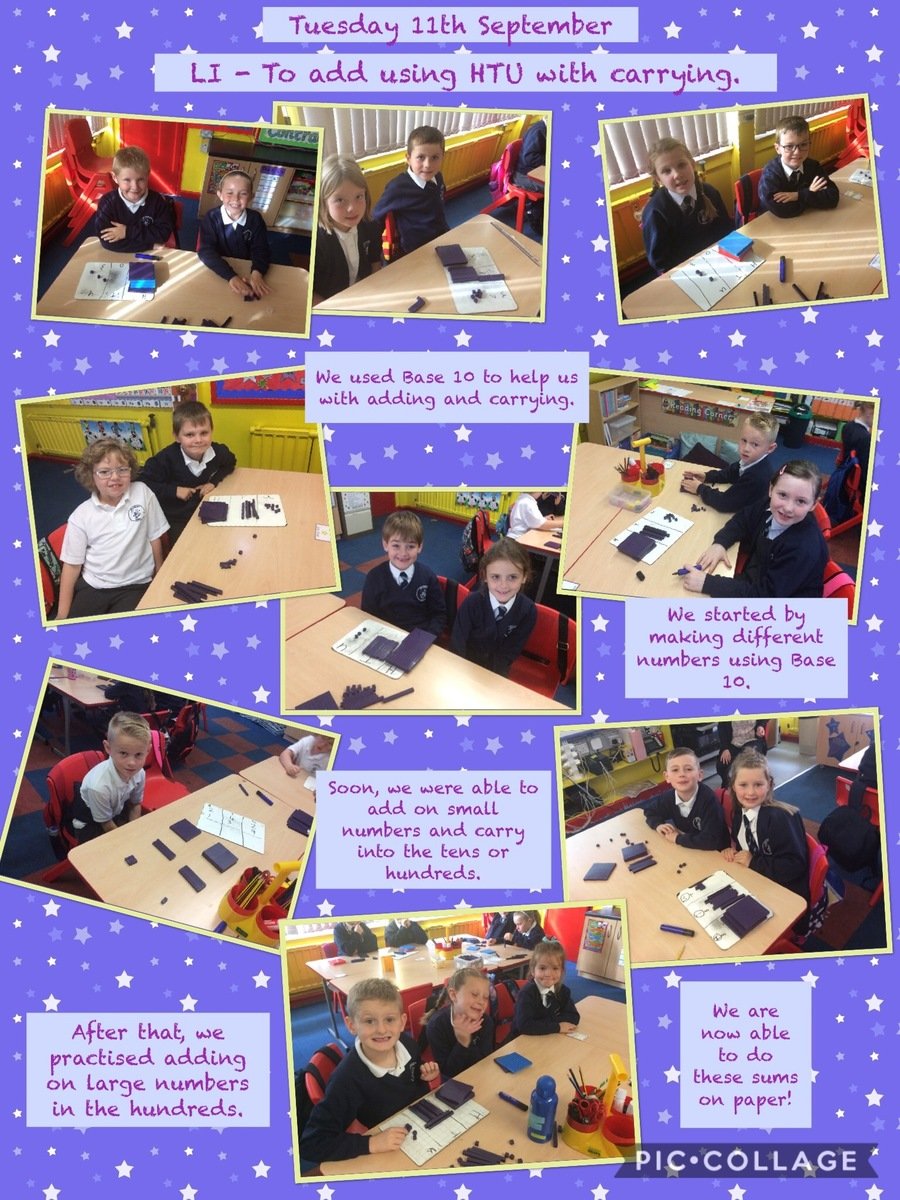 Our topic this term is 'Houses and Homes'. During ABL we have been busy with a range of activities to develop lots of skills.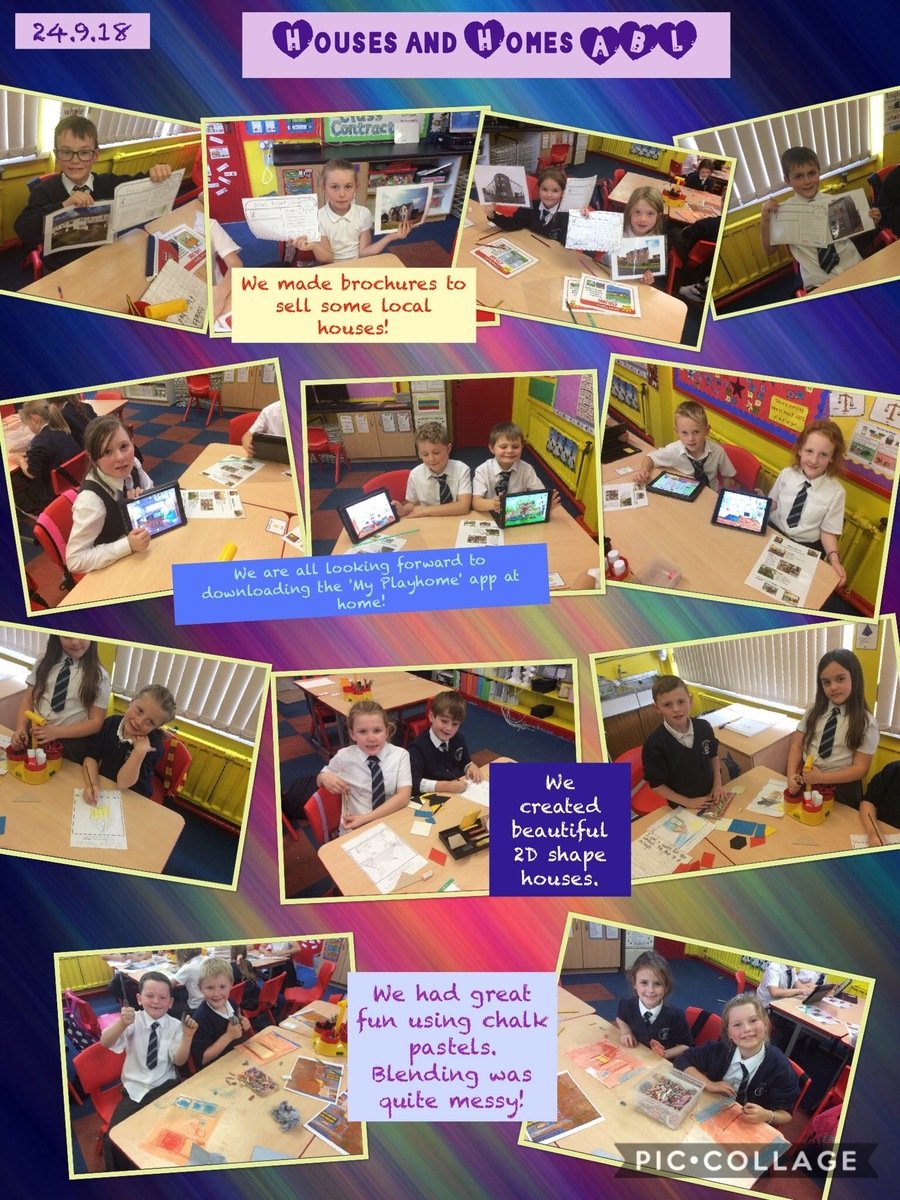 We used a selection of 2D shapes to build and draw a 2D shape house. Then we wrote about our fantastic designs!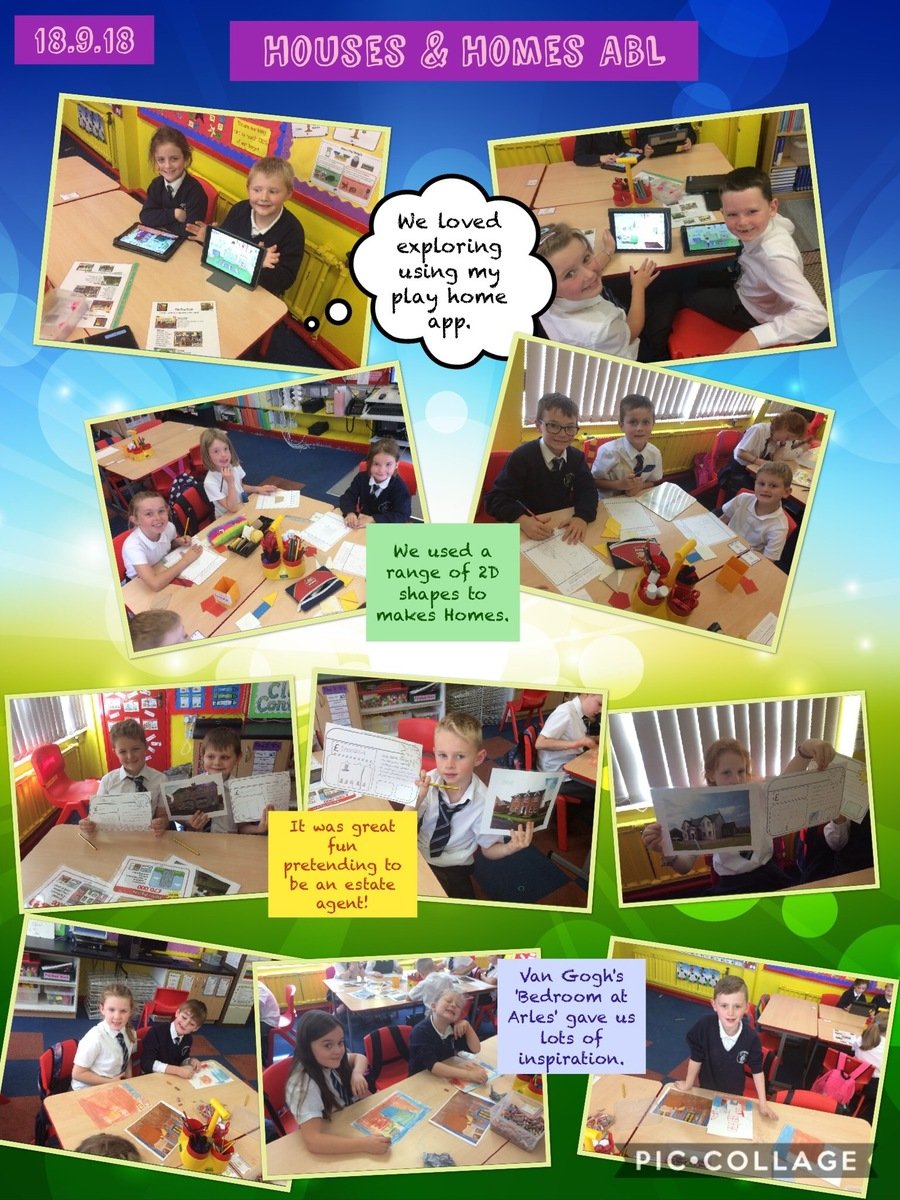 We loved playing Estate Agents! We studied leaflets from estate agents and then designed some brochures to sell local houses.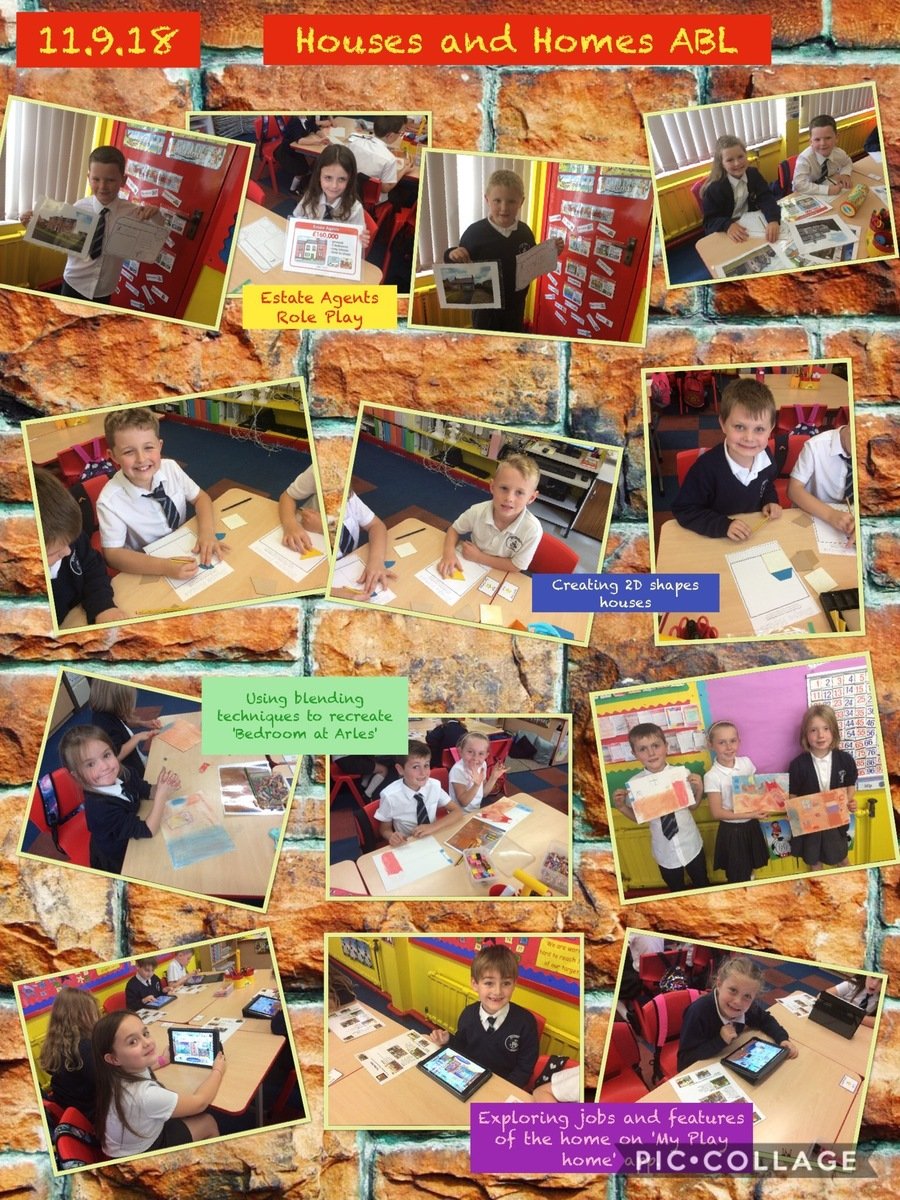 As part of Art and Design, we studied the artist Van Gogh. We observed the style of his piece called 'Bedroom at Arles'. After we used chalk pastels to recreate our own version of this masterpiece! There are a few up and coming artists to keep an eye on in 4CH!

Our class made and agreed upon some rules for our classroom.
We talked about our right to an education and the responsibilities that go along with this right.
We are all looking forward to a successful year following our 'Rights Respecting' Class Contract.