Christmas Raffle
Christmas Raffle
26 November 2021 (by ballymoneyps)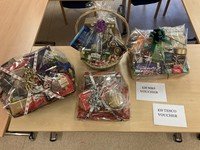 Ballymoney Model IPS Christmas Raffle
Tickets will be coming home with each child, next week and are £1 each.
Simply fill in the name and contact number on each ticket sold.
Return all tickets (sold or unsold) with cash in an envelope to school.
Prize draw will be made on Wednesday 15th December to enable all prizes to be collected before the Christmas Break.
Many thanks to all our staff members who donated goodies for the prize hampers.
We thank all our parents and carers for their continued support and wish you all a Happy Christmas.