Eco - Schools Committee School Garden
Eco - Schools Committee School Garden
15 October 2021 (by Class Teacher (teacher))
Eco Committee Meeting Thursday 14th October 2021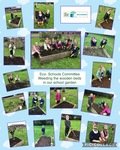 The Eco- Schools Committee were kept very busy at the meeting on Thursday 14th October. All the boys and girls were a tremendous help with weeding the wooden beds in our School Garden.
May I say a Huge thank you to the Eco Committee who were great gardeners yesterday and everyone worked together as an Eco team!
Many thanks,
Mrs Murphy,
Eco- Schools Leader.