Congratulations Eco- Schools Green Flag Award Ballymoney Model IPS
Congratulations Eco- Schools Green Flag Award Ballymoney Model IPS
11 October 2021 (by J Jamison (kjamison))
Eco- Schools Green Flag Award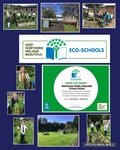 Congratulations is extended to Ballymoney Model Integrated Primary on the successful renewal of the Eco- Schools Green Flag Award.The Eco- Schools Team of assessors were very impressed with the amount of environmental action being carried out by the Eco Committee and the School as a whole.
This was fantastic news to hear and be able to share with everyone today.
May I extend a huge thank you to each and every member of the Eco- Schools Committee, our Principal Mrs Jamison, staff, classroom assistants and non- teaching staff, our Buildings Supervisor, Mr Johnston and to all pupils and parents and members of the Board of Governors, who have all helped our school achieve its' environmental targets to achieve the Green Flag Award.
Many thanks,
Mrs Murphy.
Eco- Schools Leader.