Eco-Schools news Harvest of school grown vegetables Ballymoney Model IPS
Eco-Schools news Harvest of school grown vegetables Ballymoney Model IPS
8 September 2021 (by Class Teacher (teacher))
Eco-Schools Committee helped to Harvest Fresh school grown vegetables.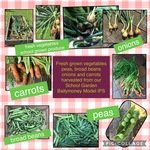 Eco-Schools Committee members present and past from Year 6 and some pupils in Year 7 have been busy helping Mrs Murphy, Eco-Schools leader this week to harvest fresh school grown vegetables. The pupils really enjoyed pulling up from the soil, huge onions, fresh carrots growing on leafy green stalks and peas and broad beans in their fresh pods.
It has been an amazing to see all the fresh vegetables harvested this week at Ballymoney Model IPS.
Thank you to everyone in school,, who have been busy looking after the vegetables, last term during the summer holidays and then helping to harvest the produce in our School Garden.
Many Thanks,
Mrs Murphy.
Eco-Schools Leader.