Term 2A Highlights Year 5JM
Term 2A Highlights Year 5JM
17 February 2021 (by Class Teacher (teacher))
Mrs Murphy's Class Term 2A Highlights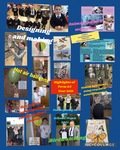 Our Year 5 Thematic topic this term is Flying High. The children have been busy all term learning, researching and investigating about Flying High. A wide variety of skills have been learnt from Using ICT to create and present Powerpoints about Garden Birds and Migratory Animals, writing factfiles and illustrating fascinating facts about favourite garden birds and being able to give explanations as to why birds and animals migrate. The children have enjoyed caring for our world by making bird feeders and watching birds in gardens at school and at home and participating in the rspb BIG Schools' Birdwatch 2021.
There was great fun in school and at home designing and carrying out investigations on how to make hot air balloons, cold air balloon rockets and building our confidence in our monthly value of Trust by finding ways of making boats.
This is just a summary of some of the fun activities Mrs Murphys' class in Year 5 have enjoyed learning and there will be more activities to follow to view. Thank you to all parents at home and to all the classroom assistants in school, who have also been helping the boys and girls learn about so much this term in our Year 5 topic "Flying High." Everyone has been working so hard to support each other through this unusual term 2A of remote Home Learning.
Thank you for all your support with Home Learning during our Term 2A topic Flying High.
Take care,
Many Thanks,
Mrs Murphy.