Mathletics - Parent Survey
Mathletics - Parent Survey
18 January 2021 (by J Jamison (kjamison))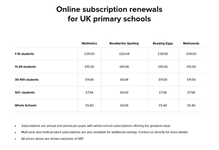 Dear Parents
It is time to renew our Mathletics school subscription. As you can see from the attached image our school bill will be 414 pupils x £5.40 = £2,235.60.
We find Mathletics a valuable and worthwhile online programme to support and reinforce pupils' mathematical thinking and understanding.
We are eager to also find out parent and pupils' thoughts. Mrs Robinson our Mathematics and Numeracy Leader has created short parent and pupil online forms to collate everyone's feedback. Please click on the attached link to complete the Parent Survey. Our Pupil Survey will follow.
We understand how busy parents are but would really appreciate if you could complete the short survey.
Many thanks
Mrs Jamison
.