Christmas Colouring Competition Years 3 - 7
Christmas Colouring Competition Years 3 - 7
20 November 2020 (by Class Teacher (teacher))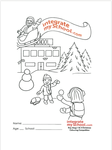 The Integrated Education Fund are inviting children from Years 3 - 7 to enter their 2020 Christmas Colouring Competition. The colouring template is attached.
The winner will receive a framed copy of their picture along with an Art set.
If your child wishes to enter the competition please write their name, class and school clearly on the back and return to school for Thursday 26th November. Alternatively, they can be posted directly to the address below.
Integrated Education Fund
Forestview
Purdy's Lane
Belfast
BT8 7AR