Eco- Schools Translink Challenge 2020
Eco- Schools Translink Challenge 2020
16 November 2020 (by Class Teacher (teacher))
Eco- Schools Active Travel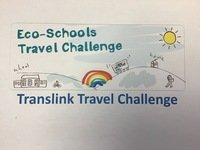 To promote Active Travel to and from school last week and this week, as an Eco-School, we are participating in the Translink Challenge.
Translink Challenge is a competition and activity where pupils try to change their transport habits for 2 weeks or more!
The Eco-Schools Committee and class members in all classes have been recording how pupils travel to school and will continue with this Travel survey.
This week pupils will try to continue to walk, cycle, scoot, bus to and from school to encourage Active Travel.
As an Eco-Schools Green Flag, we encourage Active Travel, as much as possible, to help sustain our environment.
Mrs Murphy.
Eco-Schools Leader.