Welcome to 6TS!
End of Term 1 Update
The pupils of 6TS have continued to work hard in all of their subjects. Some of the highlights during Term 1B include:
- In Language and Literacy, we continued to read Under the Hawthorn Tree. We took part in an interesting talking and listening activity that required us to become Eily, Michael or Peggy and decide what we would do if we were in their situation. We used ICT to help develop our writing skills by researching the topic of famine and used the Book Creator app to write a non-chronological report.
- In Numeracy, we took part in some enjoyable data handling activities, including using Venn Diagrams to sort and classify data. During problem-solving, we worked collaboratively to find to find all possibilities to help identify the best luggage deal for passengers wishing to travel abroad.
- In the World Around Us we continued to complete activities in relation to our topic of 'Hunger'. In a particular lesson, we identified the causes and effects of the Irish Famine.
- In a special Art & Design lesson, we learned about perspective in art and used oil pastels to create beautiful works of art to commemorate Remembrance Day.
- Term 1B saw the conclusion of our PE lessons with Ronan from the IFA. We had a fantastic time with Ronan and thoroughly enjoyed his fun and exciting PE lessons!
- We celebrated Friendship week during Term 1B. In a special activity, we identified what we would want in a friend.
- In RE, we discussed the meaning of Advent and identified some words and symbols associated with this special time of year.
We hope you enjoy looking at our highlights.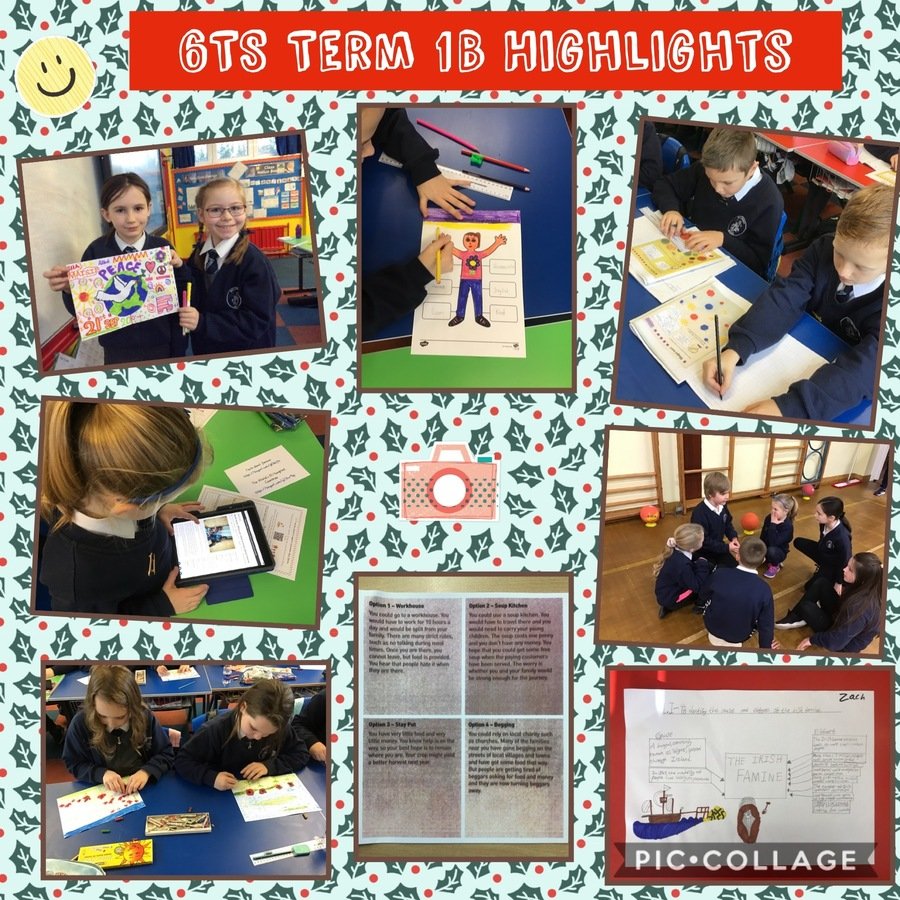 Friendship Week
The boys and girls of 6TS had a lot of opportunities to learn about the importance of friendship throughout Friendship Week. Our IFA coach, Ronan, held a wonderful PE session which explored the many ways we can look out for one another. In class we discussed the meaning of friendship and why having friends in our life is important. In relation to this, we completed a 'What I want in a Friend' activity by identifying the positive attributes we would like in a friend. We also joined up with the other Year 6 classes to sing 'You've Got a Friend in Me' and 'Count on Me', which will soon be available on our school Facebook page.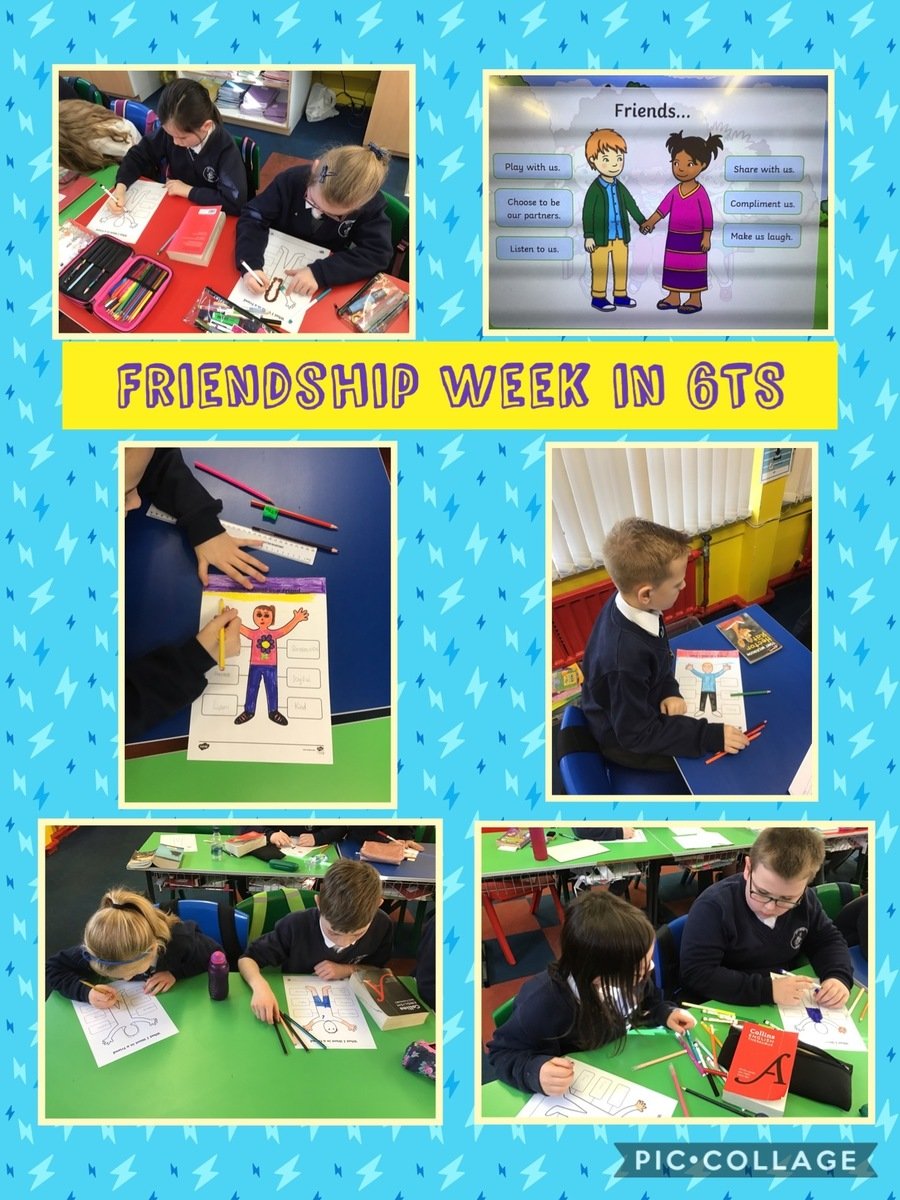 Half-term Update
It's hard to believe that we are already at half-term!
The boys and girls of 6TS have had a wonderful start to the new school year, and have completed a variety of fun, interactive and challenging learning activities. Some of the highlights include:
- In Language and Literacy, we created an author profile for Marita Conlon-McKenna, the author of our new novel, 'Under the Hawthorn Tree'. Additionally, we wrote a descriptive passage based on our senses to describe the famine cottage.
- In Numeracy, we went on a virtual tour of Ballymoney to identify 3D shapes in our environment. We also had the opportunity to create 3D shapes using marshmallows and toothpicks to help identify their properties. In problem-solving, we worked collaboratively to apply logic and reasoning to answer questions about the times tables.
- Our World Around Us topic is called 'Hunger'. We had the opportunity to study the artwork of J.P Rooney and create our own famine paintings using his technique.
- We have received highly enjoyable and exciting weekly P.E lessons from Ronan O'Donnell of the IFA. We always look forward to Ronan's weekly visit!
- Our monthly value for October is 'Kindness'. To celebrate this, we talked about Article 2 from the summary of UNICEF's 'UN Convention on the Rights of the Child', listened to the 'Kindness' song and read the 'Story of the Good Samaritan' in R.E.
We hope you enjoy looking at our highlights.