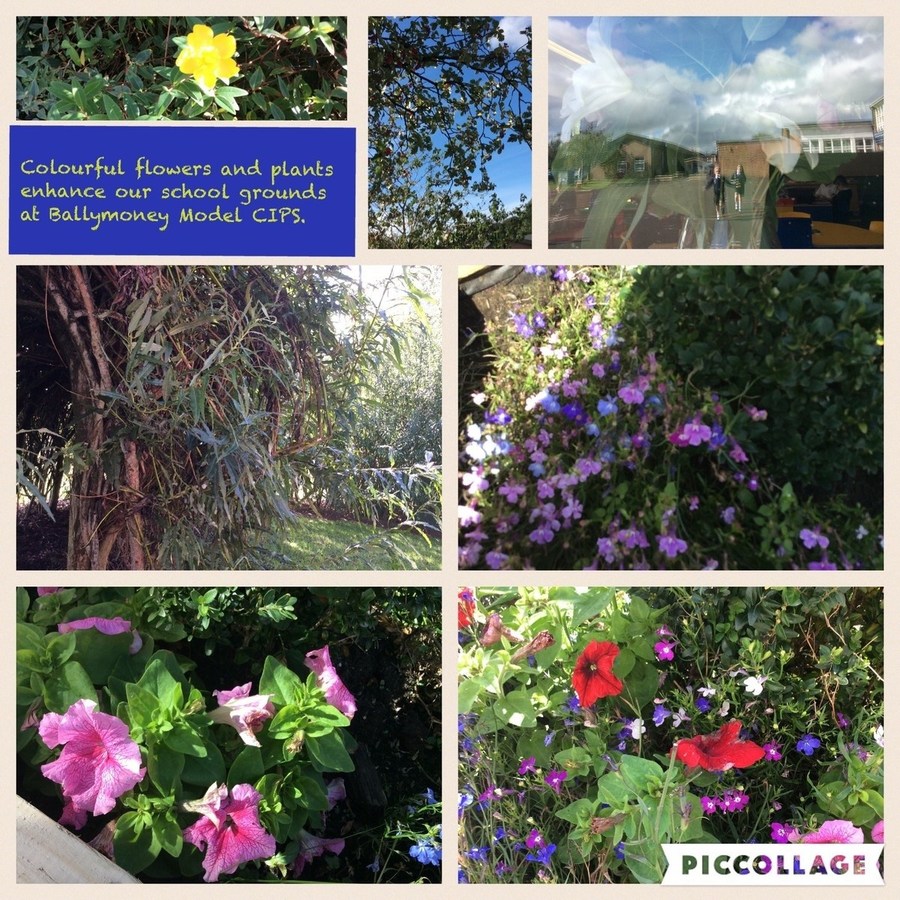 Our Eco-Schools Councillors have been busy planting flowers in the school planters to enhance our school grounds.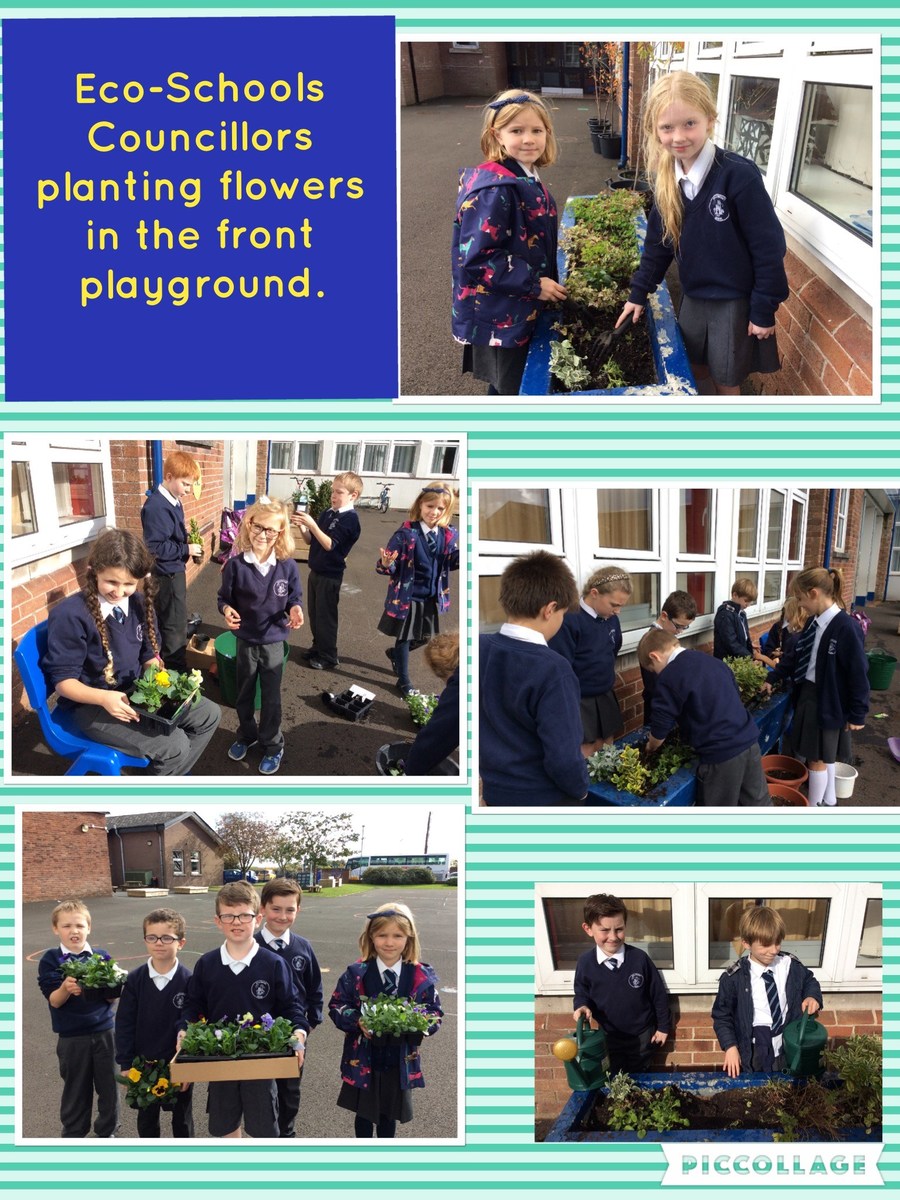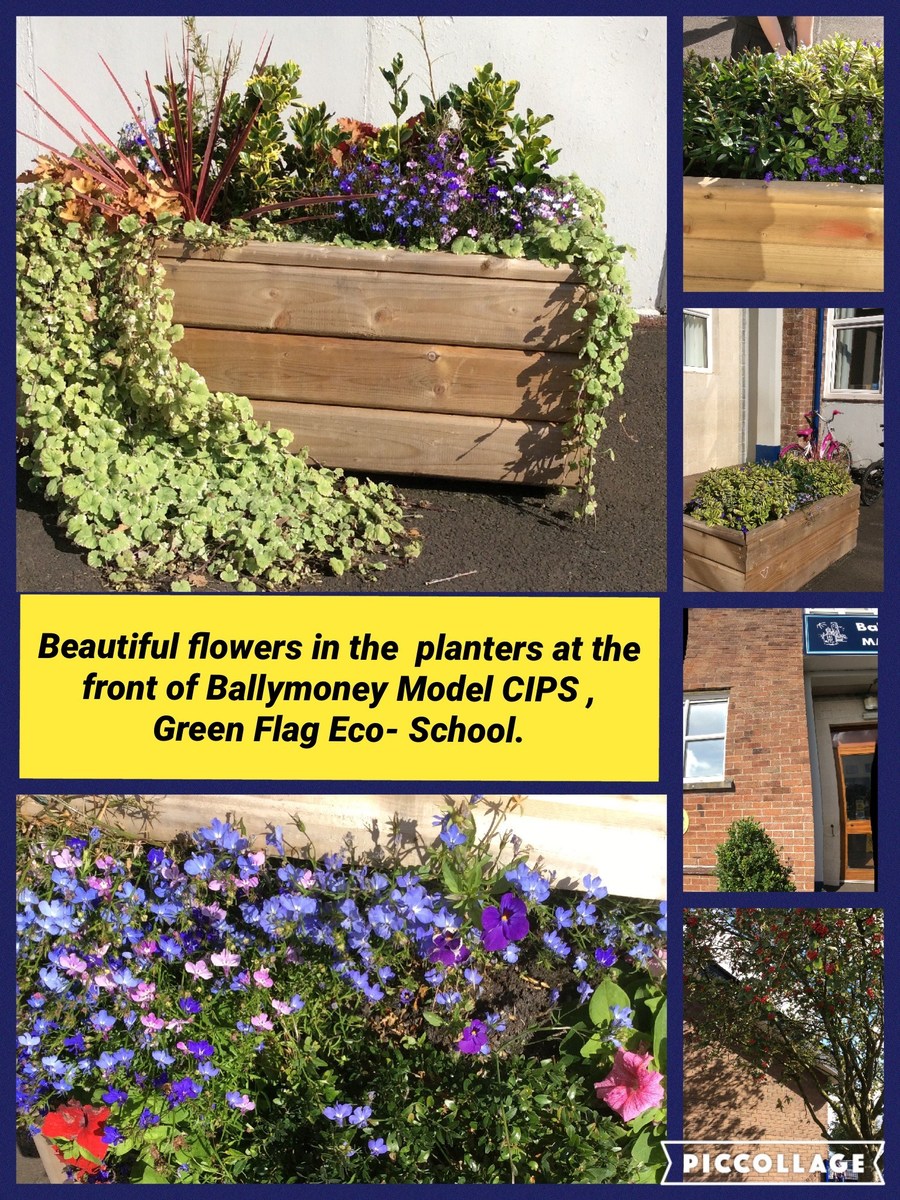 Eco Week 2015
We had lots of fun celebrating Eco Week 2015!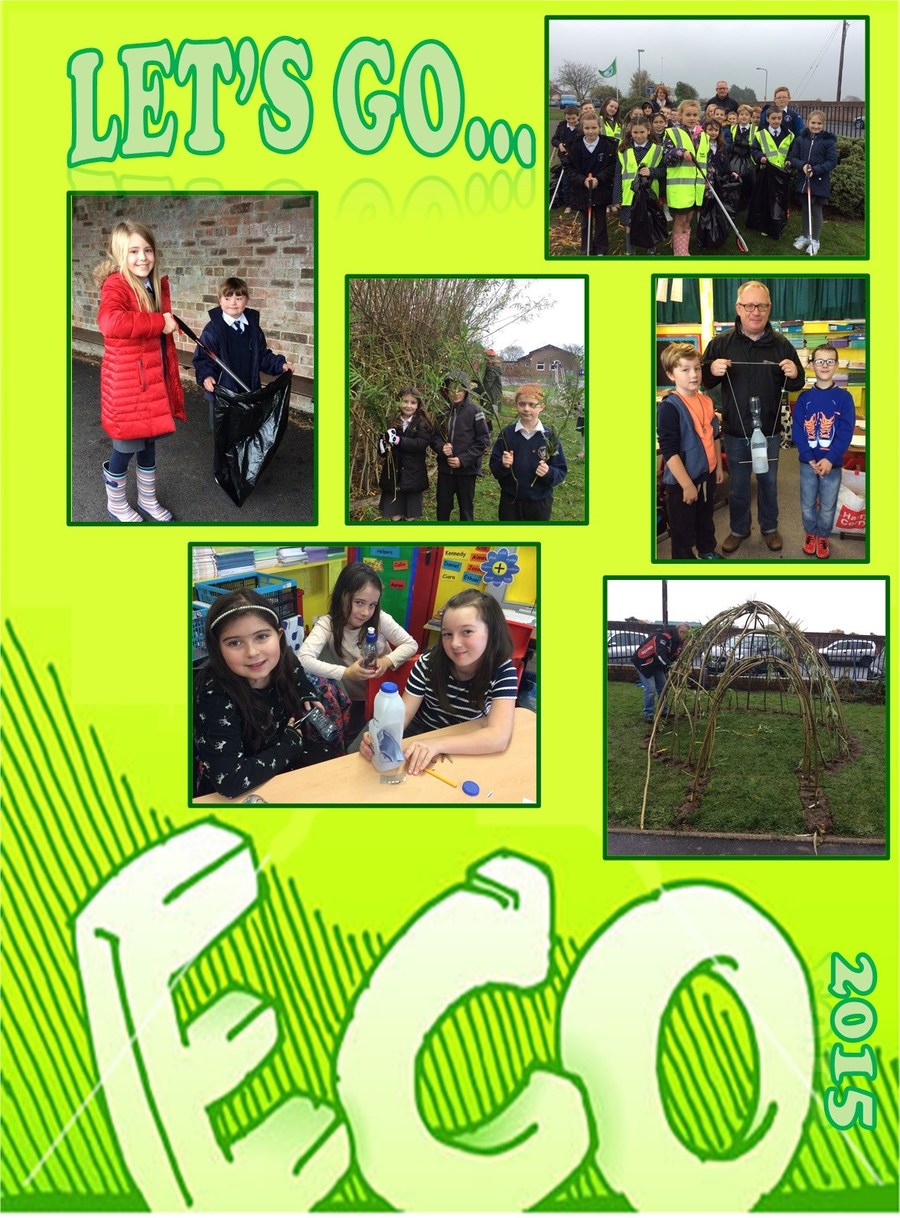 Eco Art
We love making artwork by re-using scrap or natural materials.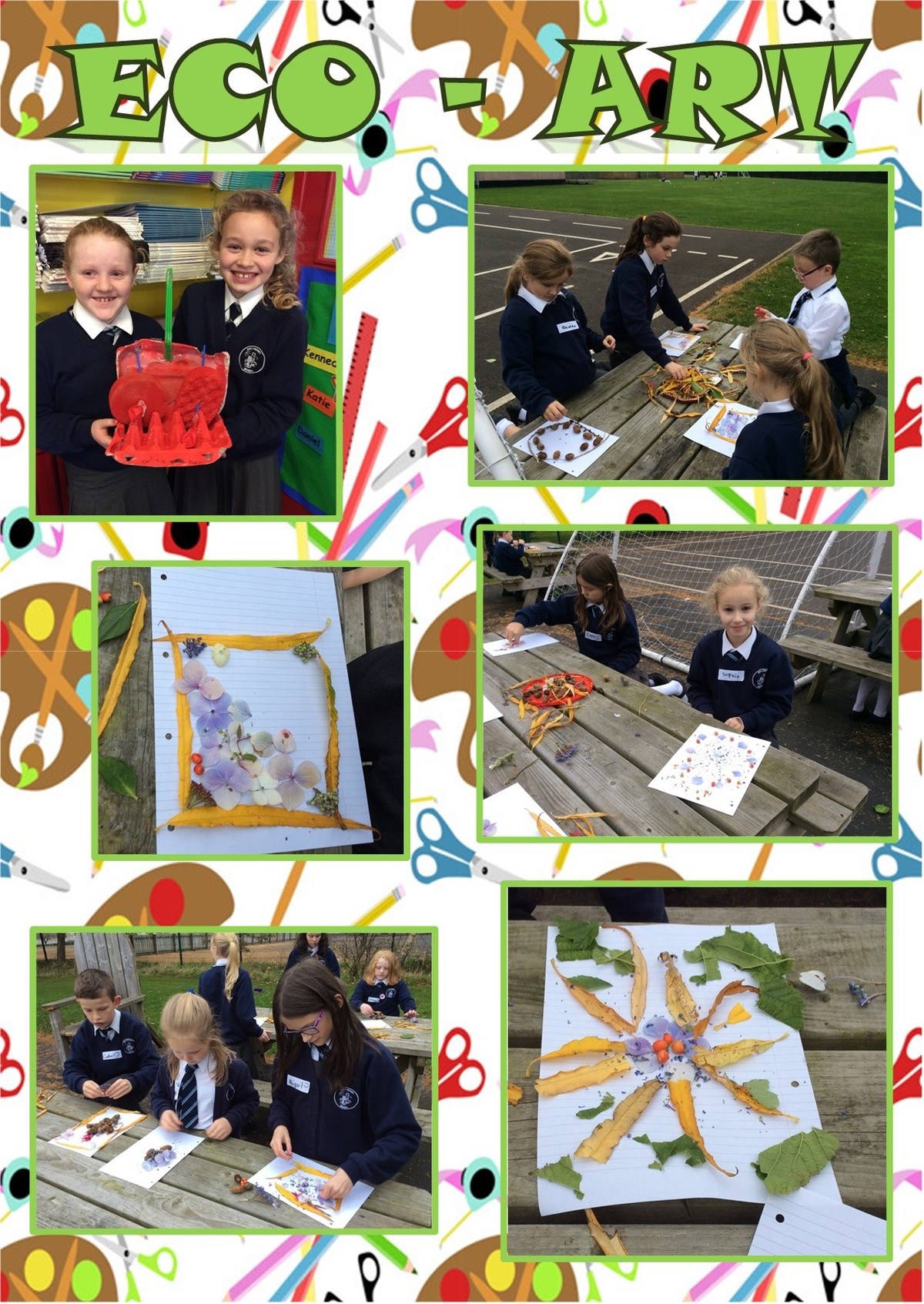 Cash for Clobber
Our Eco-Councillors enjoyed promoting the 'Cash for Clobber' scheme this year!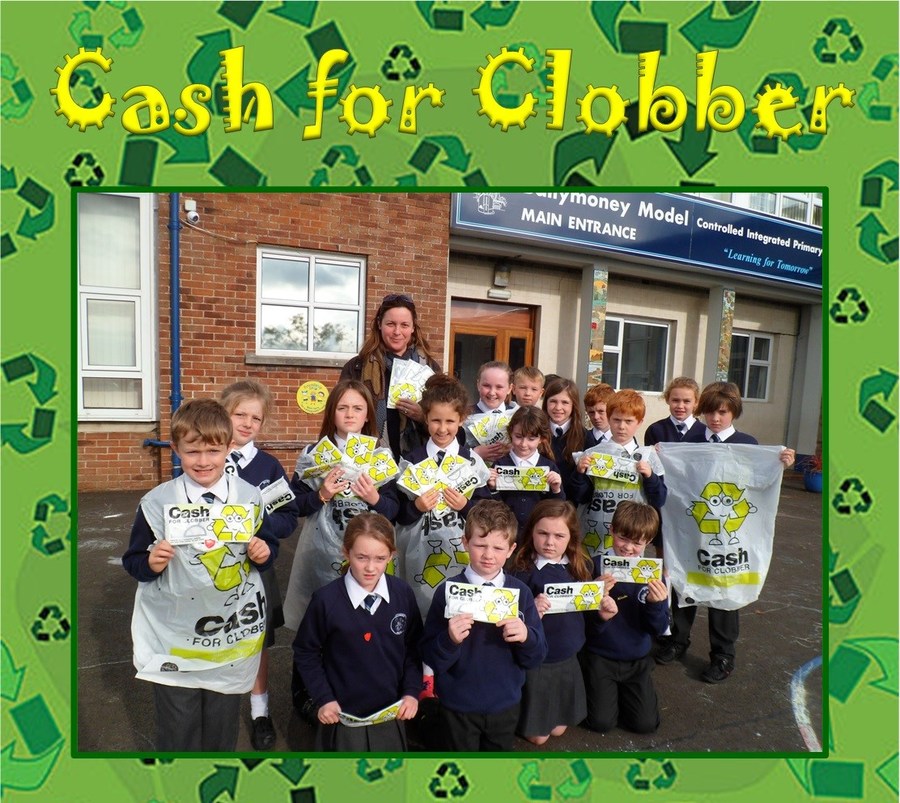 Eco Flag Renewed
On 15th October our Eco-Councillors and Mrs Murphy met with the Eco-Schools Assessor Pauline Allen for their annual review assessment. Pauline was impressed with all the new Eco-Schools linked activities and events that had been happening throughout the year. We were delighted to receive the super news that the school would receive its new Eco-Schools flag.
Congratulations Mrs Murphy and Eco-Councillors for leading this work!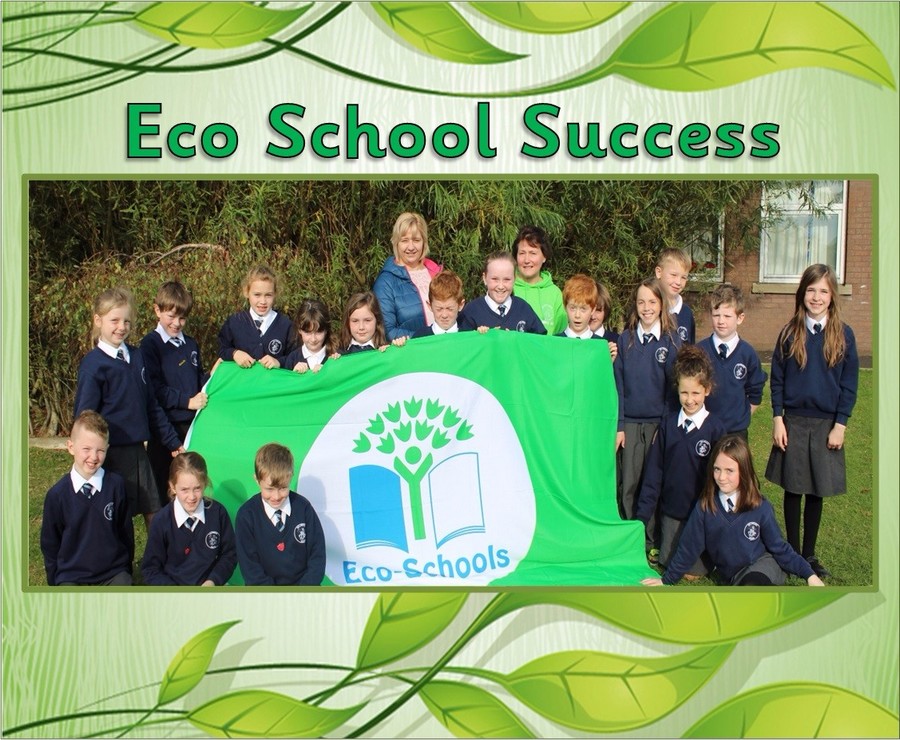 Science on Stage Festival
This week there are 400 teachers from Europe at the Science on Stage Festival. Mrs Murphy is one of three teachers representing Northern Ireland. The event is celebrating good science practice to share with schools throughout Europe.
Eco-Schools 20th Anniversary
In March Mrs Murphy's class, Year 6 & Year 7 Eco-Councillors and our PTA Chairperson Allison Shuter attended the Eco-Schools 20th Anniversary Event in Magherafelt.
Pupils also stopped at the interactive NI Water Bus with NI Education Officer Anna to participate in informative and fun activities.
Another great activity on offer at the special event was outdoor learning and team building activities with representatives from the organisation 'Far and Wild'.
Adopt a Spot
Our School, as part of the eco-schools programme, has participated in its second year of the Adopt-a-Spot campaign. We have tidied the forest area, here the eco-school councillors did a great job in keeping our school grounds litter-free and hope the wider community will look after our areas with respect. Why don't you Adopt-a-Spot?
Sustrans Active School Travel Programme
The Sustrans Active School Travel Programme, funded by the Department for Regional Development and the Public Health Agency, is working with schools across Northern Ireland to enable more children to get active on the school run.
Take a look at page 3...can you spot some familiar faces?
Love Food Hate Waste
On Tuesday 19th November Declan came into school to talk about 'Love Food Hate Waste'. During this week in school at break and lunch time we were thinking about not wasting food and about ways it can be reused or recycled and making a simple pledge for each of the 3 R's.
Eco World Club
We have an 'Eco World Club' during our Friday afternoon Key Stage 2 Golden Time sessions.
They have been helping us spruce up our planters at the front of the school and have planted also some bulbs which will give us some colour in the springtime.