WELCOME
Welcome to our school website, which had been designed to provide you with relevant information about our school. We hope you will find everything you need. Thank you for visiting our website.
Click the Merry Christmas button above to see all of the festive activities happening within our school this Christmas Season.
Daily Milk, School Dinners and Breakfast Club can all be booked online through our school app.
Breakfast Club 8.00am - 8.45am
Scroll through to find out some of the latest news going on within our school...
Thank you for supporting Red Nose Day.

On Friday 24th March, the bank manager, Richard, from Danske Bank in Ballymoney visited Year 4.

Friday 24th March 2017

Friday 24th March

Weekly Note added.

Thursday 16th March

On Thursday 9th March, author and poet, Mr. Wes Magee visited our school.

Mr Wes Magee will be visiting our school on Thursday 9th March as part of our World Book Day celebrations. During the day he will be holding writing workshops and key stage assemblies.

On Friday 3rd March, the children dressed up to celebrate 20 years of World Book Day. The day started with a special assembly followed by lots of fun and exciting themed activities throughout the day!

On Tuesday 28th February, the team played Macosquin PS and won 4 - 0.
Further Articles »

We are a Rights Respecting School!
On Friday the 17th September, Miss Hemphill and the members of the School Council had a very exciting morning. Following all the work carried out by the teachers, classroom assistants and pupils within our school we have been awarded our Rights Respecting School Silver Accreditation. A fantastic achievement for our school
As a Rights Respecting School our first task of the year is to create our Classroom Charters for a happy classroom. These focus on the rights and responsibilities for every child in our school. Article 3 in the UNCRC states that the best interests of the child must be a priority in all decisions that affect the child. Have a look at our creative Class Charters for happy, safe and productive classrooms at Ballymoney Model Integrated Primary School.
12 Years of Integration
This year we are Celebrating 40 years of educating children together with other Integrated Schools. Ballymoney Model Primary School transformed to an Integrated Primary School in 2009. We are proud to be an Integrated Primary School with a fantastic enrolment of 403 pupils. We will continue to support growth, acceptance and a positive future for our children.

#40yearsIntegrated

Our School Rainbow for the NHS & Keyworkers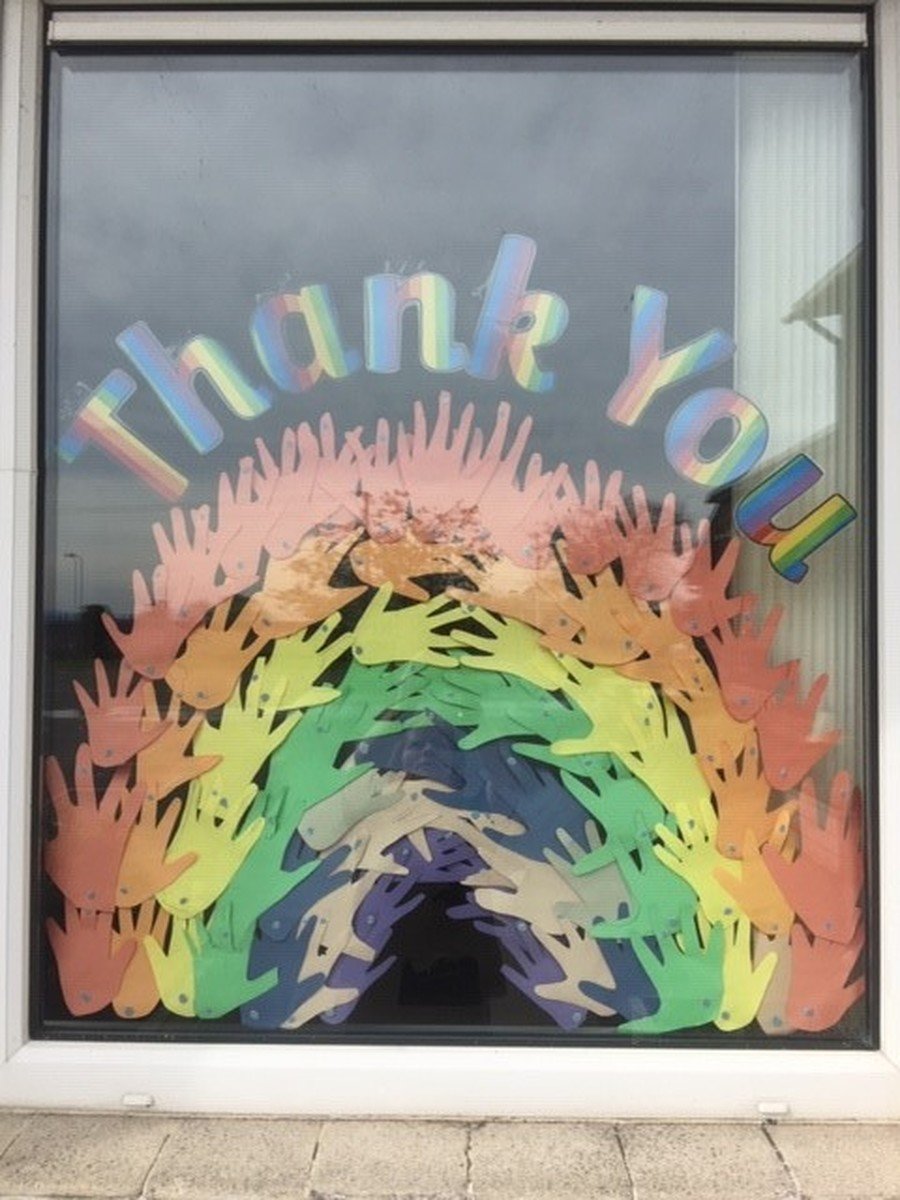 A Day in the Life of a Year 1
Take a look at this fantastic video made by our School Council and Digital Leaders!
We hope it will give you a little insight to what our Year 1 pupils experience on a daily basis.

Let's look back on last year...
June 2021 Year 5-7 Prizewinners
June 2021 Sports Day Prizewinners