Allergies - Please remember school is a nut and egg free zone!
Breakfast Club 8am - 8.45am £1 a day
Latest School Calendar 2018-19 Events
Year 7 Residential - Delamont

21

Jan

2020
Year 7 Residential - Delamont

22

Jan

2020
Primary 1 Sept 2020 Applications closes

30

Jan

2020

12:00 am - 12:00 pm
School Closed

17

Feb

2020
School Closed

18

Feb

2020
Latest News
Miss Hanna is away this week with Our Year 7's at Delamont Country Park.

This week Primary 7 pupils are enjoying their residential to Delamont Country Park! Here's some highlights of the activities that Mrs Robinson's group experienced during Day 1.

One more quick update for all our Primary 7 parents from Day 1 of the residential.

This week Primary 7 students are enjoying their residential at Delamont Country Park in County Down. Here are a few highlights from Day 1.
Further Articles »
Year 4 Shared Education
Year 4 had a fantastic first day of Shared Education. Everyone was buzzing after the fun activities led by Be Unique Drama Group and it was great to see so many new friendships! We are all looking forward to meeting up again soon!
Christmas Card Competition
This year we are celebrating our 10th anniversary as an integrated school. With over 150 entries to the competition, it was hard to pick just 10 winners! Well done to these pupils who designed a Christmas card with 10 years of integration as a theme.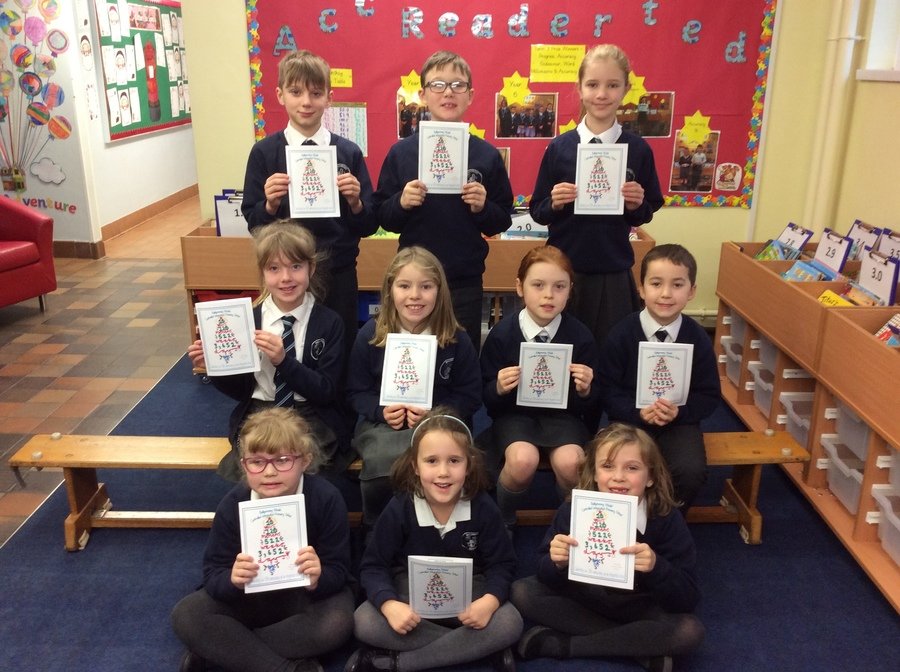 Christmas Jumper Day
Everyone had a great day celebrating Christmas Jumper Day on Friday 13th December. We raised a fantastic £177.50 for Save the Children. Thank you to everyone for your support.
A Day in the Life of a Year 1
Take a look at this fantastic video made by our School Council and Digital Leaders! We hope it will give you a little insight to what our Year 1 pupils experience on a daily basis.
Extra-Curricular Programme - Term 1B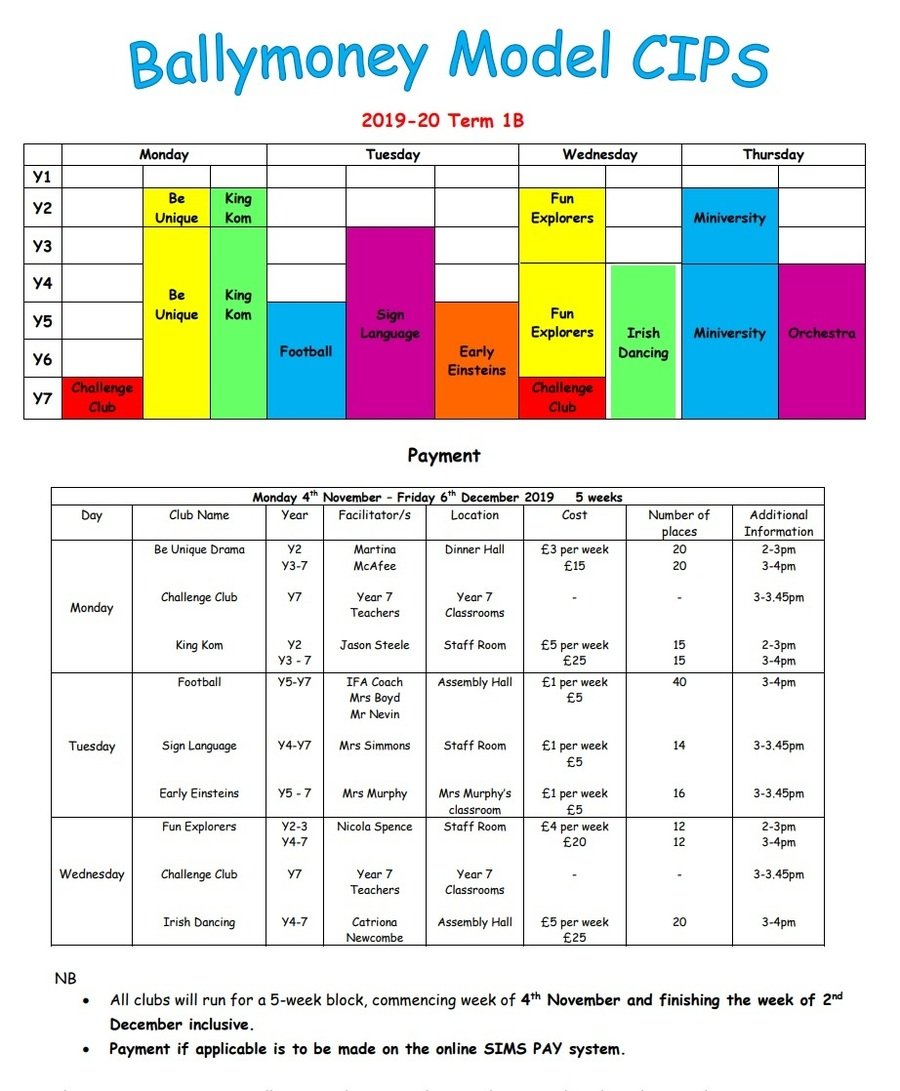 Extra Curricular Activities - Term 1B
There are so many fun activities available after school. Take a look at a few from this term.
Meet the teams
Pupil voice is very important within our school. Meet the teams for this school year.
Global Rhythms
This group of instrumentalists thoroughly enjoyed the performance by the Ulster Orchestra. The orchestra performed dance music from all over the world. The children listened to music from Russia, France, Spain, Ireland, Mexico, America, Austria, Scotland, America and France. There was great excitement as children listened to Richard Sidwell's Disco Symphonic Overture and participated in a disco dance. Who knows in years to come, some of our young instrumentalists from today may go on in the future to play music professionally - maybe even with the Ulster Orchestra!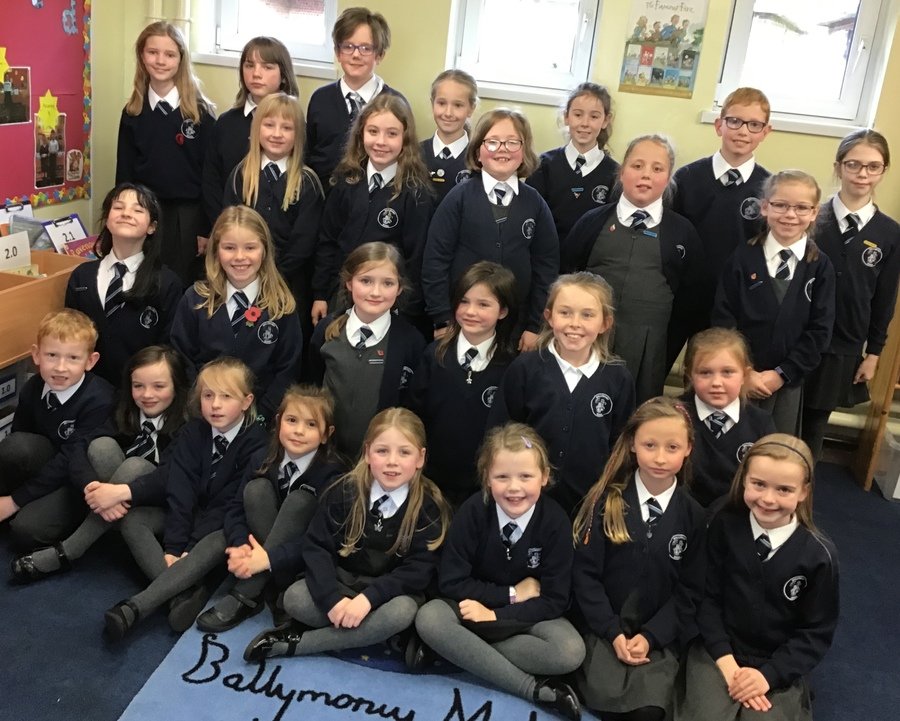 10 Years of Integration
This year, we are celebrating 10 years of integration. To kick off our celebrations, Year 5, 6 and 7 discussed the benefits of integration.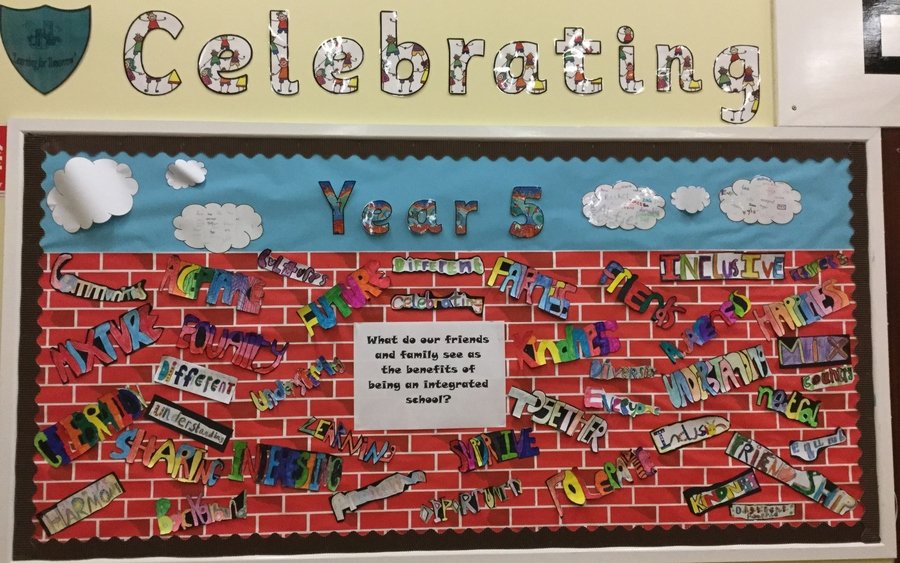 Our October theme was Kindness.
Together we thought about sharing kindness with others close to home
and also with those that live further away.
Our Year 1 - 4 pupils supported the Shoe Box Appeal with Drop Inn Ministries.
Thank you to Mrs Chambers and Mrs McAuley who came to collect all our shoe boxes.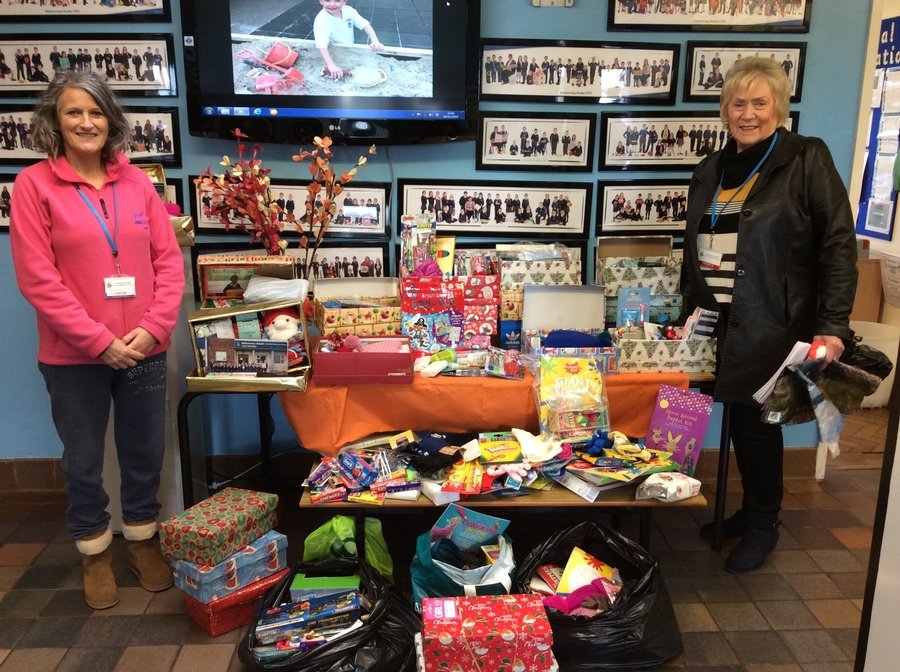 Our Year 5 - 7 pupils collected items for the Ballymoney Food Bank.
Thank you to Peter Rollins for collecting all the donated items.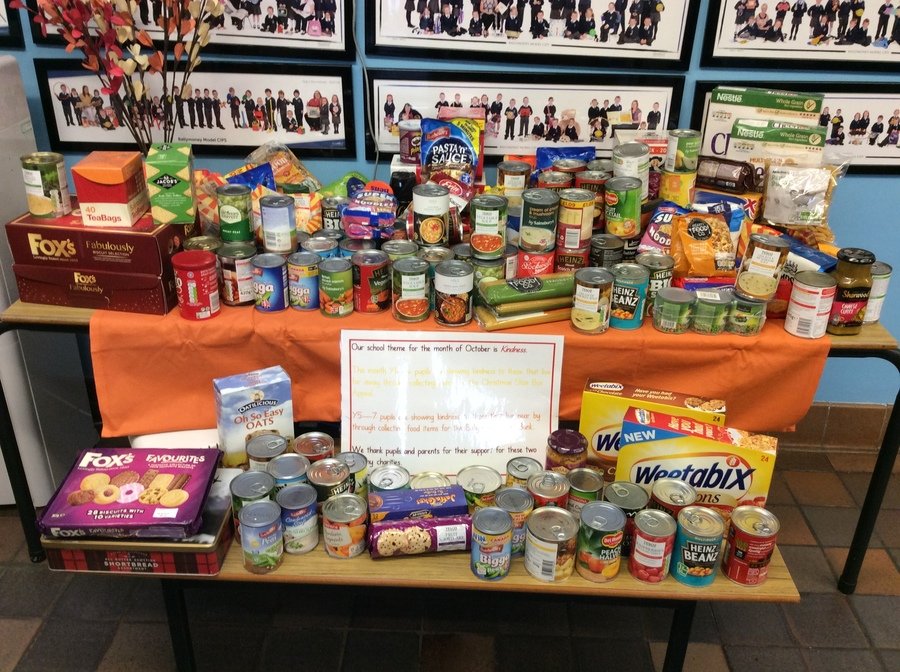 European Day of Languages
On 25th September we celebrated European Languages Day by reading stories in French and Spanish, singing songs and learning some key words.
Year 1 School Dinner Days
The two Year One classes enjoyed their School Dinner Day.
A big thank you to Collette and her team for their help and
support in organising these special Year 1 events.
September Whole School Assembly
On Wednesday the 4th September we enjoyed our first whole school assembly. We focused on what makes our school special, learnt a 'Back to School Prayer' and a new song called 'Shine'. We finished our assembly with singing Happy Birthday to all those children who would be celebrating a birthday in September and four Year 7 pupils read the School Creed.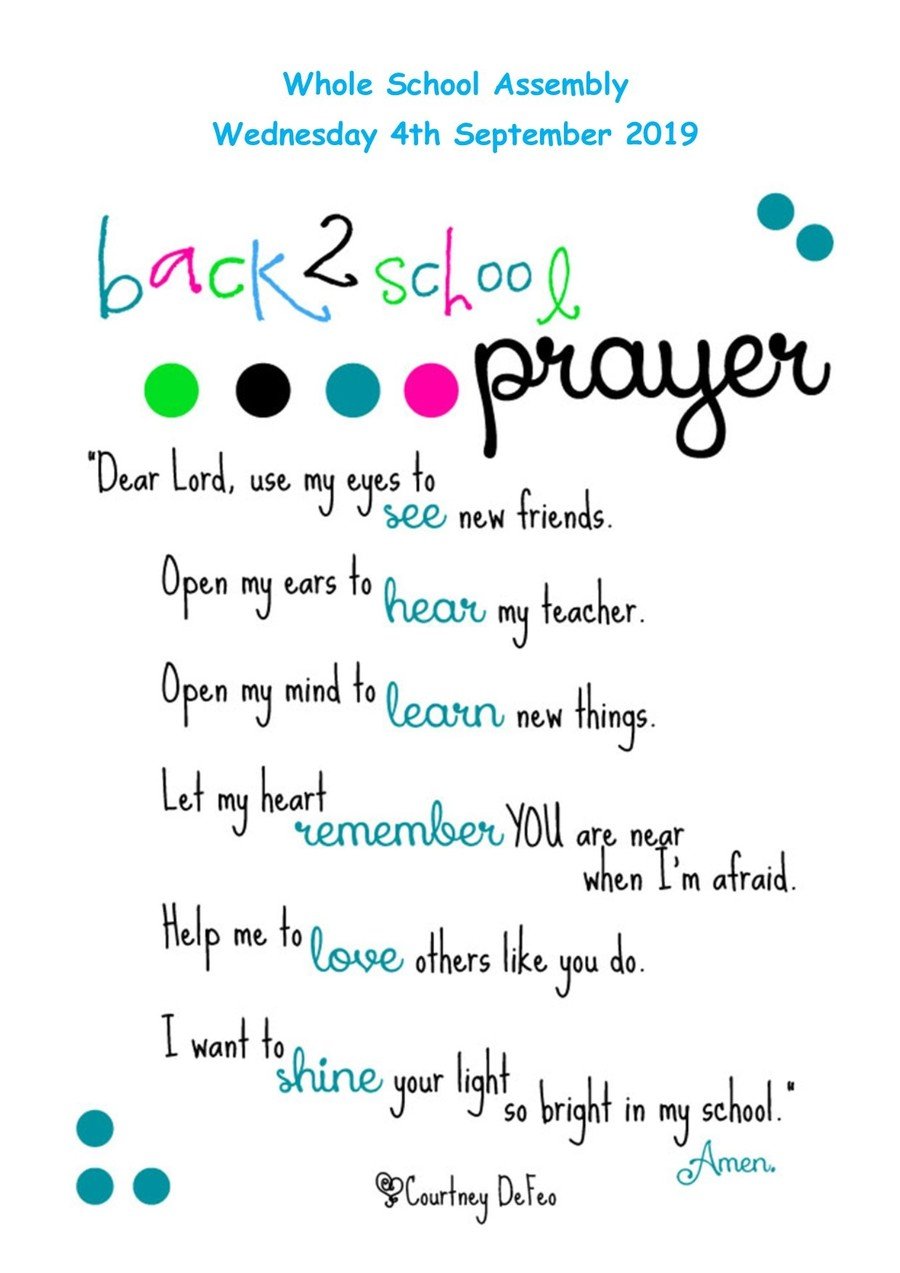 Happy Retirement and Best Wishes to Mrs Donaghy
Our Fantastic School
This year, we took part in the 'Photo a Day in May' challenge. Every day in May, we took a photo of each of the children in our school doing different activities. See for yourself!