Breakfast Club as usual 8.00am - 8.45am £1 per child.

Break The Rules Day!
On Friday 12th May, children took part in a Break The Rules Day fundraiser. They were given a list of 5 rules that could be broken and had to pick which ones to break at a cost of 50p per rule broken! Some very naughty boys and girls broke all the rules!! Everyone had lots of fun breaking the rules for a day and we raised £583 in the process! Thanks to everyone for taking part!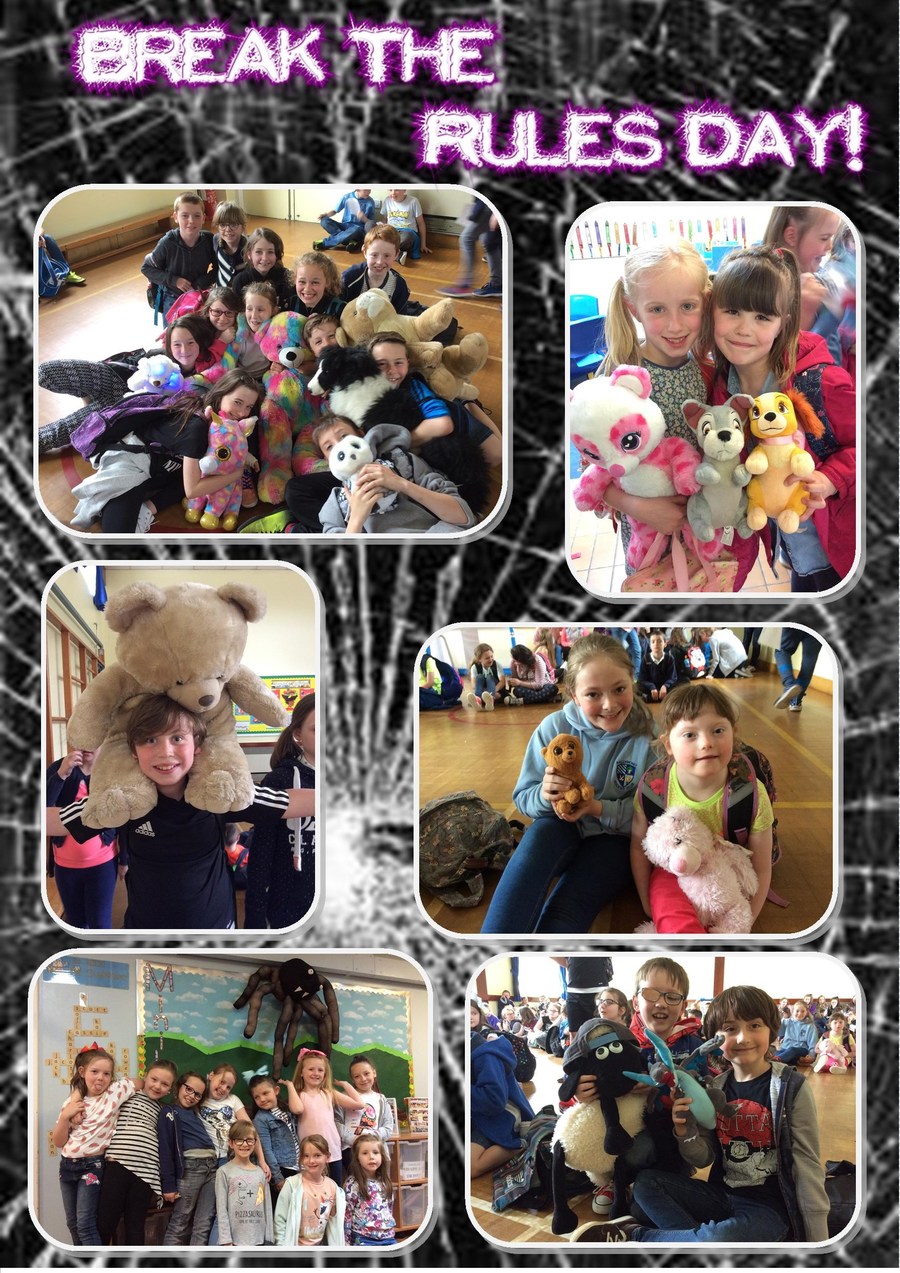 Tesco Competition Winners!
The pupils from Mrs Mack's class entered a competition, organised by Tesco, to create a 3-D model of something associated with Ballymoney Tesco. The class made a model of a shopping trolley and won an iPod touch as a reward for all their hard work! The Year 3 pupils are pictured collecting the prize from Jackie Brogan (Community Champion).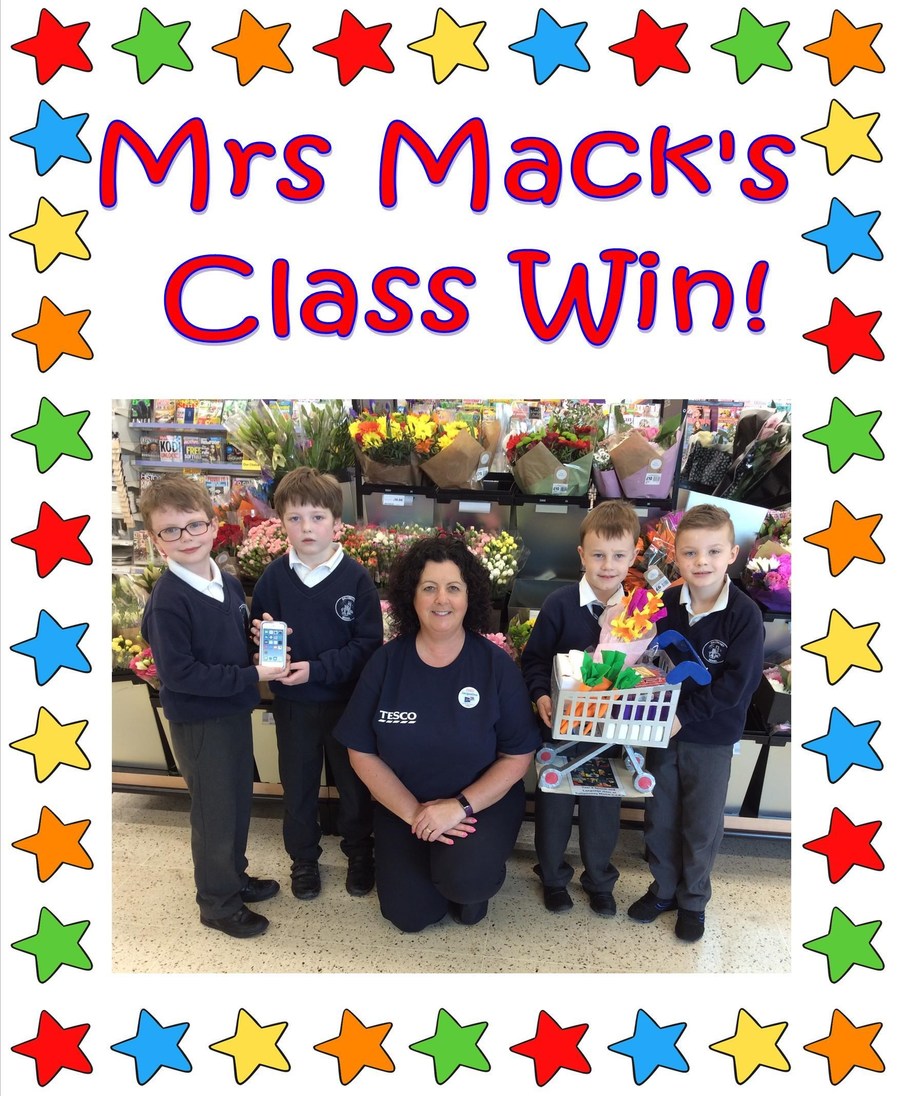 Odd Sock Day
We celebrated Integration month on Thursday 16th March by wearing odd socks to school. We are all different but it doesn't matter!
Check out the video we made to celebrate the event. Click here or on the picture below to watch it!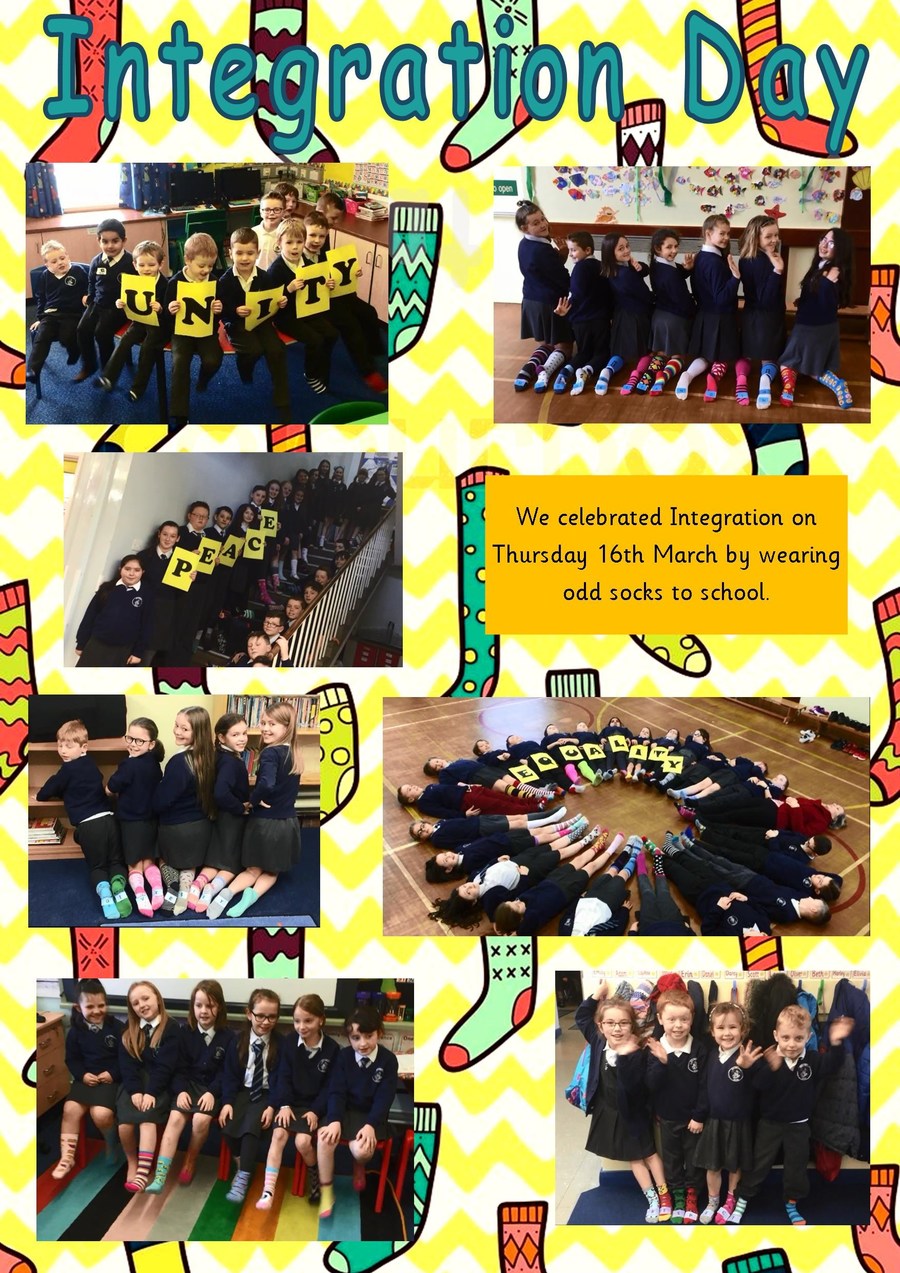 Easter Fun!
The School Council have been very busy organising lots of fun activities during the last few weeks. Everyone had great fun taking part in an Easter egg hunt, designing and colouring Easter eggs and decorating boiled eggs. The School Council and Miss Hemphill were very busy judging all the entries and had to make some very tough decisions. Congratulations to all the winners as pictured below.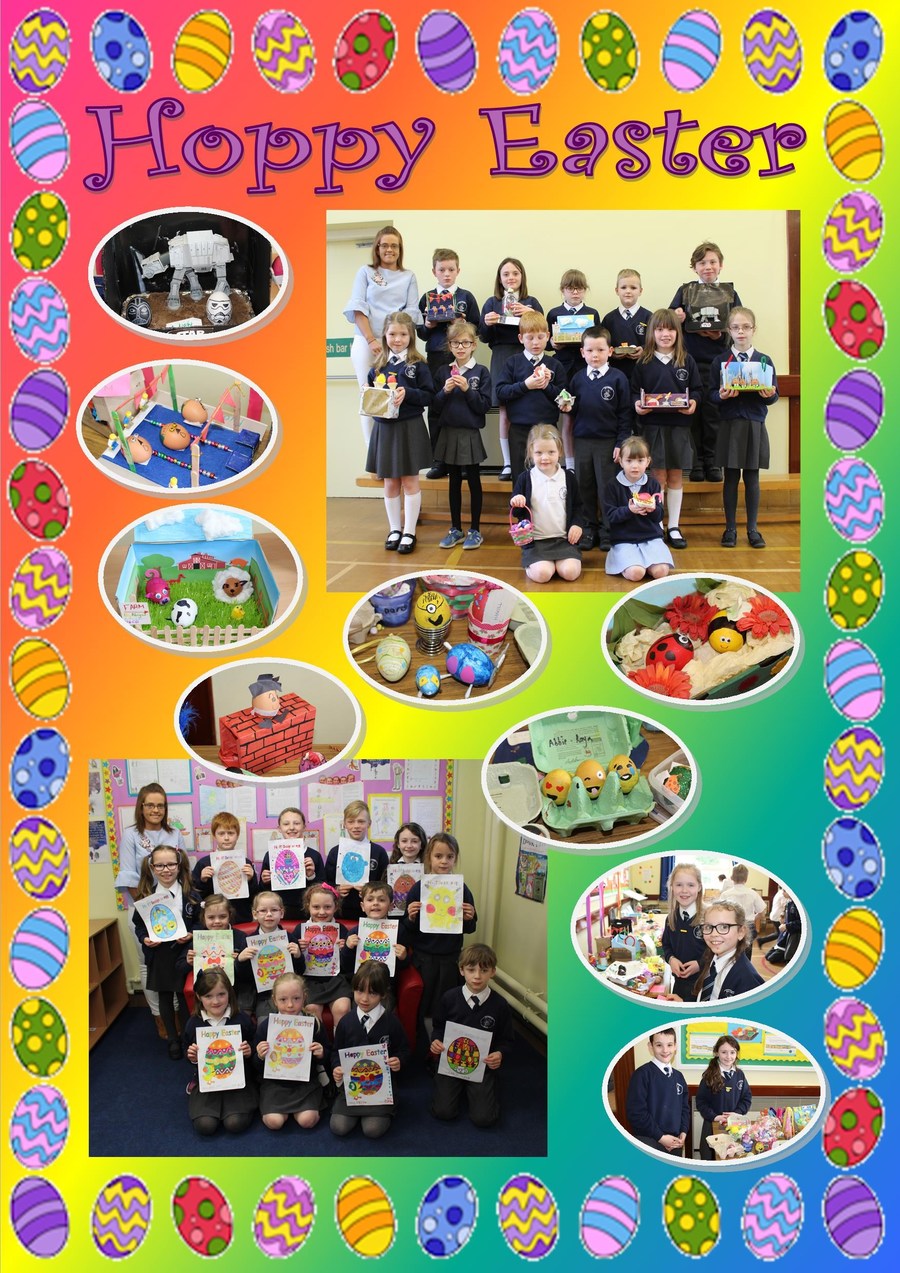 Coleraine Festival Success
During the last few weeks, children at Ballymoney Model CIPS have been very busy taking part in the Coleraine Speech and Music Festival. We are very proud of all their performances and thrilled with the level of success!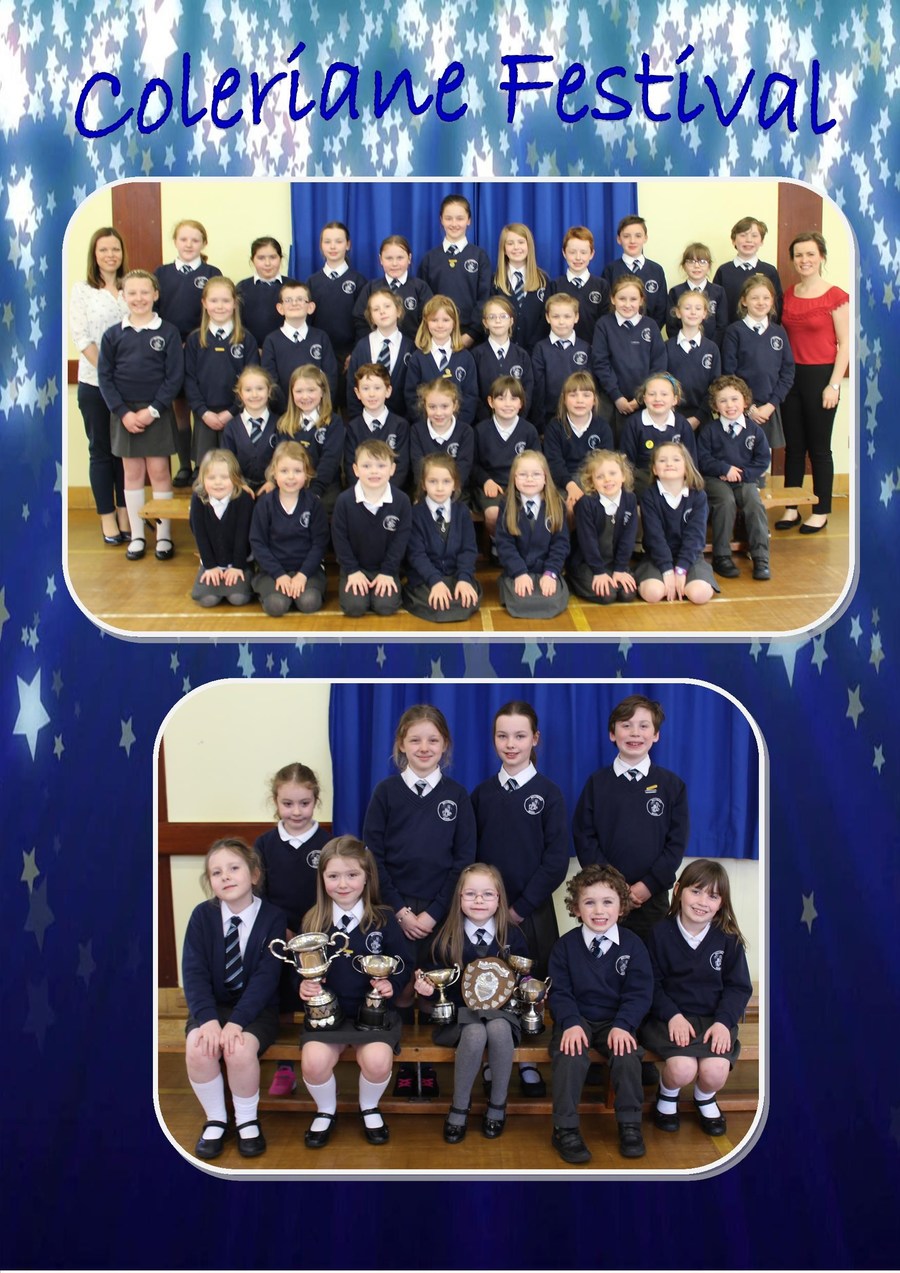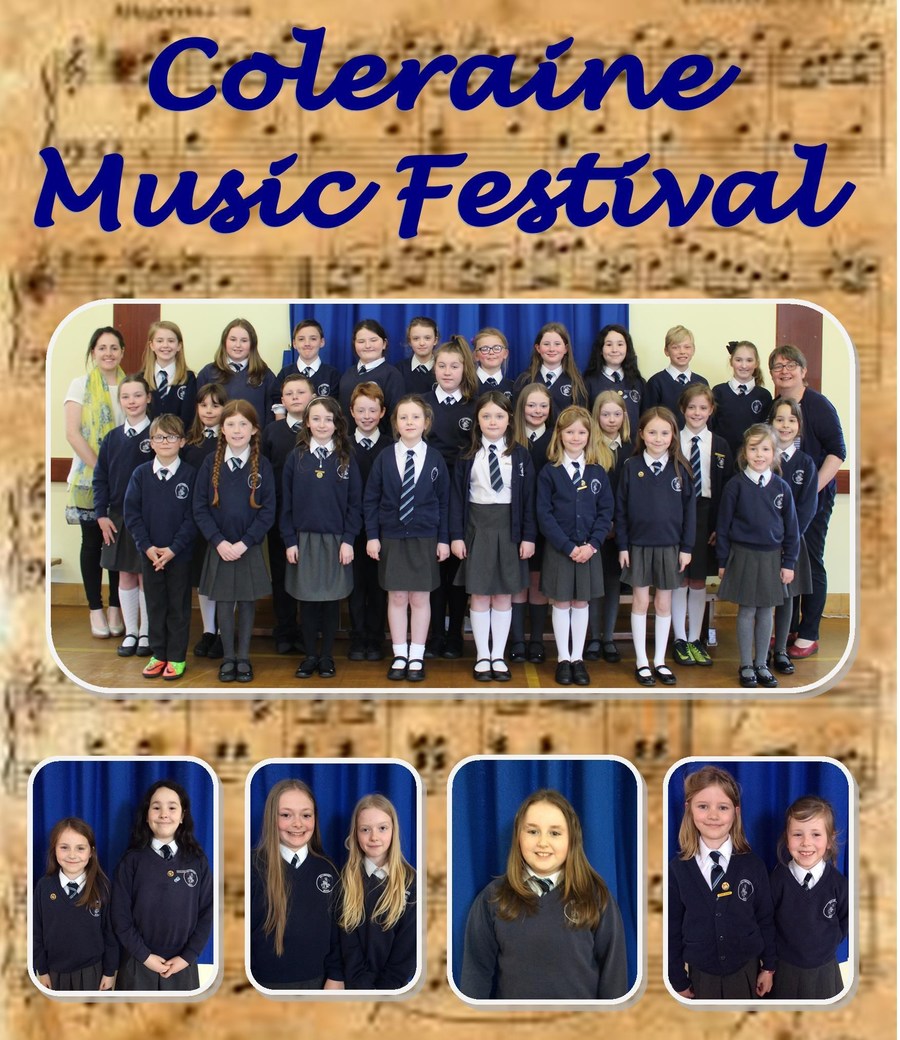 The Comet Man
Year 6 thoroughly enjoyed the workshop on The Solar System entitled, 'The Comet Man'. A massive thank you to Causeway Coast and Glens for facilitating this fantastic learning opportunity for the pupils, where children sat inside Northern Ireland's only mobile space dome, giving them an authentic experience. They are looking forward to learning about space through their topic in Term 3.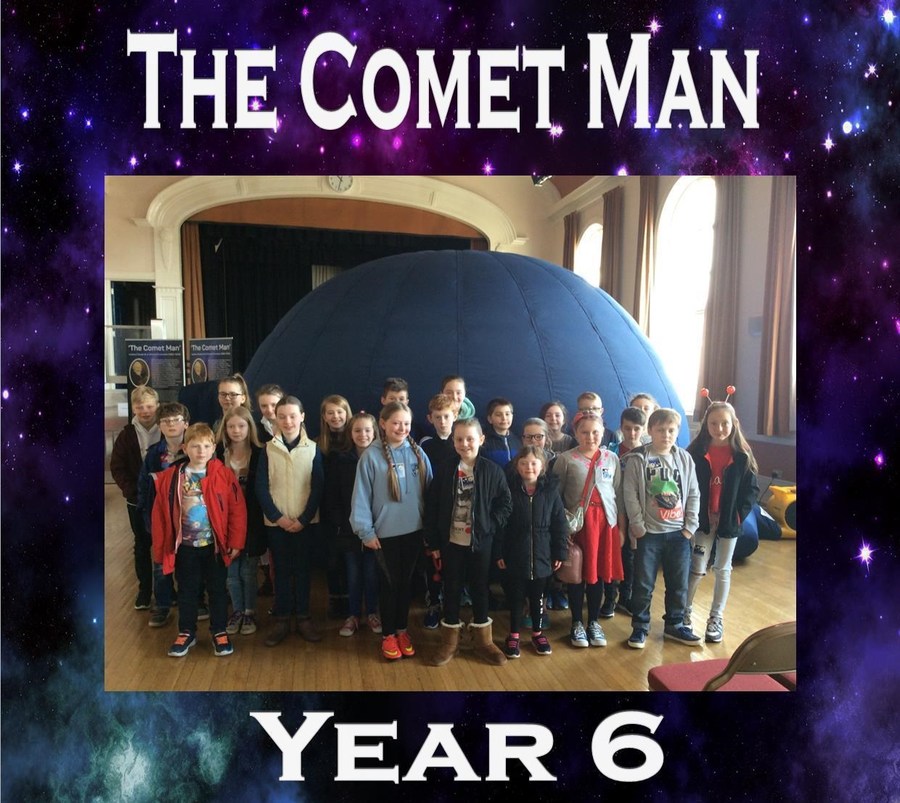 Red Nose Day
The School Council organised a non-uniform day to raise money for Comic Relief. Everyone enjoyed wearing their casual clothes and we raised £200 for the charity! Well done everyone!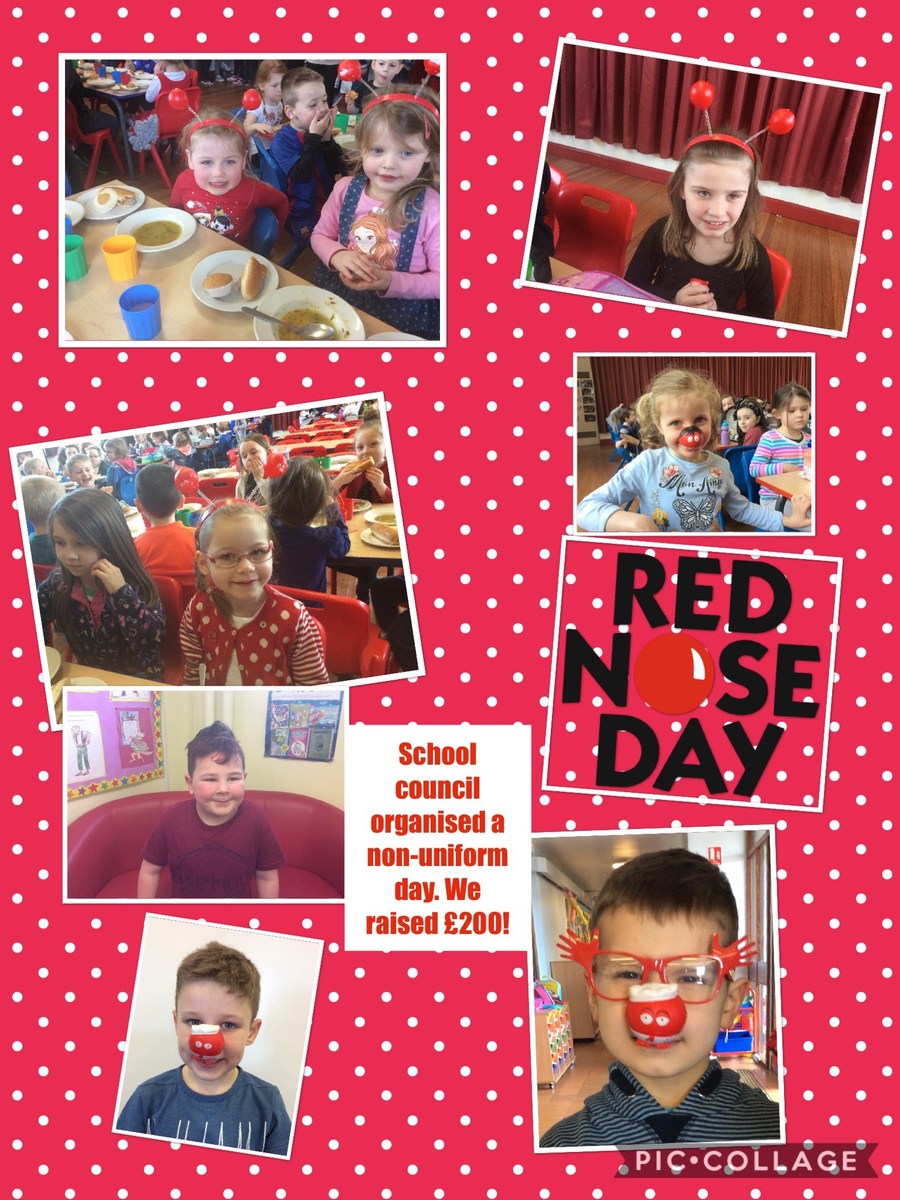 Visit from Danske Bank Manager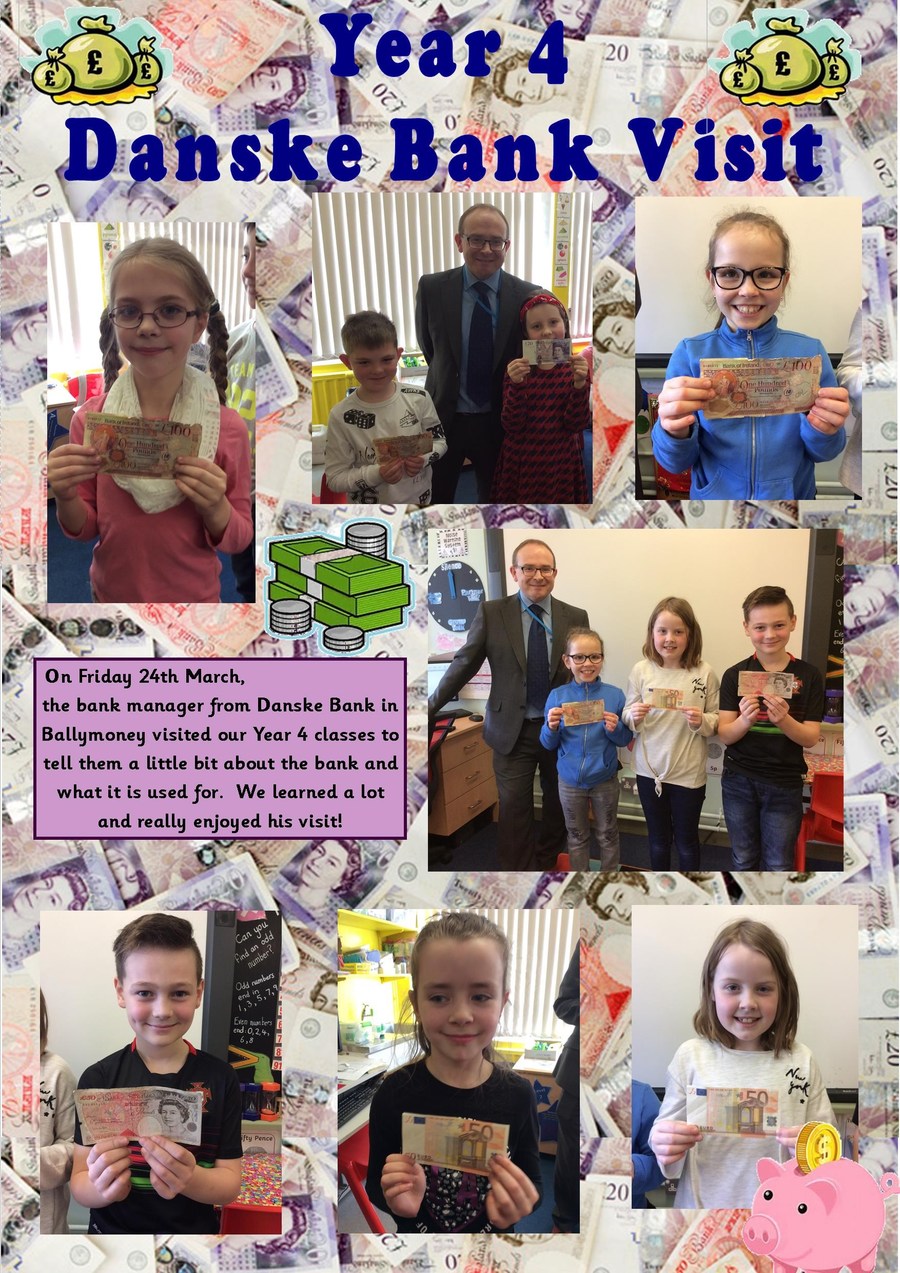 Wes Magee Visit
On Thursday 9th March, author and poet, Mr. Wes Magee visited our school. Mr. Magee took a special whole school assembly and led writing workshops with Year 5 classes. The children were captivated as he shared some of his favourite poems and taught them the actions too! After school children were able to buy books and have them signed by the author himself! It was a wonderful experience for everyone and was thoroughly enjoyable.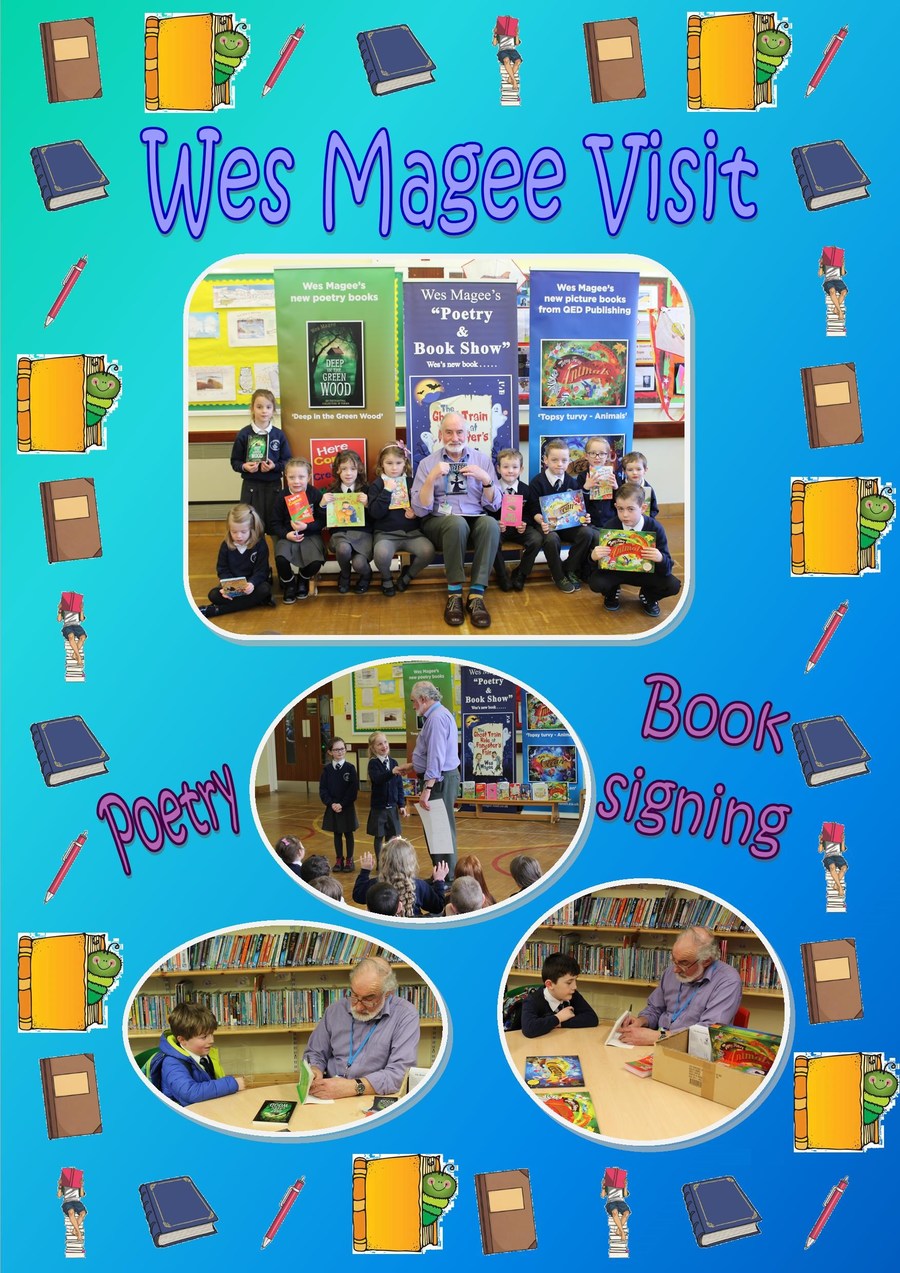 World Book Day
On Friday 3rd March, children dressed up to celebrate the 20th year of World Book Day. We started the day with a special assembly where everyone showed off their outfits! Throughout the day lots of fun and exciting book themed activities took place! A super day was had by all!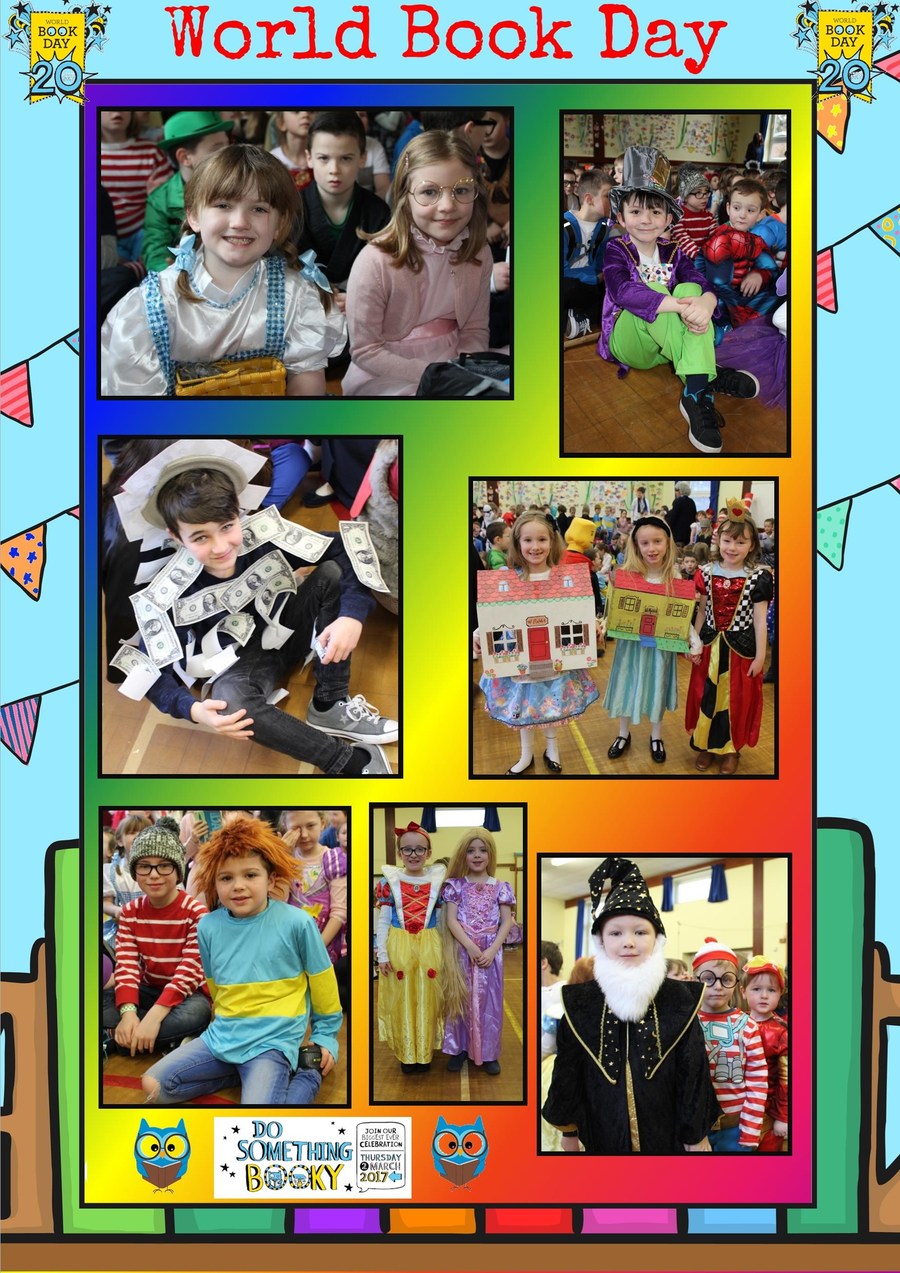 Valentine's Disco
On Monday 13th February, the P.T.A. held the annual Valentine's Disco. A great night was had by all who attended. Many thanks to everyone for their support!
Check out the gallery for LOTS of pictures. Can you spot anyone you know?
Ditch The Dark Day
Everyone had great fun today at school as we came dressed in bright colours for Ditch the Dark Day. Many children enjoyed travelling actively to school by walking, cycling or scooting and were certainly not going to be missed in the outfits they were wearing!
Take a look at how fantastic we looked!
School Council Update
Our School Council have been very busy, meeting each week during the last month to discuss Healthy Breaks and much more. School Council, under the leadership of Miss Hemphill, have launched a new Healthy Breaks Initiative. Each class will record the number of healthy breaks eaten from Monday-Thursday each week, leaving Friday as a treat day! The class with the most healthy breaks over the next few weeks will be rewarded with extra play time!
(Photo includes Year 4-7 School Councillors)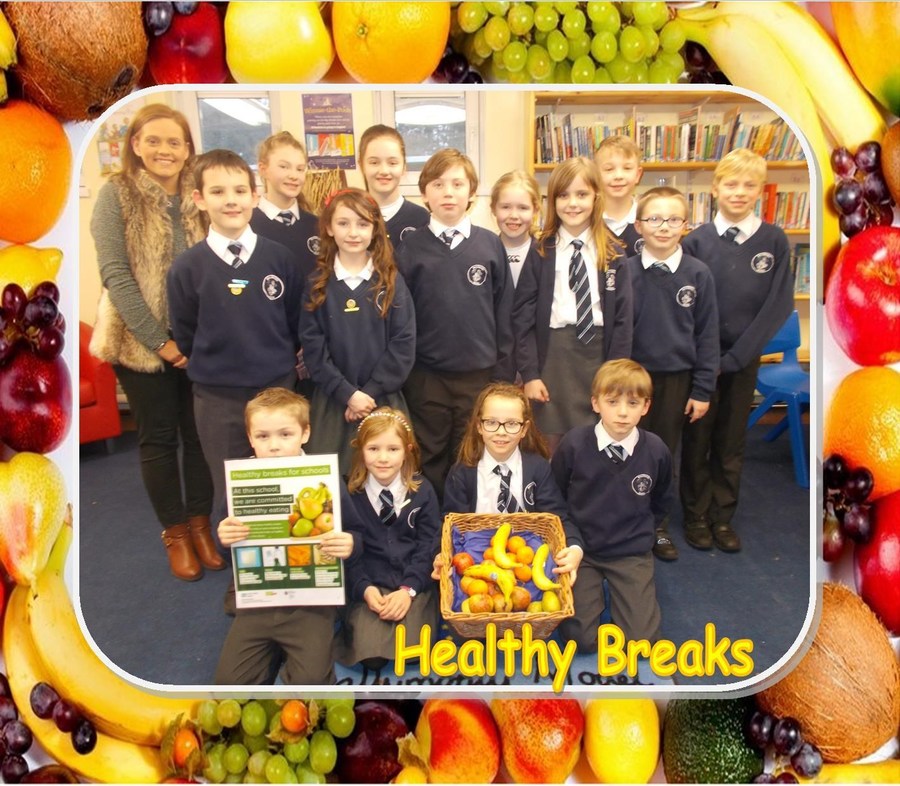 Digital Leaders
Meet our Digital Leaders! They have been appointed under the leadership of Mrs Duggan.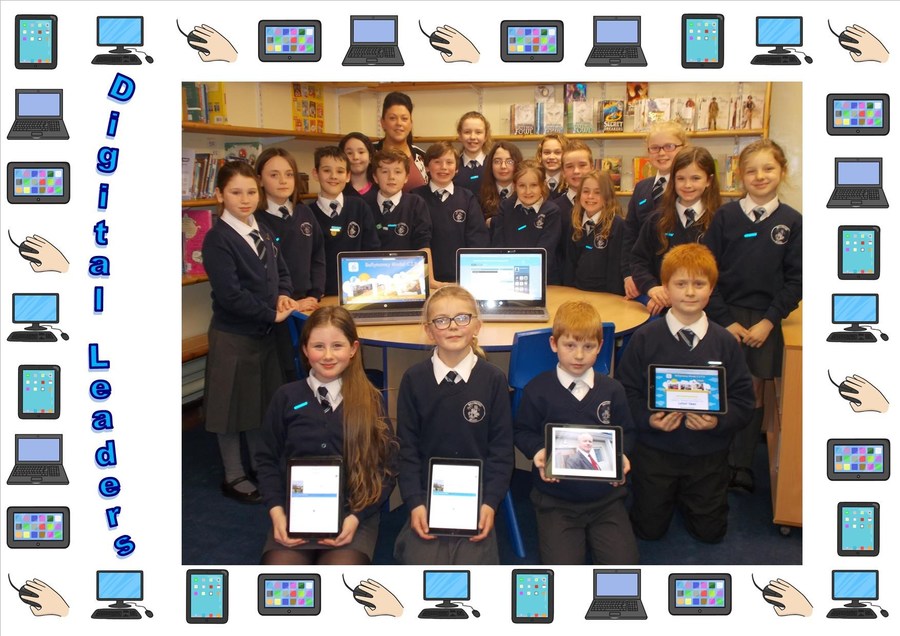 Welcoming Refugees
Back in June, Year 3 and 4 (now Year 4 and 5) were busy making cards to welcome refugees to Northern Ireland. It was wonderful to receive news that these cards had been used in the Refugee Welcome Centre, where all Refugees coming to Northern Ireland spend their first three days.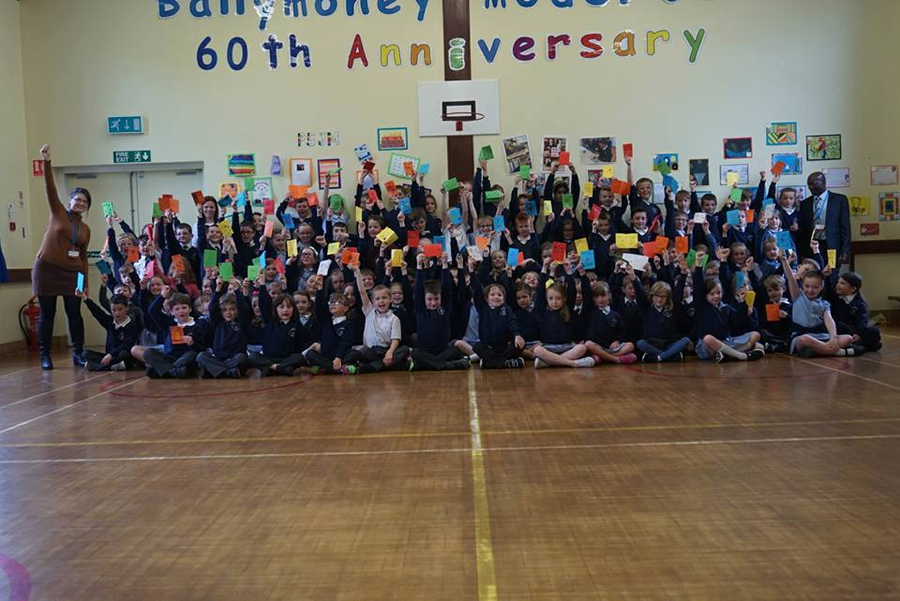 Year 6 Visit Stormont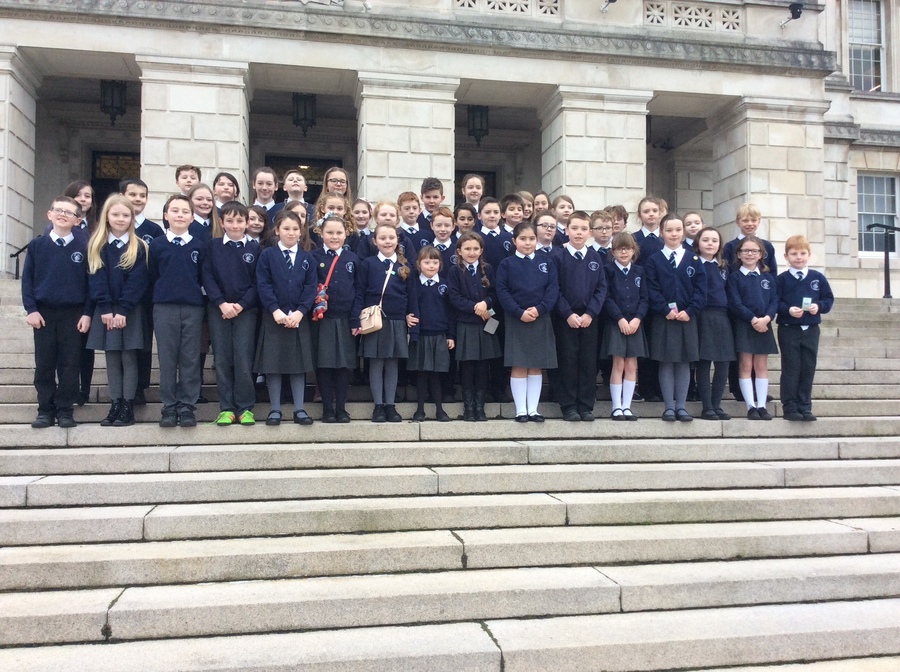 Year 6 have been learning how to write a balanced argument.
On Wednesday 18th January they travelled to Stormont. The pupils were given a tour of the Parliament Buildings and were taught about MLAs and how laws are made. They put their debating skills to good use when they took part in a debate in the chamber.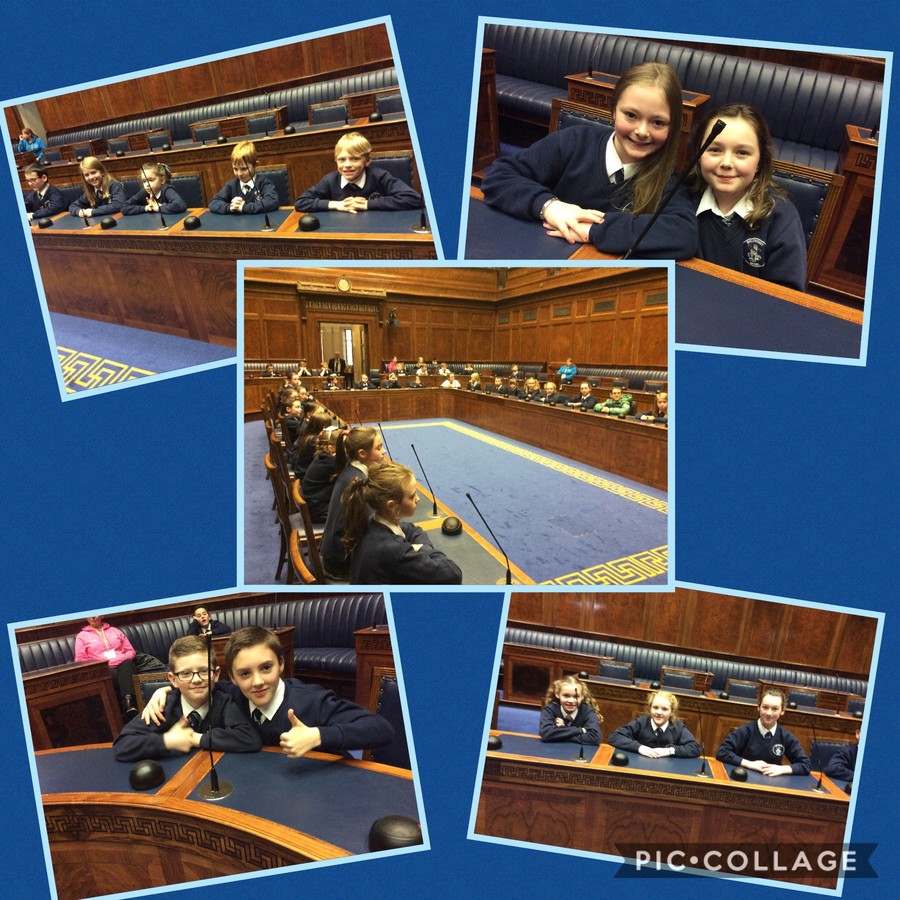 Pupils also participated in their own elections when our School Councillors had to try and convince them to vote for their party.
An enjoyable day was had by all.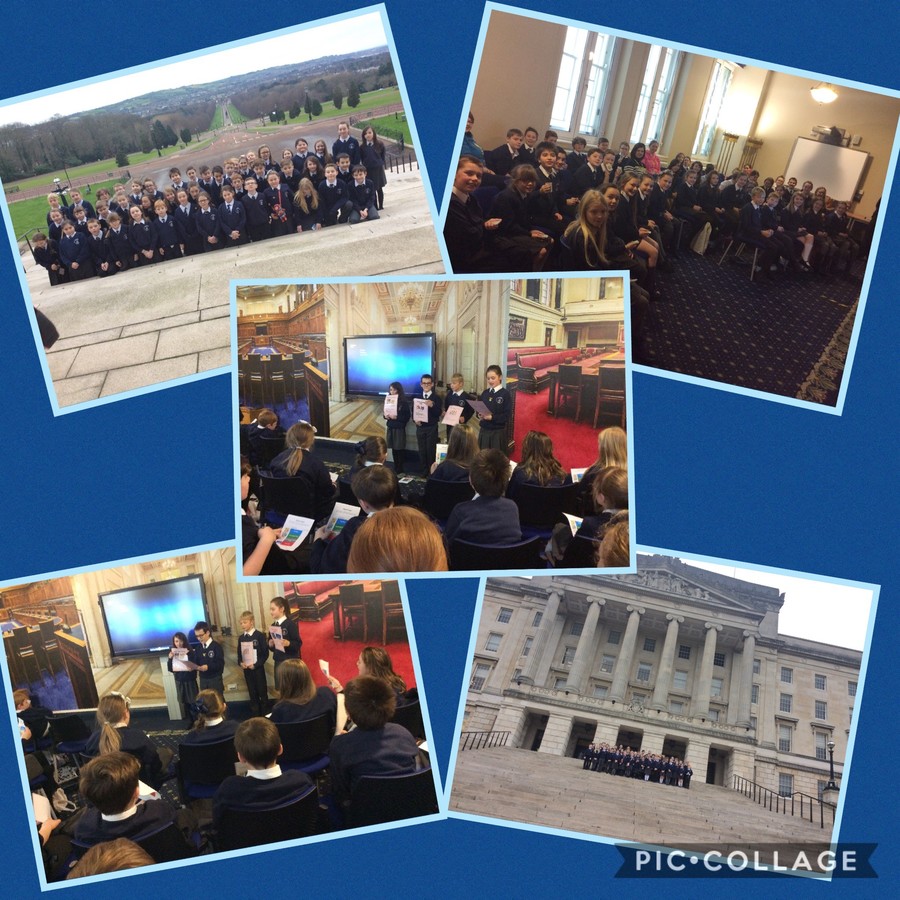 After School Clubs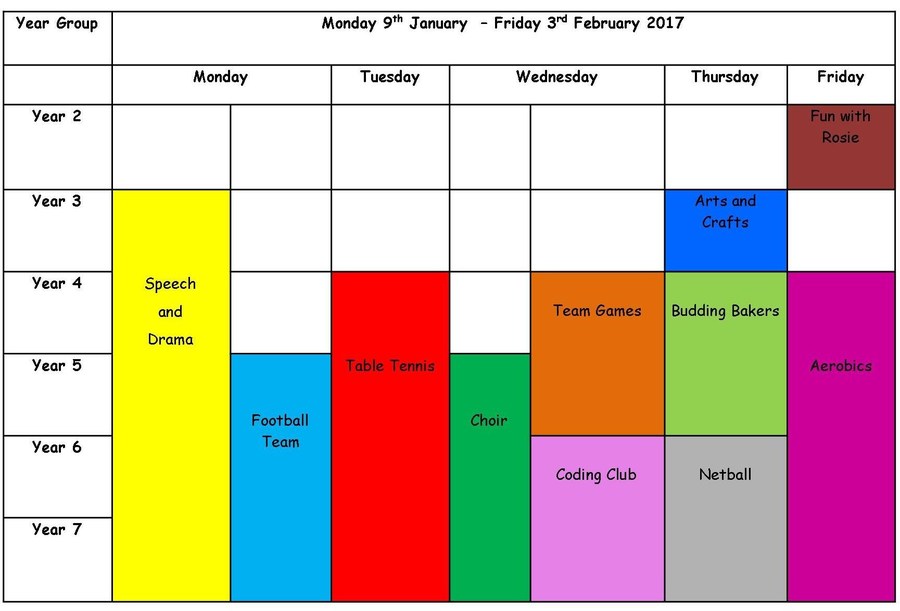 Snack with Santa
Our amazing PTA planned a special treat for all of us on Thursday 15th December and Friday 16th December. Each class had the opportunity to meet with Santa and have a lovely snack during their break time. Santa was even so kind as to bring a special gift for each of us to enjoy. What a surprise!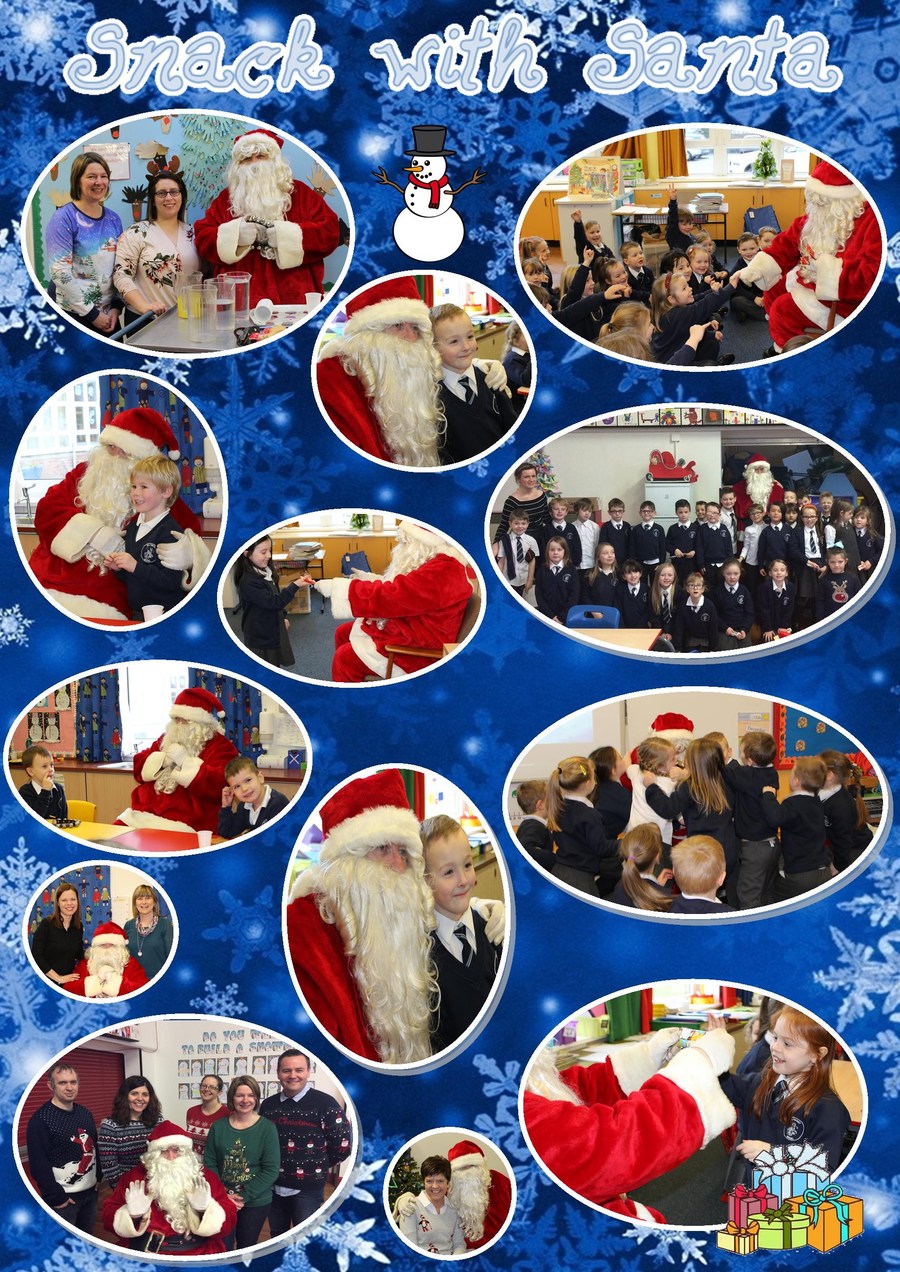 Year 1 Christmas Show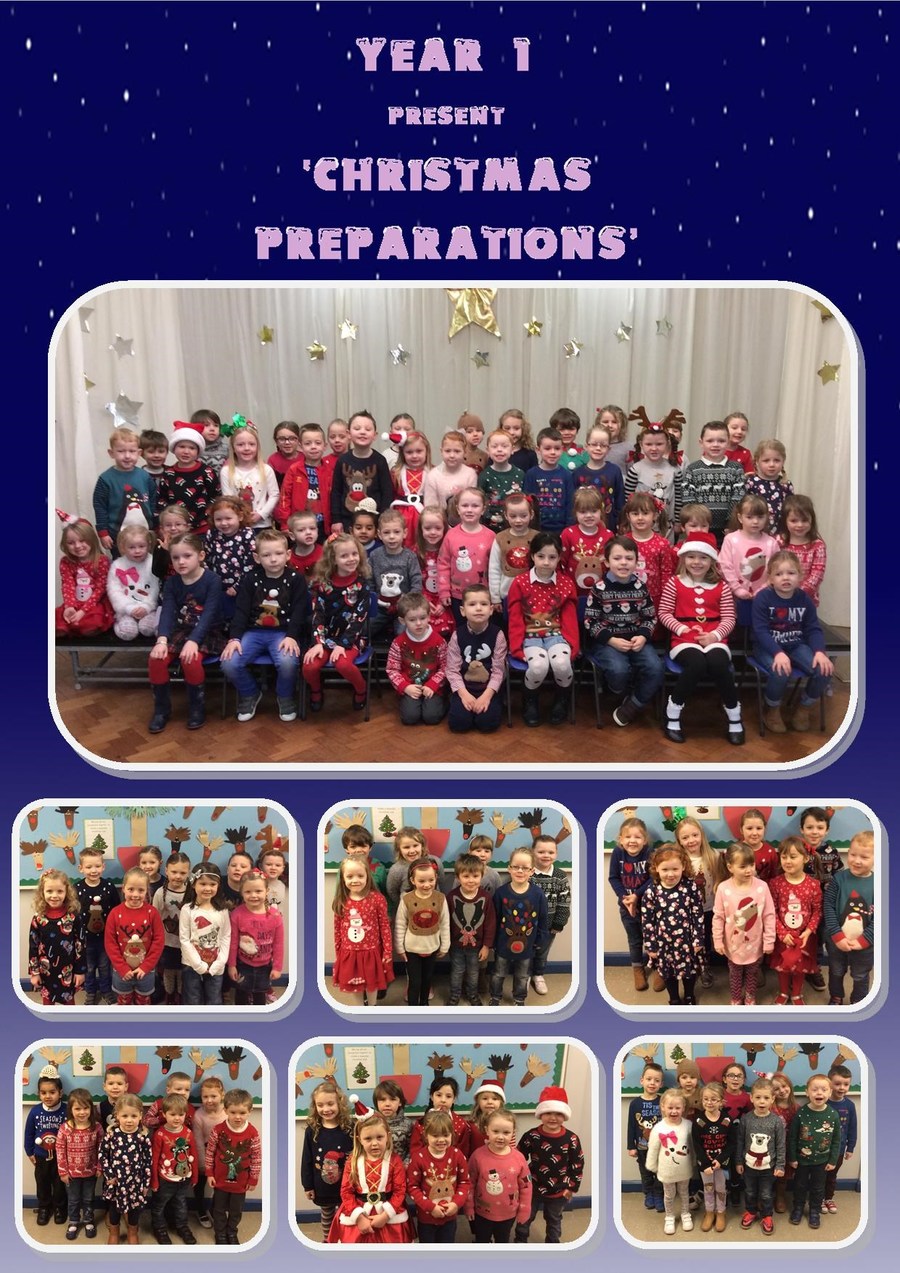 Year 2 Christmas Show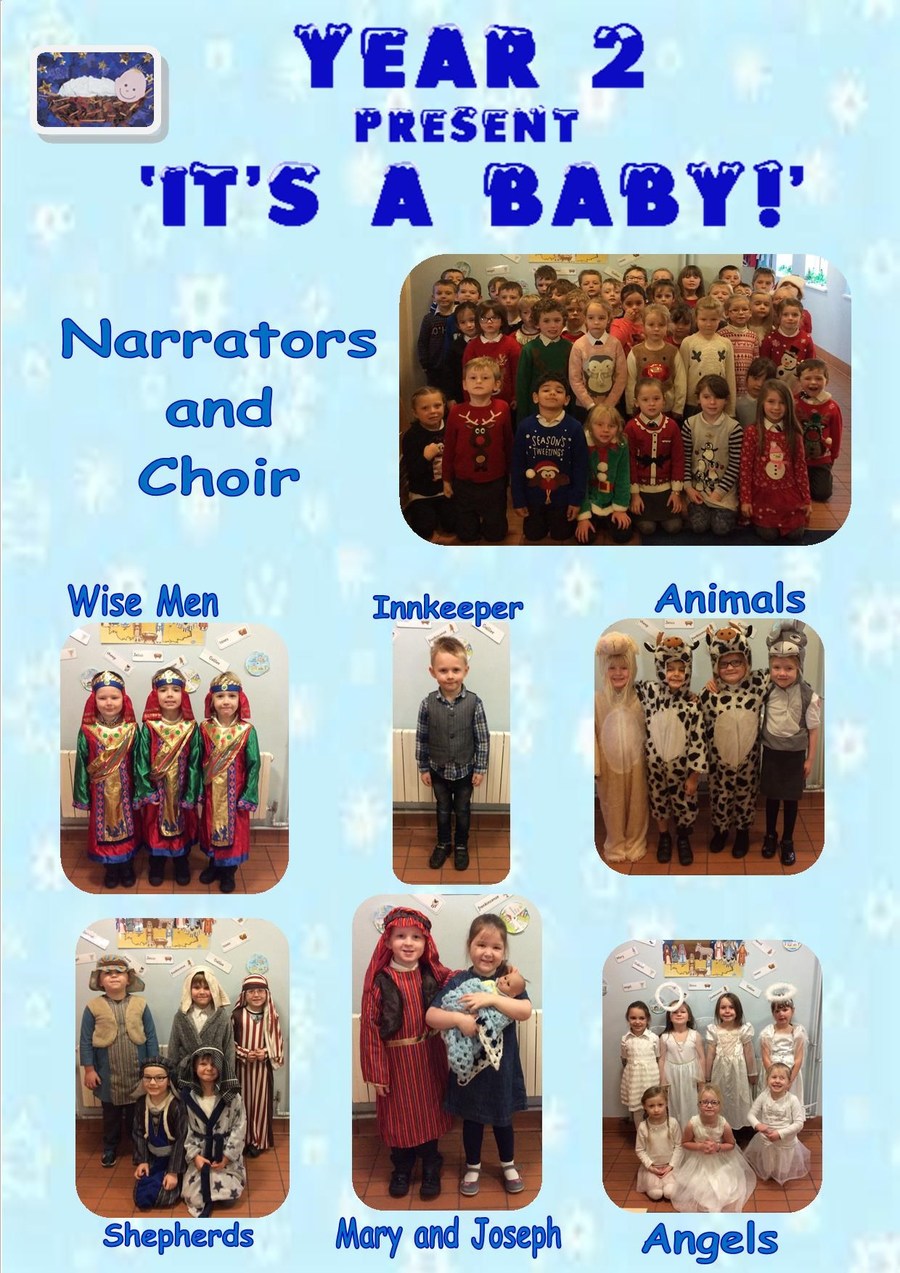 Year 3 Christmas Show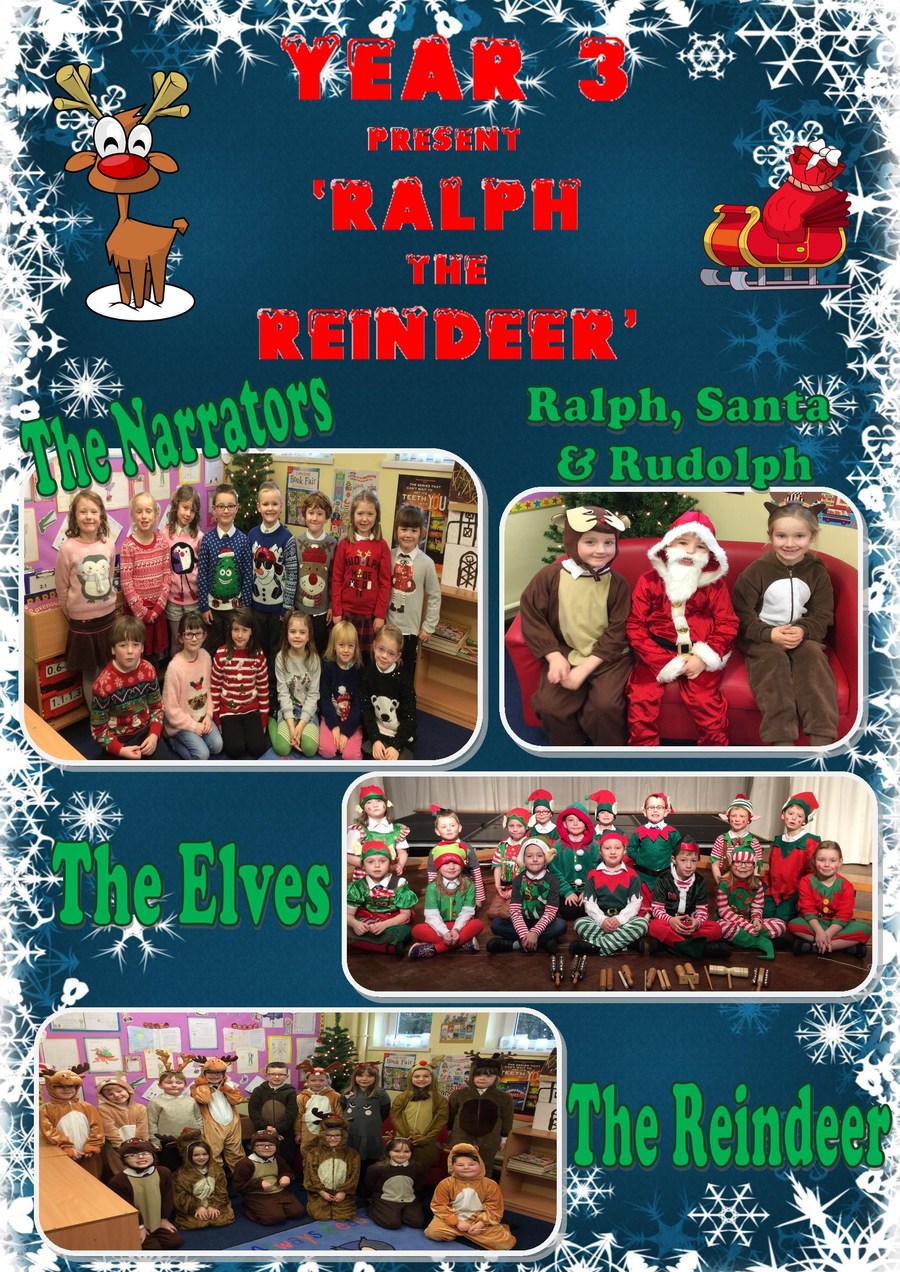 Year 4 Christmas Show
Year 5 Christmas Show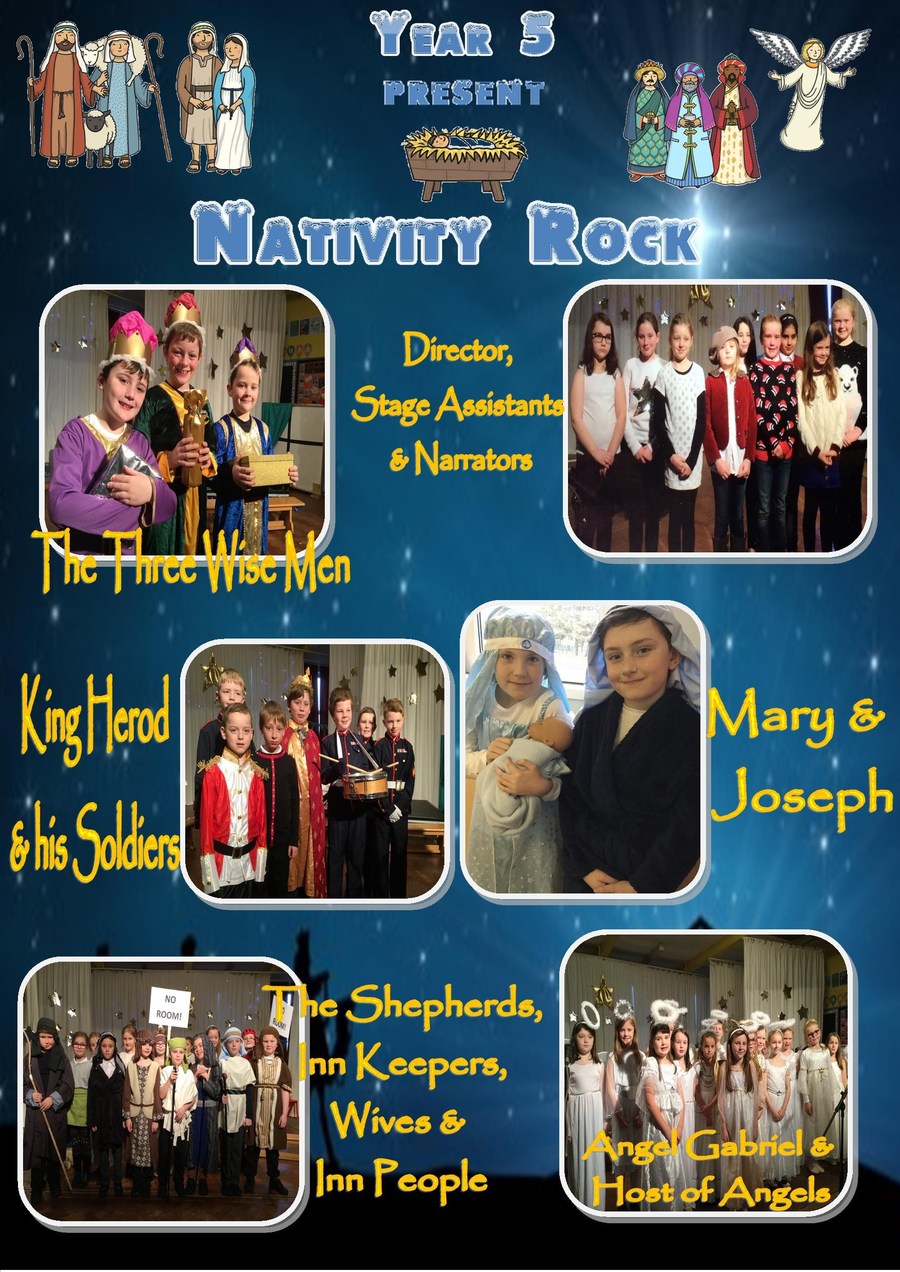 Year 6 Christmas Show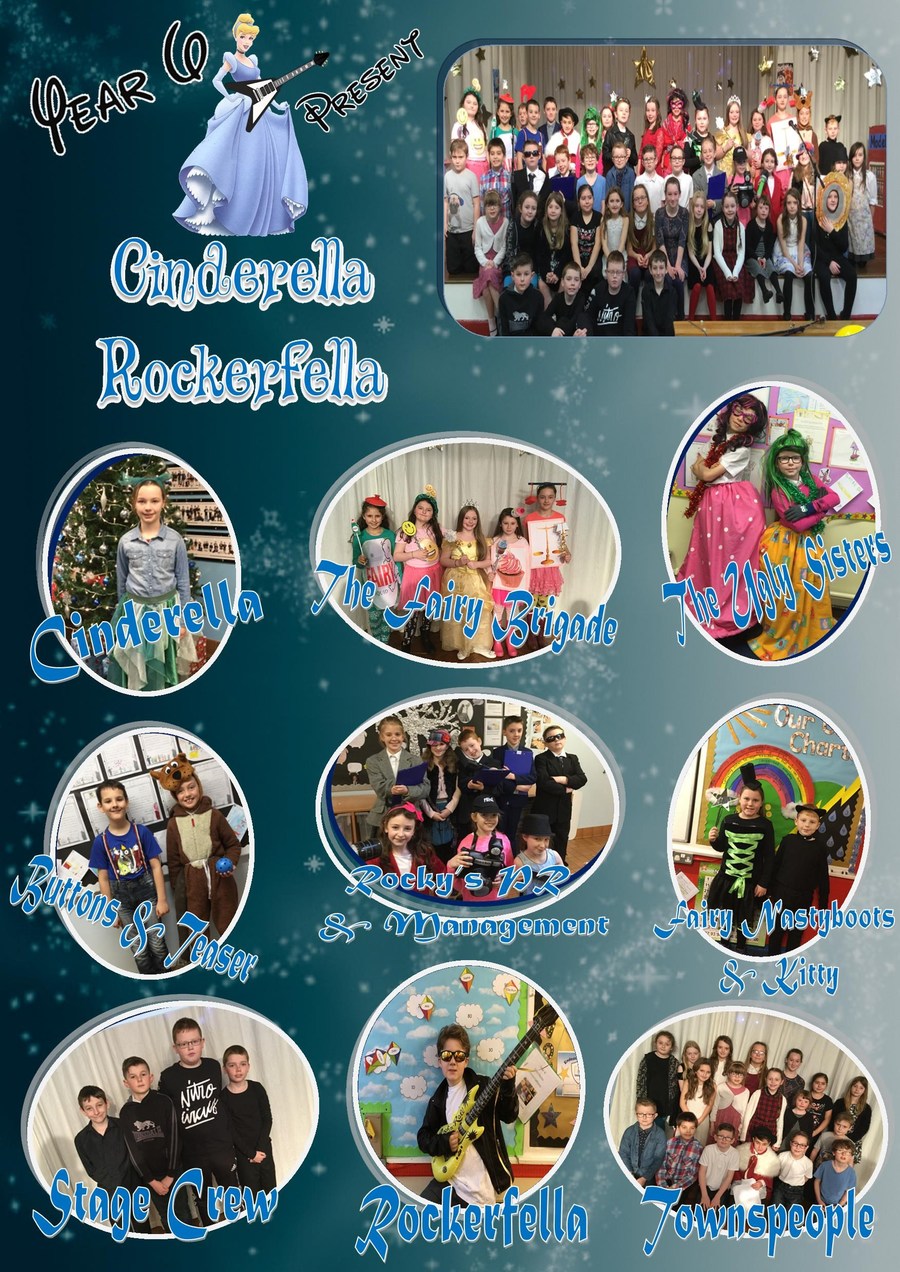 Christmas Dinner
We all enjoyed a delicious Christmas dinner on Thursday 8th December! Yum!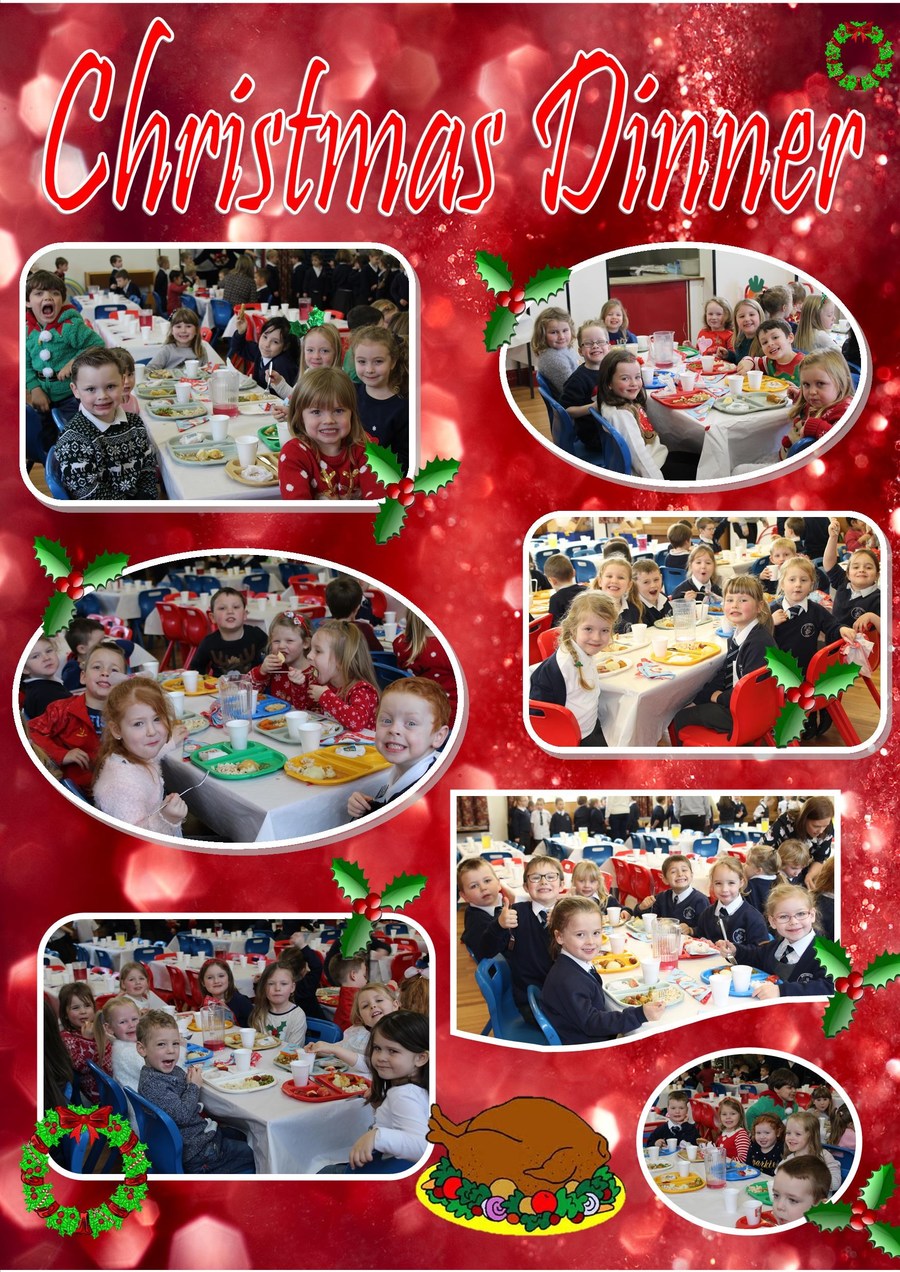 Eco-Schools Non-Uniform Day
The Eco-Schools Committee would like to thank everyone for helping to raise funds through participation in an Eco non-school uniform day.
£245.00 was raised and will be used to purchase Eco-Schools plants and resources for our school grounds.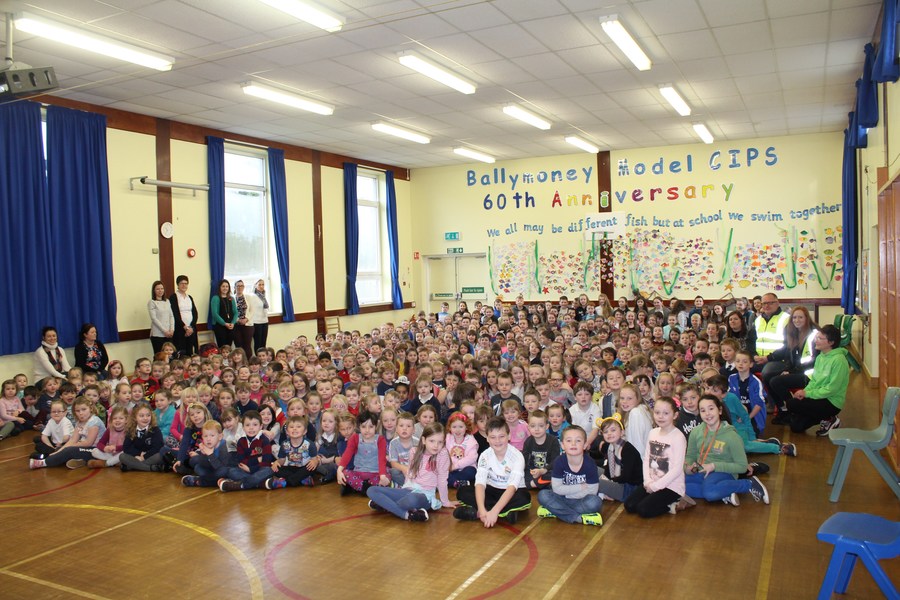 Open Night
On Wednesday 7th December we held our Open Night. Many parents and children attended the event to find out about the range of fantastic opportunities available at our school. Thank you to all who helped make the event successful!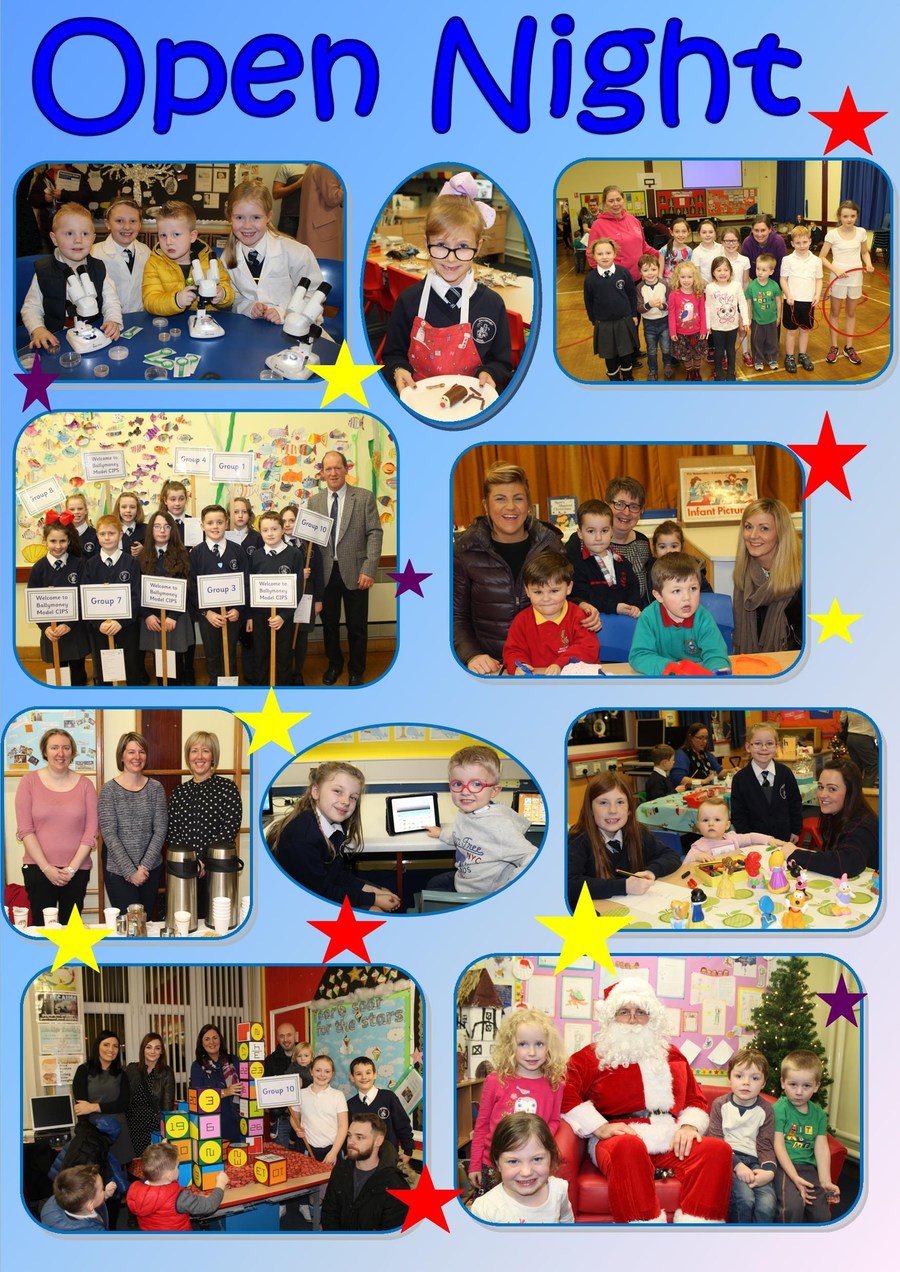 New Playground Equipment
Last year, we collected 2885 Sainsbury's Active Kids Vouchers.
The School Council ordered 6 Katcha Kups, 12 Tennis Balls, 12 Rubber Playground Balls, 12 Ankle Skips, 2 Sticky Master Mitt Games, 12 Plastic Balls, 4 Tennis Rackets, 1 Catchaloop Ball and 1 Large Reaction Ball with these tokens.
This new equipment has just arrived and will be divided out across each of the playgrounds for all to enjoy!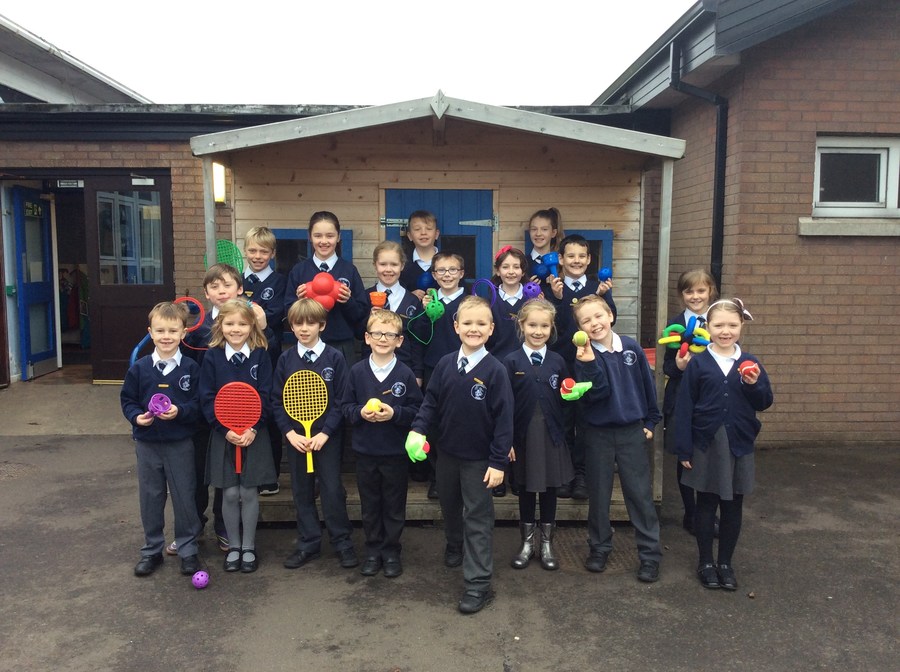 Medicine Through The Ages
Year 5 have been learning about 'Medicine through the Ages'.
Dr. McCormack, from University of Ulster, came to visit both classes and showed the children a medicine case with all the medical equipment in it that they used at the beginning of the 20th century. She also talked about the gory cures that they would have previously used to cure diseases.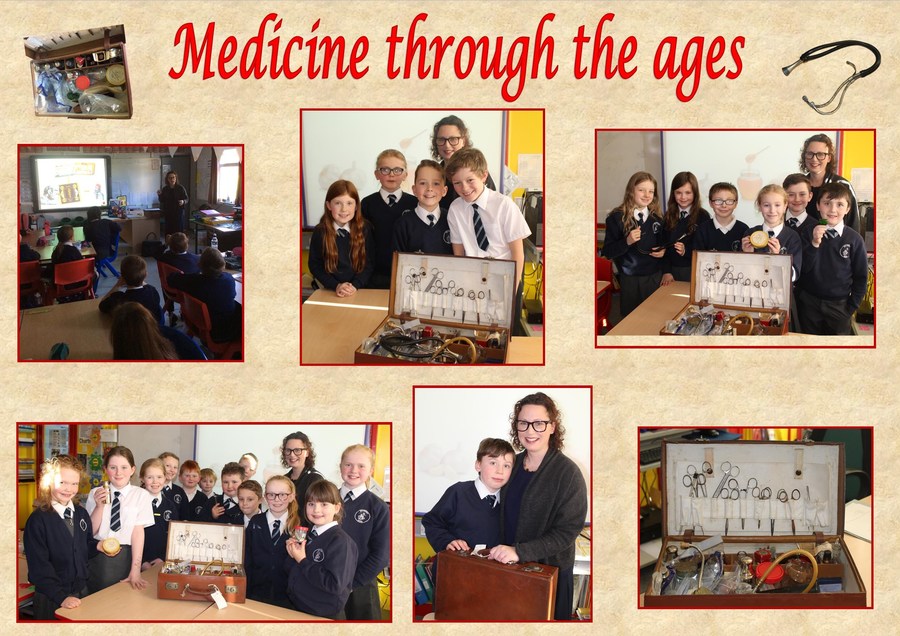 5 a side Football
On Thursday 17th November the football team travelled to Ballymoney High School for their 5-a-side tournament, organised by Year 12 pupils. A total of 6 local teams took part. We progressed through the rounds to reach the semi-final where unfortunately we were beaten 2-0 by William Pinkerton who went on to win the tournament. Despite the wet, cold weather everyone had a great day!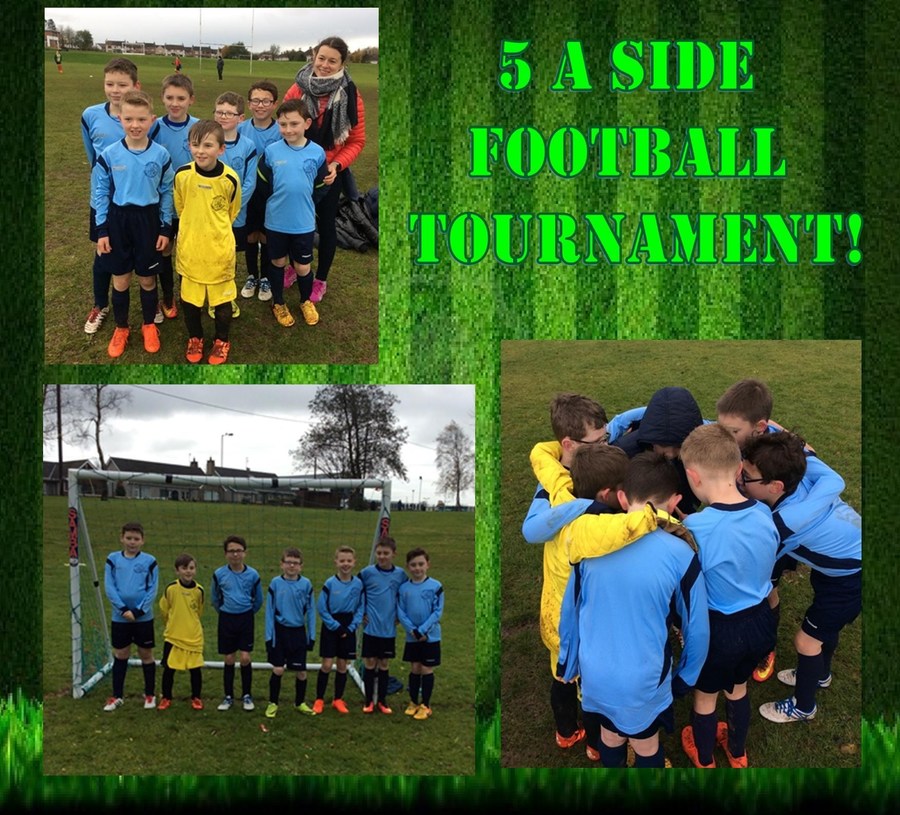 Friendship Week
We celebrated Friendship Week with a special assembly, led by Mrs Carson. Children shared something special about a friend to create a super acrostic poem!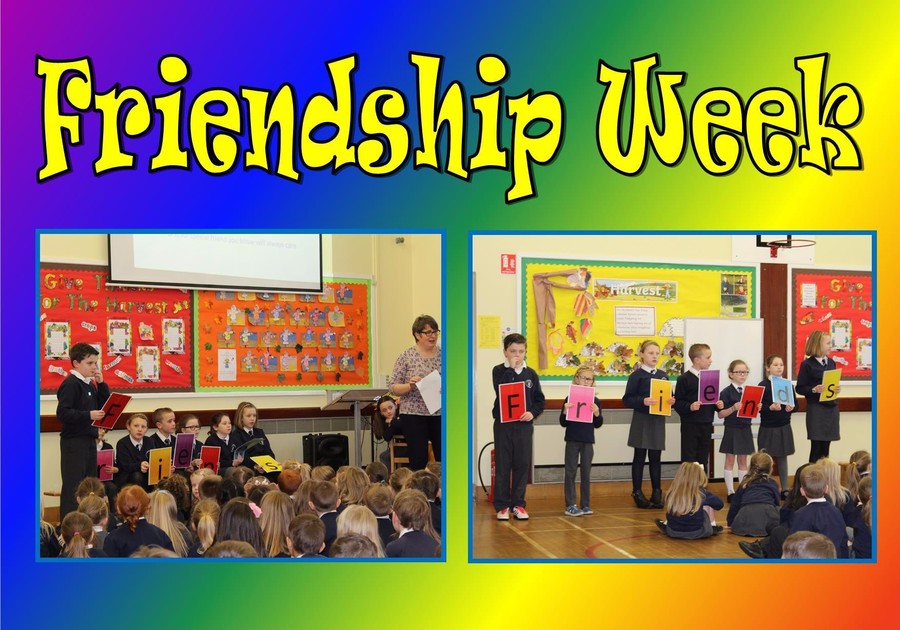 Year 6 - Tudor Celebration Day
Year 6 celebrated the end of their 'Terrible Tudors' topic by travelling back in time and taking part in activities from the Tudor Era.
These activities included 'Horrific Histories' facilitated by storyteller Noreen Hamilton, baking Peppered Gingerbread, learning the Tudor Courtly Dance, navigating their way around an orienteering hunting course, fencing and jousting and playing quoits and skittles.
A fun day was had by all!
Click the image below to watch the movie we made about the day!
School Council
Each class from Year 3 - 7 took part in a vote for their new School Council. Meet the team for 2016-17!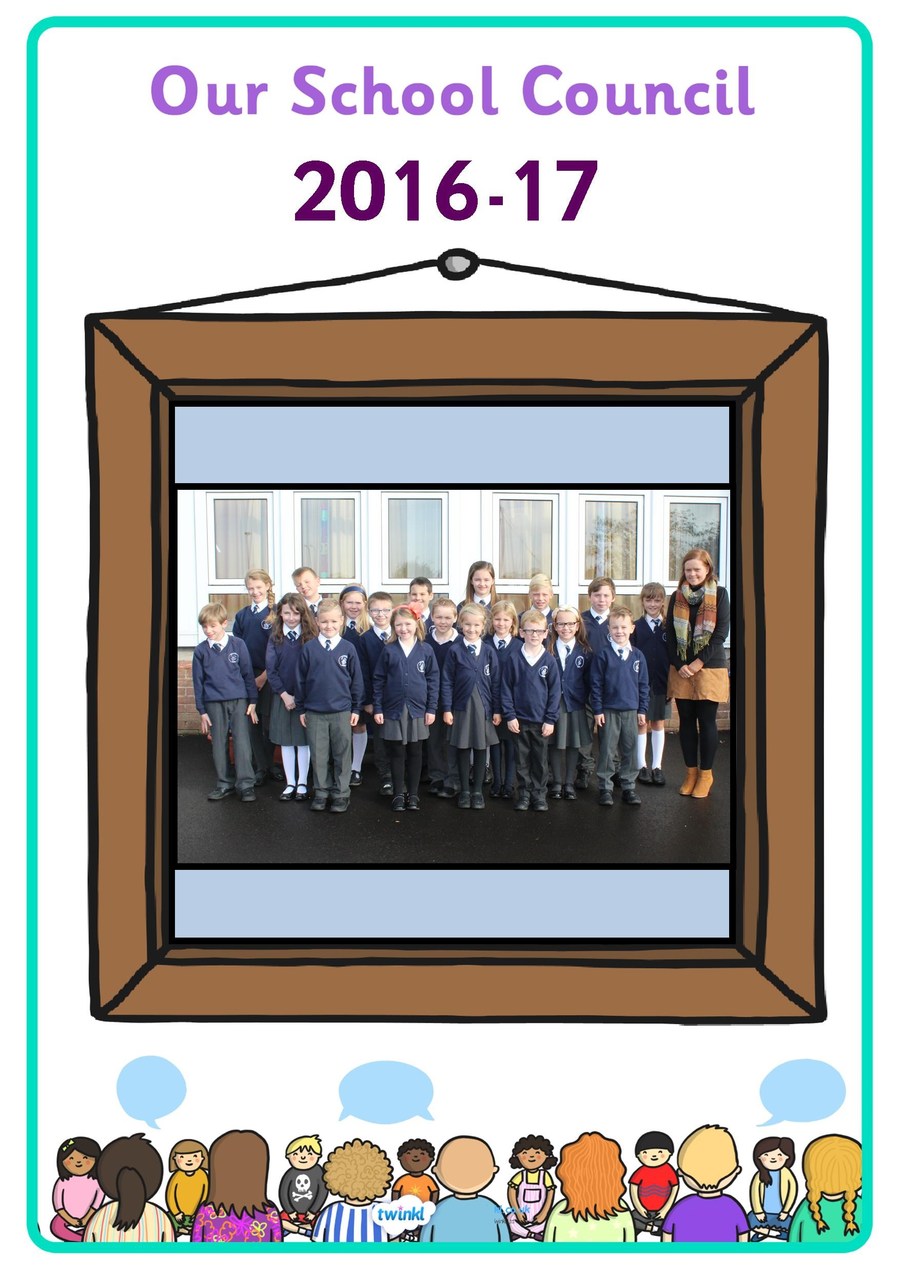 Golden Rules
Our School Council worked to create Our Golden Rules.
Our Prospectus
Healthy Food for Healthy Outcomes - Food in Schools Policy
If you would like more information on the introduction of the joint Department of Education (DE) and Department of Health, Social Services and Public Safety (DHSSPS) Food in Schools policy, please follow this link to the DE website where there is a version of the policy for pupils and parents to read.
Get Involved
The Department of Education have released a video called 'Education Works Better When You Get Involved'. If you haven't already watched the video, you can watch it online by clicking the link below.
Watch 'Education Works Better When You Get Involved'